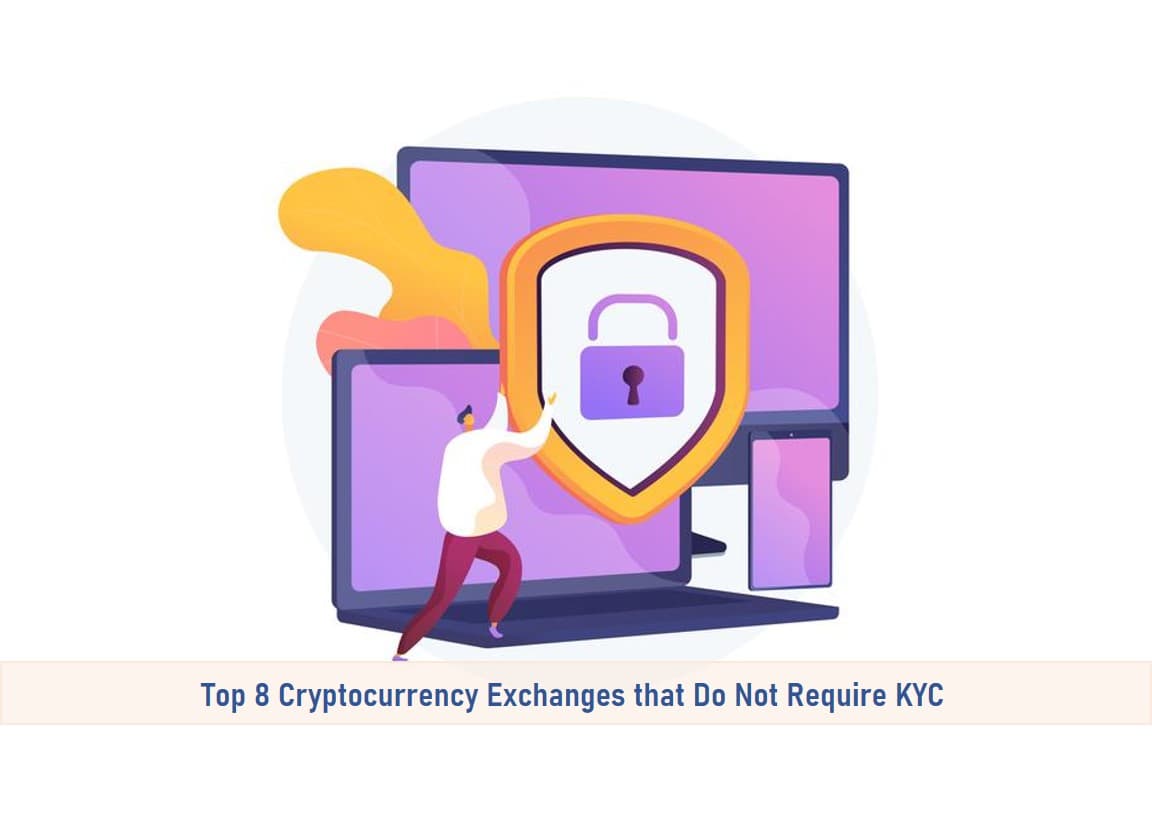 Cryptocurrency has become a convenient exit means for cybercriminals because transactions could be tidied up without leaving a trace.  
In 2016, 120,000 Bitcoin BTCs were stolen from Bitfinex and 850,000 BTCs stolen from Mt. Gox hack. The latter was regarded as an epic hack of all time.
So far, more than 4 million Bitcoins BTCs has been stolen since it was created and about 2 million BTCs lost and in the hands of illegitimate owners.
To avert this negative trend, cryptocurrency exchanges now require you do KYC (Know Your Customer) verification before you can trade cryptocurrency at decentralized exchanges.
KYC verification is part of the broad Anti-Money Laundering (AML) scheme that mitigate risks involved in financial transactions.
KYC enables many businesses verify the identities of the persons using their service. Beyond exchanges including this step in their onboarding process, it has now become statutory in some jurisdictions.
SEE ALSO: 3 Key Things to Look out for When Buying a Hardware Wallet
SEE ALSO: Trezor One and Trezor Model T Bitcoin Hardware Wallets – Which is Better?
SEE ALSO: World Most Popular Hardware Wallet-Ledger Nano S and Nano X
Cryptocurrency Exchanges and Confidentiality
It is no doubt that stringent KYC checks have gone a long way to help reduce incidences of fraud at cryptocurrency exchanges. However, KYC verifications has taken away the confidentiality which is a unique attribute owners of cryptocurrency enjoy.
However, the enforcement of KYC still raise concerns in some quarters. It is envisaged that KYC could also pose a possible threat when a service provider's database gets compromised and user information of thousands are leaked.
Without ulterior motives, many users still prefer to remain anonymous while trading at public ledgers .
When safety of a digital asset and its owner is critical, some personal identification documents have to be provided.
Due to the emerging security risks in the cryptocurrency market, exchanges are adding and implementing new measures of which KYC is one of them.
KYC have become standard in many decentralized exchanges. The procedures in KYC help lessen the possibility of fraudulent activities on cryptocurrency exchanges, which is becoming prevalent.
SEE ALSO: How to Mine Ethereum and Earn Better than Bitcoin
SEE ALSO: 14 KEY Tips You Should Know Before Mining Bitcoin
SEE ALSO: 10 Best Cryptocurrency Exchanges in 2021
But, KYC takes away anonymity, this new rule discourage confidentiality which is an issue to some people.
Traders who do not want to divulge their personal information may have limited options.
Fortunately, some cryptocurrency trading sites permit users to get onboard and trade without having to do KYC checks or operate legally in districts that do not enforce KYC.
As this may seem like bad news for some security agencies in some jurisdictions, many have embraced this development while implementing other stringent security measures.  
If this sounds good, let's examine the top 8 Cryptocurrency exchanges that do not require KYC verification.
The Top 8 Exchanges Without KYC
If you want to exchange your cryptos without bothering about KYC checks, then Changelly is one of your go-to exchanges.
Changelly has been around since 2013 and supports over 150 cryptos presently.
If you choose to exchange Bitcoin, supporting cryptocurrencies like Dash and ETH would be needed.
Even though Changelly is a decentralized platform, you are not required to verify your ID before you begin swapping.
One of the most remarkable features of the exchange is its broad payment methods.
Asides from cryptocurrency deposits, users can also pay with credit cards, bank transfers, as well as Apple Pay.
Changelly features a trading algorithm that discovers the choicest trading prices by looking through other platforms. The only time when you'll be required to run some KYC checks is when suspicious activity is noticed on your account.
If you need extra security when exchanging your cryptos, then VPN would be a great choice.
Nominex is a cryptocurrency exchange that is reckoned with for its speedy trading engine. Its fees are also low amid avant-garde bidding tools. As much as 3 BTC can be deposited or withdrawn per day without KYC verification.
Nominex exchange is based in Seychelles (licensed in the same region as BitMex), Nominex offers a profitable affiliate program and provides virtual accounts to traders just starting on the platform.  
The order types you can place at Nominex include Stop Limit, Trailing Stops, Stop, and Scaled. Charges on trades are reduced to about 50% for those who reserve the native NMX token.
An all-round the clock customer support service is available for clients who need help.
Binance is the world's biggest crypto exchange that does not require any KYC verification, though, there are some conditions.
That thing is that nationals have to trade on Binance US that features KYC checks.
Besides, there is the possibility of Binance changing to full KYC verifications at a later time if it is mandated to comply with laws of various jurisdictions.
Presently, though, spot trading can be done without KYC checks and a withdrawal of 2 BTC can be done each day.
In terms of margin trading, however, and for other Binance products, KYC will be demanded.
SEE ALSO: 10 Legit Bitcoin Mining Sites For New Miners
SEE ALSO: What to Know About Binance and Binance's Exchange
SEE ALSO: How to Earn Compound Interest on Cryptocurrency
Block Dx is a decentralized cryptocurrency exchange run by Blocknet Protocol and not requiring KYC verifications.
The Blocknet is a blockchain interworking protocol that permits private & public blockchains to liaise, converse, and for individuals to trade cryptocurrencies across the platforms.
Also, the protocol enables the connection of off-chain APIs and services.
Contrary to other decentralized exchanges, Block DX centralizes the platform.
Though it imitates a decentralized exchange scenario, investors can transact right from their wallets without going through a third-party.
Some features that make this exchange unique include more flexibility (as a result of its having no trade and withdrawal limits), no accounts, and the ability to choose from any trading pair.
To accept a current order, investors just need a little amount of BLOCK, the exchange's original token. Yet, opening an order doesn't demand BLOCK tokens of whichever amount.
SEE ALSO: How to Start Investing in Bitcoin with a 100 Dollars
SEE ALSO: How to Use Reddcoin for Easy Payments
SEE ALSO: Best 5 Trading Apps for Bitcoin this Year
ByBit is an exchange based in Singapore which was established in 2018.
Cryptocurrency fanatics have faith that the exchange will grow at an incredible pace after the launch of KYC procedures, but the derivatives futures cryptocurrency exchange is about to commence on these measures.
The exchange platform offers a host of features mostly for users who would love to go into margins trading.
The BTC-USD continuous exchange is the most prominent product and investors can as well trade XRP, EOS, and Ethereum.
Asides that, ByBit offers a host of cryptocurrency margin trading catalog that has beneficial tricks and tips for exchanging crypto derivatives.
Investors from many parts of the World can trade at the exchange without KYC checks.
ByBit provides a brilliant user interface that is available in several languages.
It also offers a Mobile app for Android and iOS users to easily gain access to the platform.
Though, it is worth stating that the exchange does not accept people from the United States to trade on their platform.
SEE ALSO: The ABC of Investing in Cryptocurrency this Year
SEE ALSO: 10 Most Popular Ways to Earn Bitcoin for Free
SEE ALSO: The Most Influential Business People Driving Blockchain Adoption
Bitmax is a renowned altcoin exchange that's made a name for itself since its establishment in 2018.
The platform provides adequate liquidity, a wide variety of coins for trading, margin trading, and a token by BTMX itself that offers trading at discounted fees and several benefits.
Bitmax operates regular airdrops and enables users to earn USDT when they lend the exchange's native token.
Depositing fiat currencies can be done via a debit or credit card, without any KYC verification and a withdrawal limit set at 2 BTC.
Owners of Ethereum would like this decentralized exchange platform.
It is exclusively designed to trade ETH and Ethereum-based tokens like ERC-20.
IDEX combines the safety of blockchain technology with the pace of decentralized platforms, thus providing one of the finest platforms for Ethereum holders who would like to transact with confidentially.
Users of IDEX only need their wallet addresses to be identified as there's no need for more verification.
To get onboarded on the platform, traders just need to open their Ethereum wallets, fund the exchange with tokens, then start trading.
After the renovation of its parent company, IDEX changed its original token from AURA to IDEX via a 1:1 conversion. Traders who held AURA tokens earlier swap them whenever they want, with no particular deadline.
Coin owners at IDEX obtain a percentage of the profit made from transactions on the exchange.
Kucoin requires partial KYC checks i.e the majority of its traders will not be mandated to complete their KYC verification until a suspicious activity is noticed or in the event of that a trader goes beyond the daily trading limit of 2 BTC.
Similar to big exchanges like Huboi and Binance, it has been modified into a cryptocurrency exchange that provides a wide variety of services, assigned under several subdivisions.
Kucoin exchange is convenient in use and offers a few tokens that will not be seen at big exchanges.
SEE ALSO: 5 Best Bitcoin Mining Hardware with Low Running Overheads.
SEE ALSO: How to Choose a Bitcoin Miner that Saves Electricity
Final Thoughts: Assessing the Risks and Rewards of Crypto Exchanges without KYC Verification
Cryptocurrency exchanges that do not require KYC verification have started springing up. Those that had a strict privacy policy have started making adjustments.
People are realizing that by presenting their details to the exchange, they're opening themselves up to a potential hack or creating an opening for malicious-minded persons.
KYC platforms that are wholly regulated also provide safety to customers and users are compensated in the event of a hack.
If you value confidentiality and choose to keep your personal information out of the reach of hackers or criminals, then it is best to search for platforms that would not require any verification.
Read More