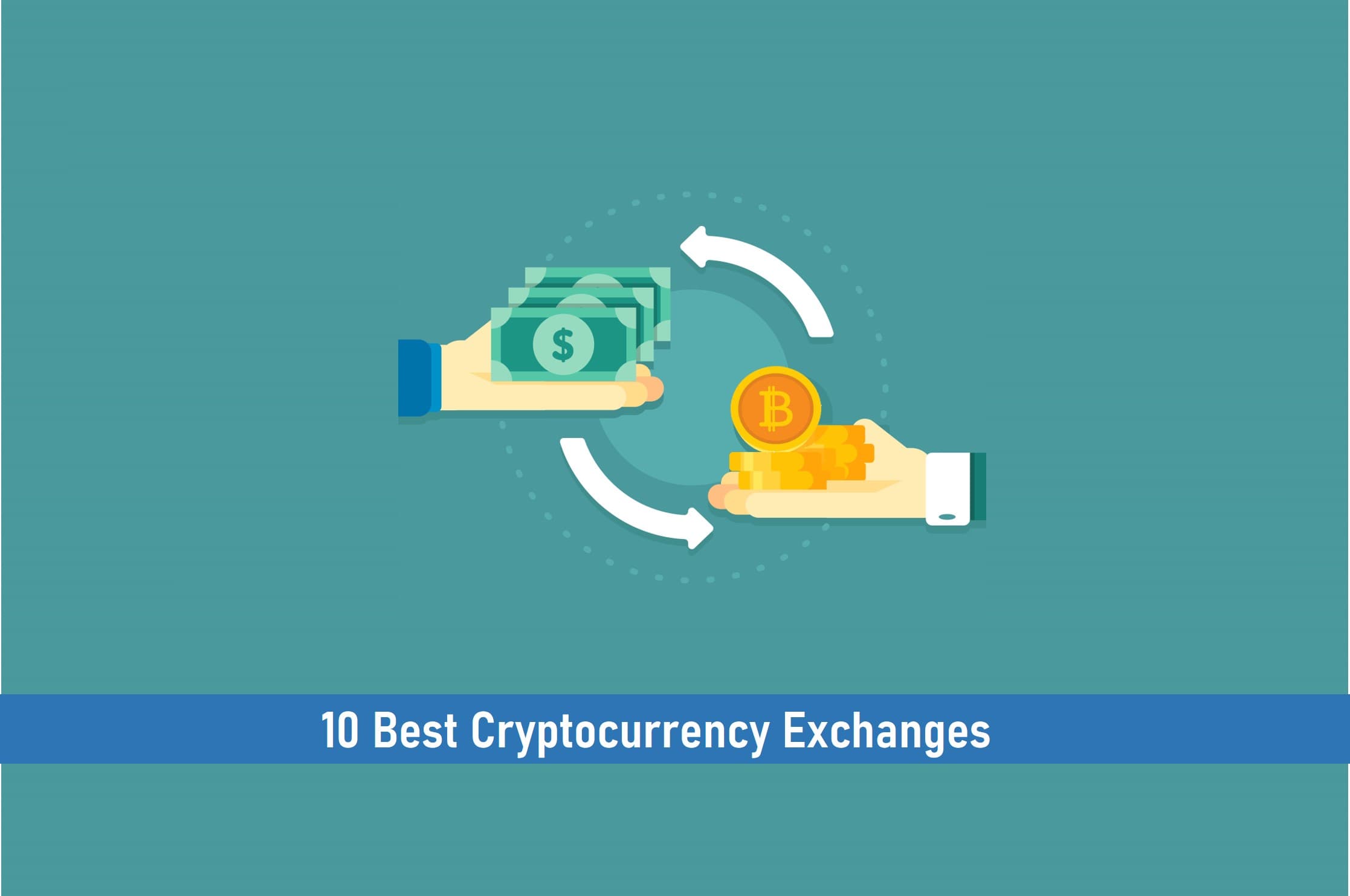 What are Cryptocurrency Exchanges?
Cryptocurrency exchanges are trading platforms that use specialized engines to match cryptocurrency trades among different users in real-time. They do this at a much lower fee compared to brokerages.
So if you're keen on exploring trades yourself through a P2P exchange, then it's okay to explore a handful of cryptocurrency exchanges that are out there and pick the best.
Choosing the best is also relative and would depend on individual preferences. So, we look to examine the best 10 cryptocurrency exchanges we have tested and also rely on a few reviews from its users.  
Before we delve into our best 10 crypto exchanges, we will examine these exchanges with these criteria.
Characteristics of Cryptocurrency Exchanges
Ease of depositing and withdrawing cryptocurrency even for first-time users.
Good borrowing flexibility on exchanges.
Ease of trading the USD against Bitcoin and other Altcoins.
Currency swap flexibility from one cryptocurrency to the other.
Intuitive interface that users will find easy to use.
Lower and many competitive fees.
High volume transactions compared to brokerages.
Users tend to have better control of their trades eliminating middleman interferences and charges.
Having mentioned a few characteristics of cryptocurrency exchanges, the drawback with some of these exchanges is that their services are often location-based.
SEE ALSO: 7 Best Altcoin Exchanges to Join in 2022
SEE ALSO: 6 Best Australia Bitcoin Exchanges
SEE ALSO: 12 Best Bitcoin Exchanges for European Users
For instance, first-time cryptocurrency exchange users in Europe or the United States may choose to begin with Coinmama or Coinbase, while someone from UK, Africa, Asia might use CEX.IO.
Without further ado, hitherto are our top 10 cryptocurrency exchanges for 2021.
Note that these exchanges provide an exhaustive array of services for adoption for most users.
SEE ALSO: The ABC of Investing in Cryptocurrency this Year
SEE ALSO: World's Most Popular Hardware Wallet – Ledger Nano S and Nano X
Best Cryptocurrency Exchanges
1. Coinbase
Convenient, secure and Popular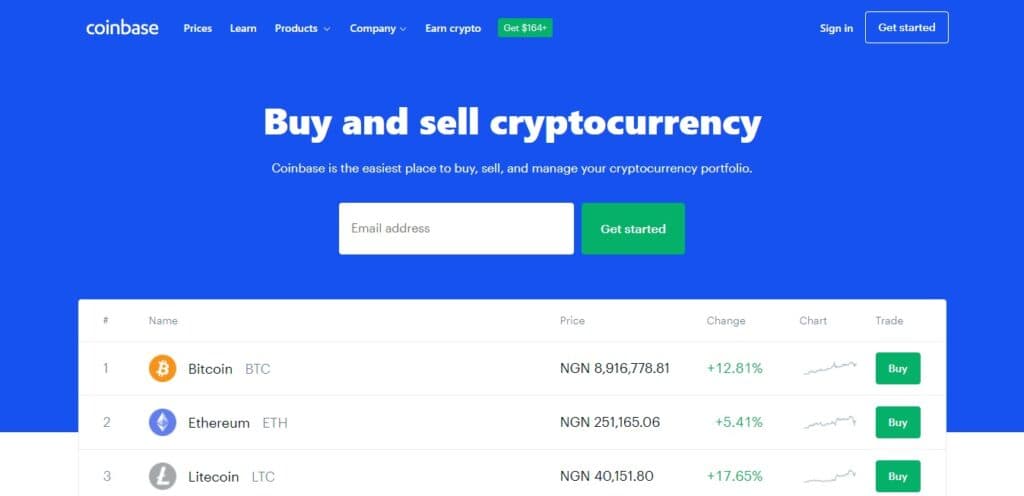 Coinbase is the most convenient crypto exchange on the planet which supports buying, selling, and overseeing your digital asset portfolio.
With a very intuitive platform, you will find all the data you need for informed decision making such as price and the percentage change in currencies like Bitcoin, Ethereum, Litecoin, Bitcoin Cash, and more.
What it takes to explore these features is to simply create your crypto portfolio, and adjust the data display features to your preference and begin trading cryptocurrencies.
You can now purchase, sell, and manage them in a single place.
With Coinbase, you can invest in digital currencies gradually as time goes on by making plans for it daily, weekly, or monthly top-ups.
Its vault protection allows you to store assets in a vault and also provides added security.
Coinbase has a brilliant mobile app for Android and IOS users which keeps it ahead of the market.
2 Coinmama
Brilliant Interface, low fees and Responsive customer support
Coinmama is an exchange with a solid security system. It's best known for its responsive customer support.
Coinmama is available in the United States and over 188 countries. The exchange is user-friendly and well developed to cater to clients' needs, that is why it is trusted by over 2.6 million people. You literarily will not need to visit another exchange when you land on its site. 
The exchange has many payment options (SEPA, ApplePay) which debit cards are one of the most used.  One unique feature is its interactive currency converter widget displayed on its homepage for users to easily decide on their investment choice and value.
At Coinmama, you can place your order and get your coins instantly with no deposits required.
With all its amazing features, some users may find its charges in fees of 5.5% high. But, it looks good for the extras in good technology, speed, and security it is providing.
Coinmama currently has one of the best customer support amongst other exchanges in the industry, which is expected and much appreciated.
Users of the platform state that its helpdesk is much friendly and also professional. A chatbot initiates with you on the onset before transferring you to live support.
To earn with Coinmama, its referral program allows you to earn a 15% commission from each of your referral's purchases and future purchases as well. There are no limitations, the more people you refer, the more coins you receive.
3. CEX.IO
Super-secure, trusted and fast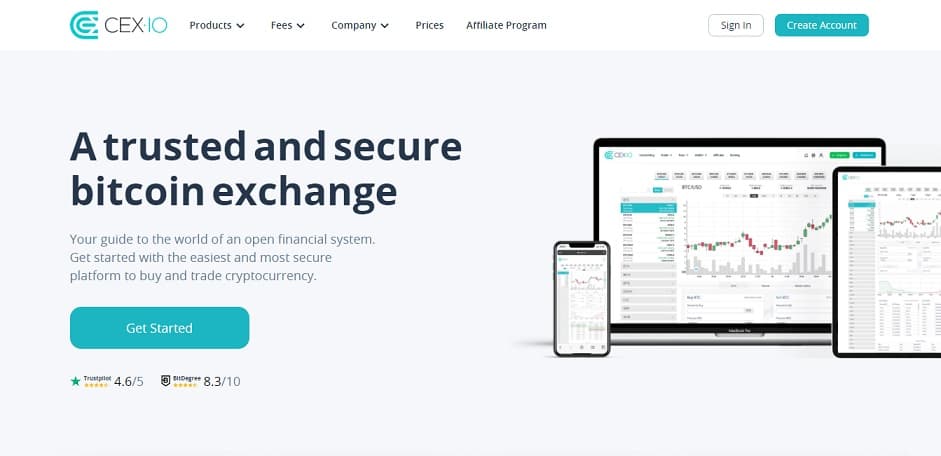 Cex.io is your access into an environment with open financial systems, a trusted and safe crypto exchange.
Cex.io is also one of the most convenient exchanges for trading cryptocurrencies. On its platform features thousands of cryptocurrencies such as BITCOIN, Ripple, Ethereum, Litecoin, Bitcoin Cash and so many more.
The platform allows you to purchase the top digital currencies swiftly with a credit or debit card and converting your purchase to Bitcoin or other altcoins.
Holders of Bitcoin can also withdraw funds onto their cards or bank accounts with a few clicks. 
Payment methods accepted on the CEX.IO crypto exchange are – Visa, Mastercard, Bank transfer (SEPA, ACH), and cryptocurrency.
You are provided with coherent security that will protect against DDOS attacks, crypto cold storage, complete data encryption, and compliance with PCI DSS standards to protect your money. On every transaction, a reasonable fee is allocated to takers and makers.
CEX.IO has distinct conditions for high volume traders and good offers for market movers.
A reliable order execution that possesses an advanced order matching algorithm, top-liquidity order book, suitable conditions for market prediction, and trades with high-frequency and scalping strategies are available.
Their customer support service is dedicated and available 24 hours a day, 7 days a week through email, phone and live chat to respond to clients' questions.
SEE ALSO: 4 Best Crypto Exchanges That Supports IOTA
SEE ALSO: 7 Crypto Exchanges With the Best Annual Percentage Yield (APY)
4. Binance
Big, secure and fast
Binance is the world's biggest cryptocurrency exchange that allows users to purchase and sell cryptocurrencies within minutes of signing up for a new account.
Binance platform features the latest price and market trend for Bitcoin and other Altcoins such as BNB, ETH, XRP, BCH, and LTC in real-time.
With Binance exchange, you can trade from anywhere and at any time. The mobile app provides virtually all the functionalities of the Binance cryptocurrency exchange making it accessible right from your pocket or the palm of your hand.
Binance excellent mobile crypto trading app is available for download to your mobile device (Android or IOs) from the exchange, Google Playstore or Apple Playstore.
Its desktop crypto trading platform is for very active traders that want to get the full experience of using the Binance platform on their Windows or macOS device.
If you desire more than just launching into the Binance exchange via its URL, you can explore the developer's option.
Binance Access
Binance Academy
Binance Charity
Binance Card
Binance Labs
Binance Launchpad
Binance Research and Binance Trust Wallet.

The crypto exchange's range of API solutions for automated trading includes WebSocket, REST API, and FIX API.
The Binance API allows you to integrate your trading app into their platform conveniently with a simple and easy-to-follow developer API documentation guide.
With Binance, you are guaranteed 24/7 efficient customer support. The Binance exchange also features the following products:
5. FTX
Versatile, modern with multiple cryptocurrencies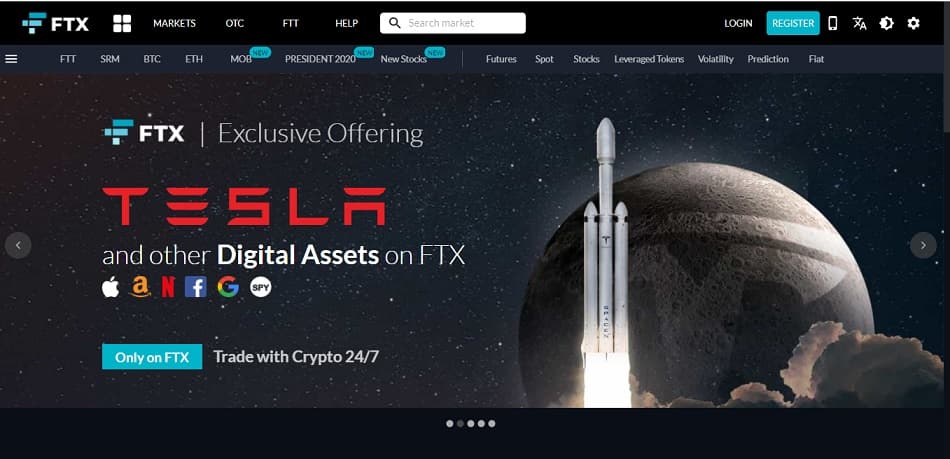 FTX is a digital asset derivative exchange designed for traders, by traders. On FTX, you get to purchase and sell Bitcoin, Ether, USDT, BNB futures, and many more cryptocurrencies.
The platform features a total prize pool that enables you to win an iPhone 12, a Tesla Model S, a share of Berkshire Hathaway, and other prizes, an FTT staking program that awards several benefits, and spot Margin trading, which is now live.
With FTX, you can access prediction markets, stake, trade on futures, spots, stocks, leveraged tokens, and fiat currencies like the USD, GBP, EUR e.t.c.
FTX's mobile app allows you to trade from anywhere and at any time. Simply download onto your mobile device, PC, or tablet from the Google or Apple Playstore.
The exchange is also socially active with Twitter, Telegram, and WeChat profiles.
6. LocalBitcoins
Buy and Sell anywhere and everywhere
LocalBitcoins allow users to purchase and sell BTC from anywhere. Holders can trade cryptocurrencies person-to-person, in a quick, safe, and easy way.
Signing up on the platform is free. LocalBitcoin provides help to customers through an extensive FAQ guide and their customer support service is also available to help sort out any issues.
LocalBitcoins are customer-centric and ensure to respond to queries on their platform promptly.
This is a tweet from LocalBitcoins
On the platform, you will find several holders of cryptocurrencies willing to sell their digital assets with the mode of payment attached.
7. Bittrex
High-level security, fast with over 200 cryptocurrencies
Bittrex exchange takes security seriously, it's also known for its fast and very responsive interface. Bittrex accepts small, preset fees and features a large number of cryptocurrencies and fiat currencies.
It is one of those exchanges you will consider in terms of security as the platform stores about 90% of the whole digital assets onto cold storage devices (the cryptocurrencies are held offline such that hackers can't access them just the way other exchange platforms do).
Bittrex has about 200 different digital assets for customers to choose from and its fees are set at 0.25%.
Even though the exchange had a few challenges with "pump and dump" scams before, security seems to have greatly improved now.
With security and other factors considered, Bittrex is one of the leading crypto exchanges in the Industry.
You can also refer your friends to the exchange and earn crypto from their successful trades. If you don't have an account, register today and refer your friends.
You can receive fiat as well as for cryptocurrencies. This will depend on the currency which your referral paid with at the site.
8. Simplex
Highly rated credit card transacting exchange
Simplex allows you to make payments via crypto with your debit or credit card without going through the hassle of opening an account at another exchange.
You do not need to purchase a crypto coin there and then use it to buy another elsewhere. It is a very fast payment processing system, safe, trusted, and much convenient in use.
Asides from being relatively comfortable, buying crypto-assets at Simplex is straightforward, making it a fine platform to use for beginners and experts.
A few users state that the fees of simplex are relatively high (about 5%) as a result of its incomparable level of security and ease. But nothing good comes for free. Simplex makes it seamless with the use of your Credit card to get started with cryptocurrencies.
9. Cash App
Seamless payment system, recommended for Beginners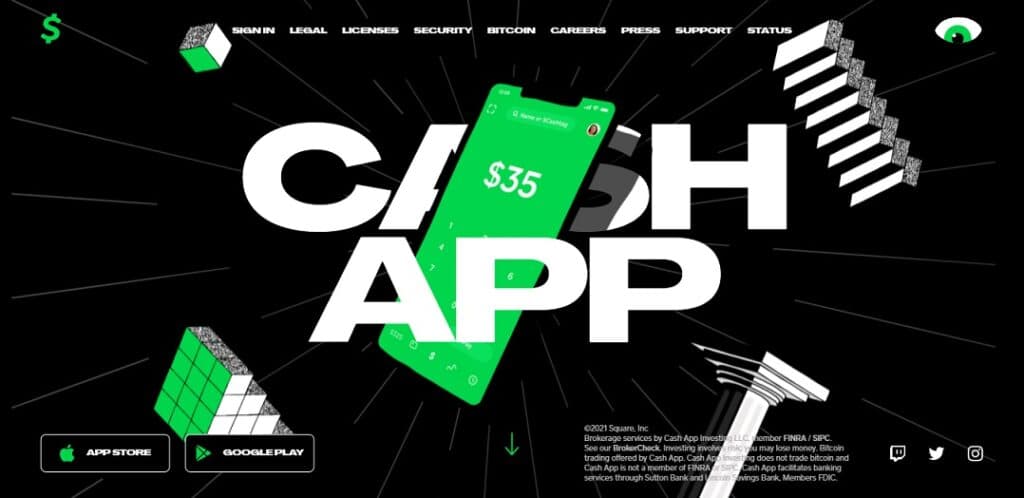 Cash App is a Peer-to-Peer (P2P) money transfer service similar to Venmo. Cash App is also referred to as a mobile exchange with supports Bitcoin.
The app allows very simple or routine transactions such as payment for your rental fee to a roommate, food supplies, utilities, or even make purchases at an online retailer that supports Cash App.
What makes Cash App unique is that you may not need to use your debit card. The founding company Square Inc upon registration of a new user sends a branded CashCard (debit card) within 2 weeks.
Before the waiting process starts, a virtual debit card is assigned to the new user where he/she can seamlessly transact before the physical card arrives at the designated address.
Cash App is convenient to use being a mobile-focused application with distinct features built with everyday shopping in mind. Cash App is available on  Apple IOS & Andriod with an amazing interface on both platforms.
We are still unsure where a service fee is charged by Cash App on every transaction and due to the effects of price volatility. This suggests that fees fluctuate based on the market movement.
An an exchange, you can invest in ETFs, stocks, and crypto-assets.
Despite offering a payment service like Venmo and an investment site like Robinhood, it's edge over other similar providers is that customers can withdraw their crypto reserve to their wallet. For this feature, we recommend Cash App rather than Robinhood to newbies wanting to purchase bitcoin.
SEE ALSO: What to Know About Binance and Binance's Exchange
SEE ALSO: Altcoins – 10 Best Alternative Coins to Bitcoin
SEE ALSO: How to Buy Bitcoin with Cash App
The fact that it allows you to withdraw cryptocurrency from its exchange is very crucial as far as the crypto industry is concerned.
Robinhood in its case allows you to trade and invest in digital assets, only that you cannot cash and spend it on whatever you want.
A lot of people in the market refer to this feature as "not your keys, not your coin". Meaning that if you do not possess the private keys to the wallet where the cryptos are held, you cannot guarantee your ownership over them.
10. Bisq
Excellent Centralized exchange
Bisq is a centralized, non-KYC exchange featuring 26 different payment methods including Zelle and a mobile app for both IOS and Android users.
Trading fees are either paid in Bitcoin or the native currency of the network (BSQ). When making payment, the charge on one BTC is 0.1% from the seller's side and 0.70% from the buyer's side
If you choose to pay your fees in the native cryptocurrency of the network, the cost to trade a BTC is 0.05% on the seller's side and 0.35% on the buyer's side.
While a lot of people would deny that this openness allows for criminal activity, the same scenario plays out when using money. This flaw could expose accounts to users in regions with less innovative banking policies.
Bisq presupposes that it offers free and unrestricted access to a section of an account. Savings or checking account (banking products) can only be accessed when you submit a government-issued document.
But if you're trading Bitcoin, it's not essential. The platform can be used regardless of location, nationality and does not require document verification.
There are lots of people around the world that cannot open a bank account or trade as their countries do not have the right financial infrastructure or these set of people do not have government-issued documents.
Final Thoughts
Choosing the right cryptocurrency exchange could be daunting sometimes, but knowing the right metrics to consider is just the beginning. Trying them out is another.
We have simplified the process by testing them out for you and narrowing the list for an easy pick for you.
Read More