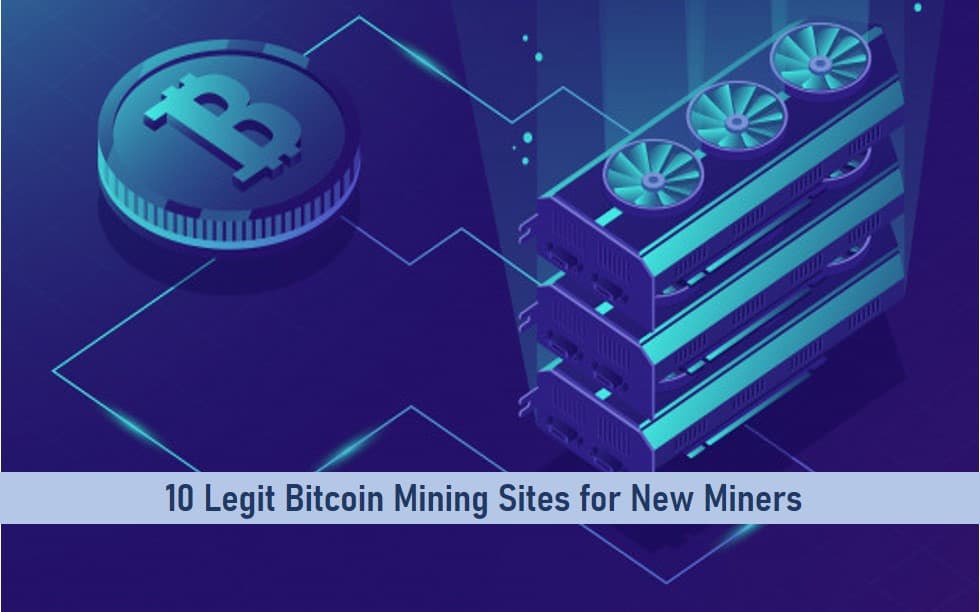 With mining sites springing up every day, one needs to be careful where to signup for a mining plan.
The "scam-scare" is everywhere with investors losing money in one Bitcoin scam website or the other. If this same thought resonates with you, then I would guide you on Bitcoin mining sites we have reviewed and found out to be legit, these are Cloud Mining Websites to be precise.
My assessment on legit means that I'm considering the following factors:
Transparency of the business.
Length of time in operation.
Mining plan information.
Payout to investors/miners.
Let's first explain what cloud mining is all about and how it works so you can know what to look out for before you signup with one.
What is Cloud Mining?
Cloud mining contributes to the existence of blockchains and cryptocurrencies. Sophisticated machines known as mining hardware perform the calculations where miners earn a reward from.
When you participate in a mining pool or a fully-fledged mining operation and buy a particular amount of "Hash Power" then you're cloud mining.
Mining pools fundamentally have the needed system to mine efficiently with varying plans according to the miner's financial capacity.
Investing in mining hardware is profitable especially when electric costs are low, but not everyone can afford to part with thousands of dollars to purchase mining hardware.
This is where cloud mining comes into play, cloud mining allows you to gain entry into the crypto mining space without the hassles of buying mining hardware or using up electricity.
What makes cloud mining easy to participate in is its low barrier of entry.
SEE ALSO: How to Mine Ethereum and Earn Better than Bitcoin
SEE ALSO: 3 Key Things to Look out for When Buying a Hardware Wallet
SEE ALSO: 7 Ways to Earn Bitcoin Without Spending a Penny
hardware usually has a lifespan of 2-3 years before redundancy sets in.
With the expenses involved in running your hardware as it is requisite to have it work all through the day to be able to obtain rewards.
That's why, heavy mining machines use up a huge amount of electricity to operate, which turns out to be a major mining overhead.
SEE ALSO: How to Choose a Bitcoin Miner that Saves Electricity
SEE ALSO: How to Add Bitcoin Payment to Your Online Business
Cloud mining Bitcoin is ideal for beginners who want to test the waters, as you'd start earning from the day you begin. You can then choose to reinvest your income and compound it as time goes on.
Nonetheless, it is crucial to point out that the BTC cloud mining space usually functions as the Wild West.
With several established sites in the industry, many are not trustworthy. A long list of Cloud mining sites just disappeared at night with investors' funds. A diligent review of these mining sites is advised to avoid scams.
Benefits of Cloud Mining
Consistent Income: The mining pool structure enables miners to earn daily, which you can access on your mining dashboard.
No Noise or Heat: Bitcoin Cloud mining is different from other forms of mining in respect to not having to deal with ear buzzing decibels emanating from your hardware which also translates to heat energy.
Electricity Costs are Out of it: With hardware consuming as high as 1600 – 2300 Watts, cloud mining will take the burden of electricity to the mining farm.
Zero Equipment Maintainance: No machines to service and cleanup all the time. With cloud mining, you just rent out a mining plan and you're good to go.
Low Entry Barrier: With the ease of setup and use (creating an account), you can start mining in minutes after purchasing a mining plan.
Investors' Concerns About Cloud Mining
Risks of Mining Scam: Cloud mining often involves the risk of losing your funds, so it's best to avoid any mining pool that offers returns that are unverifiable.
Mining Fees: Nothing is free. The mine operators pass on the maintenance costs of their mining farms to the miners. This enables the operators to keep the mining farm running efficiently with 99.9% uptime.
Declining Daily Income: Your reward or income depends on series of factors. If your coin appraisal declines, it may also turn out to be unprofitable.
Having explored a bit on cloud mining and its benefits, let's examine websites that are known for keeping to agreed terms in business. These are the mining pools I'll call legit. 
Let's examine them one after the other.
Legit Bitcoin Mining Sites
1. IQ Mining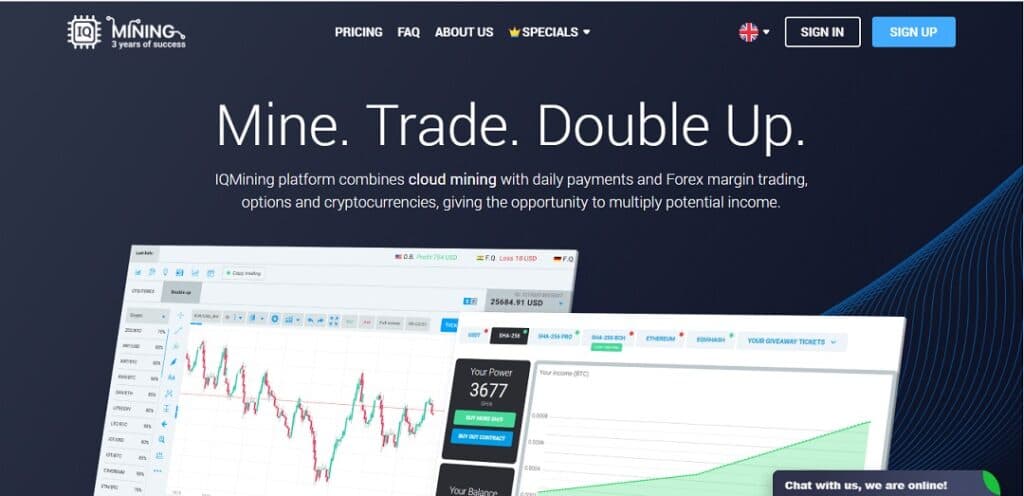 IQ mining started providing cloud mining services to its customers in late 2016. It offers a wide selection of cloud mining contracts with payouts in the most popular cryptocurrencies.
A cool feature is its 20% extra in interests on its "Pro-Contract" and its "Income Booster" which enables you to earn 180% upon reinvestment.
With 4 mining plans, users can pick the one suitable for them and upgrade whenever they want. These mining plans are Bronze, Silver, Gold, and Platinum packages, all have daily payouts. You can access them here.
Asides from mining plans, IQ offers solitary equipment that enables miners to rent them out to partake in cloud mining operations if they want. Within its few years of providing users with transparent and efficient service, IQ Mining has surpassed its client base with 50,000 users.
On its platform, there are several cryptocurrencies for you to mine. BTC, ETH, and USDT are the most prominent.  Smart contracts on IQ mining allow you to reduce risks.
With a clean user-friendly interface, it communicates to its visitors in 4 main languages (English, Russian, Spanish and French).
IQ mining is headquartered in Europe, it has a high-profit forecast unlike its investment which is quite confusing, and it is recommended for small investments.
There are also positive and encouraging feedbacks from customers who have used their platform.
2. unMineable
UnMineable is a crypto mining platform that mines Bitcoin, Ethereum, and other crypto assets. Currently, the platform has a beta version that works on top of well-known mining software and presents an easy-to-understand user interface for beginners.
Moving on, UnMineable recommends that your computer has a solid graphics card as the minimum mining requirement if you are to be successful in mining bitcoin on the platform.
Mind you, there are various hardware requirements needed for each mining algorithm. That said, below are examples of graphics cards your computer should have if you want to get started mining using UnMineable:
Etchash
A modern graphics card (GPU) with at least 3GB of VRAM (Graphic card memory, not to be confused with the system's RAM), and multi-GPU systems are supported, as long as all GPUs meet the minimum memory requirement.
Ethash
A modern graphics card (GPU) with at least 6GB of VRAM (Graphic card memory, not to be confused with the system's RAM), and multi-GPU systems are supported, as long as all GPUs meet the minimum memory requirement.
Kawpow
A modern graphics card (GPU) with at least 6GB of VRAM (Graphic card memory, not to be confused with the system's RAM), and multi-GPU systems are supported, as long as all GPUs meet the minimum memory requirement.
Autolykos
A modern graphics card (GPU) with at least 3GB of VRAM (Graphic card memory, not to be confused with the system's RAM), and multi-GPU systems are supported, as long as all GPUs meet the minimum memory requirement.
RandomX
A modern CPU processor is required, Laptop CPUs are supported but not recommended without proper ventilation (Cooling).
SEE ALSO: 5 Best Places to Buy Bitcoin before Eighteen
The dynamic power of Shamining's system provides investors which varying levels of daily income.
To start mining at Shamining, simply register an account and receive a 37% bonus on your first investment.
SEE ALSO: 5 Best Places to Buy Bitcoin before Eighteen
SEE ALSO: 10 Awesome Features of Changelly Exchange
SEE ALSO: Crypto Dusting Attacks and Clever Ways to Prevent It
3. Crypto Universe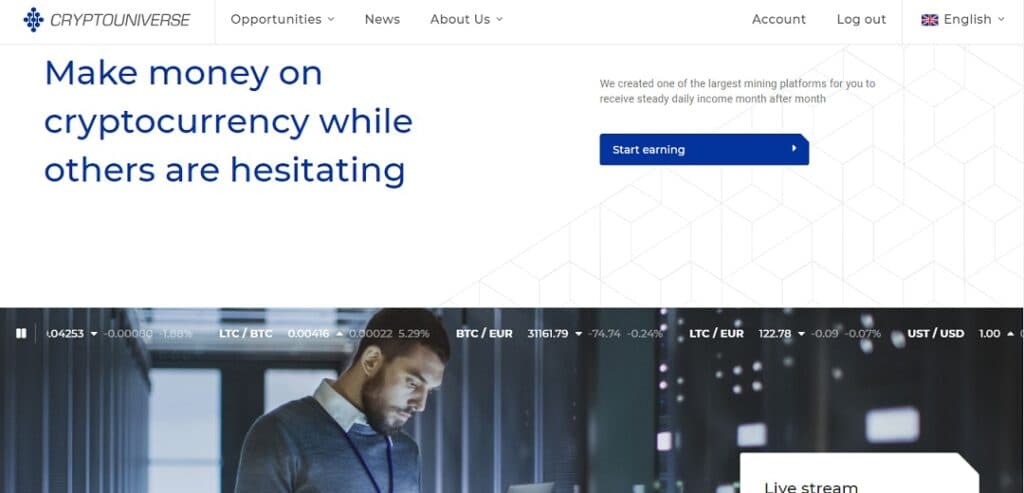 Crypto Universe began its operations in 2018.
This company is another brilliant cloud mining platform that offers users an opportunity to engage in cryptocurrency mining through very profitable contracts.
Crypto Universe provides these heavily subsidized contracts to its users due to its operating location which is the Russian Federation.
It has been able to run on subsidized electricity costs thereby giving it leverage to compete favorably amongst other mining farms.
Currently, Crypto Universe offers 3 different contracts, namely Standard, VIP, and the tariff 2025 (for investors who want to invest for the long term).
Customers can mine with "BTC Mining" and "Cloud Miners" contracts, they can purchase equipment for mining, resell hardware to miners, and also redeem funds after the mining process has come to an end.
As the cryptocurrency market is witnessing exponential growth, the cost of mining equipment is on the rise, thus giving hardware vendors, mining farm owners, and users more opportunity to grow their income and businesses.
Like other mining pools, Crypto Universe also has a user-friendly interface, and several contracts according to user preference. You can also become an affiliate with Crypto Universe and start earning by referring your friends.
4. Hashflare
Hashflare is a mining site that accepts Bitcoin and other Altcoins such as Ethereum, Litecoin, Zcash & Dash. What makes Hashflare brilliant is that it's very beginner-friendly and features a simple interactive portal.
Like many others on this list, Hashflare mining starts when you sign up with any of the five cloud mining plans starting at $1.40 per 1H/s with the benefit of fast payouts as well as immediate withdrawals. With this, you can decide on the most profitable combinations you want that gives your desired level of profitability.
Hashflare presents real-time information brilliantly and updates every transaction on the platform for users to have relevant and accurate information about their investments when they need it.
If signing up for any of the cloud mining plans is not what you want, you may choose to earn also from Hashflare's rewarding referral program.
Hashflare's referral program offers a 10% commission to partners that refer friends to their loyalty program. This works for partners with huge traffic and it provides the opportunity to request more promotional items.
Affiliates receive instant payment of all earnings, better analytics through a dashboard that offers enhanced functionality to expert publishers.
5. HashNest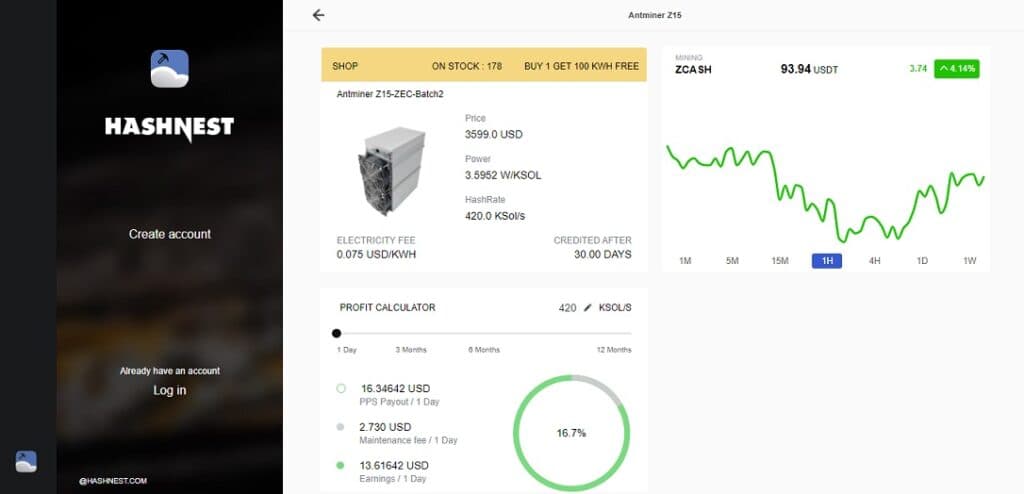 Hashnest got established in 2014 and it's an associate to Bitmain, a prominent ASIC mining hardware producer.
Signing up with Hashnest means that you will get access to some of the best hardware in the market with a platform that works on Antpool, one of the biggest mining pool you can find.
The company has grown over the years by establishing various data centers all over the World and its mining centers are quite renowned.
Hashnest presently tops mining hardware such as the StrongU miner, GPUs, and a few AntMiners.
Unlike other platforms, Hashnest has a spectacular and working market. Miners can purchase or sell hash rates based on their preferences.
Long-term traders will also benefit as cloud mining offered by Hashnest lasts a long while. HashNest accepts LTC, Dash, BTC, and Zcash mining.
Going over the mining process is relatively effective whilst engaging mobile wallets and mining at the site is relatively affordable as well.
A payout accelerated contract is applied to exempt miners from incurring electricity expenses. Contracts also include rolling payouts based on new blocks discovered.
6. BitDeer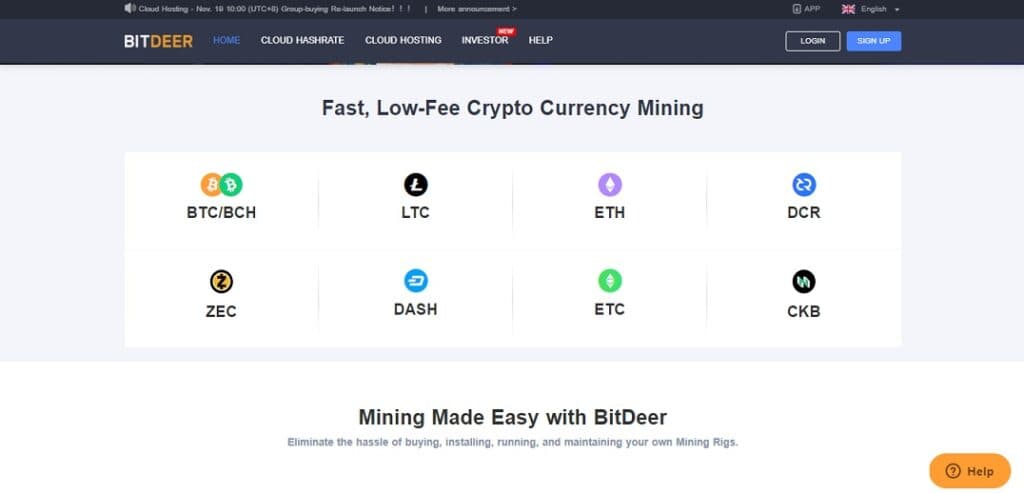 BitDeer incorporates a long-term conservative approach to mining. The company works with AntMiner to produce several very reliable machines.
BitDeer is what other mining sites envisage becoming. It stays ahead and always comes up with new ways to offer competitive miner benefits for its customers.
It handles the entire operational and electricity needs. It as well links, tests, and ascertains the availability of mining rigs.
The mining platform features needed transparency, enables miners to monitor the rented equipment power in the Bitcoin blockchain.
BitDeer was one of the pioneers of the very efficient S19 mining packages, reflecting huge investments in its mining pool.
For affiliates, the BitDeer referral program allows you to share discounts with friends and get BTC rebates.
Simply copy the invitation link and share it with friends. When your friend completes an order, you will be rewarded a commission in BTC. The more friends you can bring in, the higher your commission.
The program has four ranks namely: Rank 1 ~ Bronze, Rank 2 ~ Silver, Rank 3 ~ Gold, and Rank 4 ~ Platinum.
7. Genesis Mining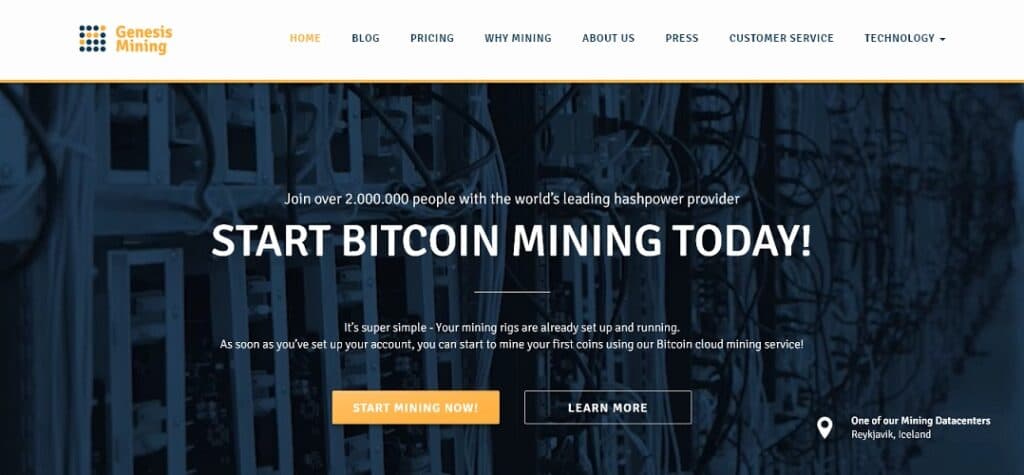 Genesis Mining is one of the biggest, providing Bitcoin mining operations. It was established in 2013 and has a solid reputation in the industry of providing convenient and ingenious investment solutions.
Genesis Mining has more than 2 million users all over the World and in terms of hash power, they are the biggest hash power supplier for bitcoin & altcoins.
The company offers mining pools for both Bitcoin and Altcoins where you can harness different coins simultaneously using the hash power provided.
Genesis Mining provides several pricing plans starting from $499.99 for the Radiant/Small plan to the Radiant/Large plan basking at $4,999.00. depending on your hash power and the kind of cryptocurrency you choose to mine.
When compared to other cloud mining sites, they are quite pricey but they offer remarkable experience and customer support.
8. ECOS
ECOS was founded in Armenia as of 2017 in the Free Economic Zone based on a deal signed by a Bitcoin Cloud Mining site and the Government of Armenia.
The company was built to meet the needs of customers who would like to engage in crypto cloud mining and also want to get satisfaction from self-mining.
Aside from having its headquarters in Armenia, ECOS also has a head office as well in Russia.
As one of the pioneers in cloud mining, they are regulated by laws in the home country Armenia. Regarded as one of the best cloud mining companies, they offer their users cloud mining services for a single cryptocurrency, Bitcoin which is the World's biggest crypto with regards to market capitalization.
Presently, ECOS is providing its services to more than 40,000 customers from different countries around the World.
ECOS also provides a host of mining packages to its users.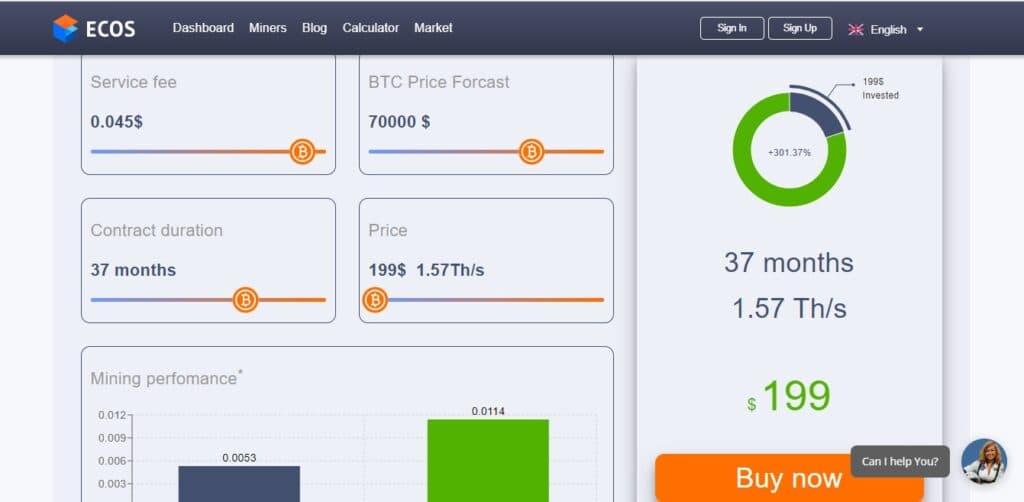 The least you can purchase a custom mining contract for any duration you want. The contract durations are adjustable, so you can get a combination of whatever suits you,
Different payment options are available whenever you want to make withdrawals or deposits, including Credit cards & cryptos like BTC, XRP, Ethereum, and LTC (Litecoin).
9. BitFury.com
BitFury is a crypto mining software & blockchain software designer owned by Valery Vavilov.
They have between 500 to 1000 employees and it was said to hold an IPO (initial public offering) through a stock exchange listing in London.
The crypto mining software is said to be valued to as high as $3 to $5 billion if it goes public in the next two years.
BitFury was found in 2011 under the subsidiary, Allied Control Limited and has its headquarters in Amsterdam as well as 8 office buildings in 8 countries. The company provides top security and infrastructure for the BTC blockchain. 
10. Slushpool.com
Slushpool is the first mining pool having over 1.2M BTC mined right from 2010.
The pool has over 100,000 workers, a 4.68 Eh/s Pool hash rate, an advanced monitoring feature to get updates on issues as they happen with an all-round the clock feedback.
Slushpool's app for mobile users allows effective monitoring of the mining farm from anywhere, and a hash rate proof that verifies user's rewards and moderated through statistical proofs provided.
Users are given a demo account with which to practice their first Trading experience. The demo account provides you with features such as monitoring, improved payouts, and other offers that grant you immediate access to some privileges. Some of them include a protected-learning environment without having to use your mining hardware.
At the Braiins full product stack area, you will find a BRAIINS OS+ that features an Autotuning mining firmware. This allows you to increase your Bitcoin ASICs, thereby increasing efficiency up to 25%, and receive zero percentage fees on slush pool.
Secondly, is a BRAIIN OS opensource mining firmware, a top-notch firmware that incorporates Stratum V2 and mining written from the basics with Rust language.
Stratum V2 (a next-generation protocol for mining) provides quality modifications of which are null block elimination, reduced data loads, hash rate hijacking prevention etc.
Another product offered here is a SLUSH POOL that provides industry-leading innovations and openness. It has mined over 1.25 million BTC since 2010. The platform's pool setup offers Zcash mining, Bitcoin mining, and an API protocol.
SEE ALSO: 6 Best Cryptocurrency Exchanges with Leverage Trading Incentives
SEE ALSO: 7 Cryptocurrency Derivate Exchanges With Their Own Coin
SEE ALSO: Top 8 Cryptocurrency Exchanges that Do Not Require KYC
Final thoughts
Cloud mining sites have become viable ways to gain entry into the world of cryptocurrencies. Mining Bitcoin is yet another way to earn it. So, if you've missed the Bitcoin rush, joining a mining pool is just another smart way to get Bitcoin into your investment portfolio via a digital wallet.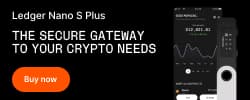 Image credit: Business vector created by fullvector
Read More