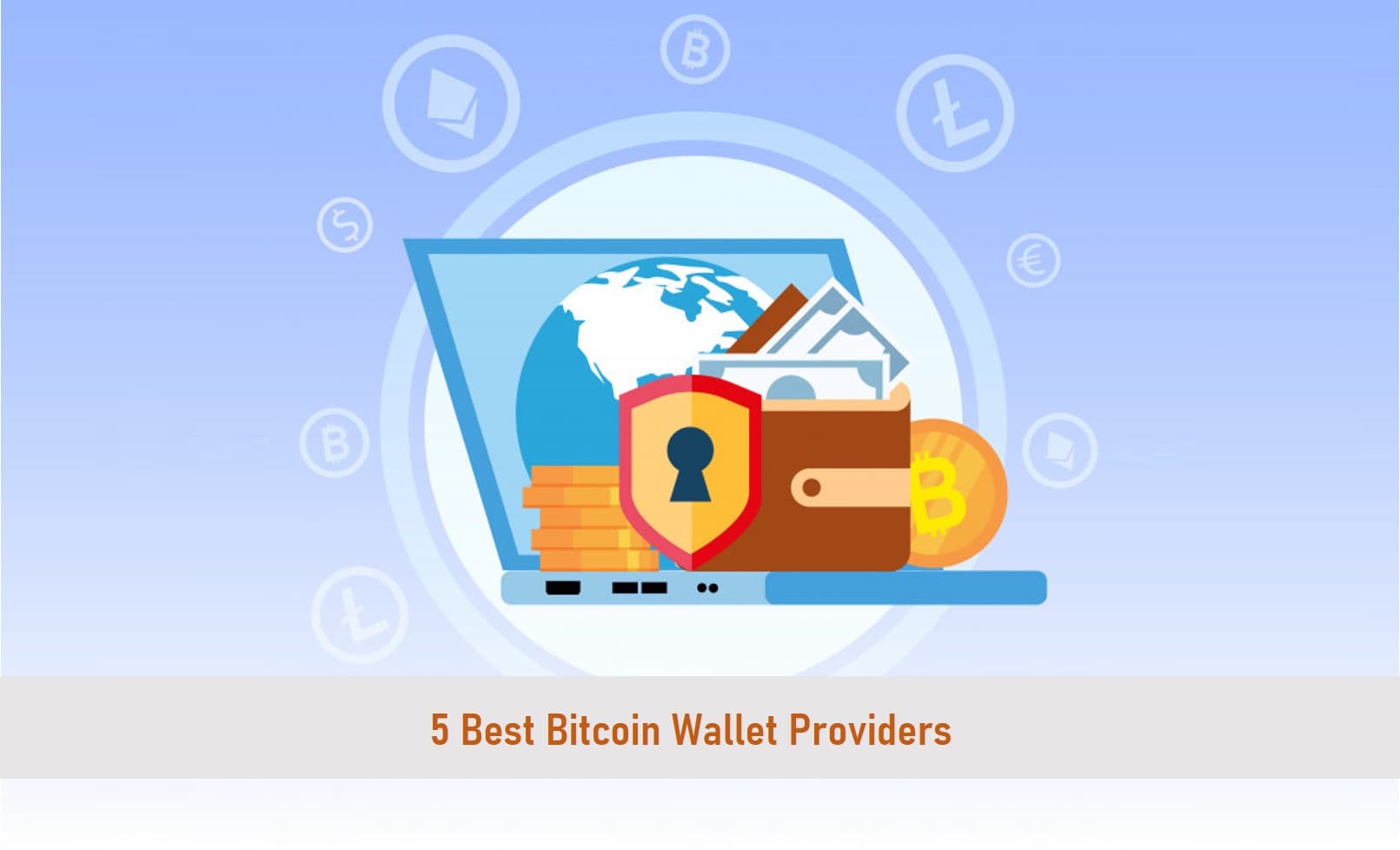 With the advancement in the blockchain technology and storage concerns for new and existing owners of Bitcoins, cryptocurrency enthusiasts and software developers are finetuning newer methods of storing Bitcoins and Altcoins in a digital wallet.
Before we discuss the top Bitcoin Wallet Providers available in the year 2022, let's examine what a Bitcoin Wallet is itself and the types of digital Wallets available in the crypto-space. 
When we say Digital Wallets in the context, we also mean Cryptocurrency Wallets.
What is a Digital Wallet?
Creating a cryptocurrency digital wallet is the first step anyone intending to use Bitcoin or other cryptocurrencies should take.
These wallets function the same way a bank account will do. Digital wallets reside on a website, app, or device that manages your secret codes.
You can store Bitcoin and other altcoins, receive and transfer to others. This is possible with your wallet private keys exclusive to you.
Private Keys are secret codes in 256-bit numbers or hexadecimal 64 characters ranging from 0-9 and A-F. See an example of a Bitcoin private key below.
Example of Bitcoin Private Key
SEE ALSO: World's Most Popular Hardware Wallet – Ledger Nano S and Nano X
SEE ALSO: Trezor One and Trezor Model T Bitcoin Hardware Wallets – Which is Better?
SEE ALSO: 3 Key Things to Look out for When Buying a Hardware Wallet
Since we've established what digital wallets or bitcoin wallets are, Let's examine the types of wallets available and know which one would suit your needs.
Types of Bitcoin Wallets 
There are several Bitcoin wallets in use today, and each one has its interchangeable features between security and convenience.
On a broad spectrum, we have the Cold Wallets and Hot Wallets.
Let's see the difference between the wallets.
Cold Wallets
A Cold wallet is a hardware wallet or storage device that is not connected to the internet but for the storage of cryptocurrency coins.
Cold wallets are built like your steel vault underground. The main idea behind a hardware wallet is that it should function independently with very minimal exposure to the internet.
These wallets keep private keys away from weak devices connected to the internet. Coins can only be extended when connected to your desktop PC or Mobile device.
It's a good choice for those who prioritize security in Bitcoin storage. 
Cold wallets ensure your private keys are kept in a safe environment offline that is well protected even if your device per-chance is plugged into a computer infected by malware.
As we know that cryptocurrencies are digital assets. Persons with malicious intent could attempt to target your computer's "software wallet" and run away with it by gaining access to its private key.
But when you store and generate private keys offline with a hardware wallet, you ensure that hackers do not gain entrance or access your coins, unless they steal the hardware itself.
Benefits of Cold Wallets or Hardware Wallets
1. Hardware wallets prioritize safety and they serve as an easy way to store your Bitcoins and other coins.
2. You easily backup and secure your coins.
3. There is little allowance for errors; setting it up is convenient even for those less skilled.
4. Several hardware Wallets can be used simultaneously to reinforce security.
Cons of Cold Wallets or Hardware Wallets
1. They come at a cost (purchase of a hardware device).
2. It is challenging for new users to comprehend.
A Hot Wallet is a cryptocurrency wallet that is connected to the internet through your personal computer, mobile device, or tablet.
Hot wallets generate your private keys on an internet-connected device by a third-party provider, thus they cannot be considered to be safe 100%.
Hot Wallets
However, Hot wallets are a great way to store digital coins and it's seamless for making payments if you'll be doing so frequently.
Benefits of Cryptocurrency Hot Wallets
1. It is an easy way of storing little amounts of Bitcoin and altcoins.
2. Sending and receiving payments is fast and convenient.
3. Some Hot Wallets give access to funds across several devices.
SEE ALSO: 10 Awesome Features of Changelly Exchange
SEE ALSO: Altcoins – 10 Best Alternative Coins to Bitcoin
SEE ALSO: 7 Ways to Earn Bitcoin Without Spending a Penny
Cons of Cryptocurrency Hot Wallets
1. Hot wallets are not safe for storing large sums of Bitcoin or other cryptocurrencies.
2. Chances are that your mobile phone or PC may get into the wrong hands leading to a potential breach of security.
Having considered the Pros and Cons of Cold and Hot Wallets, Let's examine the Best Bitcoin Wallets Providers in 2020.
These are our picks:
Ledger
Ledger crypto wallet positions you ahead of the money. With Ledger, you can securely send, buy, sell, exchange, or earn cryptocurrency. It is a new generation of hardware wallets.
Ledger Crypto Wallet
A Ledger wallet ensures you do not get hacked by providing you the highest level of security for your crypto assets.
Their products synergize a Secure Element and a proprietary Operating System built with a purpose. You assume control and ownership over your private keys.
Ledger has a vibrant community where you can get help and the latest news on the platform's products.
Some of these products include:
Access All Wallets here
While, Ledger Vault and Ledger Origin are for business inclined persons, the platform has active social media accounts (Facebook, Twitter) etc.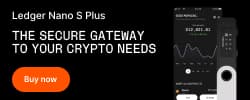 Trezor
Trezor has a great reputation and also a safe place for your Bitcoin. It is a hardware wallet that stores your coins safely and manages them. You can also trade your crypto on the exchange through Trezor.
Trezor Cypto Wallet
There are over 1000 cryptocurrencies on the Trezor platform. This platform serves as convenient offline security for your coins. It comes with an intuitive user interface designed for simplicity.
Trezor also has cross-compatibilty features that allow it works with several wallet apps, that why it comes in highly recommended by experts and trusted by small and Medium sized Companies.
The platform has an active community online where updates are posted regularly.
Trezor.io is friendly for beginners, it features a monochrome display having two buttons enabling easy access through a computer or mobile device.
A password manager encryptes your password on a cloud, a Bitcoin-only firmware, U2F authentication, SSH, an encryption through GPG, superb support, and it was developed and designed in the European Union.
Also, users have access to a microSD card retention, improved features for pro Bitcoiners, an excellent customer support service and a unique wallet.
Exodus
Exodus Crypto Wallet – This is the number one crypto wallet we recommend this year. It allows you to receive, send, and convert cryptocurrencies conveniently on your mobile device, PC, or tablet.
The app is available on the platform. 27 types of cryptocurrency and over 1500 tokens is hosted.
Exodus Crypto Wallet
With Exodus, you have more control over your coins. It is easy to earn interest, wager on video games or sports, and manage your cryptocurrency.
The platform has live charts and a portfolio section, an inbuilt exchange, an all-around clock human support.
Exodus Crypto Wallet also has over 100 cryptocurrency assets versatility, a sync feature with your Exodus app on a desktop, a simplified crypto exchange that allows you to trade trezor and exodus.
It can monitor the market on the go with enhanced safety for your cryptocurrency.
It is simple to use in such a way that it is great for beginners who are just venturing into the crypto space.
It features superb support for users. The wallet is secure, beautiful, and rare in the Cryptocurrency World.
Its mobile version enables you to oversee your digital assets on the go right from your iOS or Android device.
Electrum
Electrum.org is a Wallet that stores your private keys safely by encrypting and preventing brute attacks on your wallet and computer.
Electrum
Crypto Wallet
Electrum servers are decentralized thereby making sure your wallet is never down.
The platform permits you to expend your coins over several wallets with lightning speed because Electrum servers index the Bitcoin blockchain.
With Electrum, all the transaction history are verified with the aid of a Simplified Payment Verification (SPV). It supports Multisig services, third-party plugins, hardware wallets, etc.
A wallet can be downloaded from their website. You will also benefit from an active community on Electrum, version upgrades, and new releases under MIT License.
MyCelium
MyCelium is a default Bitcoin Wallet that has been around for a while. The wallet is solid and robust for storing Bitcoin, though useful for everyone.
It allows you to keep your coins safely, hold multiple accounts, trade, and create backups.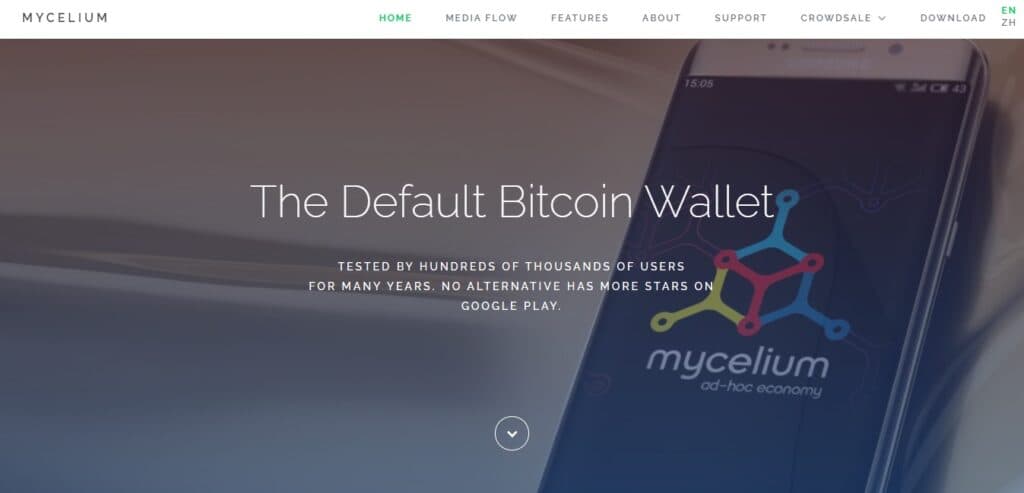 Mycelium Crypto Wallet
The platform features a host of integrations, increased DAPPs, UX and UI categorizations, bank-grade security, a protocol ID known as BIT ID that enables you to authenticate your account.
Mycelium can hold a single address account and store large amounts safely by deleting the private keys from a device.
This can also be referred to as a 'Watch Only' account that allows the wallet lookout for outputs but doesn't expend them.
It's hardware, Cashila (leverage to pay bills in SEPA ZONE), COINAPULT (a hedge against the US Dollars and other currencies), GLIDERA (allowing you to buy and sell crypto with the aid of a bank account in Canada or the USA).
Also, Trezor/Ledger gives you access to hardware security tools, Local Trader which is a decentralized in-person exchanged incorporated into your Bitcoin Wallet that never needs to hold any of your fiat or Bitcoins.
Most importantly, all chat conversations are encrypted end-to-end through your Bitcoin keys and are only accessible to those in the chat.
Trader ratings where buyers' and sellers' reputations are displayed for all users to see.
Read More