Cryptocurrency has really accomplished a lot since the days of Bitcoin in 2009. Today, there are well over a thousand cryptocurrencies, all made for different purposes, as can be seen in their whitepapers.
Key Takeaways
• The existence of crypto games has paved the way for another means by which crypto investors can earn crypto other than from crypto mining.
• The majority of these crypto games are easy to play and understand as they come with very simplistic features for easy navigation.
• Bitcoin-based games offer minute fractions of Bitcoin and because of Bitcoin's high value; it usually takes a good amount of time before a reasonable amount can be earned.
• Some of the crypto games are designed after real games played by individuals, such as Bitcoin Solitaire and CryptoPop.
SEE ALSO: 10 Most Popular Ways to Earn Bitcoin for Free
SEE ALSO: How To Earn Cryptocurrency Fast With A Brave Browser
SEE ALSO: How to Join Mining City and Earn Coins Daily
When it comes to ownership, there are numerous coins out there to choose from. Traditionally, investors own crypto through mining, but thanks to technological advancement, investors can now earn crypto in different ways and one of them is through crypto games.
These days, there has been a massive crossover between games and crypto with some games moving on to create their own crypto with real-time value and crypto investors investing heavily in crypto and even crypto gambling.
While crypto games have become a reality, there are some fakes out there that you need to be wary of so as not to get tricked or scammed. For this reason, I will be listing 10 authentic games to play to earn crypto on your mobile phone.
You should do well to check them out and see for yourself how you can claim new crypto coins by participating in them.
They are listed below.
1. Bitcoin Solitaire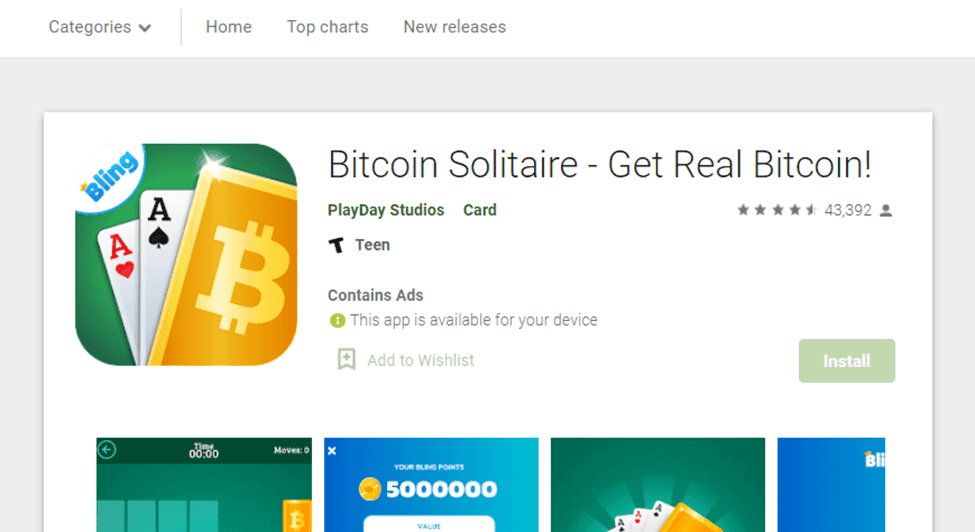 If you remember quite well, Solitaire is a game that people enjoy playing quite well.
As such, this game is modeled after the original Solitaire with the only difference here being that the faster you complete it, the more points you make. After that, you can transfer them into cryptocurrency via Coinbase.
This is quite an interesting game and the fact that it makes use of one of the largest crypto exchanges in Coinbase makes it stand out from the rest on this list.
Download Bitcoin Solitaire
2. CryptoPop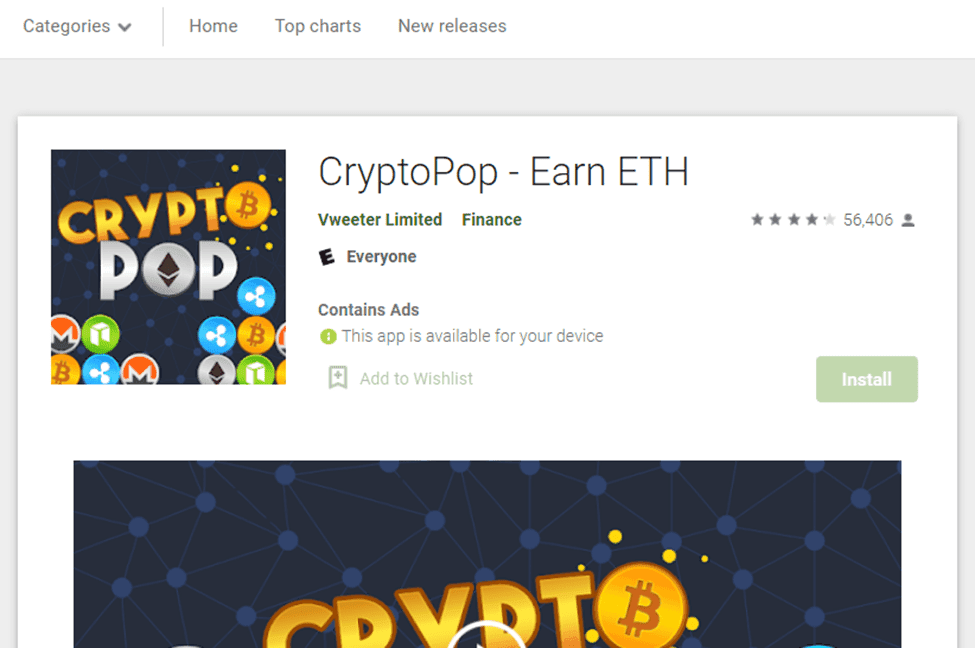 Just like how the Bitcoin solitaire game was modeled after the original solitaire, cryptopop was modeled after Candy Crush, a popular mobile game played by a lot of people across the globe.
To get some crypto, all you need to do is to burst the bubbles as the more bubbles you burst, the more crypto you get.
One other thing about this game is its simplistic design, which enables investors to play the game and earn some crypto without devoting too much energy.
Currently, the game pays out in Ethereum and Popcoin and you can get them via Coinbase which you can also transfer to a wallet on another exchange. The game says that it plans to expand to other big crypto coins such as Dash and Litecoin.
Download CryptoPop
3. Bitcoin Bounce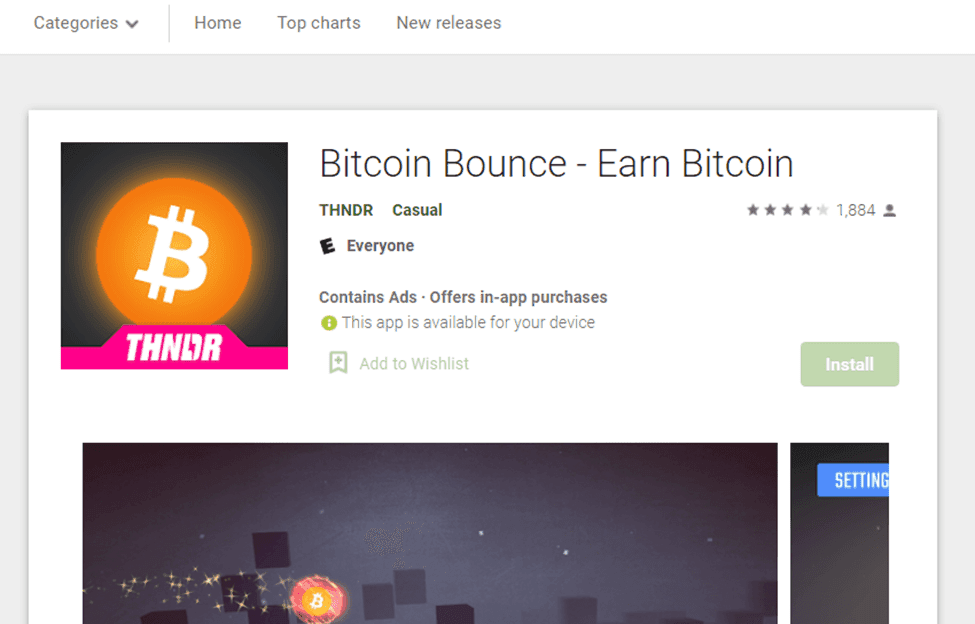 Bitcoin Bounce in terms of its structure is quite different from the two listed above. Rather than receive crypto straight away while playing the game, you will have to instead play to collect tickets to enter into a raffle draw to win crypto at the end of each day.
What this means is that you may or may not win crypto as a prize. As such, the only way to increase your chances of winning crypto prizes is to get as many tickets as possible in a day to keep playing with the hope of landing more prizes.
Download Bitcoin Bounce
4. Alien Run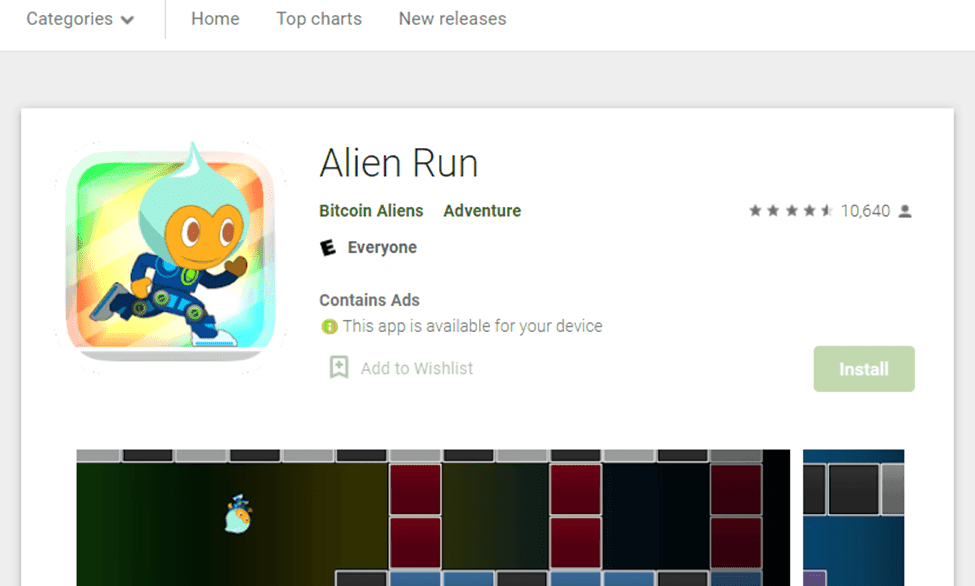 This game's design is unique and different from others on this list. You will have to pass through levels or stages in the game before you earn crypto.
For every five levels you complete, you earn a fraction of Bitcoin. As such, the more levels you complete, the more fractions of Bitcoin you earn.
This game is not necessarily as simple as the rest as it is a bit demanding and will require your full concentration and attention should you wish to earn more Bitcoin as you play.
Download Alien Run
5. Crypto Planet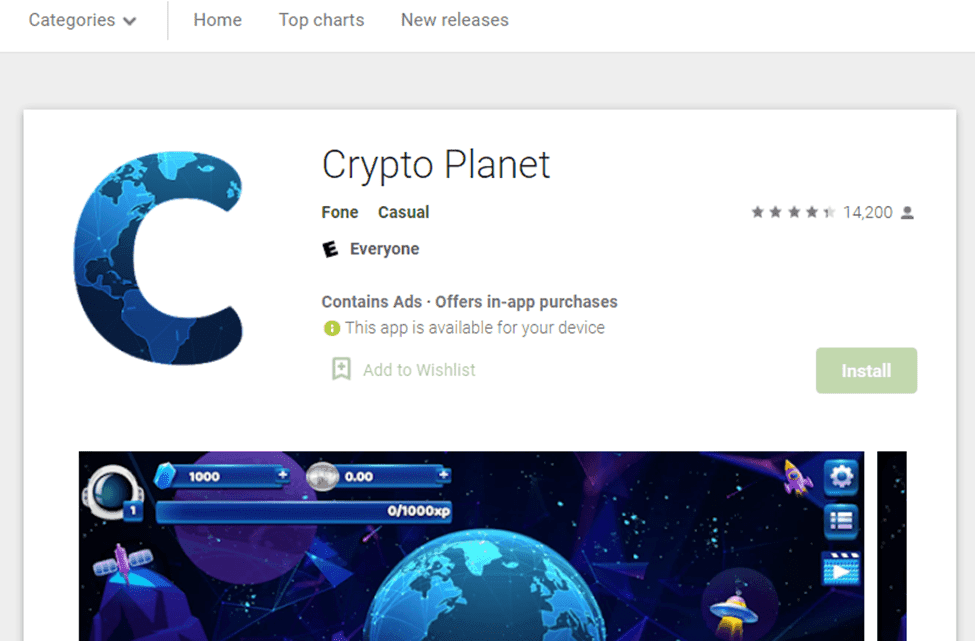 In this game, your major aim is to explore a crypto-planet and mine minerals. In the game, you are provided with a digger with which you use to keep mining crystals for some time and then you go back to collect your crystals.
With those crystals, you would be able to afford some space chests that have in them items of which cryptocurrency is a part.
Hence, the more crystals you mine, the more space chests you buy, and the more you stand a chance of earning crypto.
After earning crypto, you can then store it in a wallet provided within the game, from which you can transfer it to another wallet outside the game.
Download Crypto Planet
6. Bitcoin Pop
Bitcoin Pop has more similarities than differences with Crypto Pop. The only difference here is that you can only earn Bitcoin, as it does not offer other cryptos.
However, given the fact that Bitcoin has a very high value, it will take you a huge amount of time before you earn enough Bitcoin that can be transferred to your wallet.
The same thing applies to other games on this list that offer Bitcoin to their users. They can only earn a small number of satoshis at a time and as a result, will have to have a whole lot of patience if they want to earn something tangible.
Download Bitcoin Pop
7. Bitcoin Food Fight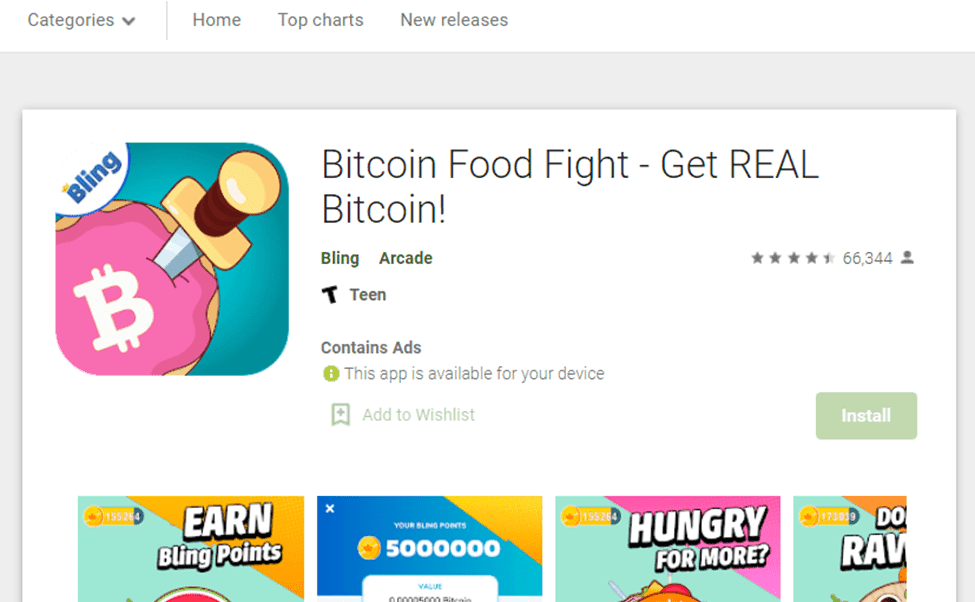 This game aims to test your aiming skills, and it does not mean that you will be literally fighting food, as the name suggests, but rather you will be fighting food by throwing knives at it until it falls apart.
The foods vary as they could be pancakes, pizzas, vegetables, etc. once your knife hits another knife or lands on the wrong spot, the game resets and you start afresh.
Notwithstanding, you get to earn bling points irrespective of whether you win or lose. These bling points will then be converted into Bitcoin which you can withdraw to Coinbase every week.
Download Bitcoin Food Fight
8. Turbo 84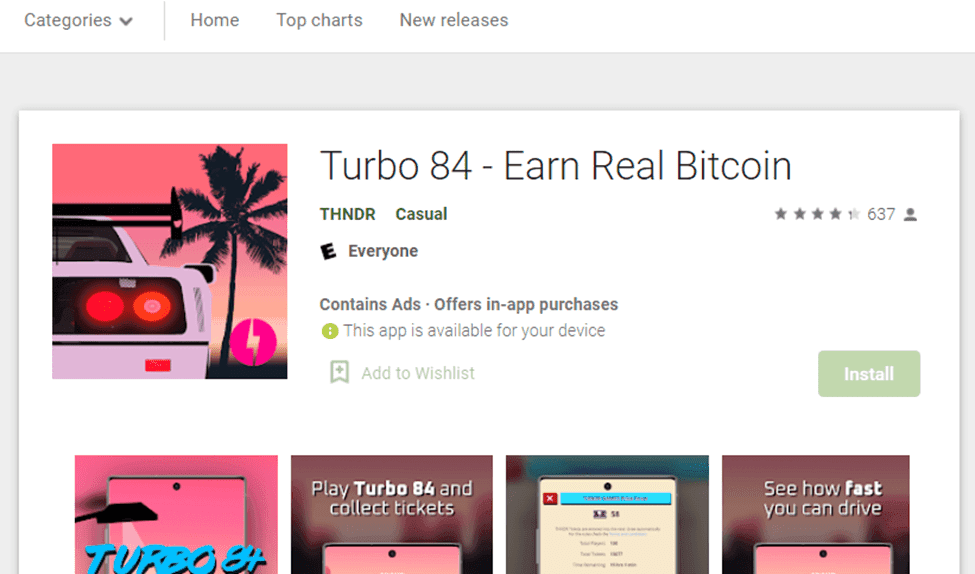 Just as the name implies, you will be involved in a racing game where you will be required to change lanes as fast as possible.
As you do that, you will need to collect THNDR tickets as this will strengthen your chances of winning the daily Bitcoin raffle prize so you must get as many THNDR tickets as possible.
Just like Bitcoin bounce, you will need to have an external wallet that supports the Lightning Network to claim your winnings.
Download Turbo 84
9. Crypto Win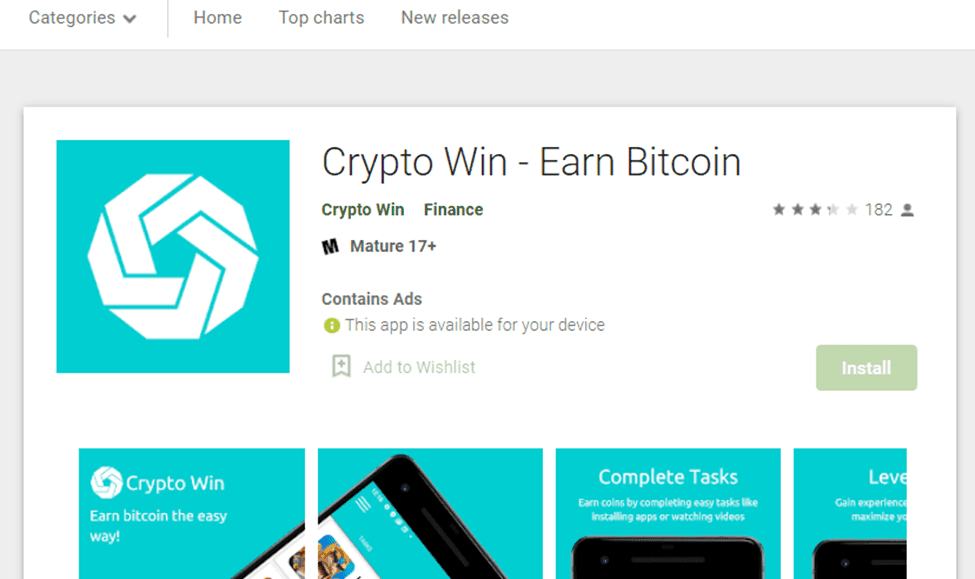 The purpose of this game is to test your memory as all you will be required to do is to flip cards before the time runs out. The faster you flip cards, the more points you will earn.
You can also invite your friends to participate in the game as well, and you get 5% of their withdrawals in turn.
After you have accumulated enough points from flipping cards, you can then convert them into cryptocurrencies such as Ethereum, Bitcoin, Ripple, and Litecoin.
Download Crypto Win
10. Bitcoin Blast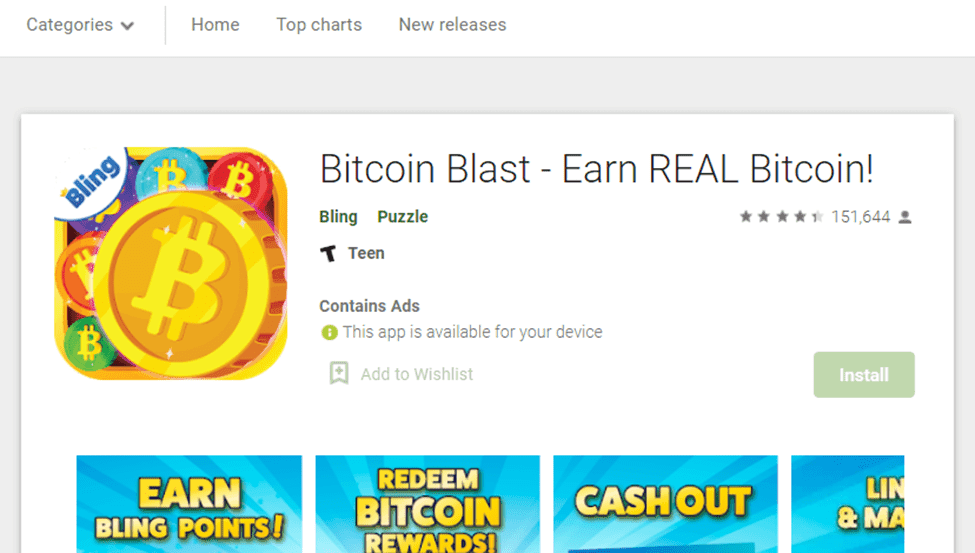 This is another Bitcoin earning game where you just need to make a chain of at least three Bitcoin to clear the board. The longer the chain, the more bonuses, and points you will earn.
The game also has a lot of levels to keep you occupied. If you want to redeem your points for Bitcoin, you will have to open a bling account, then redeem your coins using your Coinbase email address on the redeem tab.
Frequently Asked Questions (FAQs)
Can I earn Bitcoin for free?
Yes, you can, as earning free Bitcoin is legit. All you need to do is to pick a Bitcoin-based game from the above-listed ones and you are good to go.
Can I earn crypto on my phone?
Yes, you can earn crypto on your phone. You can either mine it via third-party apps or you can play crypto-based games just like the ones listed above to earn crypto on your phone.
Earning crypto via crypto-based games has proved to be another way you can earn Bitcoin apart from the good old crypto mining. If you really want to try it out, feel free to select from the above-listed ones and you are good to go.
Read More