Using a Ledger hardware wallet in conjunction with an app, you can simply and securely store your cryptocurrency while also gaining access to important services.
A single ledger device can manage over 1800 crypto assets hence, it would be quite easy for you to store Shiba Inu On Ledger Nano Wallet. To store your private keys, the Ledger Nano series employs the most secure type of semiconductor-a secure element.

Key Takeaways
•The ledger wallet is one of the best crypto wallets out there and serves as the best option for Shiba Inu storage.
•The ledger wallet supports over 1000 cryptocurrencies and can store multiple cryptocurrencies at the same time.
 It is built to withstand sophisticated assaults, and with this verified chip, your private keys never leave the device-meaning only you have access to them.
The Ledger hardware wallet is also the market's first and only certified hardware wallet.
Furthermore, Ledger wallets are the only hardware wallets with their own unique operating system (BOLOS) to safeguard the device from malicious assaults and separate apps from one another.
If you want to store Shiba Inu on a Ledger Nano Wallet, you can find out how below:
Currently, Ledger offers two versions of Nano hardware wallets. Both provide the same degree of safety for your crypto assets, so you can be confident in selecting the one that best suits your needs.
The Ledger Nano S is often regarded as the most secure way to purchase and store your preferred cryptocurrency. It is the most common hardware wallet in the world and is well-known for its durability.
You can safeguard and manage your chosen cryptocurrency, such as Shiba Inu, with 3 to 6 crypto programs installed.
The Ledger Nano X is widely regarded as one of the best wallets where you can store your crypto assets in a simple and safe manner.
It is the most advanced hardware wallet in the world, with amazing features like Bluetooth that allow you to trade on the go, at any time, using your smartphone.
With up to 100 currency apps loaded on the Ledger Nano X, you can safeguard a significant number of them. For added convenience, the gadget has a larger screen and a superior ergonomic design.
When you purchase your first Ledger hardware wallet, you will discover that it can do much more than just store and safeguard funds; it unlocks an entire universe of critical crypto services.
If you've previously invested in cryptocurrencies like Shiba Inu, you should be aware of both their upsides and downsides over traditional money.
One of the most significant downsides of cryptocurrency as a digital asset is that it may be an attractive target for hackers and other cyber dangers.
A Ledger crypto wallet does not "keep" your cryptocurrency, but it is the best way to preserve and protect that all-important key, both from hackers and other external threats, as well as from your own defective memory.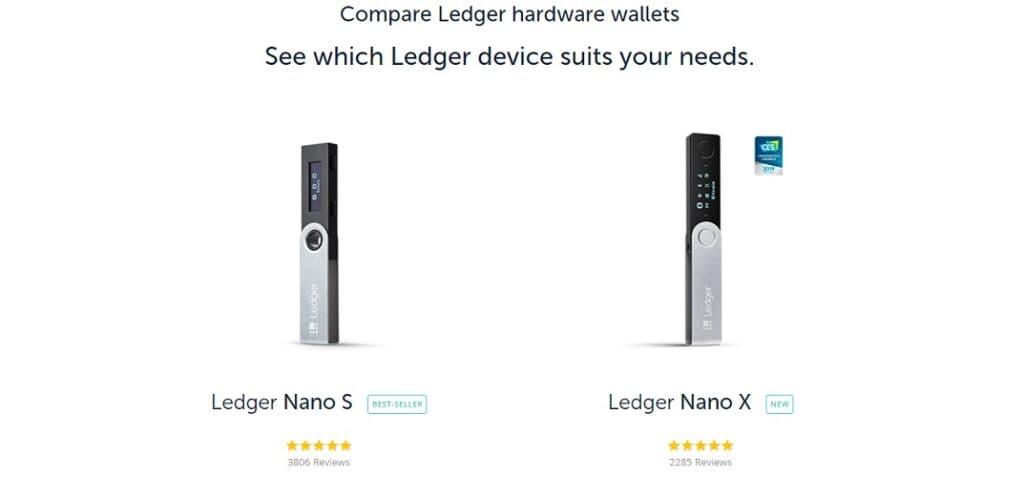 SEE ALSO: 7 Best Places to Buy Shiba Inu Coin
Rather than storing your key on your phone or computer, where hackers and other prying eyes may access it, the Ledger Nano keeps your private keys offline and in your pocket, where only you can access them.
The Ledger Nano S is ideal for those who are new to the world of crypto. When used in conjunction with the Ledger Live mobile app, a Nano S can safeguard, buy, and grow all of your crypto assets, such as the Shiba Inu, in the palm of your hand.
Ledger supports a variety of cryptocurrency applications, including Shiba Inu, Bitcoin, Ethereum, XRP, Bitcoin Cash, EOS, Stellar, and many others.
Users can handle up to three cryptocurrencies simultaneously on the Ledger Nano S while ensuring that the cryptos are safe and secure and made accessible to only them.
With the ledger live app, users can also transact their crypto anywhere in the world round the clock as long as they have internet availability.
If you're a seasoned crypto investor looking for a more complex piece of hardware, the Ledger Nano X is likely to be more appealing.
The Nano X is exactly as secure as the Nano S, but it includes more sophisticated features such as Bluetooth connectivity, a bigger screen, and greater storage space.
SEE ALSO: What is Shiba Inu SHIB Backed By?
Remember how the Nano S could store up to three cryptocurrencies at once? The Nano X can hold up to 100 cryptocurrencies, providing you with total control over your entire cryptocurrency portfolio at all times.
If you're a seasoned crypto investor seeking a better, more secure, and easier method to keep your digital assets, the Ledger Nano X, which costs $119, is an obvious choice.
There is no better way to keep your crypto assets secure and accessible everywhere you travel than with a Ledger Nano S or Ledger Nano X crypto wallet.
Frequently Asked Questions (FAQS)
1. Is Shiba coin supported by ledger?
Shiba Inu, as well as many other cryptocurrencies, may be stored and sent using Ledger wallets.
2. How much cryptocurrency can I store on the Ledger Nano S?
Investors may store over 1,100 coins and tokens on the Ledger Nano S, with the Ledger supporting 23 cryptocurrencies and the remainder provided through installed third-party applications.
3. Is it possible for Ledger to steal your crypto?
No, Ledger cannot do that, but users still have to be very careful as scammers are always on the lookout and will do anything, such as creating fake websites or apps to fool users into becoming susceptible to attacks and thefts.
SEE ALSO: How To Store Your Polygon Matic On Ledger Nano Wallets
Final Thoughts
You can store your cryptocurrencies such as the Shiba Inu on the Ledger wallet as it provides state-of-the-art security while ensuring that users get to store different cryptocurrencies safely.
Read More