Exactly a year today, the 24h crypto market trade volume was worth over $500 billion. [statista.com] Though slagging behind at $74.00B in the past 24 hours, it still shows how much people are actively trading on the crypto market.
The volatility of the crypto market opens enough room for arbitrage between crypto exchanges for gains. However, to capitalize on fluctuations in the market, you have to watch the market constantly to detect trends early enough. This, with time, can be tiring for anyone.
Is there a way you can maximize returns without spending much time on the screen? Yes, trading bots are the answer. The application of Artificial intelligence to improve upon and extend human efforts in the crypto market.
Trading bots enable you to make a profit on every market move through proportionally distributed investments along the chosen range. A buy or sell order gets triggered when the market hits the line. And can also perform a task repetitively without exhaustion.
Launched in 2018, Bitsgap is a digital currency service platform with trading bots that are currently drawing the attention of traders in the digital market. In the next few minutes, you will understand how to make money with Bitsgap crypto bots.
Disclosure: This article contains our affiliate links through which we earn to keep this site running with quality content.
Key Takeaways
• Bitsgap crypto bots are cloud-based, designed to trade 24/7 around the clock even when you are offline.
• An API key is all you need to trade on a crypto exchange using a Bitsgap crypto bot. Your funds are always secure and inaccessible to the bot 
• Trading bots can trade very fast, up to or over 50 trades an hour.
• Crypto bots save time, make consistent profit at high frequency, and are not affected by emotions to make poor trading decisions.
About Bitsgap
Bitsgap is a trading platform for managing crypto portfolios across major crypto exchanges. A single platform where you can trade on more than one Crypto exchange via a single interface. Bitsgap also doubles as and is popular as an automated trading platform with trading bots for making a profit off market fluctuations.
Get a FREE 7 days trial on Bitsgap to explore features and bots when you Sign up now.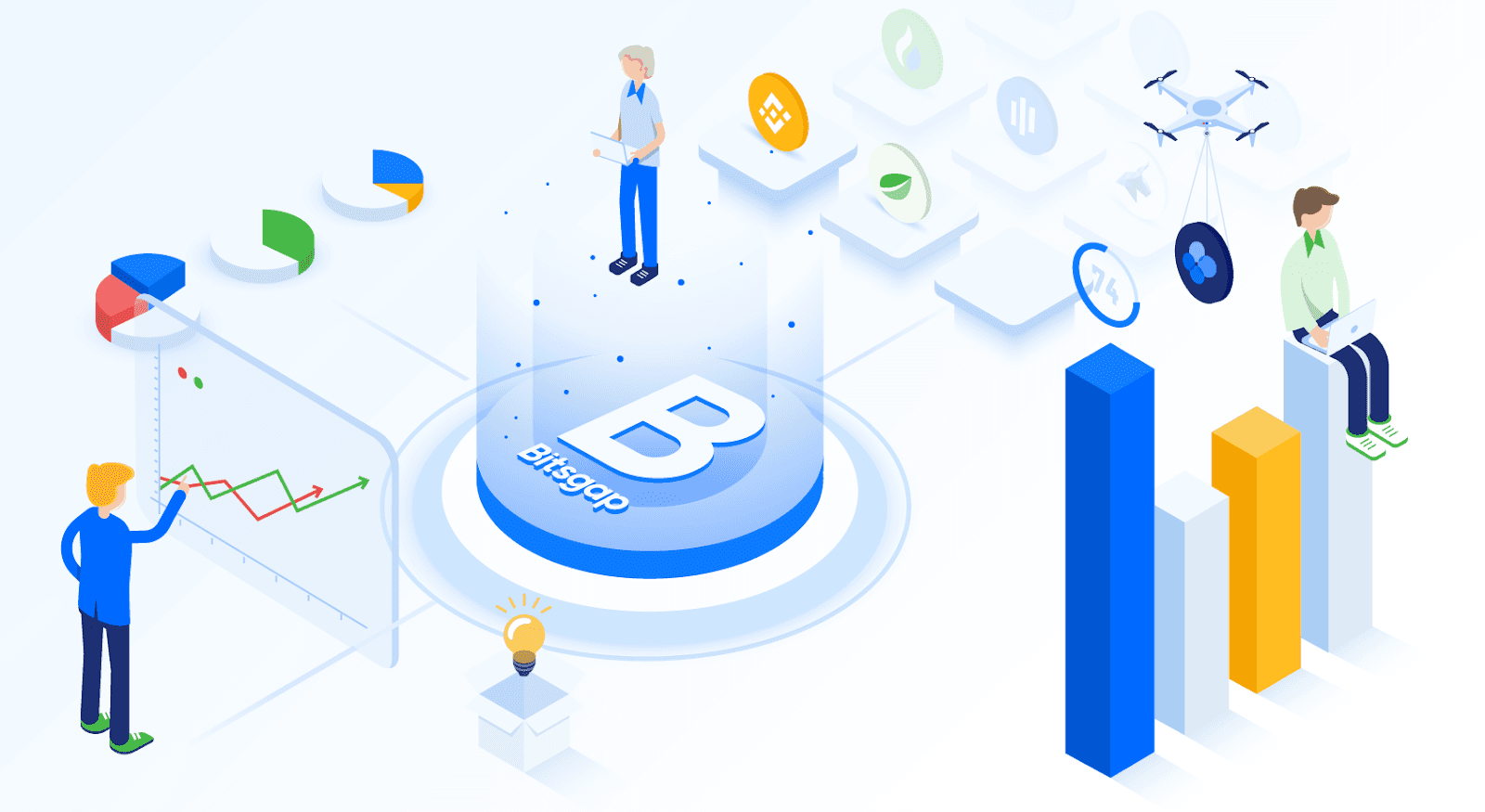 Bitsgap Crypto Bots
The Bitsgap Crypto Bots are software programs designed to monetize fluctuations in the crypto market based on set instructions. It can be used by any trader regardless of trading experience so long as you understand how to use them.
Get a FREE crypto bot on Bitsgap.
How to start trading with Bitsgap crypto bot
Before starting, you might be wondering how much crypto do I need to start making money with Bitsgap crypto bot? You don't need much crypto to launch a Bitsgap bot. so you can start with small amounts just to be sure. You can also use the demo mode to get a better understanding and test your strategies in real-time.
You can start making money with Bitsgap crypto bot in four easy steps.
STEP 1: Activate API and copy API key
An API, Application Programming Interface, acts as a communication intermediary between computers or applications. The Bitsgap bot will need one to communicate with your exchange account.
The API key functions like a password to the communication link, authenticating the calling program, in this case, Bitsgap, to execute actions within your trading account on your behalf. Different platforms have different ways of going about APIs, so the process of activating one will likely vary according to the Exchange.
See how to generate API for different exchanges or check traders' cabinets on Bitsgap for more.
Is it safe to share your API keys with a trading bot? Yes, trading bots are safe as they only need permission to read trading data on your exchange and permission to execute trades on your behalf to work.
API keys can be configured and permissions adjusted for added security. As a precautionary measure, the withdrawal option of the API key should be disabled, 2 Factor Authentication and address whitelisting enabled. 
Your Bitsgap bot will need the following API permissions
✅ Read
✅ Trade
✅ Unrestricted IP access
❌ Withdrawal
Another safety measure you can take is to keep your passwords different for all your accounts, and possibly different emails too.
STEP 2: Connect your Cryptocurrency Exchange to Bitsgap
Bitsgap supports over 25+ exchanges. You need to connect to an exchange where you want to start trading. If you are using Binance, see how to link your Binance account to Bitsgap. Otherwise, follow the steps below to link any exchange to Bitsgap.
Login to your Bitsgap account. If you don't have an account, sign up here for free.
Access the My Exchanges page from the taskbar at the top of the screen by clicking on it.
Click on Add new exchange.
Choose your preferred exchange from the list of supported Exchanges.
On the popup window, enter your API key and Secret Key in the provided spaces. Some provide a passphrase, enter it in the space provided as well.
Click on the Connect button to add your exchange account to your Bitsgap account.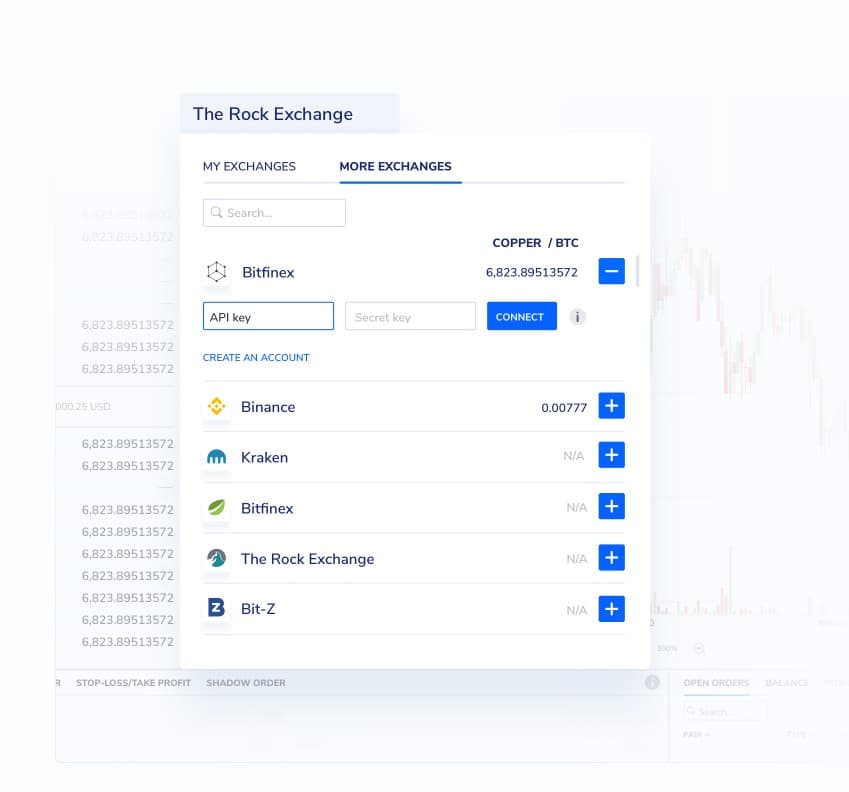 You can connect as many supported exchanges as you want. Successfully connected exchanges will be displayed on the list of connected exchanges alongside the available trading balance on each account.
STEP 3: Create and launch your Bitsgap crypto bot
After linking your exchange account to the Bitsgap platform, your next step is setting up your Bitsgap trading bot.
Access the Bots option from the menu.
Next click on Start new bot.
On the bot page,
Choose a bot
The Bitsgap grid bot is a popular one executing buy and sell orders at specific points above or below the baseline or current market price. The Grid bot makes lots of small trades to make profit from the small price movements throughout the day.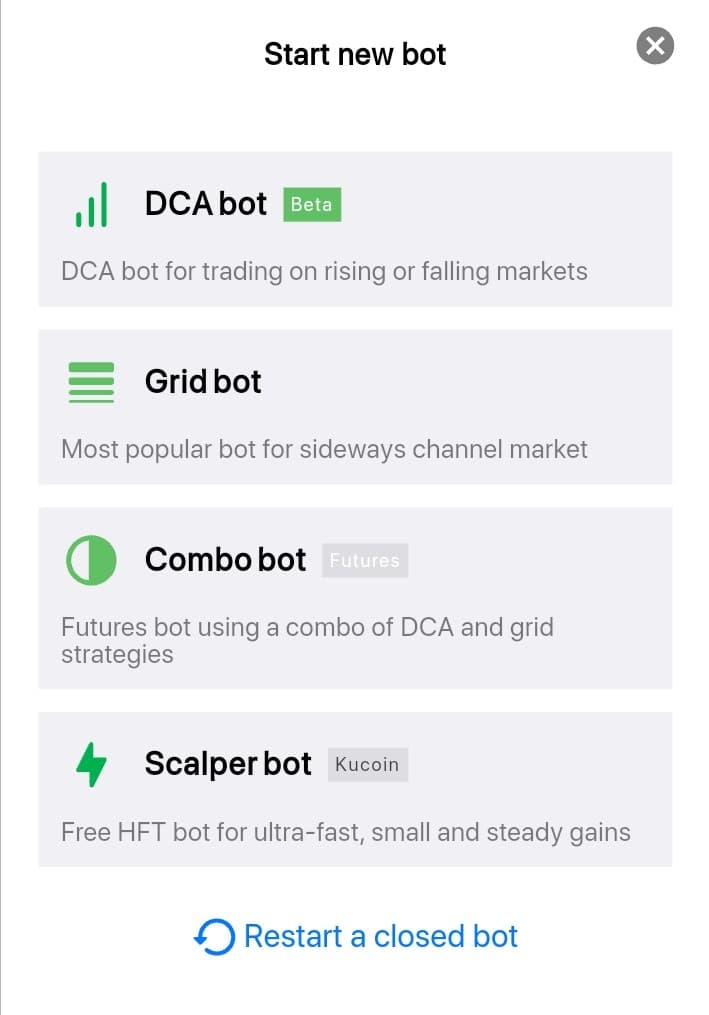 Choose your bot strategy
Different trading bots have different trading strategies used in trading. A strategy that works well in a calm market will not work well in an extremely volatile market. So you have to observe the market and think out your trading strategy carefully. Grid strategies perform well in calm markets.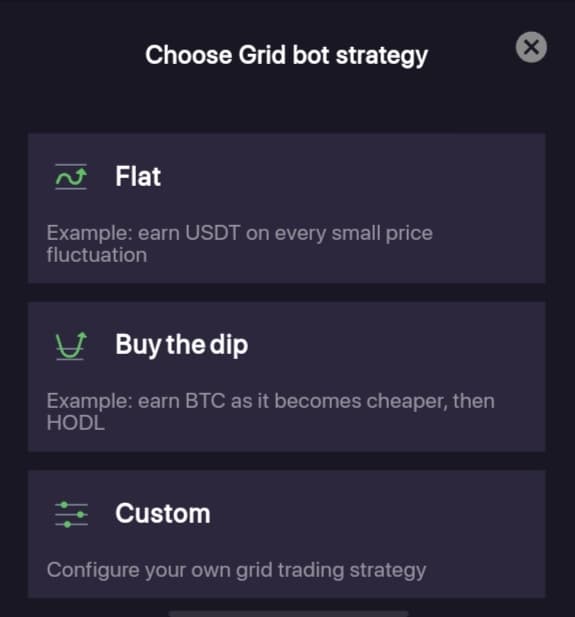 Choose your crypto exchange
Different exchanges have different policies so your bot will be specific for trading on a particular exchange.
Choose a good trading pair
To make good profit, you need to pick a base currency with a large trading volume. This makes it easier to capitalize on small gains.
So, What trading pair should you choose for a crypto bot? In most cases, Bitcoin will be the best base currency to use since it has the most trading volume on the majority of exchanges. BTC/USD is a good pair to start with. You can still go for other popular pairs. There is no ultimate rule here.
Set your grid (upper and lower price)
Trading bots might be able to trade automatically on their own without human assistance but only based on instructions given by humans. It's an important twist that says you need to tell the bot what to do while you are away.
Crypto is a very volatile commodity, so the market is seldom running flat. It fluctuates, making it a target place for arbitrage.
Set a base price or baseline, which is usually the current value of what you are trading, and lower and upper price predictions within which trades will be executed.
Bitsgap crypto bot also has a new trailing feature that enables it to automatically adjust the grid upwards or downwards to match with uptrends or downtrends in prices. With this, you can keep making steady profit as there will always be support and resistance along the different time frames.
See how to use the trailing feature on Bitsgap.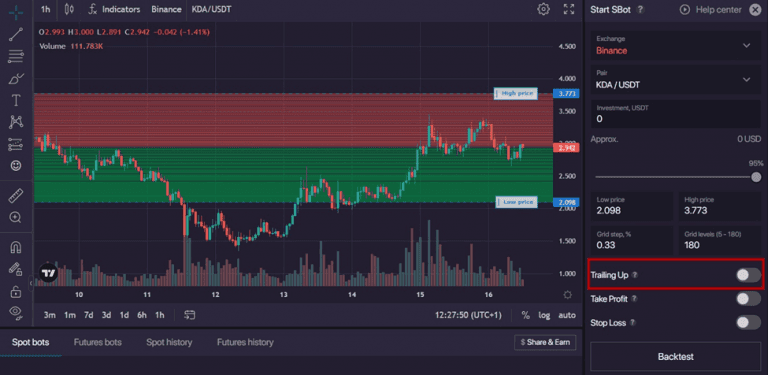 Set your triggers (grid lines and grid spacing)
Next, you place buy and sell instructions, your grid spacing and grid quantity for the bot. Let's say, for every 3% increase in price the bot is set to sell, and then buy when it's 3% lesser. 
When setting your triggers, you don't want to place them too high or too low from the baseline. The gap should be such that you can get enough trades placed at the end of the day. Don't worry about how frequent it is, the bot can detect any fluctuations and execute orders at incredible speed.
You also need to bring trading fees into consideration as well when setting triggers. Every trade placed on any exchange usually incurs a small service fee. So if you are making profits, it should be enough to cover such charges and still leave you with something.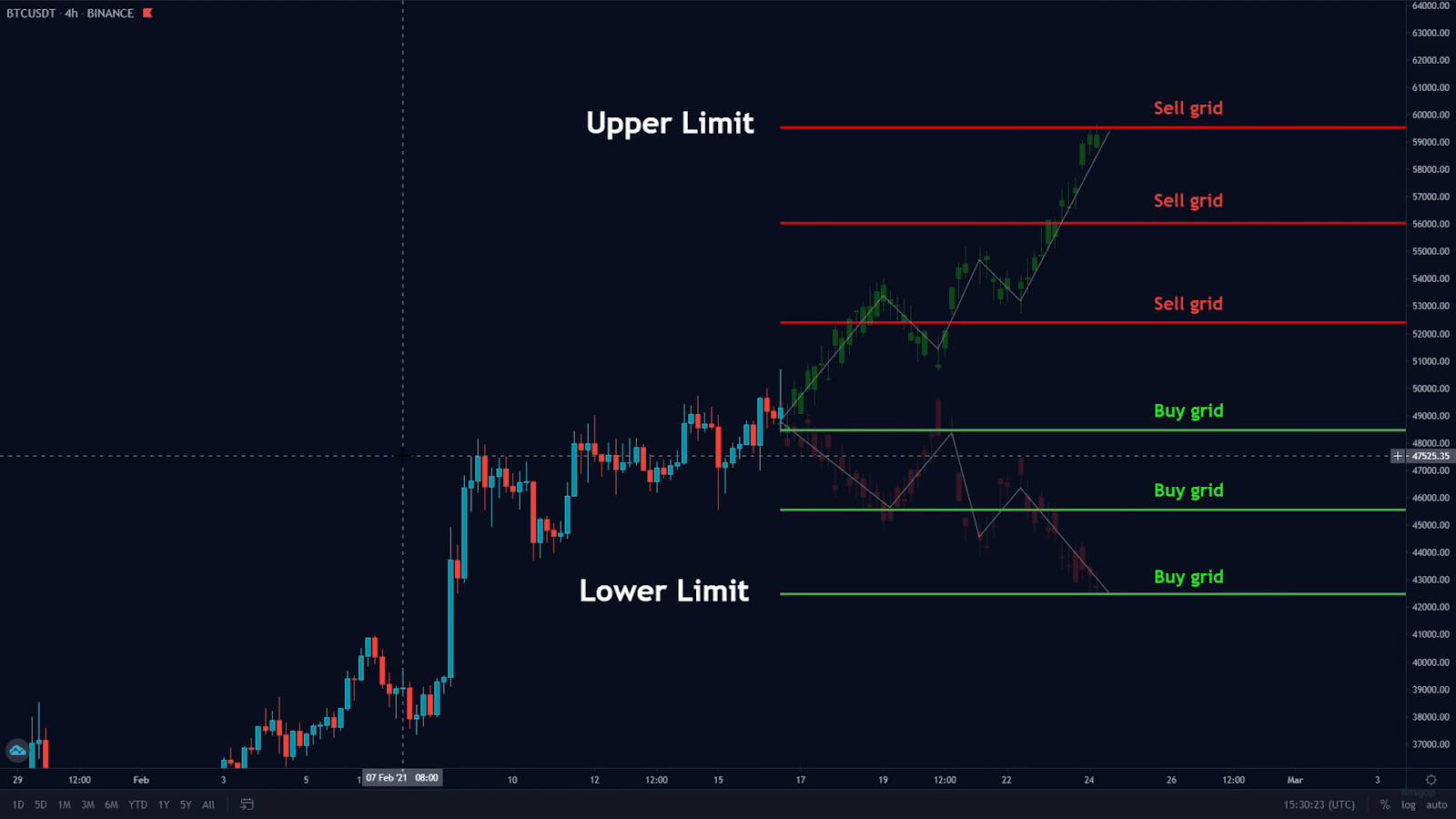 Backtest your bot
Bitsgap's backtesting feature allows you to see an emulated preview of how your current bot strategy will perform in real-time. From the preview, you can know where to make adjustments before starting your bot.
Start your Bitsgap bot
Preview your bot to see a summary of the trading bot details. Click on Confirm to proceed. Your bot will attempt a balance conversation to ensure you have enough of the base currency. Click on Confirm to proceed.

Your bot will be active and begin trading according to set instructions. They are cloud-based services, so it keeps trading even when you are offline.
STEP 4: Check your bot performance timely and make adjustments when necessary.
To make the most out of any strategy you employ, from time to time, check to see if your crypto bot is making progress. The market is unpredictable and there are no rules set in stone. You can pause your bot if the market is changing, and wait for when it settles.
If a bot is not bringing the desired profit, you can always modify or use our best strategies for closing a non-performing crypto bot on Bitsgap.
Frequently Asked Question
Q1. Are crypto bots profitable?
Crypto bots are profitable with the right strategy and configuration. They can also make losses when not used right. A good trading bot is guaranteed to make profit for anyone with a good knowledge of its workings.
Q2. How do Bitsgap bots work?
Bitsgap bot works according to instructions programmed into its software. A user sets the conditions or indicators and actions and the bot triggers trade when set conditions are met, and according to the instructions. So in essence, they work according to user instructions.
Q3. Are grid trading bots profitable?
Grid trading bots are one of the most profitable bots guaranteed to bring in steady income. Grid trading is not new and is practiced by the majority. A grid trading bot, being able to react swiftly and for extended periods can bring in many times the profit a person can make from trading.
Q4. Which is better: grid or DCA bot?
The nature of the market determines when is the best time to use a bot. Both Grid and DCA bots are good, depending on where you implement them.
A Grid bot will place an order and take profit separately. When the market is sideways or flat with no clear-cut sight of an uptrend or downtrend in the price, a Grid bot is a better choice.
A DCA bot on the other hand, invests at consistent intervals and takes profits for every order separately. A better choice for countering the risks that come with purchasing at a high price.
Final Thoughts
Bitsgap is constantly improving on its bots and adding new features to make trading profitable as possible. Instead of leaving your crypto assets idle in your wallet, you can gradually accumulate with crypto bots and get a better experience of the future of crypto trading.
Read More