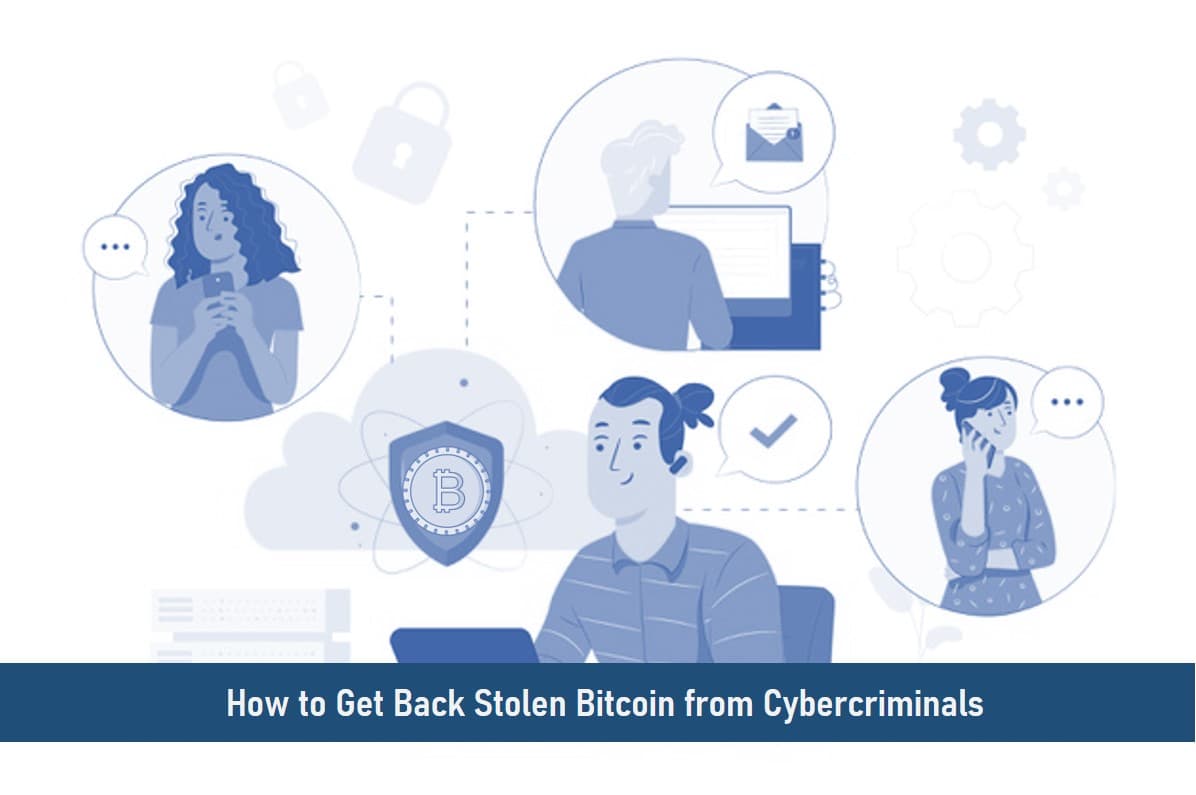 Updated: May 08, 2022.
Common Ways Bitcoin Cybercriminals Connect
With the digitalization of cryptocurrencies and the sophistication of the blockchain network, it is assumed that Bitcoin and other Altcoins should be more secure.
Surprisingly, this is not so…
As of 2018, over $1.1 billion worth of cryptocurrency was stolen just in the first six months of that year as reported by Carbon Black, a cybersecurity company.
Cybercriminals perpetrate these devastating acts through the dark web and move huge sums of dollars in Bitcoin. Bitcoin owners have at one time lost funds until not long ago did it become feasible to trace and get your money after being stolen.
When investing in Bitcoin, you have to decide upfront how to secure it. There are weird tactics scammers use to steal Bitcoins in a large scale. Some of them pose as brokers (cloned websites) requesting a service update, luring you to reveal some information about your account. Some could send malware to your system and more.
These are common ways Bitcoin cybercriminals connect with victims:
Phishing emails to expose Bitcoin wallet keys.
Botnets, which entails manipulating a Bitcoin owner to reveal encrypted password and or forcing you to Mine Bitcoin.
Malware and Virus injections into your device and requesting you to download a corrupt file.
SEE ALSO: Cryptojacking Attacks – Clever Ways to Detect and Prevent it
SEE ALSO: How to Flee these 10 Bitcoin Scams Now!
Once a Bitcoin thief gets access to your money, it will be very frustrating to get it back. But rather than getting frustrated, what you need to do is to take quick action with the right set of information that will help recover your stolen funds.
But in a few cases, it turns out to be convenient to track such people down and trace stolen Bitcoins, either through flash retrieval, bitcoin forensic specialists. Fortunately, there are methods to get back your stolen Bitcoins.
SEE ALSO: 3 Smart Ways the Police Can Crackdown Cryptocurrency Criminals
SEE ALSO: World's Most Popular Hardware Wallet – Ledger Nano S and Nano X
To get your Bitcoin back from a cybercriminal, you must take to the following steps below:
1. The Quicker You Act, the Better
The more you delay the process of transaction tracing, the increased leverage you give the scammer to transfer your money to cold storage, send it to crude exchanges, or to tumblers to make it untraceable.
A Partner at Kobre & Kim, a lawyer and a professional in cryptocurrency theft and investigation matters, Benjamin Sauter told a popular blockchain news platform, "The quicker you act, the better". He also said, "The more sophisticated you are, and the less sophisticated the thieves are at laundering the assets, the better chance you have,".
If your Bitcoin is in an exchange, you'll have to get to them and demand they freeze your funds. This will give you little time.
Unfortunately, not every exchange is fast enough to treat your request, so you might be required to employ the service of a lawyer who will do the work for you and prompt a court to issue an order to freeze your account.
2. Report Your Case To a Competent Law Enforcement Agency
For your case to be resolved legally, you'll be required to provide some information about your stolen Bitcoin. You should be able to tell how it happened or when you last noticed a suspicious activity.
This may sound ridiculous, you'll need to tell the law enforcements who stole your Bitcoin.
A Partner at Stewarts Law in the United Kingdom, Marc Jones said, "In general, to enforce an order requiring fraudsters to pay damages or handover stolen property, ultimately you'll need to know who they are."
Luckily, one of the many advantages of holding Bitcoin is that you can trace where your coin was sent. If it was transferred through an exchange, you'll be very likely to identify the Holder of the wallet (as a result of the KYC process). Then, you can obtain a court order to bring the thief to order and retrieve your stolen funds. 
But this sounds too easy to be true, but it actually is. If you then want to handover this Bitcoin retrieval process to a specialist, let's look at the third option.
3. Use a Bitcoin Recovery Specialist
Another option is to employ the services of a Bitcoin recovery expert.
There are a few around, the ones we know that do a good job in helping out with such cases. But Quickbitcoinrecovery@fastservice.com is one that we have received positive testimonies from people who lost their Bitcoins through theft but got it all back.
One of such persons who was successful in recovering his lost Bitcoin is Christopher Walker, he shared his testimony on this blog and I thought to share it with you. You can also head over to the comments section of this post to see it in details.
Here is Christopher Walker's testimony:
Please read carefully to avoid making such mistakes. I stored 4.72250btc in my Trezor. io wallet around April 2020, I constantly check my account and oftentimes I buy more BTC to store in my wallet.

Then first week of November 2020 I logged into my Trezor account after undergoing different steps of login via their website a messaged popped up that my wallet as been damaged and I need a recovery seed to restore the damaged wallet. It asked if It was a 12, 18 or 24 seed phrase. I entered 18, filled them out and I pressed ok and my wallet opened up.

I saw all  my Bitcoins and I did some usually activity in my wallet and I refreshed the page about 15 minutes later and all my 4.72250 as disappeared and my account was $0btc, then I checked my activity and a transaction was already processed for all my Bitcoins I was left confused, devastated and heartbroken. I contacted fundsrecovery24@gmail. Com and 2 other Recovery companies I saw online but I was scammed of few thousands of dollars trying to get back my stolen bitcoin.

Out of pity and advice from friends I decided to let go and forget about ever recovering my bitcoin . Fast forward to last week Tuesday I saw a tweet from twitter pretending to be Elon Musk. As I'm following Elon, when i saw the elon's fake account sharing a bitcoin release from Tesla, which I stupidly believed and then sent 0.0552 to a particular address hoping to get back 0.5520 but few hours later I realized it was a scam.

It was like a dream, I couldn't tell my wife because she will be mad at me, so I decided to share it with my brother and to my surprise he also claimed he was scammed in a similar way on Facebook by a scammer pretending to be someone else and that he was only luck to get back his bitcoin through the help of a reliable Recovery company Quickbitcoinrecovery@fastservice.com, I told him I have tried a few of them and I got scammed that there's nothing like bitcoin Recovery, he showed me some chats and proof of him getting back his funds even at that I wasn't still convinced then he promised he will refund me if I was scammed by them and was so certain they are legit. I got their contact and sent them a mail to Quickbitcoinrecovery@fastservice.com. They responded and I was asked to send the wallet address the bitcoin was sent into which I did and I also told them about my 4.7225 lost to Trezor which they claimed it might still be Recoverable.

They did some research and told me my coins can be recovered both the 4.7225 and the 0.0552. long story short after few mails and conviction I decided to risk their services knowing well that my brother had promised a refund if it goes sideways. But miraculously after sending some details asked by them and having waited for few hours I was told to check the wallet address that I provided for recovery and surprisingly all my bitcoin have appeared both the one lost to Trezor and the recent one lost to Twitter scam.

I never believed in bitcoin recovery but now I am a living testimony. Please try to be careful when trying to make quick cash online and protect your wallet with all you have got. Be safe.
Bitcoin recovery specialists present the easiest and largest form of cryptocurrency reclaim resolution. Billions of dollars of embezzled cryptocurrency have been effectively and seamlessly recovered.
At the inception of Bitcoin, an efficient end-to-end crypto reclaim resolution wasn't available for the public domain on the rights of those who fall victim to crypto-related scams.
The first stage, cross-frontier, scaled and improved technological grade of the blockchain sometimes obstruct recovery efforts by victims and law enforcement agencies. 
A bitcoin recovery expert makes this possible by deploying operational processes, suited purpose technology, capacity and expertise to efficiently reclaim stolen bitcoin and other embezzled digital assets.
Who can employ the services of a bitcoin recovery specialist?
Anyone can.
You may find the loss of your Bitcoin strange owning to the security measures you have put in place.
You're not alone, many other have witnessed cryptocurrency scam, even the United Nations Agency, exchanges, and renowned business leaders have witnessed cryptocurrency thefts, ransomware hacks, fake ICOs, randoms, or sending money to a wrong wallet address.
If you lose money to fake Bitcoin miners, it's still possible to recover your lost funds via bitcoin recovery specialists.
Now…you too can recover your lost Bitcoin by giving it a shot at recovery specialists.
4. ReclaimCrypto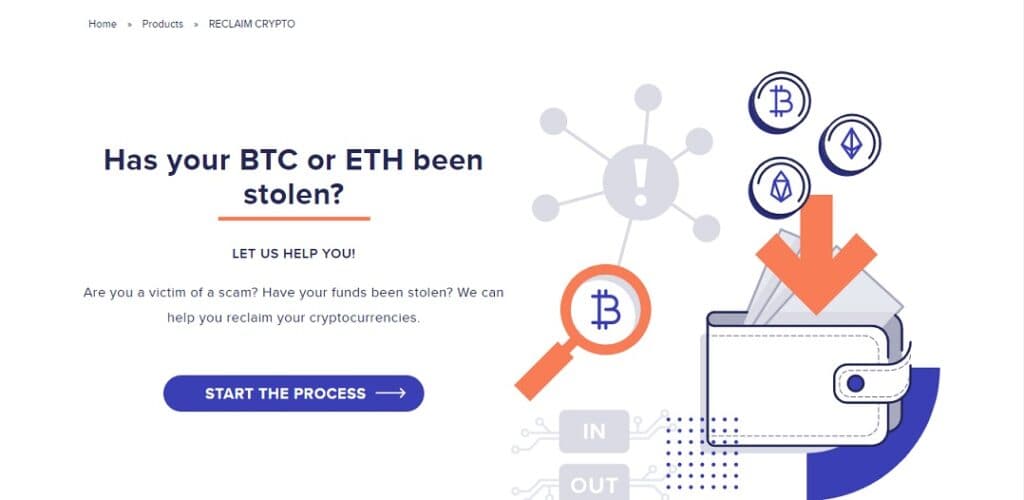 ReclaimCrypto is a joint initiative between two global investigation firms Kroll and Coinfirm. The goal of this initiative is to assist in the recovery of stolen digital assets, combine the newest blockchain forensic approach with the World of legal scrutiny and asset repossession.
The CEO of the Partner company (Coinfirm), Pawel Kuskowski, told a popular cryptocurrency news aggregator, "So far, there is no one place where victims can go and get help. It's almost like they are pleading to get someone interested in their case. In the end, they have to work it out themselves; see about getting a lawyer, perhaps in some other jurisdictions."
To file for digital asset recovery, submit an initial form containing clues to your stolen asset, after which ReclaimCrypto will carry out an assessment.
You will not be charged for the initial assessment, but you have to pay a success fee when your stolen cryptocurrency is recovered.
5. Send Scammer's Profile on Social Media to Place on Red-Alert
What you need do is share this cryptocurrency theft incident online, and spread across through every means possible, Send to your friends, family, Admins in your Facebook and Reddit communities. Share far and wide.
The Bitcoin scammers possibly may have wreaked the same havoc elsewhere and could easily be fished out and caught when put on red-alert.
If you are determined on reclaiming your cryptocurrency, you need to ask yourself the following questions:
Have I applied all methods available for me to recover my lost funds?
Would I simply quit and forget the stolen money assuming it was a million dollars?
SEE ALSO: How to Flee these 10 Bitcoin Scams Now!
SEE ALSO: Crypto Dusting Attacks – How to Confirm Your Wallet is Affected
Final Thoughts
To ensure you don't fall victim in the first place to a cryptocurrency scam, you have to protect your coins with at least two factor security authentication, changing passwords to you devices including wallets periodically. Ensure putting your digital assets separately into "cold" and "hot" wallets.
Stay responsible and keep your ownership of Bitcoins private to avoid unnecessary profile targeting.
If there are other ways that I failed to mention, you can please share them in the comments section.
Read More