What are Cryptocurrency Airdrops?
There are several legit ways to earn from digital currencies, one that many owners ignore is Cryptocurrency AIRDROPS.
Cryptocurrency airdrop is a marketing activity usually carried out by blockchain-based enterprises. What they simply do is to bootstrap a digital currency project.
By carrying out an airdrop, the company simply creates awareness about their crypto project and announces to the public when it will get listed on an Exchange as an ICO.
Blockchain startups use cryptocurrency airdrops to release new coins into circulation by distributing a specified number of tokens or coins to existing owners of a specific blockchain currency. This is similar to issuing right-issues in the case of investment in stocks.
SEE ALSO: How to Start Investing in Bitcoin with a 100 Dollars
SEE ALSO: Top Sites To Get Airdrop Daily Alerts
Reasons for Initiating Cryptocurrency Airdrops
There are various reasons for initiating cryptocurrency airdrops. Major reasons include marketing, decentralization, distribution, forks and more which will be discuss later in this article.
Airdrops are promoted using the Company's website or other cryptocurrency forums. When the listing in on, the new coins or tokens are transferred to the wallets of eligible holders of the existing coin being airdropped.
In clear terms, assuming you own Bitcoin, you will be eligible to claim other tokens or coins since you held the parent tokens/coins in which an airdrop was carried out.
That form of token/coin distribution is known as airdrops, which signifies 'free droppings'.
Let's further examine the reasons for Crypto Airdrops:
A Just Distribution of the Whole Tokens in Supply
One major reason for an airdrop is to spread out evenly the tokens in supply. This move will establish minimal coin concentration in terms of breeding Bagholders, which holds a huge volume of coins all to themselves until it becomes worthless.
Benefits Dedicated Early Bitcoiners
Cryptocurrency companies initiating airdrops want to reward their early adopters and investors (those who first purchased their tokens or ICOs.
The cryptocurrency company will increase their holdings in form of new tokens as an addition to the ones presently available, all for free.
This gives timely investors the motivation to keep their parent tokens for a longer period to earn more rewards later on.
To Create Awareness of the Newly Developed Digital Asset
In most cases, just to get more attention from the public, an airdrop could be carried out for holders of popular cryptocurrencies such as Chainge, Waltonchain (WTC), Basic Attention Token (BAT), and so on.
This is a very popular trend these days. Airdropping tokens or coins to garner hype and get new leads gives their business exposure and more opportunities.
Some of these hypes appear like:
– TEU airdropping 125 US Dollars in TEU tokens to 15,000 airdrop participants who come in first.
– Obtain at least 60 REPU tokens for free by just downloading the telegram app for use.
– ApolloDAE is the referral airdrop for those on telegram
– 50 SYN tokens will be awarded for free when you signup.
SEE ALSO: Beginners – How to Earn Bitcoin Without Buying It.
How Often Does Cryptocurrency Airdrop Occur?
Sometimes, cryptocurrency airdrops come in as a surprise…
The practicable way to keep tabs on airdrops is simply belonging to social media forums where this topic is discussed. Knowing members of these cryptocurrency projects could be a tough one and may be an uphill task.
For beginners or anyone passionate about cryptocurrency should look out for updates on crypto airdrops. This is usually accessible by becoming a member of active crypto communities.
There are also websites that do the tough job for you by putting together the most current, legitimate airdrops for profitable earnings.
The first we recommend is Airdrops.io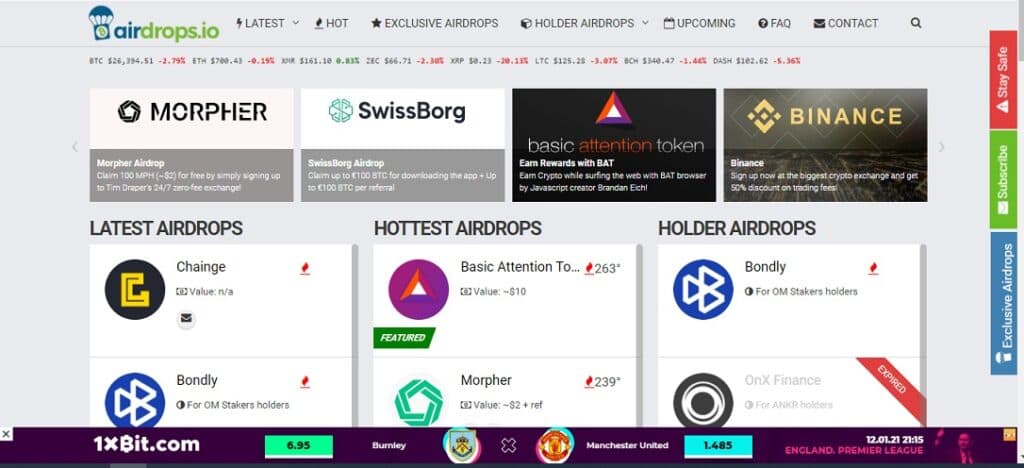 Airdrops.io is a free online source that provides legitimate information on the Latest, Hottest and Holder cryptocurrency airdrops. They verify and aggregate airdrop bounties daily and publish on their website for holders of cryptocurrencies to have the most profitable earning opportunities.
Using Airdrops.io is simple…
Choose any airdrop listed on their website and follow the instructions to claim free cryptocurrency tokens, or vote for your favorite projects.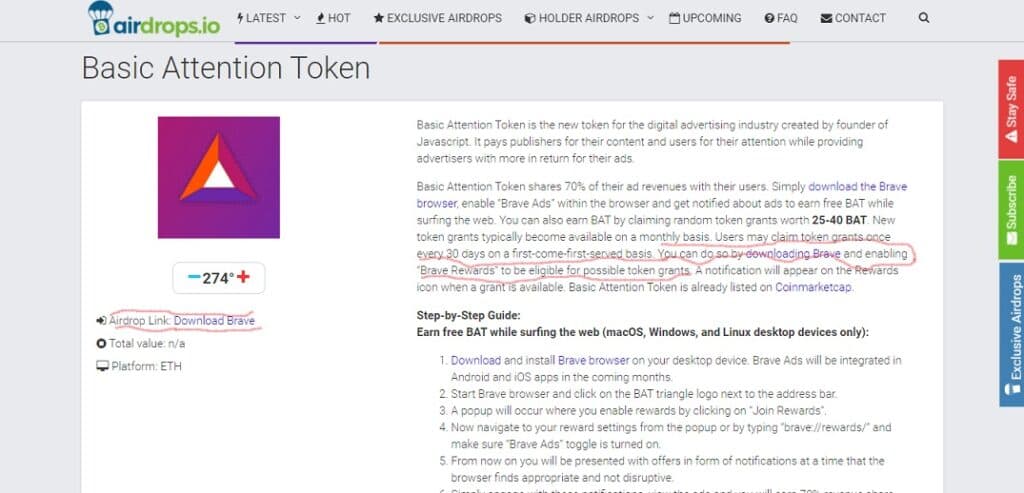 For example, the Basic Attention Token (BAT) is a new cryptocurrency token created by the founder of the famous JavaScript programming language, Brenda Eich. He's also a cofounder of Mozilla and Firefox browsers.
The idea behind the BAT is to provide more value in Ads spend for digital advertising agencies. BAT pay publishers for their content and users for their attention.
Here is how…
Basic Attention Token shares 70% of their Ad revenue with their users. To partake in this, simply download a Brave browser and enable Brave Ads. Once Ads are enabled, you will be notified on how to earn free BAT while surfing the internet. That's awesome.
In addition, downloading Brave and enabling "Brave Rewards" makes you eligible for possible token grants. Once Brave is done installing and set up, a notification will popup on the Rewards icon when a grant is available. Basic Attention Token is already listed on Coinmarketcap.
There are other cryptocurrency airdrop sources to explore, such communities include CoinSutra and AirdropAlert.
How to know a Legitimate Cryptocurrency Airdrop
A legit cryptocurrency airdrop will never require you to make a capital investment into their cryptocurrency project or request for your wallet private keys in any way, form, or manner.
You also will not get tricked into typing your seed words into a malicious program. Rather, the aim of the cryptocurrency airdropping is mainly for awareness.
Ideally, a scammer will request you send small amounts of your Bitcoins or other Altcoins to anonymous recipients through what is known as a dusting attack.
This occurs mostly on hacked Slack channels, telegram channels, or cloned accounts on Twitter that serve as impostors to the original owner of such accounts.
SEE ALSO: How to Flee these 10 Bitcoin Scams Now!
Benefits of Cryptocurrency Airdrops
1. An airdrop helps startup businesses gain steam and differentiate themselves.
2. It provides alerts to users and listing services to new establishments.
Cons of Cryptocurrency Airdrops
Some cryptocurrency airdrops are scam. The owners floating the cryptocurrency may intentionally manipulate its value to generate quick profits.
Such scams end up costing people their Bitcoins or other cryptocurrencies. So, you have to be careful before participating in any cryptocurrency airdrop.
How do You Get a Free Airdropped Cryptocurrency?
The process of claiming the airdropped free cryptocurrency varies in each project.
For instance, in the case of airdrop forked coins, you either retain control of your private keys or understand how to sync your public address with them.
That is why experts recommend you to keep your digital currencies in recommended Wallets such as Ledger Nano S, Exodus, and MyEtherWallet, which gives you control over your private keys.
To obtain your airdrop tokens, you need to do the following:
– Register as a user on the company's website
– Retweet updates via your social media accounts
– Refer your friends and family
– Become a member on telegram
– Take part in other social media assignments
Read More