The sole proof of ownership and access to your crypto assets are your private keys, without which you cannot make any transactions.
For hardware wallets, private keys are stored within the device, away from the internet, and never leave its confines. This makes them the most secure place to store crypto assets.
The Ledger Nano S is a very popular wallet. Storing your keys within it, means you trust the device enough to protect your assets.
Halfway into 2021, the news headlined Cybercrooks Mailing altered Ledger Devices To Steal Their Cryptocurrency through phishing attacks.
A similar report in 2018 of a guy who bought a Ledger Nano wallet on eBay and got all his $34,000 worth of crypto stolen. These are enough to raise questions on the legitimate source of purchasing a hardware wallet.
The real and authentic Ledger Nano S can be from approved third-party resellers all over. However, strict e-commerce policies in India limit the number of places you can find the device to buy.
In this article, we will point you to the right place where you can buy the Ledger Nano S wallet in India.
The Ledger Nano S
The Ledger Nano S is the first Ledger Nano hardware wallet developed by Ledger. Offering the best security for assets at a little cost, it is also one of the top hardware wallets.
It supports over 5000+ assets and you can install up to 3 cryptocurrency applications. Manage and invest your crypto anytime, anywhere.
You can get Ledger Nano S directly from the official website.
[table id=7 /]
Where to Buy Ledger Nano S Wallet in India
The best place you can buy Ledger Nano S wallet in India is at Etherbit.
Ledger Nano products can also be gotten on the Ledger website, but it is sold out and no longer in production –  Read more.
Currently, the only place you can buy the Ledger Nano S wallet in India is at Etherbit.
Etherbit is a crypto & security gadget store operating in India. With 5 years of service since 2017, it is a choice place to purchase with confidence.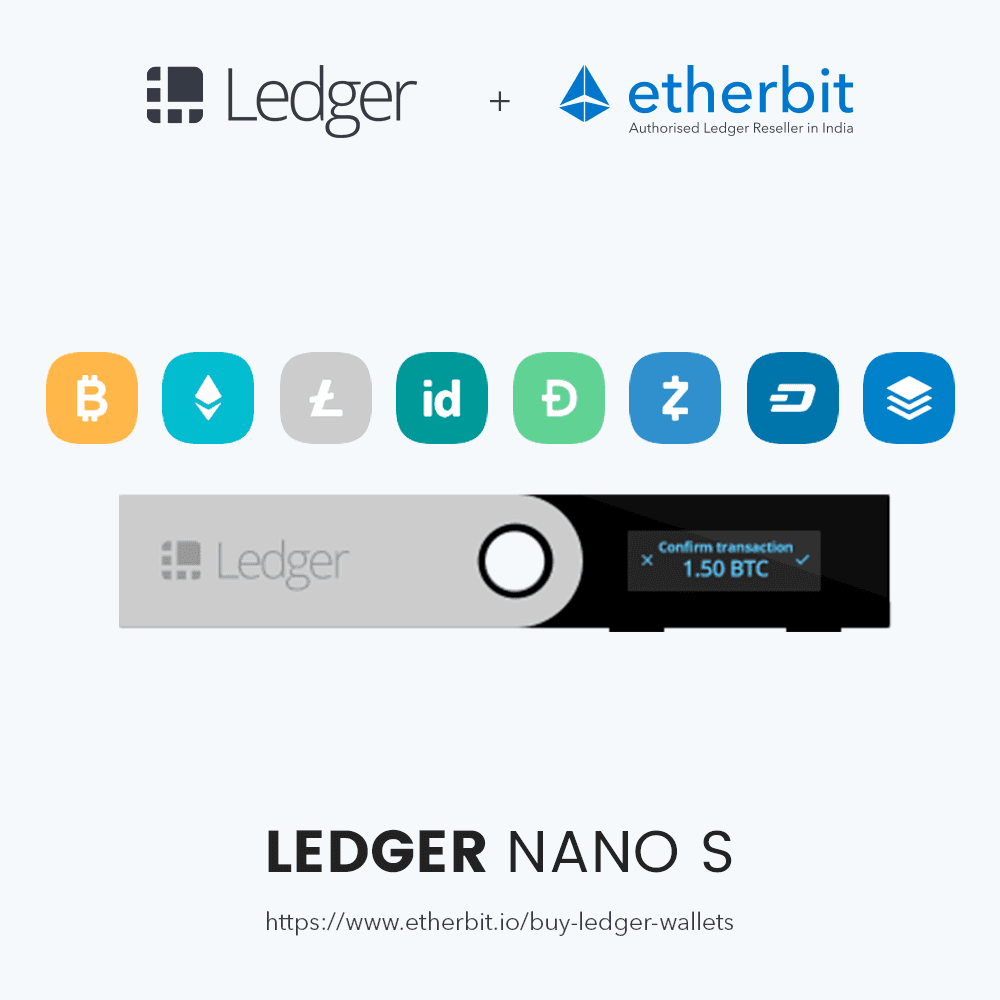 Etherbit is verified by Ledger as a third-party reseller of Ledger Nano products in India.
You can be sure you are getting a Ledger Nano S wallet in India and not a Printed Circuit Board (PCB) hidden inside a Ledger Nano look-alike plastic case.
The Ledger Nano S goes for a price of ₹6,999 on Etherbit, Inclusive of all taxes plus 2 years warranty, secure check, and free shipping. Available in 6 colors.
Optionally, you can add Etherbit Skins for your Ledger Nano S for between ₹199 to ₹249.
They include:
Lego
Doodles
Green Tartan
Carbon fiber
Walnut
Mesh skins
is also available on Etherbit. 
ZestMoney helps you break down whole payments into smaller manageable payments over 3 or 6,9,12 months, at 0% interest. So you can buy now and pay later.
Frequently Asked Questions (FAQs)
Q1. Can I buy Ledger from Amazon?
Yes, you can buy the Ledger Nano wallet from Amazon. Amazon is one of the trusted places approved by Ledger where you can get your hardware wallets. However, it depends on location. The Ledger Nano wallet is not available in all Amazon stores.
Q2. Can I use Ledger in India? 
Yes, you can use the Ledger Nano wallet in India.
Q3. Does Ledger require KYC?
Yes, KYC is required to purchase crypto on the Ledger wallet. A Coinify account is required to do so, hence the need for KYC. There are other cryptocurrency exchanges that do not require KYC.
KYC is not required to purchase a Ledger wallet. However, the payment method you use to make the payment for it might require KYC during set-up.
Final Thoughts
Buying and using a hardware wallet means you trust it to protect your assets. When you buy the Ledger Nano S wallet, you should take further steps to ensure what you bought is genuine.
Step 1 – Visual check of the device.
Check if your device has been tampered with. The box should be undamaged and unopened. The Recovery sheet should be empty. Ledger is not pre-seeded.
Step 2 – Download the genuine Ledger Live application. Be sure it is the correct link
Step 3 – Only genuine Ledger Nano devices will be able to communicate with the Ledger Live Interface. If yours doesn't work, it's not genuine.
Read More