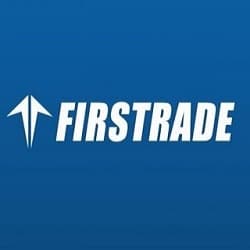 Overview – FIRSTRADE Broker Review 2023
Firstrade is a foremost online broker which provides a crop of investment products to its U.S. and international clients. The brokerage firm has a reputation for offering the lowest fees and commissions across its 5 major investment options while providing a convenient platform for its users to trade. This unique attribute has kept it going since 1985
Firstrade combines a savvy mobile trading application, easy-to-use interface for proprietary trading and responsive customer support to serve and retain its clients, earning it an array of enviable awards, a few are: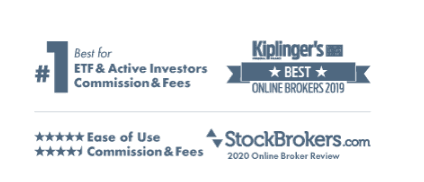 Firstrade's platform supports trading of Stocks/ETFs, Mutual Funds, Options, and Fixed Income with 0.1 second trade execution guarantee.
In view of its remarkable performance, industry brands like Forbes, Barron's and Smart Money have all mentioned Firstrade as one of the Best Online Brokers. Its commitment to excellence has also earned the broker 4.5 stars rating out of 5 for its website ease of use, sealing its accolades with a "Best in Class" broker review by Stockbrokers.com in the year 2019.
Regulation
Firstrade is a member of the Financial Industry RegulatoryAuthority/Securities Investor Protection Corporation (FINRA/SIPC) which regulates more than 4000 brokerage firms, and extending its activities to all financial markets including the New York Stock Exchange.
Tradable Assets
Firstrade offers 5 investment vehicles for its users.
Stocks
Invest in Traded and listed stocks, penny to large stocks.
Exchange Traded Funds (ETFs)
Lower expenses than other investments like Mutual funds. In Firstrade, it is FREE.
Options
Low commissions at $0/trade + $0/per options contract
Mutual Funds
Over 11,000 mutual funds to choose from with smart trading tools, Advanced screener, Full commentary and Periodic investment program.
Fixed Income
Primary market CDs, Secondary market CDs. Zero & Strips, Treasury Bills, Notes, Agency and Municipal Bonds.
Currencies
Not available.
Cryptocurrencies
Not available
Minimum Deposit
Firstrade do not require a minimum balance, inactive or account maintenance fees are not imposed on regular brokerage or IRA accounts. Standard commission and margin trading requirements may apply.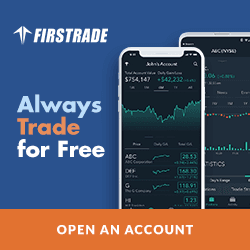 Types of Accounts
Individual investment account
Joint investment account
IRA accounts
Custodial account
Education Saving Account
Investment club account
Corporate account
Trust account
Partnership account
LLC account
Sole Proprietorship account
Estate account
Entity accounts
(Requires US registration, and the authorized agent has to be a US resident)
International accounts

How to Apply
Please follow the steps below to open an International Individual Account online:
Complete the Firstrade 
During the online application process, you will need to upload images of your passport. Once your online application is submitted, please allow 1-2 business days for us to review and process.
Fund your account
Here are 2 simple methods for you to fund your Firstrade account:
Wire Transfer – It only takes 1-2 business days for your wire transfer to be deposited into your Firstrade account. It will be available for trading as soon as the funds are posted to your account.
Firstrade App
Download & login to your Firstrade Account
Go to Account > Deposit/Withdrawal
Click Setup Now, and follow the onscreen instructions
Firstrade Website
Login to your Firstrade account
Go to My Account > Deposit/Transfer > Bank Profile > Setup a Bank Profile
Follow the onscreen direction instructions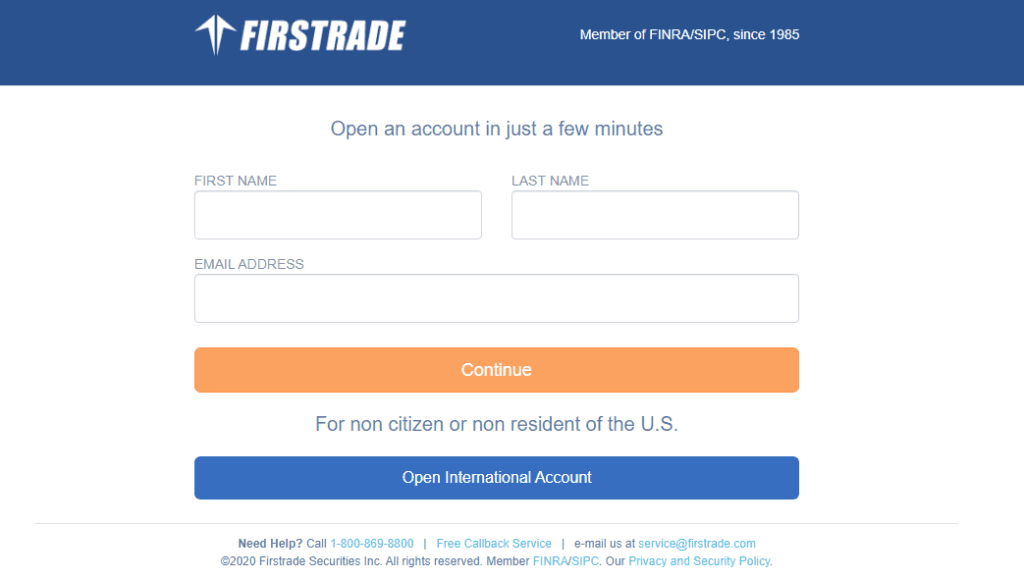 Languages
English and Chinese language options are visible on its website.
Currency Pairs
Unfortunately, Firstrade does not offer currencies or cryptocurrencies trading.
Deposit & Withdrawal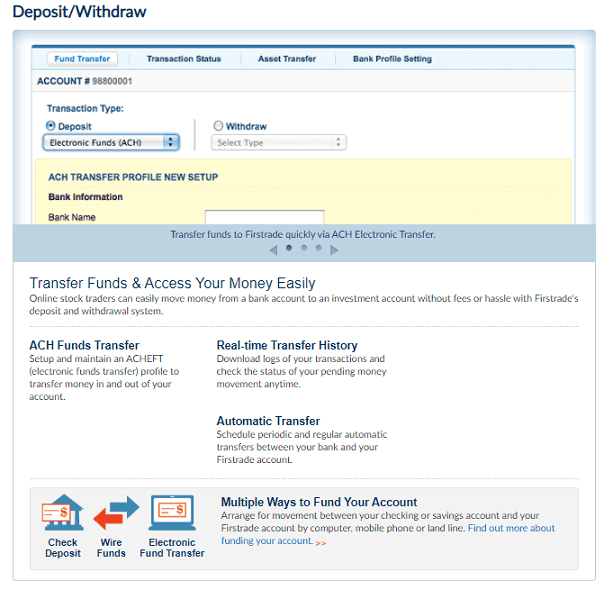 Funding your account or initiating a withdrawal with Firstrade is limited to:
Check deposit,
Wire transfer,
Electronic fund transfer
Trading Platform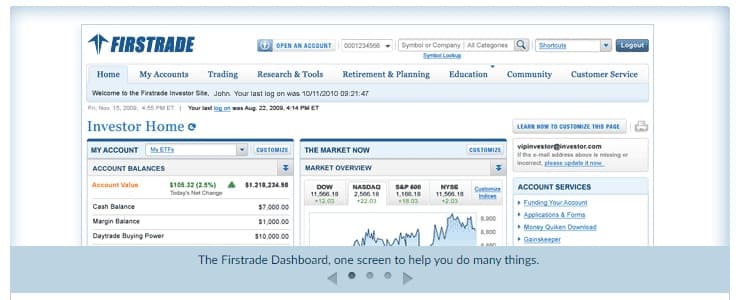 Firstrade's dashboard gives you two separate columns where you can monitor all your activities in one place.
These are a few things you can do:
View account balances.
Review your order status.
Organize status orders and executions.
Manage multiple accounts in one place.
Organize charts on a daily, weekly or monthly basis.
See list of daily movers.
Review market movement, including the S&P 500, Dow Jones, Nasdaq and more.
Read market headlines.
Customize dashboard to your preference.
Mobile Trading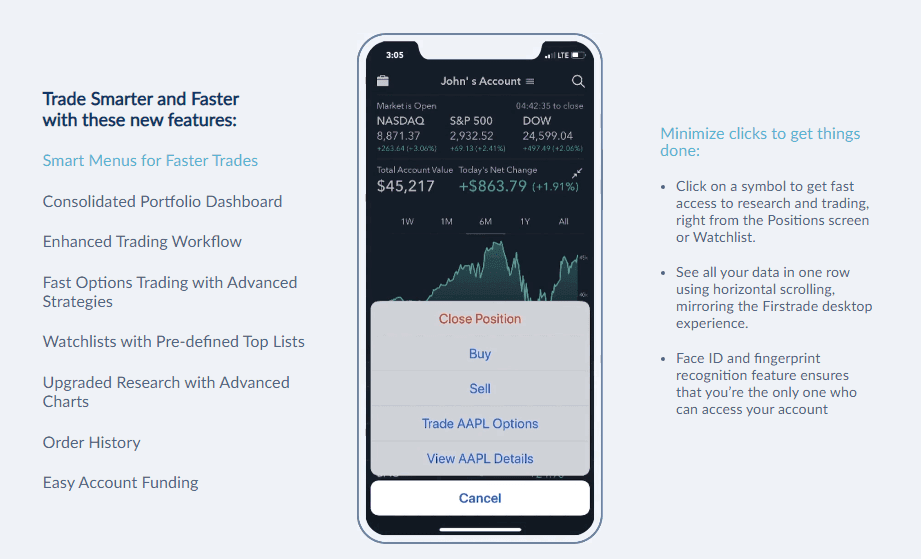 Trade faster and smarter on the go! with Firstrade Mobile App Version 3.3. Available on IOS and Android.
Technical Analysis
Firstrade's research section has a robust outline of tools for stock and options technical analysis.
Personal Account Manager
Firstrade has a responsive support system, one remarkable feature is its intelligent Chat bot that answers virtually every question about its business, starting from account opening enquiries to mid-level questions.  
Phone calls or emails are recommended for more technical questions. Emails gets answered in 24 hours. It's not clear if personal account managers are dedicated to account holders.
Training and Education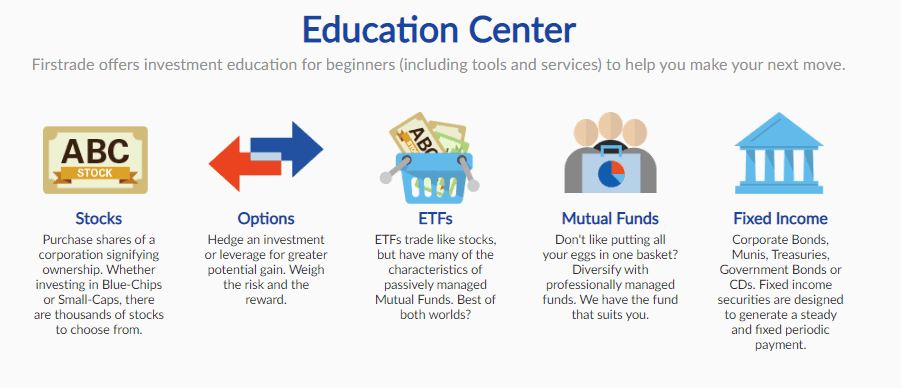 Firstrade's website provides free educational materials for its users. With 5 broad categories, you can learn the basics on investing in any investment instrument of your choice. You can receive daily alerts, market news and watchlist of your favorite stocks.
Final Thoughts
As an early starter in stockbroking, Firstrade witnessed it all even during the development phases of the financial market in the 1980s.
Firstrade could now be reckoned with as an authority in the industry. Its long-term commitment to excellence has enabled it tailor its services to cater for a variety of clients.
If stock trading is your thing, Firstrade is a broker you may want to consider.
Reasons why they have not embraced currency and crypto trading is still unclear, hopefully, they may introduce more investment opportunities.

FIRSTRADE Broker Review 2020
Pros & Cons
No minimum deposit is required.
Regulated by FINRA/SIPC.
No Commissions on Stock, ETFs, Options.
Ideal for stock and options trading.
Simple and clear pricing structure.
Diverse account types for all ages.
Brilliant trading app and customizable dashboard.
Responsive customer support 24/5.
Available for U.S. and International clients.
No currency and crypto trading.
Regulations limited to U.S.
Limited Deposit and withdrawal options (Check, Wire funds & Electronic transfer).
FIRSTRADE Broker Review
---
9.1
Pros
---
No minimum deposit is required.
Regulated by FINRA/SIPC.
No Commissions on Stock, ETFs, Options.
Ideal for stock and options trading.
Available for U.S. and International clients.
Cons
---
No currency and crypto trading.
Regulations limited to U.S.
Limited Deposit and withdrawal options (Check, Wire funds & Electronic transfer).
MINIMUM DEPOSIT OF $0

10/10

COMMISSION AND CONTRACT FESS

10/10

PAYMENT AND WITHDRAWALS

7/10

TRADING SOFTWARE - WEB & MOBILE APP

9/10
Read More