Overview – eToro Broker Review 2023
Our independent assessment of eToro revealed the uniqueness of the organisation and what makes them the world's leading social trading platform. If you're thinking of social trading, think of eToro.
eToro offers both investing in stocks and cryptocurrencies, as well as trading CFD with different underlying assets.
For over a decade, eToro pioneered the global Fintech revolution. It is the world's leading social trading network, with millions of registered users and an array of innovative trading and investment tools.
Regulation
eToro is multi-regulated in Tier 1&2 countries therefore solidifying its reputation and customers confidence in the financial markets space.
eToro's brokerage services are provided by:
Tradable Assets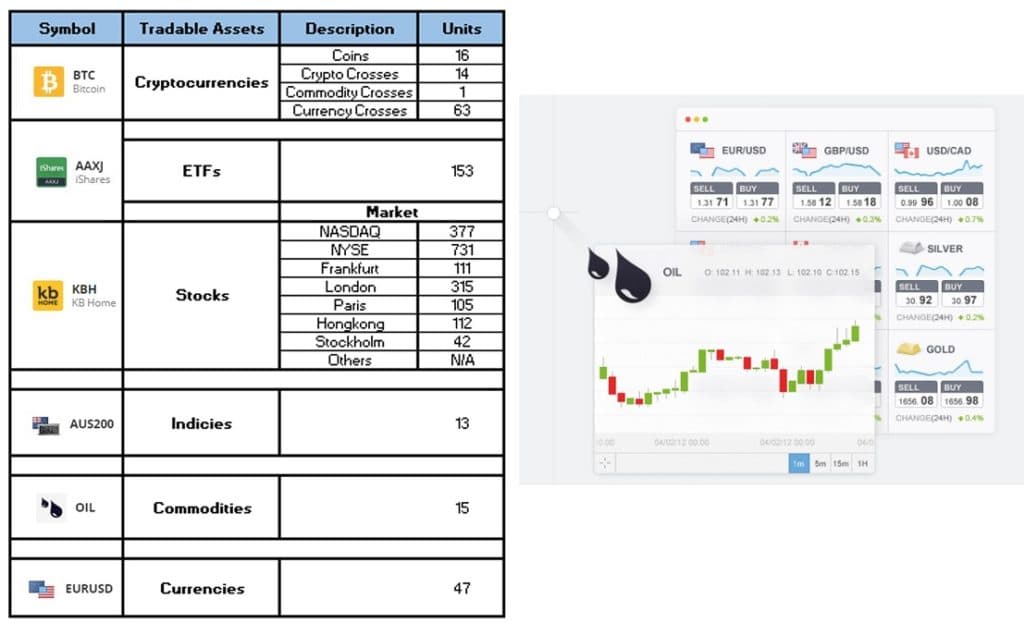 6 digital currencies are traded on eToro broadening its scope and meeting the needs of a variety of new and expert traders.
eToro's platform is open to trade a variety of financial assets across all classes of accounts. With its strong social trading network which is #1 in the world, new and experienced traders can explore these currencies with minimal risks through eToro's Copy-trading mechanism.
Minimum Deposit
We compared this to Avatrade that starts at $100, IQ-option that starts at $10 as minimum for account opening.
eToro's minimum initial deposit amount starts at $200, however this amount is not standard across all regions. See variations:
For residents of Australia and the USA, the minimum first-time deposit is $50.
For residents of Algeria, Lebanon, the Maldives and Venezuela, the minimum first-time deposit is $5,000.
The minimum first-time deposit amount for residents of Israel was increased to $10,000 in 2017.
All deposits other than the First Time Deposit are required to be at least $50.
Deposit Methods
Deposit methods include Credit Card (Visa, MasterCard, Diners Club, Maestro), PayPal, Neteller, and Skrill.
Wire Transfers are available for a minimum deposit of $500.
It's important to also note that unverified accounts are limited to a total deposit amount of $2,250. 
When registering a corporate account, a minimum first-time deposit of $10,000 is required. 
Click here to know more about eToro's deposit methods.
Trading Accounts
eToro operates in a multi-regulatory environment…
eToro UK under the FCA, eToro EU under CySEC and eToro Australia under ASIC. Different types of clients are allowed to open an account under EU regulations.
A questionnaire is presented to new customers to fill out, this will enable eToro design a custom package that will suit the customer. The customer's professional status, level of knowledge of the capital markets, financial liquidity, acceptable levels of risk, investment goals, etc. would be assessed.
All deposits other than the First Time Deposit (which varies from country to country) are required to be at least $50. For deposits made by wire transfer, the minimum required is $500.
Types of Trading Account
Demo account
The ideal way to start trading as a beginner is to try a Demo account.
For example, a professional trader attempting to switch platforms should test the new software's adaptability and features on a demo account.
eToro's demo account starts at $10,000 to practice with. It is recommended that new traders get familiar with the trading platform on Web and Mobile app before going live.

Retail Account
Retail Clients receive access to all our trading assets and can trade both manually or via Copy Trade (subject to suitability).
While Retail Clients' leverage is restricted, they do receive certain protections such as coverage by the Investor Compensation Fund and recourse to the Financial Ombudsman Service.
Furthermore, they receive negative balance protection and margin closeout restrictions.
New and experienced traders may want to open a live account straight away for individual reasons. Some users may want to try eToro's copy trading network and start exploring it benefits right away.
if you wish to Open a Retail account it is a straightforward process.
Islamic Account
The Islamic account is similar to the regular account. Trading with an Islamic account requires that you must abide with the tenets of the Shariah law with respect to financial investments.
Corporate Account
Individuals willing to trade under a company or business name must register as employees, associates, partners etc. What this means is that the company will have to register its traders with a company name and start with a minimum sum of $10,000.
Professionals clients are those who have successfully passed a test to determine their suitability to qualify as a Professional Clients.
We found out that Professional Clients are permitted certain waivers. Example, ESMA protections such as the Investor Compensation Fund and recourse to the Financial Ombudsman Service.
Negative balance protection – On rare occasions in which market conditions cause Equity to go negative, eToro will absorb the loss and reset Equity to zero – just like for a Retail Client account.
Leverage – Professional accounts are allowed to open positions with a leverage of up to 1:400 for certain instruments and will receive a reduction in current margin rates.
Only clients who meet certain criteria can opt to change their status from Retail Client to Professional Client. If you wish to read more about Professional Client status before you apply, please see this post.
eToro Club VIP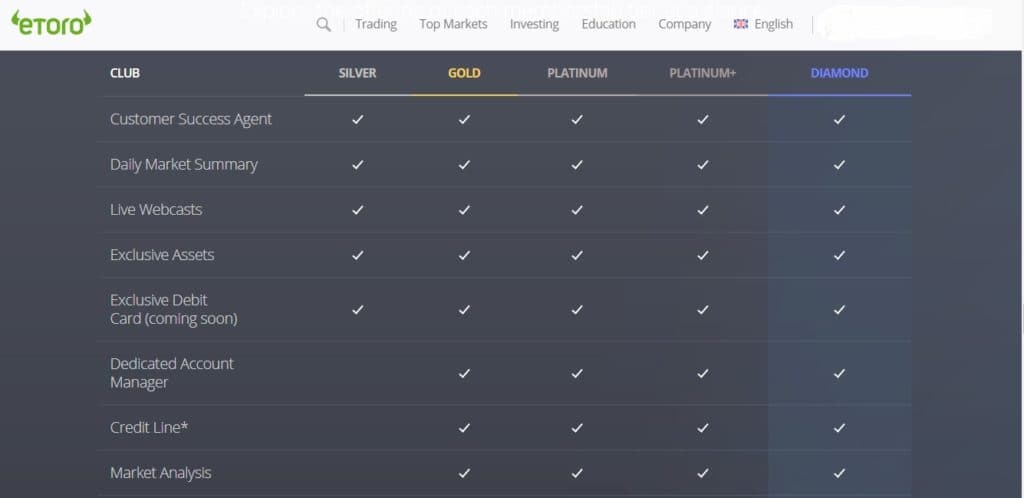 eToro Club members receive an exceptional level of service as well as a host of other services and choose amongst 5 different membership categories. To enjoy additional privileges, upgrade your Professional account to Club VIP.
Silver members
Silver members enjoy exclusive access to eToro's in depth market webcasts, a dedicated Customer Success Agent to enhance Club member experience and first access to new products, features and trading assets.
Gold members
Gold members enjoy the same offers as the Silver tier as well as access to live webcasts, market analysis updates and an eToro credit line, as well as access to a dedicated account manager.
Platinum members
Platinum members enjoy the same, plus additional, advantages as Gold: no withdrawal fees; access to the Delta PRO app with unlimited exchange and wallet connections, real-time prices, and automatic sync across devices; and our Trading Central signals platform which helps form confident, timely and educated investment decisions.
Platinum+ members receive a full range of offers and services, including a Financial Times subscription, exclusive access to special sporting and cultural events and much more.
Diamond members
As a member of the most exclusive tier, Diamond members receive all of the above plus an exemption on exchange fees. Diamond members are also invited to participate in eToro's prestigious Diamond events which take place in different locations around the world.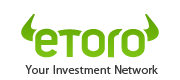 Languages
English being the first and official language eToro communicates with, there are 20 other global languages eToro connects with its users making its customer service and support system great.
Currency Pairs
Currencies are divided into two main sorts – Major currencies and minor ones. The major currencies are derived from the most powerful economies around the globe – the US, Japan, the UK, the Euro Zone, Canada, Australia, Switzerland and New Zealand. Together with the other currencies they create forex pairs.

Max Leverage & Spread
According to the new ESMA intervention measures, leverage rates can only be offered between a margin of 2:1 and 30:1, depending on the specific instrument.
At eToro, Margin Closeouts are set at 50%, meaning that the Stop Loss setting on eToro will be limited to a maximum of 50% per trade. eToro also has a set of new regulations it must comply with.
The new leverage limitations are as follows*:
30:1 for major currency pairs (such as EUR/USD)
20:1 for non-major currency pairs (such as NZD/USD), gold and major indices
10:1 for commodities with the exception of gold and non-major equity indices
5:1 for CFD stocks
2:1 for cryptocurrency CFD
Please note the following:
All open orders with 25:1 leverage will be automatically reduced to a leverage of 20:1.
All pending orders which exceed leverage limitations will not be executed.
The aforementioned pending orders will eventually be cancelled for clients who have not applied/qualified as Professional Traders.
Deposit & Withdrawals
Depositing money
Like many other forex brokers, eToro accepts PayPal, Credit, Debit cards, Neteller, Skrill, Rapid transfer, Wire transfer, China Unionpay and more.
Withdrawing money
There is a bit of twist to eToro's withdrawal methods.
Customers may withdraw funds from their eToro account at any time. Funds can be withdrawn up to the value of the balance of your eToro account, minus the amount of margin used.
Funds are withdrawn using the same method, and sent to the same account, as previously used for your deposit. Payment will be made in the following order of priority:
Credit card
PayPal
Bank transfer
Trading Platform
eToro offers Web trading and Proprietary trading platforms for its users. The app is also a close replica of the web or desktop version. Most traders have embraced the MT4 and MT5 software. Sadly, eToro does not offer Meta Trader 4 on its platform.

This may not be good news for traders that are drawn to Meta Trader software which is now globally accepted for trading currencies and binary options. The MT4 and MT5 are considered standard forex trading software in the industry. The Meta Trader software offers enhanced security that help traders open and close positions without impacting the software negatively. The Meta Trader is considered technologically advanced than many other platforms.
Technical Analysis

You may want to augment eToro's offering on technical analysis. They post Daily market insights, on their info page. The blog is also active. However, they have limited tutorial videos to learn especially for new traders.
Personal Account Manager
A 24/7 support service is available to all eToro's clients. However, dedicated managers are accessible to Club VIP clients.
Training and Education
Like many other brokers, eToro offers continuous learning through its daily market insights, blog and tutorial videos. Whether you're just starting out or already an experienced trader, you'll find a wide range of educational resources and helpful content about eToro's platform and the financial markets in general. Its "Trading for Beginners" and "Pro-trader" sections are undergoing development and as such do not offer content for these set of traders.
Forex Trading Signals
Copy trading from your favorite trader on eToro is a kind of signal available. Copy portfolio traders do charge a percentage of profits if you mirror their trades. Before choosing any trader to copy, analyze previous performance history.
Traders can also be assessed by:
Profile: Status, Country.
Performance: Return, Profitable Months, Profitable Trades.
Risk: Risk score, Daily drawdown, Weekly drawdown.
Please note that previous performance does not guarantee future performance.
Social Trading
Social trading is one of eToro's strength, this broker is widely known for its robust social trading network. When social trading is executed effectively, it can provide a better alternative to autotrading, though it should be understood that each of these trading styles has advantages and disadvantages and that they aren't necessarily interchangeable.
Pros & Cons
Account opening minimum deposit of $200.
Regulations: CIF, CySEC, MiFID, FCA, ASFL.
Suitable for swing traders.
Perfect for social or copy trading.
Web and mobile app trading platforms.
6 digital currencies.
Responsive customer support 24/7.
Lots of leverage limitations.
No MT4 or MT5 trading software.
Limited by geography.
No so good for day trading.
A 2/5 star rating from TrustPilot indicating a poor rating among traders.
eToro Broker Review
---
8.8
Pros
---
Perfect for social or copy trading.
Suitable for swing traders.
Regulations: CIF, CySEC, MiFID, FCA, ASFL.
6 digital currencies.
Account opening minimum deposit of $200.
Cons
---
Lots of leverage limitations.
No MT4 or MT5 trading software.
No so good for day trading.
MINIMUM DEPOSIT OF $200

8/10

MAX LEVERAGE & SPREAD

8/10

PAYMENT AND WITHDRAWALS

9/10

TRADING SOFTWARE, MT4, MT5

8/10
Read More