Like paper money tucked neatly into your wallet so is a digital coin deserving a safe storage space for transactional purposes.
Beyond safekeeping, it should interest you to know that there are two wallet options available for storage.
The uniqueness of these wallets is that one (Hot Wallet) requires the Internet to function and houses the private keys on behalf of the owner. We shall discuss this in detail later.
The two main types of wallets are Hot Bitcoin Wallet and Cold Bitcoin Wallets.
Hot Bitcoin Wallet vs. Cold Bitcoin Wallets at a Glance.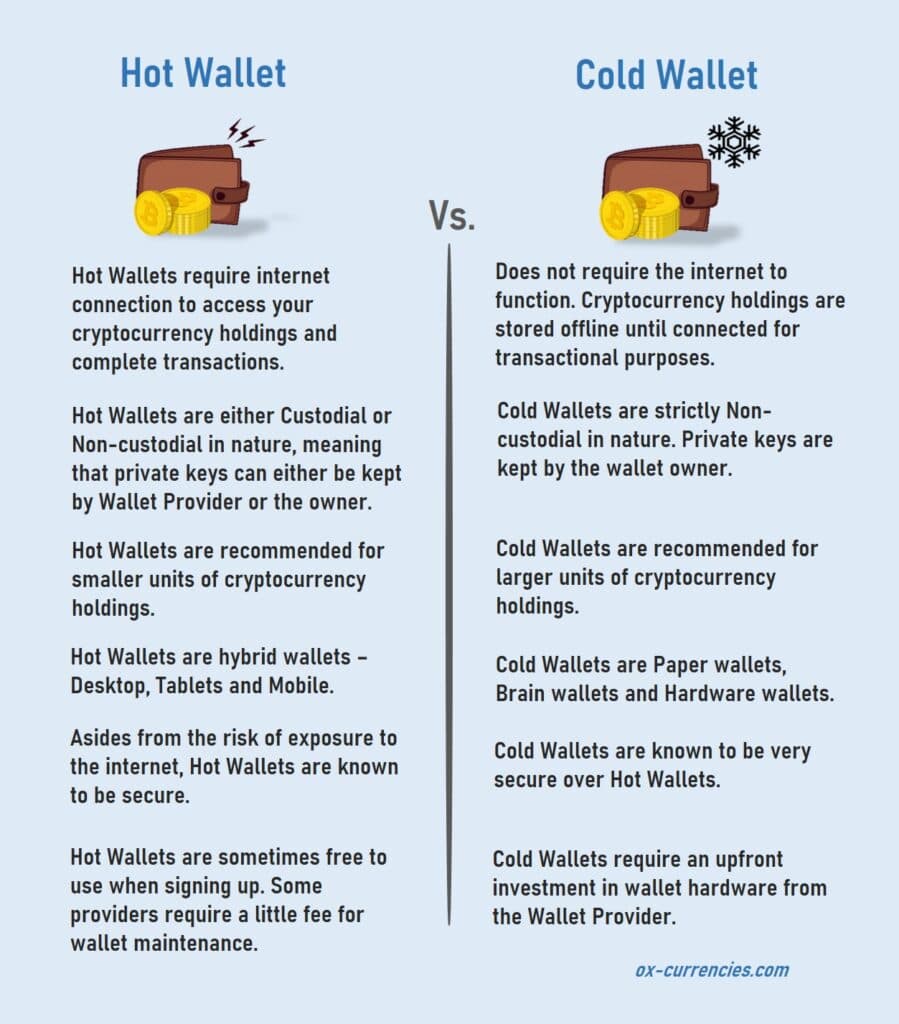 With many new ones flooding the crypto market, we will sift through the mass for the very good and reliable bitcoin wallets you can download and use easily.
SEE ALSO: World's Most Popular Hardware Wallet – Ledger Nano S and Nano X
SEE ALSO: How to Download a Bitcoin Wallet and Use Easily
SEE ALSO: 3 Key Things to Look out for When Buying a Hardware Wallet
Firstly, let's differentiate a hot Bitcoin wallet from a Cold Bitcoin Wallet.
Hot Bitcoin Wallets
Hot Bitcoin Wallets are digital wallets that implement their transactional function when connected to the Internet.
They allow for quick and immediate access to your cryptocurrencies stored on the blockchain ledger.
The uniqueness of the Hot wallets is that, it is a hybrid. All desktop, tablet, and mobile wallets are hot wallets.
Importantly, hot wallets are custodian or non-custodian in nature when referring to who keeps the private keys.
The owner of a hot wallet can decide to keep his private key exclusive to himself or trust the wallet provider to do so.
With a fast and stable internet connection, you can access your stored coins, initiate and complete transactions across online stores and all over the world in real-time.
But with exposure to the internet comes its ills, cybercriminals could breach its security, and deliberate hacks are possible if the owner of the wallet fails to secure his private key properly.
To prevent this from happening, ensure to change passwords periodically and when you notice any unusual activity in your Bitcoin wallet.
It is advised to use two-factor authentication to further secure your coins.
For smaller units of crypto coins, the Hot wallets would do just fine.
Cold Bitcoin Wallets

Cold Bitcoin Wallets are hardware storage devices for larger units' cryptocurrencies mainly for offline storage. This invariably means that they require no internet access to function.
Cold wallets can also be referred to as paper wallets and is strictly a non-custodian wallet meaning that the private keys are exclusively known and in control by the owner.
Cold Bitcoin Wallets function as secure digital wallets that protect your Bitcoin against theft, destruction, or loss in an offline environment.
Cold Bitcoin Wallets are physical, hardware devices. They are known for their solid, rugged status, and built with optimal security in mind.
Cold wallets cut your holdings off the internet until you are ready to transact. This limits hacking activity and gives users rest of mind on their coin holdings. The onus is for the owner to safeguard his cold wallet hardware from bandits and thieves.
Cold wallets are designed to possess a high level of security for users who own larger amounts of Bitcoin and other altcoins. This gives much better control and limits access to third-party provider storage interferences.  
Other types of cold Bitcoin wallets include Paper wallets, Brain wallets, and Hardware wallets (Trezor and Ledger).
Having highlighted the key points on Hot and Cold Wallets, let's examine the best Hot and Cold wallets with high positive reviews in the crypto space.
SEE ALSO: 5 Best Ethereum Wallets for Safe trading and Storage
SEE ALSO: 3 Key Things to Look out for When Buying a Hardware Wallet
SEE ALSO: 5 Best Bitcoin Wallet Providers
Best Hot Bitcoin Wallets
NAGA|Wallet
NAGA is a free and versatile wallet for multi-currencies (crypto and fiat currencies). NAGA also offers a built-in exchange and a pathway to its social investing community.
The features of the wallet are as follows:
Colorful charts are available for you to manage and keep track of your Bitcoin and fiat currency.
Fund transfer functionality of fiat money and cryptos with zero redundancy.
Speedy internal transactions across all cryptocurrencies with a very low charge on each transaction (a holder gets 10% off, whether he is buying or selling his crypto).
Purchase of NAGA Coin, Bitcoin Cash, Ethereum, Bitcoin, or any other cryptocurrency with your credit card.
Instant and free access to Forex, stock, and commodities trading by transferring your BTC or fiat currency to the NAGA trader account.
As a user, you are given the option to use either of the two packages, NAGA Basic or NAGA Pro.
Blockchain Wallet
The Blockchain wallet runs like a private bank allowing you to take control of all basic functions such as sending and receiving payments, buying, selling, and investing in your favorite cryptocurrencies.
With a Do-it-yourself (DIY) capability, Blockchain wallet is still one of the most secure wallet platforms.
Blockchain wallet to date has created over 61 million Wallets for users and processed over 6200 billion dollars. It features the lowest charge per transaction in the crypto space and is one of the most trusted Bitcoin wallet on the planet.
By creating your wallet on Blockchain, you get to experience top-notch security, knowing that your coins are kept safe.
Blockchain wallets also permits fund backup, transfer, and receiving of funds swiftly with the lowest fees. It supports BTC, Ether, Bitcoin Cash, Algorand, Tether, stellar, and USDT.
You can also exchange or swap your cryptocurrency for another, invest in crypto as a user accepting over 36 countries.  Blockchain wallet allows you to access your digital currency from anywhere on any device (your mobile device, Apple, or tablet).
The blockchain bitcoin wallet is available in 25 different languages making it a versatile application.
Edge
The Edge bitcoin wallet is a simplified mobile wallet available for Android and iOS users.
What do you get from the Edge wallet?
1. Edge wallet provides automatic client-side encryption for your Bitcoin keys and safeguards them from malware.
2. Its HD address rotation, regionalized access, with a "no-knowledge" encrypting mechanism making it a very private wallet.
3. Decentralization, thus allowing it to connect to several public nodes that keeps the wallet functioning if Edge servers ever go down.
Best Cold Bitcoin Wallets
Cold Bitcoin wallets are hardware devices that can be felt and carried by hand. Recall that they are built to function independently of the internet, reducing its exposure to internet-related fraud and malware injections.
Let's review a few Cold Bitcoin Wallets that also incorporate brilliant functionalities as the Hot Bitcoin Wallets.
Ledger Nano S
This is one of the most traditional cold storage Bitcoin wallet in existence. The Ledger Nano S Wallet fits into your pocket without any hassle owing to its sleek USB flash-drive design. It weighs only around 16.2 grams.
The crypto hardware wallet supports over a thousand cryptocurrency tokens and is also very fairly priced.  You can access the Ledger Nano S here.
Ledger Nano X
The second cold storage wallet on our list is the Ledger Nano X developed by Ledger itself. It's built similar to the Ledger Nano S i.e it's very handy and portable while prioritizing the security of your coin.
The Ledger Nano X crypto wallet includes some upgrades such as an LED screen for easier and more convenient navigation around the menu, a USB Type-C charging port, a 100mAH battery, and Bluetooth functionality.
On the Ledger Nano X, you can install as many as 100 different wallet apps – all synchronized. The Nano X supports over a thousand cryptocurrencies that can be managed from anywhere.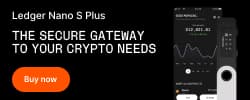 Trezor Model T
Trezor Model T is the second model of crypto wallets developed by Trezor. This device leverages on the phenomenal success of Trezor One.
The Trezor Model T features a full-color touchscreen that makes it user-friendly and convenient for users to manage their cryptos and wallet functionalities from the device.
As a user of the Trezor wallet, your entire cryptocurrency reserve is kept safe from any form of threat. Though it's not as stylish as the Ledger Nano series, it still does brilliantly well as the Nano series.
The Model T can store over a thousand cryptocurrencies, each secured with several encryption primitives.
SEE ALSO: How to Start Investing in Bitcoin with a 100 Dollars
SEE ALSO: How to Earn Compound Interest on Cryptocurrency
SEE ALSO: 3 Key Things to Look out for When Buying a Hardware Wallet
Final Thoughts
Wallet providers are constantly developing and improving on their devices and security architecture to ensure their clients enjoy the best service without nursing fear over their digital assets.
Just in case you intend opting for either a Hot or Cold Bitcoin Wallet, it's important to learn the basics of security and ensure to protect your wallet and your coins altogether.
Read More