When preparing your trading plans, you should go through the entire list of your assets on your preferred time units and you should find out if the indicators you usually use (stochastics, Bollinger bands, Ichimoku, Moving averages, etc.) are showing a signal in line with your strategy.
Suppose you are trading Forex, which is the 47 major pairs, and you are looking at 3-time units: you end up having to observe 141 charts (47 pairs x 3-time units). It represents a considerable amount of time.
Let's take a closer look at a forex market scanner.
Either you have the option of doing this every day but it's still a tedious and a little tedious task, or you don't have time to do it daily, and you are missing out on potential signals. Suffice to say that in either case, it is not satisfactory.
SEE ALSO: What You Should Know About Naked Trading Price Action
SEE ALSO: What You Should Know About Reverse Gamma Scalping
What is a Forex Scanner?
The market scanner is a computer program coded to spot if there is a signal according to your strategy on the value and the unit of time that you have set, all in a few seconds.
If it finds this signal, it indicates it by an audible or visual alert, email, etc. You are no longer looking for configurations, the scanner does it for you.
It is the scanner that does this task of "locating" the 141 graphics! And best of all, it does it in record time, thanks to the scanner, you can analyze the markets several times a day if you wish, and very quickly, to determine at any time if any configurations correspond to your strategy.
No more wasting time looking for a configuration without finding it and having to start over and over again, to spend hours observing the charts to hope to find the relevant signal.
When you prepare your trading plans without a market scanner, you spend more time looking for the right configuration than trading. The scanner searches for you and will save you a lot of time.
The observation that is made is that the daily life of a trader/analyst comes down to 90% of the time to wait while waiting for the correct configuration and the progress of the trading plans that he has developed.
Using market scanners allows you to devote this 10% of the remaining time to analyze to validate or not the signals identified at the precise moment (active & unit of time) when they appear. Rather than wasting his time and energy on searching, the trader concentrates on analyzing the configurations, which is a key point in trading, it's time optimization.
Missing signals will become a thing of the past which reduces stress means and enables accurate analysis
SEE ALSO: 10 Best Forex Signal Providers for New Traders
SEE ALSO: Top 10 Best Forex Traders to Follow and Copy
With many market forex scanners on the market, one needs to be careful to avoid scanners that are unproven and delivers poorly.
The challenge with these forex scanners is that they are not necessarily based on real trading principles but rather on personal or eccentric use. It also happens that the operating instructions are not provided with the market scanner.
Another concern is that scanners can use so many technical indicators, indicators that end up contradicting each other, that the signals become misleading.
In the end, these scanners will be of no use to you and there will be no happy end …
Personally, I chose to create market scanners based on real trading principles, principles that have been used and recognized for a long time by many traders and private traders in their accounts.
It took me a long time to understand the mechanism of trading and to assimilate the mechanism of coding, even if the latter is above all a passion. Each platform having its own language, a language to learn and master, you have to acquire the appropriate skills to know how to correctly code and develop the most effective and relevant trading support tools possible.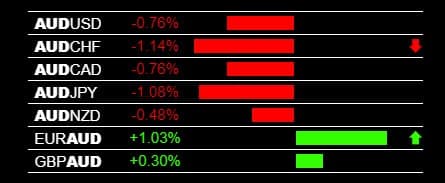 We have seen several forex market scanners or market analyzers, and we believe that this is the best forex scanner available. This is because this scanner is based on parallel and inverse analysis and currency strength trading principles, which are proven, tried, and true. Forex traders now know this, and they also know that technical indicators are ineffective.
SEE ALSO: 7 Best Forex Demo Accounts Recommended for Beginners
What Other Tools Do Forex Traders Need?
Along with a real-time forex scanner, traders need a simple set of trend indicators so they can know the direction of the major trends on the pair they are considering trading.
Traders also need one or more alert systems to complete their trading system. You can find this tool at Forexearlywarning, along with the forex market scanner.
If you are a forex trader and are looking for a real-time forex market scanner that points you towards new movements in the market, the scanner/heatmap combination should work well. Precision trading and real-time scanning of the forex market are now possible.
Final Thoughts
As a beginner or an experienced trader, scanners make daily trading easier for those who regularly interface with the markets. Market scanners combine computer coding with trading mechanisms and are a major asset! It is to share this asset that I offer my scanners on this site.
Read More