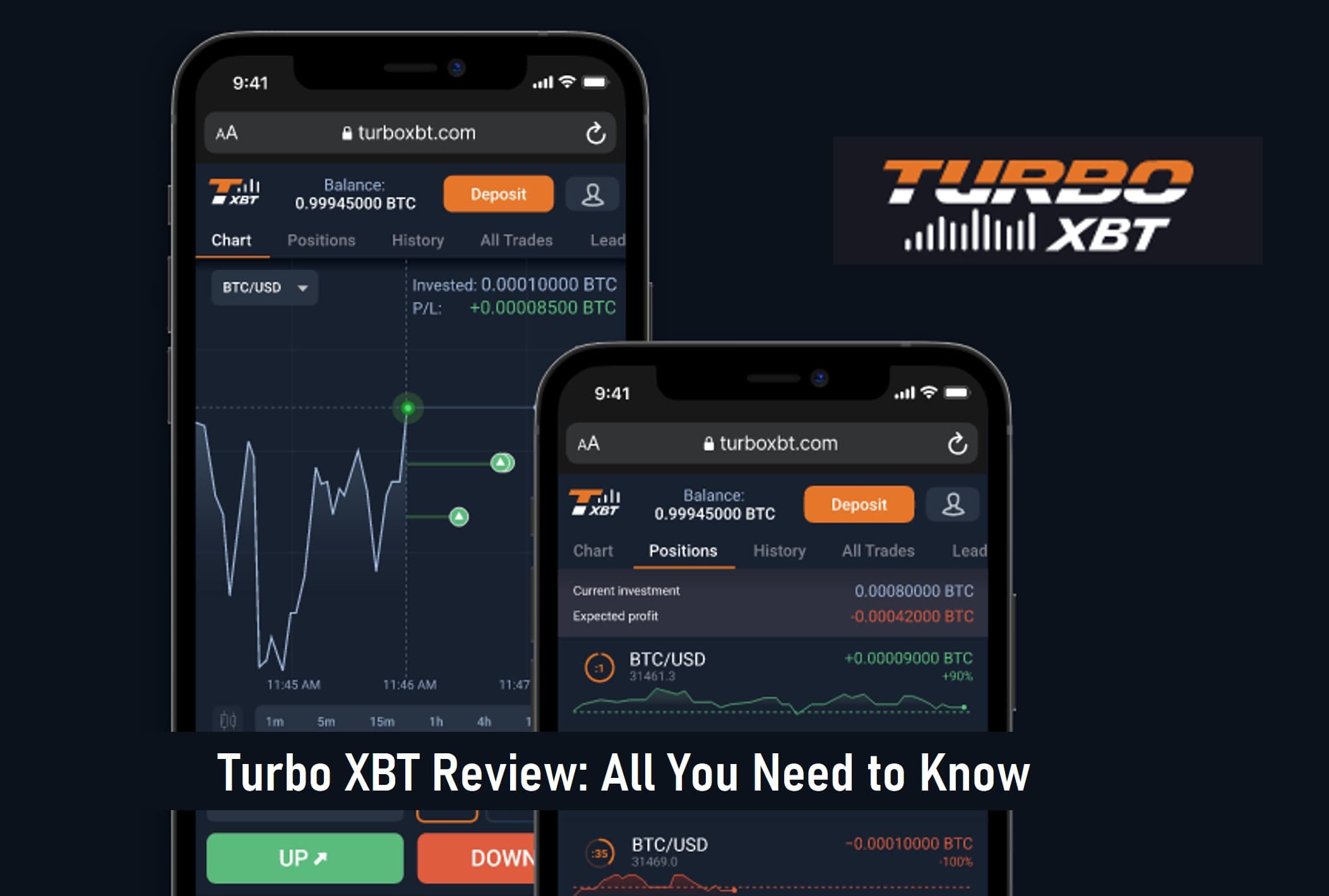 Turbo XBT Review – All You Need to Know
For newbies in crypto exchanges, Turbo XBT is an excellent platform to start with. TurboXBT has a user-friendly interface that makes it easy for you to navigate and trade digital assets.
They also offer a wide selection of digital assets to trade on their platform and also provide a safe and secure platform protecting your data and information.
In this review, I will share all you need to know about TurboXBT, how it works, its benefits and limitations, and other things you need to know.
About Turbo XBT
Turbo XBT is a CRYPTO EXCHANGE platform for trading digital assets.
TurboXBT is unique because it offers a wide range of features that make it an ideal choice for online cryptocurrency trading. Established in 2020, TurboXBT is one of the newest players in the industry, but it has quickly made a name for itself as a reliable and user-friendly cryptocurrency exchange platform.
How Does TurboXBT Works?
TurboXBT is designed to be a simple and easy-to-use platform. When you create an account with TurboXBT, they will provide you with a TurboXBT Wallet. This wallet is where you will store all your digital assets while trading on TurboXBT.
The first thing you need to do when starting to trade on TurboXBT is to deposit some of your digital assets into your Turbo XBT Wallet. Once the assets are deposited, you can start trading them with other users on TurboXBT.
The withdrawal fee typically varies depending on the asset being withdrawn. For example, the withdrawal fee for Bitcoin is 0.0005 BTC, while the withdrawal fee for Ethereum is 0.01 ETH.
TurboXBT offers a wide range of features that make it an ideal choice for online cryptocurrency trading.
The Benefits of Using TurboXBT
There are many benefits that you can reap from using TurboXBT. Some of these benefits include:
 A user-friendly interface that makes it easy for you to navigate and trade digital assets.
A wide selection of digital assets that you can trade on TurboXBT.
A secure and safe platform that protects your data and information.
24/7 customer support is always available to help you with any issues or concerns you may have.
Supported Assets on TurboXBT
TurboXBT supports 17 assets in total. These include cryptocurrencies, commodities, Forex pairs, and indices. All of these assets are available on a short-term basis. TurboXBT offers speculation for the following periods:
30 seconds
1 minute
5 minutes
10 minutes
15 minutes
To earn using the time option, you predict the price movements within a specific time frame. Once your prediction is correct, you'll be eligible to cash out.
Turbo XBT Main Features
Privacy
TurboXBTdoesn't request that you go through any know-your-customer (YC) protocols when you sign up. All you have to do is enter your information and confirm your account, and you can start trading.
While this offers greater ease and speeds up the onboarding process, you should keep in mind that it also makes TurboXBT less equipped to provide superior service or help with fraudulent transactions.
So, you should ensure you double-check the details of your transactions to ensure accuracy before proceeding.
Commission-Free Trading
 TurboXBT is also a commission-free trading platform. It's entirely free to open and close positions on the platform. Also, thanks to its use of cryptocurrencies, TurboXBT can eliminate processing fees from credit card issuers.
Quick Trading Interface
TurboXBT offers a highly responsive and quick trading interface as well. Considering that it focuses on short-term contracts, this is especially important. The service is quick and simple to use, allowing you to enter and exit positions when you want to.
Timing remains a very important factor when making trades – especially in markets like crypto and commodities. With TurboXBT, you have a platform that takes most of the stress off your shoulders and helps you to enter and exit positions instantaneously.
Demo Account
Every trading service worth its name will offer a demo account for people to learn. Well, TurboXBT is no different. The platform's demo account is available once you sign up, and you can use it to get acquainted with the platform.
The TurboXBT demo account gives you up to $1,000 to trade Bitcoin, Forex pairs, or any asset of choice in a simulated environment.
You can always go back to the demo if you have a new strategy you would like to test out, so you can run as many tests as you need and verify.
Low Minimum Account
Another impressive feature here is the low minimum deposit to get started with Turbo XBT. The minimum deposit is as low as $1.

Most trading services impose high minimum deposits on their users, but not TurboXBT.
Turbo XBT Payments
Making deposits and withdrawals on TurboXBT can only be done through cryptocurrencies.
The platform supports BTC, ETH, USDT, and USDC deposits.
Once your deposit has been confirmed, you will be able to convert the money to your preferred currency on the platform and immediately start trading.
This is expected especially with the lack of KYC protocols on the platform.
Crypto deposits simplify the whole process. But, withdrawals on the platform take time. TurboXBT only processes withdrawals between 12:00 and 14:00 UTC every day.
Turbo XBT Contact & Customer Service
TuboXBT offers customer support via its live chat functionality. You can contact the platform's customer service department for help, and they will get back to you as soon as possible.
The service also offers a knowledge base, which includes quick videos that you can watch to get more critical information about it.
Frequently Asked Questions (FAQs)
Is TurboXBT suitable for beginners?
Yes, it is suitable for beginners who want to make short-term market predictions using an easy-to-use platform as long as they are willing to trust their funds to an unregulated, offshore company that only has a short operational history.
What are the Pros of XBT?
High potential returns
No commissions
User-friendly interface
Trade multiple assets on 1 platform
Free demo account
What are the disadvantages of using TurboXBT?
Some of the drawbacks of TurboXBT include:
TurboXBT only offers a limited number of payment methods
 TurboXBT is not available in all countries around the world
 TurboXBT is still a relatively new crypto exchange platform compared to other players in the industry, so they are still grappling with becoming one of the most reliable platforms for crypto traders worldwide.
How do I  get started with TurboXBT?
Getting started with TurboXBT is pretty easy, thanks to its easy and user-friendly interface. To begin, follow these steps:
Step 1: Go to the Turbo XBT homepage to open your account.
Step 2: Enter your details and confirm your Email
Once the process is done, you will be able to fund your account and start trading immediately.
Step 3: Click on "Account" and "Deposit" on the top right-hand side to fund your account. You will see the platform's account details based on the currency you choose.
Step 4: To start trading, simply select the "Turbo" option and you'll be taken to the synthetic contracts trading platform.
You can select your preferred trading pair from a drop-down menu in the top corner, and you'll be able to see your payout ratio as well. There's also a chart available, so you can analyze price movements before placing a trade.
Step 5: You then select your trading duration and select "Up" or "Down" to show how you think the pair's price will move for the time frame.
What are the user benefits of TurboXBT?
 Besides TurboXBT's user-friendly interface and free demo account, other user benefits include:
Synthetic short-term contracts: Since you're trading in short-term synthetic derivative contracts, you don't take any positions in the underlying asset.
Up to 90% profit for a single trade: You can make up to a 90% return on your initial premium paid, depending on the accuracy of your prediction, although you can also lose your entire initial investment if you end up on the wrong side of the market.
17 assets and 38 trading pairs: The selection of tradable assets and pairs includes currencies, cryptocurrencies, stock indices, and commodities.
Simple UP or DOWN contracts: Reducing speculative trading to deciding between an up or down movement within a short chosen time frame makes trading relatively easy.
Contract duration: The duration or expiration of the available synthetic short-term option-like contracts ranges from 30 seconds to 15 minutes, depending on the chosen trading pair.
Final Thoughts
TurboXBT is a trading platform you should keep in mind as you start your trading journey. The service offers a lot of benefits, from its responsive and user-friendly interface to a low minimum balance.
While its asset range is quite limited, there's every reason to believe that TurboXBT will eventually grow and expand its support.
With its benefits outweighing its drawbacks, Turbo XBT is a great place to start your crypto journey.
Read More