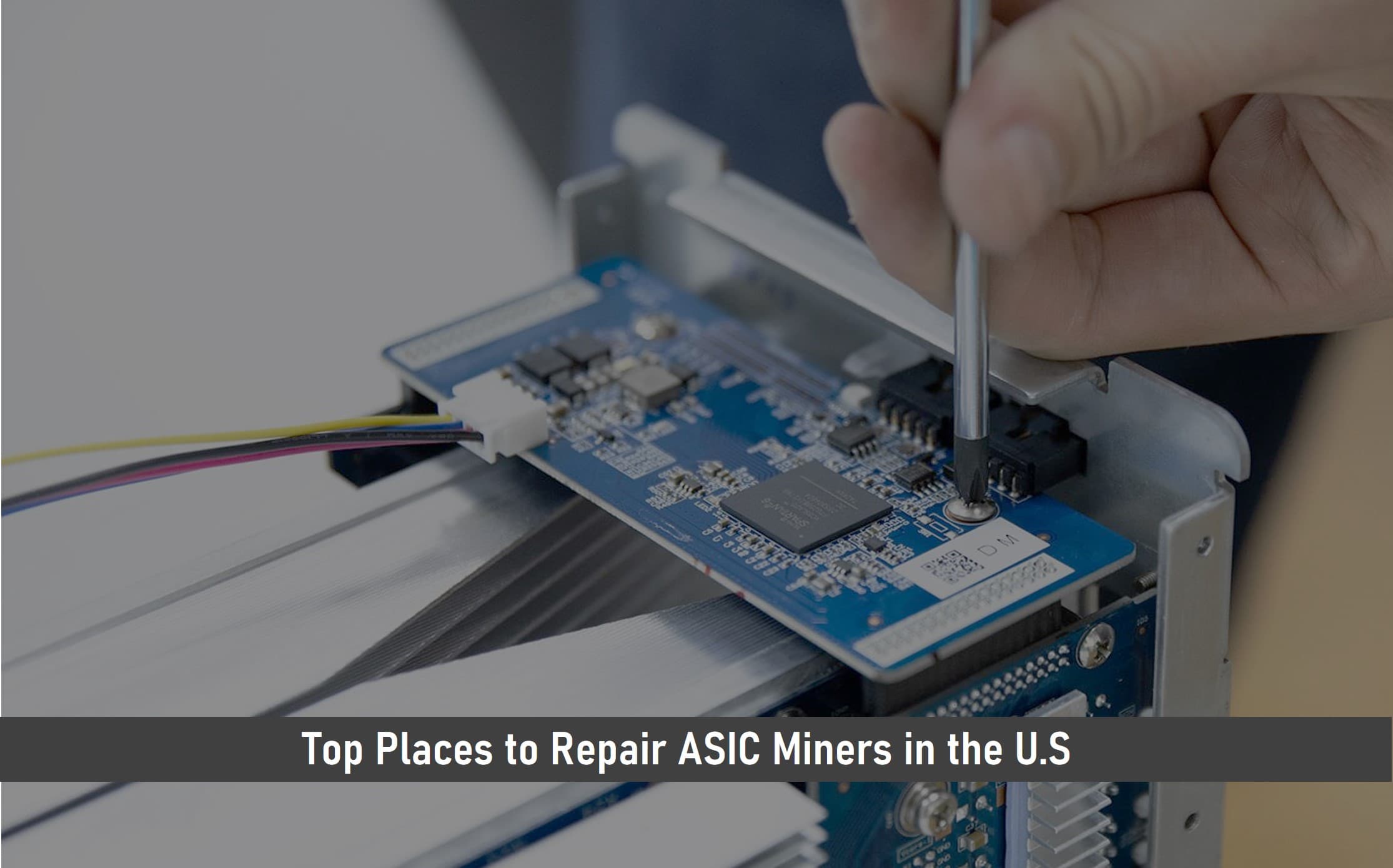 Each ASIC is manufactured to mine a specific algorithm. This means all ASICs meant for Bitcoin can mine only Bitcoin and not any other digital currency.
In this article, I will share insights on why ASIC miners may deteriorate, how you can maintain them, and some of the top places you can repair your ASIC miner in the U.S.
What is an ASIC Miner?
ASIC abbreviation for Application-specific integrated circuit (ASIC) is an integrated circuit chip that has been designed for a specific purpose. n ASIC miner refers to a computerized device or hardware that uses ASICs for the sole purpose of "mining" digital currency.
 Each ASIC miner is constructed to mine a specific digital currency. So, a Bitcoin ASIC miner can mine only Bitcoin. One way you can think about Bitcoin ASICs is as specialized Bitcoin mining computers, or "Bitcoin generators," that are optimized to solve the mining algorithm.
Common causes of ASIC damage and deterioration
Keeping your ASIC miner in a place with little or no airflow might cause it to overheat.
Keeping your ASIC miner in a humid, damp, or moist environment
Exposing your mining hardware to environments and conditions that fit these criteria will lead to them underperforming, suffering progressive damage, and even breaking down or burning out.
How to Maintain Your ASIC Miner
1. Choosing a suitable location
Remember that it must be a dry room with good, constant airflow, so wide and open spaces should be the first choice.
2. Mitigating the heat
 Treating the heat generated by the miners is another critical aspect of preserving your ASIC machines.
3. Regular maintenance and cleaning
It is essential to perform regular maintenance and clean the mining hardware. Removing accumulated dust not only prolongs lifespan but also keeps performance high.
Top places to repair ASIC miners in the U.S
Below are 4 of the top places you can repair your ASIC miner in the US;
1. HM Tech LLC
HM Tech LLC is a world-class Bitcoin mining facility and repair center that is located in North Carolina and is considered one of the biggest and most reputable crypto mines in the East.
They have a specialized crew on-site 24/7 for your Bitcoin mining and ASIC repair. They are fully certified on the following models: Whatsminer, Innosilicon, and Bitmain.
Some of their basic repairs consist of troubleshooting, diagnosis, and parts.
2. BT-Miners
BT-Miners is another top place that offers expert crypto mining repair services for mining equipment. They provide support for their customers by offering this dependable, comprehensive service.
 With service centers in the United States as well as in  China, they repair several popular miners brands including Bitmain, Innosilicon, Goldshell, and Whatsminer.
Each of these manufacturers is at the top of the industry and proves to be the most effective and efficient in mining, whether it be Bitcoin (BTC), Ethereum (ETH), Litecoin/ Dogecoin (LTC/ DOGE), or other cryptocurrencies.
They try to minimize your downtime by offering fast turnaround times (subject to parts availability). BT-Miners also stocks common repair parts for miners including the power supply, control board, and fan.
3. MYRIG Services
MYRIG Services is another top place where you can repair your ASIC miner and they are located in Denver, Colorado, in the United States. They offer a free diagnostic on broken ASIC-miners using professional repair equipment.
All repairs are reasonably priced and they offer a 30-day warranty on all repairs you do with them. New spare parts are also always in stock for purchase.
They also offer free Telegram Consultation in case you have questions for them.
4. Compute North
And last but not least of the top places you can repair your ASIC miner is Compute North and they are located in Eden Prairie, Minnesota in the US. Compute North's equipment repair and quality assurance services ensure your miners are always operating at peak performance and are promptly returned to operation if an issue does arise.
They have certified technicians who have undergone extensive training with some of the industry's largest manufacturers including Bitmain and Innosilicon.
From technologies such as sonic cleaners, clean room environment room, soldering gear, and beyond, their hosting facilities are equipped with state-of-the-art repair technology to help them ensure your rig is constantly running exactly as it should be — and generating you maximum ROI.
Frequently Asked Questions (FAQs)
Which hardware is best for Bitcoin mining?
The leading Bitcoin mining hardware is Antminer S19 Pro, WhatsMiner M30S+, WhatsMiner M30S++, AvalonMiner 1246, and WhatsMiner M32-62T. They all vary from one another in terms of hash rate ratings, power consumption, and price.
You can track the profitability of each one of them online through profitability calculators with mining pools.
How much money do Bitcoin miners make for a year?
With powerful Bitcoin mining hardware, you can generate a profit of even $100 per day per miner on a mining pool. It will depend on how many hash rates your machine can generate per second, the cost of electricity, and the difficulty of the network.
Some miners report that they make above $50,000 per year from crypto mining, others hundreds of thousands of dollars. It depends on how many miners you have on a rig too. There is no guarantee.
With a Bitcoin mining machine rated 110 Th/s, power consumption of 3250 W, and $0.05 kW/hr electricity cost, you earn $34.73 per day.
What are the Top Bitcoin Mining Hardware out there?
Here is the list of the most popular Bitcoin miners:
Antminer S19 Pro
Antminer T9+
Minedollars
AvalonMiner A1166 Pro
WhatsMiner M30S++
AvalonMiner 1246
WhatsMiner M32-62T
Ebang EBIT E11++
Bitmain Antminer S5
DragonMint T1
PangolinMiner M3X
Is ASIC mining better?
 Yes, they are. They are better than CPUs and GPUs in the mining of cryptocurrencies. They are more powerful in terms of processing power, where they can process much more data per unit of time.
They also save more power and are rated in terms of hashing power or hash rate (hertz per second) either Gh/s, Th/s, or Mh/s. The ones with the highest ratings currently have terra hash ratings.
What ASICs can mine Ethereum?
 The Bitmain Antminer E9 is tailored to mine Ethereum with a hash rate of up to 3GH/s. Other miners made for Ethereum ASIC mining are A10 Pro. Antminer E3, which operates at 190 MH/s, the InnoSilicon A10 ETHMaster, and the InnoSilicon A10 Pro which has a hash rate of 700 MH/s.
Final Thoughts
The average lifespan of a well-kept maintained machine can be around 3 to 5 years. Nevertheless, if you keep ASICs in harsh or poor conditions, they can deteriorate in as little as a few months.
ASIC miners are expensive machines, so you need to take good care of them to avoid spending a lot on replacements by following those guidelines we earlier highlighted. By so doing, you will make the most out of your miner.
Read More