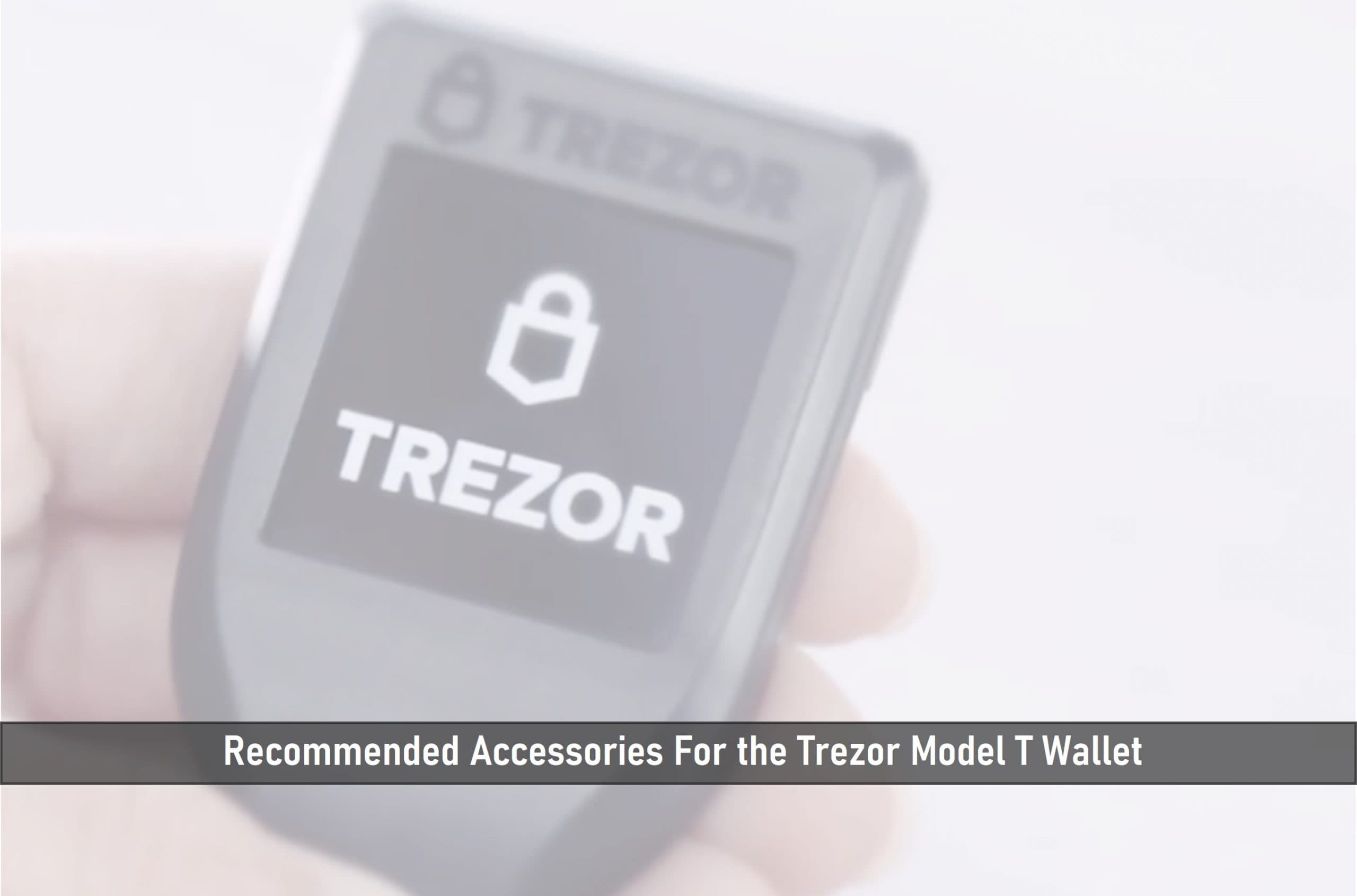 11 Recommended Accessories For the Trezor Model T Wallet
Trading or investing in cryptocurrency can be an exciting journey especially when it is yielding the desired results. While reaping your rewards from crypto is exciting, think about investing in a reputable crypto wallet to secure your rewards in the long run.
One of such wallets I will share insights into is the  Trezor Model T wallet.
In this article, I will highlight other Trezor accessories you might not know about or you probably do but ignore.
The Trezor Model T wallet is one of the pioneers of hardware wallets produced by Satoshi Labs in February 2018. The first of its kind was produced in July 2014 (Trezor One).  
The Model T is a clear improvement from the Model One. It offers more coin support, a 240×240 px screen for easy navigation, and processors (ARM Cortex-M4 processor: 168 MHz). With the Model T, you can store your cryptocurrencies offline with your digital keys safely stored.
However, the Model T has a price of 189 EUR, when compared to the Model One at 59 EUR.  If premium quality, safety, and long-term usability are what you are looking for, then the Model T is your best bet.
Key Takeaways
• The Trezor Model T wallet is one of the best crypto wallets available for private key storage on the crypto market.
• You can either make use of the recovery seed cards using a waterproof pencil or a Cryptosteel to store your recovery seeds safely.
• The Trezor Model T can be damaged if handled wrongly so you must keep it safe when not in use.
• The Trezor Model T supports over 1000 cryptocurrencies so you can be sure that it supports your favorite cryptocurrencies.
•You can always purchase a new USB-C cable in situations where the original becomes faulty as it goes for only 5 EUR on the Trezor platform.
Trezor Model T: An Overview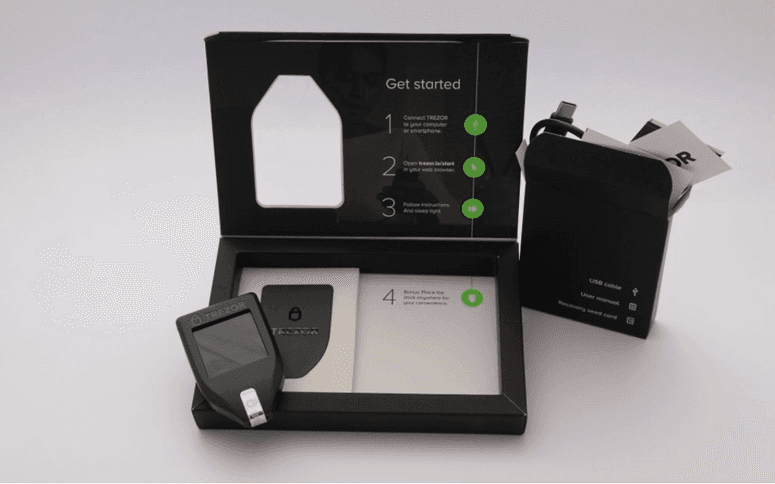 As mentioned earlier, the Trezor Model T is a premium cold storage produced from Trezor's Satoshi's Lab.  
The Model T boasts superior user-friendly features, flexibility, and more coin compatibility for lovers of the Trezor brand.
Trezor was released in the year 2018, four years after its debut model was released (the Trezor Model One).   
The Model T of course ranks above its first model with more third-party wallet support, a faster computer processor, input full-color touch screen, connectivity, and a wider number of supported coins.
Features of the Trezor Model T
[table id=17/]
Now that I have shown you what the Trezor Model T is all about and what the features are, it's time I let you know some of the accessories you should have if you want to make use of this wallet.
Let us take a look at them below:
Recommended Accessories for the Trezor Model T Wallet
1. Trezor Starter Pack
The Trezor Starter Pack is all you need to build savings in Bitcoin. With it, you can keep the keys to your assets in your hands, offline and under your sole control.
You can also set it up in minutes and secure your investments for the long term without the need for any experience whatsoever.
In addition, the Trezor starter pack even comes with a €25 voucher which you can easily redeem by following the steps below:
Select the cryptocurrency of your choice through the Trade menu in the free Trezor Suite Interface.
Buy a minimum of 60 euros worth of cryptocurrency for card purchases or 75 euros for bank transfers.
When completing the purchase, use the gift voucher code at checkout to increase the total amount of cryptocurrency you receive by 25 euros.
The crypto you bought, plus 25 euros extra, is sent directly to your Trezor Model One hardware wallet for safekeeping.
Note: The voucher is valid till 31/7/2022.
2. Trezor Model T Backup Pack
With the Trezor Model T backup pack, you get to backup your wallet by storing your recovery seeds on metal steel known as the Cryptotag Zeus.
With it, you can manage bitcoin more easily with your keys safe in cold storage.
The Trezor Model T Backup Pack is the perfect upgrade to a paper or makeshift recovery seed and is purpose-built to stay readable following extreme damage.
Get the Trezor Model T backup pack
3. Cryptotag Zeus
Cryptotag Zeus is the latest titanium backup solution from Cryptotag, designed to protect your recovery seed from damage.
With it, you can easily record up to 24 BIP39-compatible recovery seed words and protect the backup of your hardware wallet's private keys.
The 6mm thick bulletproof, waterproof titanium Zeus is resistant to temperatures of up to 3050 °F (1667 °C) and all kinds of high-pressure testing such as pneumatic hammers.
Your recovery seed is the only way to recover your crypto if anything happens to your hardware wallet.
Instead of storing your recovery seed on a fragile piece of paper that could easily be destroyed or lost, you can store it in a virtually indestructible Cryptotag Zeus.
No matter what happens to your cryptocurrency wallet, Zeus ensures that you can always recover your crypto by protecting your recovery seed.
4. Shamir Hodl Pack
The Shamir Hodl pack lets you use a more durable material other than paper in storing your recovery seeds or splitting the seed using a secure method.
Limited to just one hundred bundles, the Shamir HODL Pack includes a Trezor Model T, so you can use the SLIP39 standard, Shamir Backup, to generate a new Shamir-based wallet on the included Trezor Model T and store your shares across five Cryptosteel capsules.
These durable metal cylinders preserve data on stamped metal tiles, ensuring it stays intact over a long time.
5. Cryptosteel Capsule
You can think of the Cryptosteel Capsule as the mother of all backups: a stainless steel physical backup tool for your recovery seed and other private data, without any third-party involvement.
Its innovative design means that whatever you store is accessible to you without being visible at first glance. Shockproof, waterproof, and fireproof in temperatures up to 1400 °C/2500 °F.
If you have private information to store and protect, then you need a Capsule. Instead of storing valuable data on a fragile piece of paper that could easily be destroyed or lost, you can store it in a solid metal Capsule. Store passwords, recovery seeds, recovery shares, and more.
6. Cryptosteel Cassette
A cryptosteel is a device that allows you to securely store information such as your recovery seeds with the assurance that it is fireproof, waterproof, and shock-resistant.
The crypto steel is an alternative to the recovery seed cards as Trezor Model T users who do not want to write down their recovery seeds on the recovery seed cards usually go for the cryptosteel device.
The cryptosteel device comes in different forms such as the cryptosteel MNEMONIC, cryptosteel ANYKEY, cryptosteel HEX, and cryptosteel MIX.
The cryptosteel MNEMONIC which goes for $79 is the perfect cryptosteel device for the Trezor Model T wallet as it is usually purchased alongside the Trezor model T by many users.
7. USB-C Cable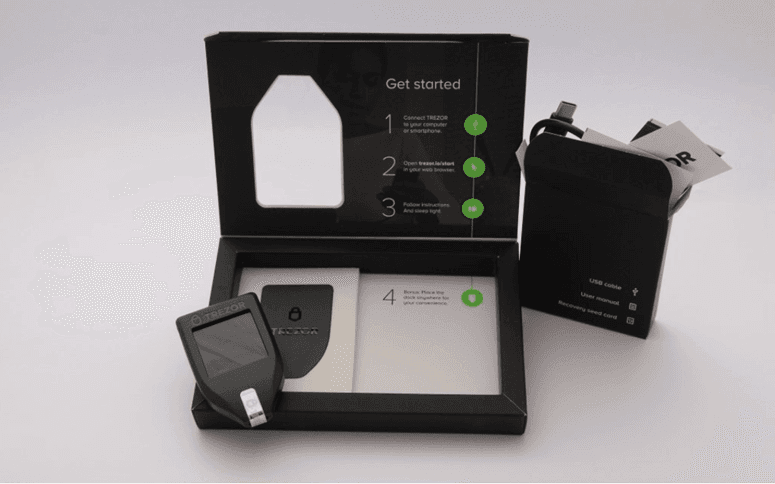 The USB-C cable is the go-to connector for transferring data across multiple devices. It has a symmetrical design which makes it easy to insert and connect compared to earlier USB ports.
The cable is built based on the universal serial bus specification and follows the USB 3.1 gen 1 protocol which is the most popular type of USB specification today.
The USB-C cable is an important accessory of the Trezor model t. Without it, you cannot successfully make use of your Trezor Model T. The cable comes inside the box and is usually 70.8 inches or 1.8 meters in length.
With it, you can easily connect your Trezor Model T to your computer while it is placed under your desk or to your mobile phone and enjoy mobile access to your wallet.
It is also recommended as a backup way to manage your funds when you don't have access to your computer. In case of misplacement or malfunction, you can always get a new USB-C cable for only 5 EUR on the Trezor platform.
8. MicroSD Card
The Trezor Model T has a provision for a microSD card on the right side of the body. This memory card allows developers to install the bootloader manually.
In the future, this SD card will allow you to have onboard encrypted storage. Note that the card will not store your recovery seed or any private keys derived from it.
Currently, you can use the MicroSD cards to encrypt the PIN and further protect your device from malicious attacks.
9. SD Card Protection
SD protection provides extra protection against physical attacks on the Trezor Model T. When it is enabled, a randomly generated secret is stored on the microSD card that you can insert into your Trezor Model T.
During every PIN checking and unlocking operation, this secret is combined with the entered PIN value to decrypt data stored on the device.
Simply put, the device gets bound to the SD card and cannot be unlocked without it until you intentionally disable the feature or factory-reset your Trezor.
If you are concerned about physical attacks, you can remove the SD card whenever the device is not in use and keep the two in separate locations.
One without the other is worthless to an attacker because the SD card secret is an entirely random value that carries no information about the seed or passphrase.
Activating and using the SD protection
To enable this feature you will need trezorctl version 0.11.6 or later and a FAT32 formatted microSD card.
There are three commands related to SD protect:
trezorctl device sd-protect enable
trezorctl device sd-protect disable
trezorctl device sd-protect refresh
The refresh command replaces the current SD card secret with a new one.
This is useful if you inserted the SD card into a malware-infected computer and are worried that the secret stored on the card may have been compromised.
How to connect the MicroSD Card to your Trezor Model T
Step 1: Connect your device and insert the MicroSD card into the card slot
Step 2: Use the Trezor command-line interface to enable the SD protection
Use the command "trezorctl device sd-protect enable"
Step 3: Congratulations! Your device is now bound to the secret on the microSD card. You will need to insert the card into the device to use your PIN.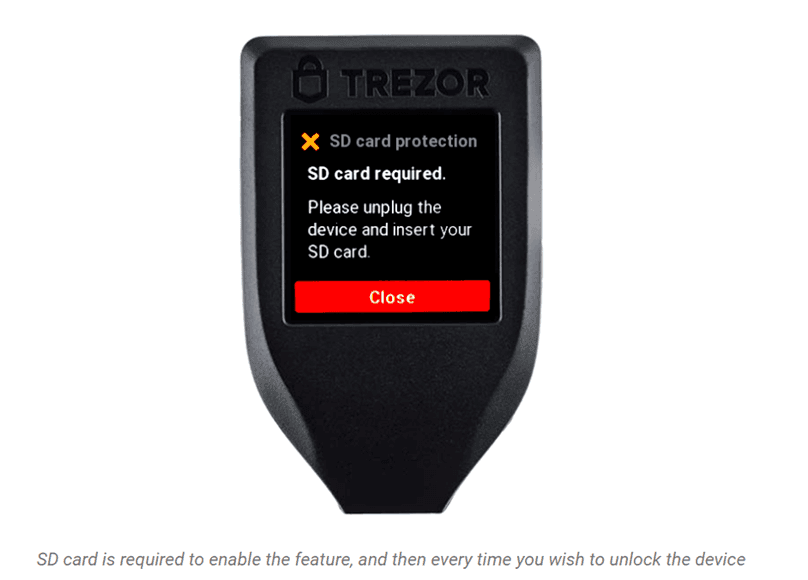 The recovery seed card is a little card or booklet that is used for writing down the recovery seed during the backup of the Trezor Model T.
A pair of recovery seed cards are included in the box containing the Trezor Model T and each card comes with a 12-word. This is in contrast to the Trezor One which comes with a 24-word.
Note:
Never make a digital copy of your recovery seed card.
Keep your recovery seed card safe from theft and fire.
You can check out the recovery seed card for the Trezor Model T here.
10. Waterproof Foil Pencil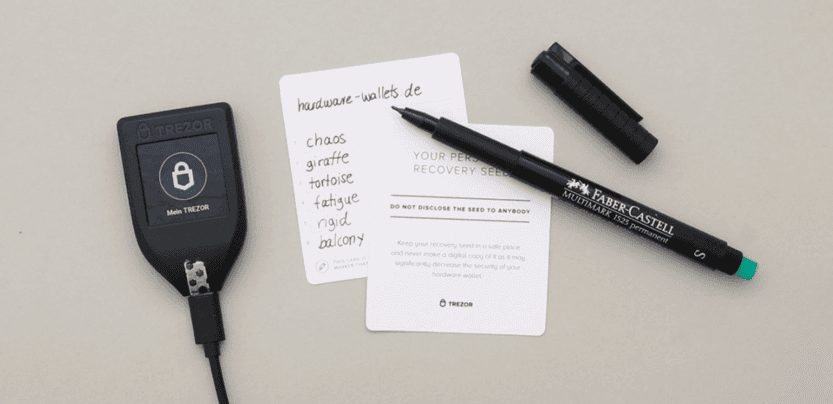 The purpose of the waterproof foil pencil is to write the recovery seeds on the recovery seed cards. These cards are made of waterproof and tear-resistant plastic paper so you cannot just use any pencil on them.
11. Magnetic Dock
The magnetic dock is usually found in the accessory box of the Trezor Model T and is used to serve as a magnetic mount for the Trezor Model T.
The tape on the magnetic dock can be glued to a surface where you can place the Trezor model T thanks to the magnetism and easily see the screen.
Be sure to place the magnetic dock on a surface that is convenient for you as the tape on the magnetic dock is quite strong and cannot be pulled off easily.
Frequently Asked Questions (FAQs)
Is the Trezor Model T waterproof?
No, the Trezor Model T is not waterproof which is why you need to keep it in a safe place as it securely protects and stores your private keys.
What crypto does the Trezor Model T support?
The Trezor Model T supports over 1000 cryptocurrencies including the most popular ones such as Bitcoin and Ethereum. You can take a look at some of them listed in the features of the Trezor Model T above.
Final Thoughts
The Trezor Model T is an amazing crypto hardware wallet that comes with amazing accessories to aid you in securely protecting and storing your private keys.
If you are out there searching for a crypto wallet to use, I recommend the Trezor Model T wallet.
You can buy the Trezor Model T wallet here.
Read More