Paxful is the leading peer-to-peer cryptocurrency marketplace where crypto investors and enthusiasts are connected to buy, sell, convert, earn and invest digital assets. It is important to note that Paxful has a functional online wallet that supports only 3 cryptos (BTC, ETH & USDT).
Becoming a vendor on Paxful means that you sell your Bitcoin using over 300+ payment methods. What makes Paxful unique is that it has the right set of features to manage your trades, offers, and stats, that is why it is trusted by over 6 million users of which 12,000 of them are vendors.
Joining Paxful is simple, straightforward, and highly rewarding, It all begins with the first step of creating your first offer.
Key Takeaways
• Paxful is one of the leading crypto exchanges in the crypto market, boasting over 300 means of payment for its users.
• Becoming a profitable vendor on Paxful requires that you abide by the laid-down rules following Paxful regulations.
• Paxful offers 24/7 customer support to its users should they want to file a complaint or make an inquiry.
• To purchase bitcoin, the minimum trading amount is now $10, and to sell bitcoin, the minimum trading amount is 0.001 BTC on Paxful.
SEE ALSO: How Do I Fund My Paxful Bitcoin Wallet?
SEE ALSO: Does Paxful Require KYC for New Users?
A Brief Tour on the Paxful Exchange
Paxful was founded by Ray Youssef and Artur Schaback in 2014, with the original name being EasyBitz.
Paxful's availability of over 300 means of payment makes it exceedingly simple to locate acceptable offers as they provide their users with total control over their money.
The platform is notably safe, especially when you know how to limit risk and secure your account, in addition to their escrow system and committed 24/7 customer support.
Paxful's peer-to-peer approach eliminates boundaries and constraints as they encourage their users to see their accounts as their financial passports.
Here is a review by a Paxful vendor – Kingsley Nkwusi
Becoming a Paxful Vendor
When it comes to becoming a profitable vendor on Paxful, it is going through the preliminary registration steps and setting up your profile. Most times, you need to make the first sale and get a positive review and it will only keep getting better.
Navigate to the website and click on "Become a vendor."
Register and log in.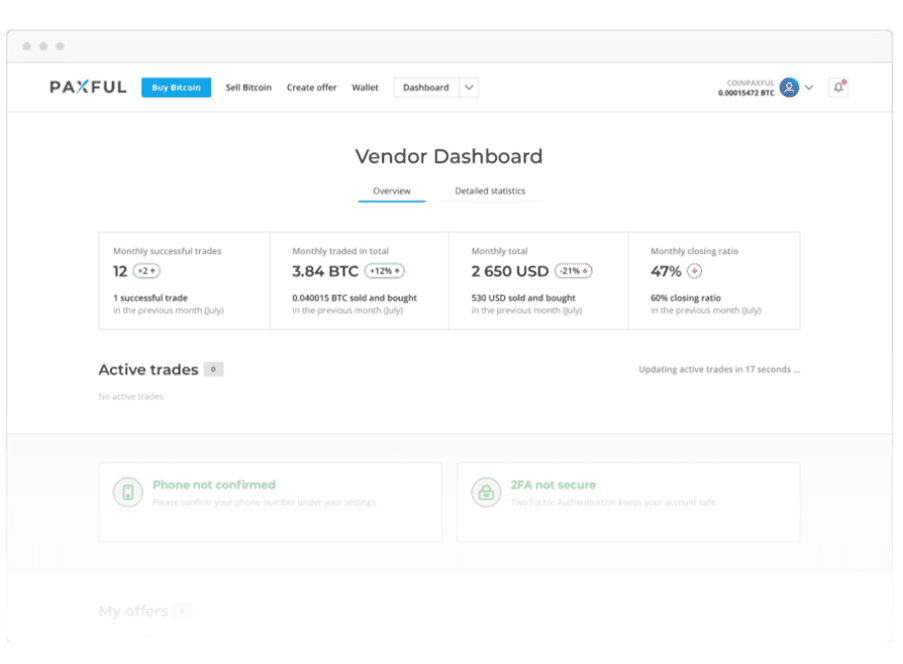 1. Create or find an offer
2. Build your profile
3. Trade and earn profits
In addition to this, you also need to follow some rules as advised by Paxful if you want to become a successful and profitable Paxful vendor.
Rules Applicable to Vendors
The rules are as follows:
1. Accept responsibility for potential risks
Paxful makes every effort to enhance the degree of security on its platform. However, as a vendor, you must assume all risks and obligations associated with selling.
It is your responsibility to safeguard yourself against harmful people and blatant schemes.
2. Brokering gift card codes on Paxful is banned
Brokering is the practice of purchasing a gift card code from a third party and reselling it to someone else later. This is a violation of the Paxful terms of service and is strictly forbidden, as this rule applies to both e-codes and physical gift cards.
3. Be responsive to buyers
Make sure you disable all of your offers from your dashboard if you are not at your computer. This will prevent your crypto from being stuck in a trade escrow if a buyer initiates a deal while you are away.
When a buyer initiates a transaction with you, greet them with a "hi" and let them know you're ready to trade.
This message may appear overly basic and common, but according to data gotten by Paxful, a substantial percentage of canceled deals are the result of an inattentive seller.
Hence, the importance of demonstrating to the buyer that you are ready and prepared to trade.
4. Maintain a friendly tone with your trade partners
On Paxful, offensive words and rude tones are not permitted, and as a vendor, you will need to be patient with buyers, as some may lack trading expertise.
If you happen to have a severe disagreement with a trading partner, feel free to invite the moderators on Paxful by starting a dispute.
5. Clearly state the parameters of your offer and trade instructions
Make sure you put both the offer conditions and the trade instructions in a concise bulleted or numbered list. This is important to remember while developing your own offer.
Make it apparent to the buyer if you have specific payment-related procedures that may cause the transfer of crypto to be delayed for an extended period. This must be expressed explicitly in your offer conditions and transaction instructions.
Ensure that the customer realizes that the release of crypto may be somewhat delayed. The release time cannot be longer than the time specified in your agreements.
Create succinct offer terms. Before beginning the transaction, the buyer examines the offer terms, as they might include crucial trade information.
Buyers tend to ignore bids with complex clauses. Clear offer conditions can give you an edge in the event of a dispute. When making an offer, never leave this field blank.
Create detailed trade instructions. When a transaction begins, the buyer is presented with the trade instructions. Instructions provide further assistance to your trading partner and should include specific measures.
If required, provide your consumers with useful assistance and examples. Put an example picture if you ask them to upload a selfie with a photo ID.
Be mindful of Paxful's minimum trading amount
You must understand the minimum trade amount on Paxful. To purchase bitcoin, the minimum trading amount is now $10 and if you want to sell bitcoin, the minimum trading amount is 0.001 BTC.
Do not use third parties for payments 
You are the one in charge of taking and processing payments. If you have no control over the payment and pass responsibility to others, you may be committing fraud.
In the event of a bank transfer, for example, you should be the account owner; in the case of cryptocurrencies, you should be the wallet owner, and so on.
No off-escrow dealings are permitted
You mustn't provide other users with your contact information to conduct a deal outside of the Paxful trade flow.
Your account will be banned if you do not use Paxful escrow at all times, and by failing to pay escrow fees to the platform while trading outside of Paxful's escrow service, you subject your crypto to a significantly higher risk since Paxful's investigative team will be unable to help you in the event of a dispute.
Price discussions are strictly prohibited
A cryptocurrency buyer must pay the precise price that has been determined for trading.
If both parties agree to adjust the amount during a transaction, a new trade must be started for the proper amount as Paxful's terms of service prohibit price negotiating within the same trade.
Frequently Asked Questions (FAQs)
How can I get money from Paxful into my bank account?
Getting money from Paxful into your bank account is very easy as all you need to do is navigate to your Paxful Wallet and click the "Transfer to Bank" option.
Before converting your cryptocurrency, you'll see the current exchange rate as well as the costs associated with the transfer.
When you're ready, enter your account details and the amount you wish to send, and you are good to go.
Is ID required for Paxful?
Paxful does not need ID verification for account creation, but it does demand verification for accounts with a trading volume or wallet activity of $1,500 or more.
SEE ALSO: How to Sell Bitcoin On PAXFUL (Step by Step Process)
Final Thoughts
Becoming a profitable Paxful vendor isn't difficult as you only need to follow the simple steps and laid down rules in this article to be well on your way to becoming one.
You can check out some of the comments made by Paxful vendors here as I am sure these positive comments will spur you to sign up and become one.
Read More