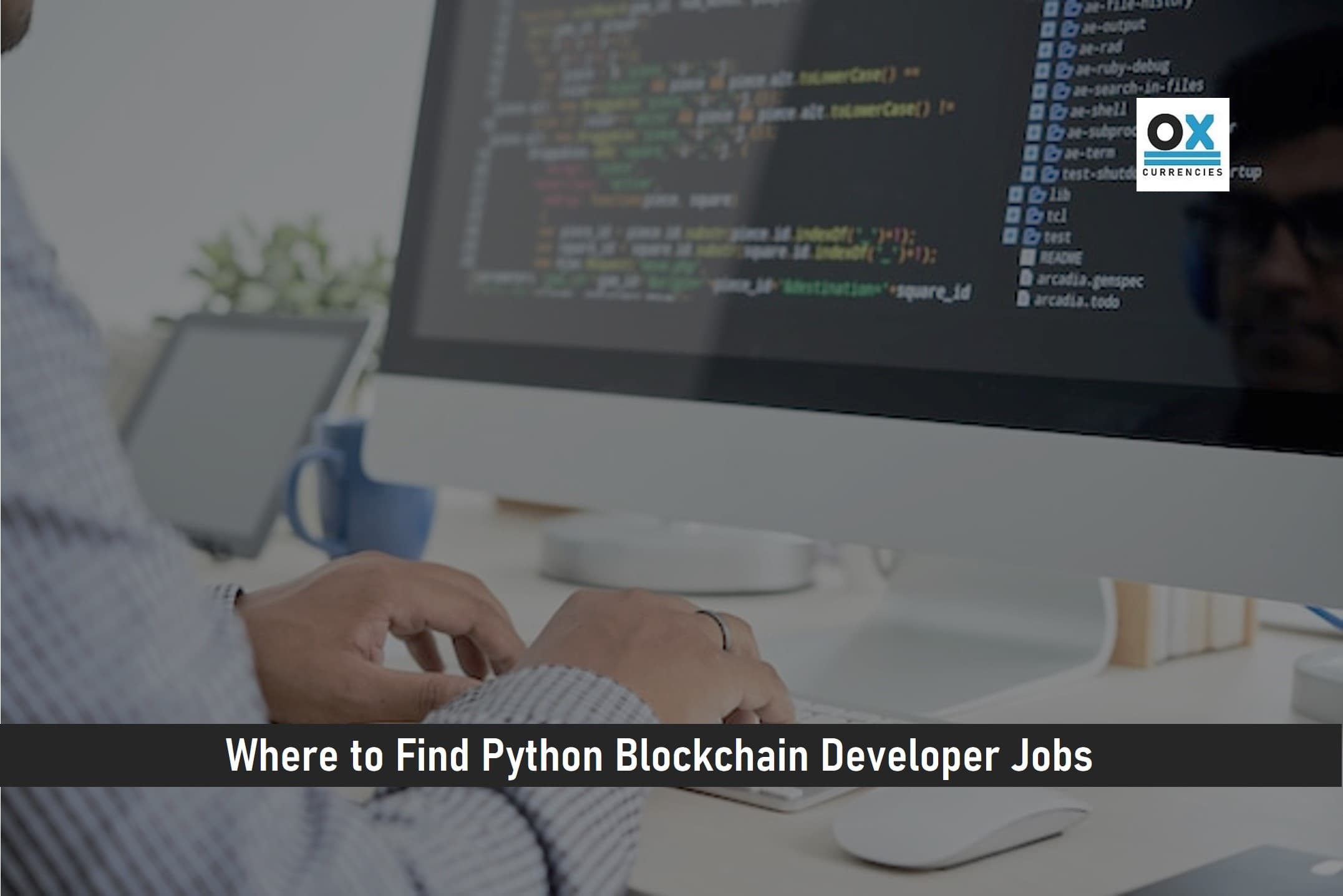 Python, right from the beginning, has been known to be very important to the blockchain. It is very secure and easily flexible, which is why most people interested in blockchain technology are advised to go take a course in Python.
Also, because blockchain is seldom written in other languages other than python, the need for python blockchain developers has constantly been on the increase.
For this reason, this article focuses on the best platforms to find Python blockchain developer jobs alongside other features that may prove useful to you.
Key Takeaways
• Python is one of the most versatile programming languages used across a wide variety of sectors to set up software applications and networks.
• Python is known to be quite helpful with blockchain-based projects, saving you the stress of having to compile your code.
• Python blockchain developers earn the same salary as regular blockchain developers although minor disparities could arise based on uncontrolled factors such as the company status and years of experience.
• Having a solid knowledge of the Python programming language already takes you a step closer to becoming a Python blockchain developer.
SEE ALSO: The Best Sites to Find Blockchain Developer Remote Jobs
SEE ALSO: Where to Find Junior-Level Blockchain Development Jobs
SEE ALSO: Key Roles and Job Description of a Blockchain Developer
That being said, let us take a look at them below:
Blockchain4Talent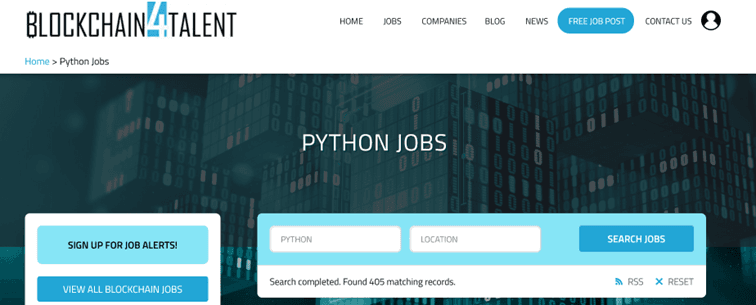 Blockchain4Talent is one of the platforms where you can find python blockchain developer jobs. 
The website is structured in such a way that you can get access to the list of companies that require talent, as well as a blog and news section to keep you updated.
While this platform is top-notch, it is focused on applicants mostly from Europe and the United States. For this reason, if you do not live in any of these regions, you might find it quite challenging to land a role.
Indeed
Indeed is one of the top platforms where you can find python blockchain developer jobs. This platform not only provides blockchain development jobs, but it also provides other types of jobs that cut across various sectors.
On the platform, job seekers upload their portfolios and establish one-on-one relationships with their prospective employers. 
These employers, in turn, have the option of scheduling an interview with a prospective employee if they feel the need to know more about the individual.
Indeed has a section dedicated to company reviews to enable job seekers to learn more about the companies of their interest. 
Finally, this platform has a career guide that contains plenty of useful articles about job searching and interviewing, as well as hundreds of resume templates and cover letter samples.
Glassdoor

Glassdoor is a top-tier platform where you can get a list of the best available python blockchain developer jobs. 
Apart from this, Glassdoor offers visitors the real employee experience, such as job ratings, salary reports, interview reports, office photos, etc.
This information is provided to help you better understand what you are about to sign up for and decide if it is well worth the time and effort.
Moving on, Glassdoor is also highly beneficial to employers who want to get the best applicants for their available job positions. 
So, for instance, if you are an employer looking for prospective employees for a python blockchain development role, Glassdoor helps you with job seekers that are well researched and well informed with the potential to stay for a long time while offering high value.
Cryptocurrency Jobs
Cryptocurrency Jobs is a platform that focuses on providing the best available python blockchain developer jobs at startups. 
The platform claims to be different from other platforms by building relationships with job seekers and investing in their success.
This is a major reason why startup companies continue to rely on this platform to offer them the best talents for python blockchain roles and other technical roles as well.
Apart from this, the platform offers a resource section where you can get the latest updates on the most recent job roles and job collections to keep you in the know should you be interested in sending in your application.
Finally, this platform is one that I will highly recommend because it focuses solely on cryptocurrency and blockchain roles, easing the stress of having to search for Python blockchain developer roles endlessly.
SEE ALSO: Amazing Blockchain Developer Salaries Around the World
SEE ALSO: 6 Best Blockchain Certification Training Right Now
Final Thoughts
Finding Python blockchain developer jobs is quite easy once you have the information about where to go at your fingertips. 
If you are a newbie looking to venture into python blockchain development, I highly recommend that you take up the python language and other blockchain courses that will be of high value to you moving forward.
Read More