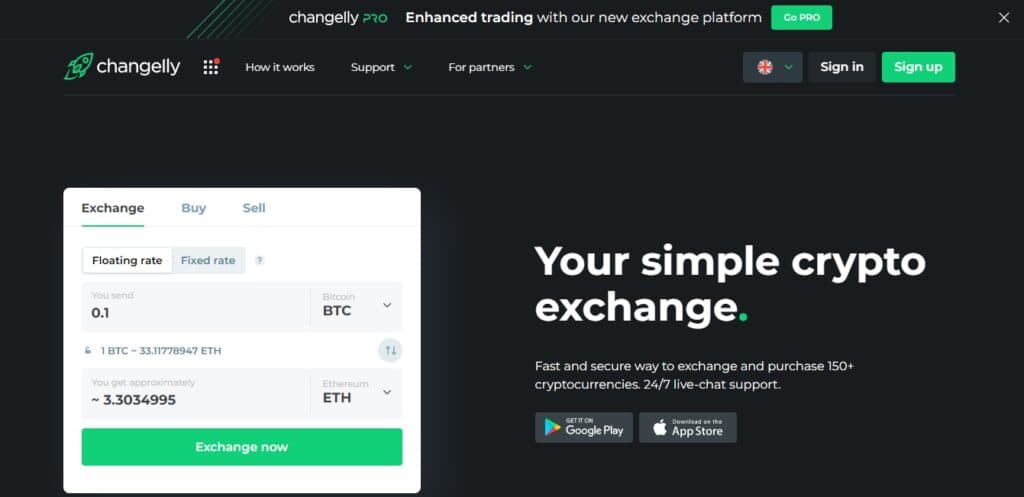 What's Unique About Changelly?
Changelly Exchange was launched in 2013, although, it is essential to note it was just a prototype then.
The Exchange was created by members of a popular mining pool known as Miner Gate and started gaining ground in 2016 when it was set up entirely as an independent crypto-based platform.
Since then, Changelly has attracted more than a million users and presently has a flawless report on issues like fraud, hacking or, bugs.
The exchange works simply from processes such as trading a particular amount of cryptocurrency to another crypto at a moderate fee and, more.
One of the prime features that Changelly states often is their small transaction fee.
You can trade virtually all cryptocurrencies on Changelly without you having to register at another platform or completing an identity check and they are headquartered in Malta.
The platform employs an automatic trading bot that works on a few of the biggest trading exchanges such as Bittrex, Binance, and Poloniex.
Having reviewed Changelly's background, let's explore 10 awesome features of the Exchange.
10 Awesome Features of the Exchange 
1. Transparent Reasonable Fees
This is kind of a controversial issue, but transaction fee is said to be a cogent reason people look to trade on Changelly's platform.
On the main site, it states that they accept a flat fee of 0.5% on each trade. So, whenever you trade crypto assets, you are charged 0.5% of the trading amount.

For Crypto to Fiat Exchanges, Changelly charges a total fee of 5%, which is currently one of the lowest for crypto-to-fiat transactions on the market.
Otherwise, users can exchange crypto-to-crypto at floating rates, this means that Changelly charges the industry-wide lowest 0.25% fee.
On the flip side, these rates change and so many people get annoyed due to Changelly's unwillingness to be open and irregular fiat fees which depend on the crypto in use but are all relatively important in comparison to the fees for crypto trading.
You can try the Changelly's Exchange Crypto Popup Widget to determine fees.
2. Anonymity – User Details Not Required
Another of the prime features that this exchange is known for is that users' details are not required when they want to purchase altcoins. The only thing that has to be provided is their email, but why would they need clients' emails you might think?
The thing is, the Exchange employs a 2-factor authentication to protect your account & transactions, helping Changelly to provide the best you can get in terms of security.
Also, emails are needed to preserve your transaction records so that your account can be recovered whenever you lost your password.
SEE ALSO: 10 Best Cryptocurrency Exchanges
SEE ALSO: 6 Best Cryptocurrency Exchanges with Leverage Trading Incentives
3. Top-notch Security and Safety
One of the very frequent questions people ask on Changelly is are they safe? or are they legit?. And yes, they are because the crypto exchange has a lot of money circulating through it (both digital currencies and fiat) and alike platforms.
There are almost no claims of scams or, fraud happening on Changelly and the greatest thing is that users are kind of satisfied with the services they offer.
A trader online once asserted that he mistakenly sent a big amount of coins to the exchange and the support staff helped him although the way of receiving his funds back as early as they could.
Presently, there are no scams, hacks, break-ins, or other issues registered with the exchange, they are quite transparent in their offerings and there haven't been any big issues regarding general safety.
4. Fast 5 to 30 Minutes Transactions
The transactions on Changelly are fast and take about 5 to 30 minutes to be completed. If the transaction is big amounting to more than 1BTC, the process might last longer as this depends on the bulk of your transaction and blockchain volume.
Let's see what depositing Crypto-to-Crypto with Changelly looks like
This is fast, in 15 minutes, you can conveniently deposit over 150+ cryptocurrencies on the Exchange.
Let's see what depositing Fiat-to-Crypto with Changelly looks like
Transaction takes an average of 30 minutes to 3 hours depositing over 150+ coins on its platform.
When exchanging cryptos to fiat currencies, your coins will be transferred close to 3 business days after the rates have been locked, though, it is normally sent out some hours of rate locking.
If your transaction takes longer, it can be due to a lot of things like:
Crypto updates: A few coins may be turned off by Changelly to update clients, which can last a while. Your money will be refunded immediately it turns back on.
Blockchain saturation: There are several transactions on hold waiting to be processed including yours and this scenario often happens on the BTC and BTC-based blockchains. Sadly, the only way out is to be patient as the exchange can't influence a bleaching overload.
DDoS attacks: All platforms can experience a DDoS attack and sadly the only way out is to be patient. 
5. Better, High Exchange Limits
When buying or selling crypto for another crypto, there are no limits at Changelly. Traders can exchange their coins with others as casual and whichever amount they want. Yet, when buying crypto with fiat currencies, there are different limits for every country and district.
For the US, Australia, and Canada, their nationals are capped at $50 on the first transaction, with their next trade being $100 but processed only four days after the initial transaction. A week after the initial transaction, $500 can be traded. Thereafter, the limits will be lifted.
CIS district – Those living in these districts are limited to $200 for their initial transaction, then the following day, they can trade higher set to a limit of $2000 for 7 days and, $10,000 for the 1st month.
EU and Other countries – Traders here are limited to $100 for their initial transaction. Then, $200 but done only 4 days after the initial transaction. A week after the initial transaction, $500 can be traded. Thereafter, the limits will be lifted.
SEE ALSO: 10 Legit Bitcoin Mining Sites For New Miners
SEE ALSO: 5 Best Bitcoin Mining Hardware with Low Running Overheads.
6. All-round-the-clock Live Support
Changelly provides support services to their clients 24 hours a day, 7 days a week through live chat and has invested heavily into this section. They can also be contacted via email at support@changelly.com.
7. Best Market Rates You Can Find
Changelly provides the best exchange rates in the market and the rates displayed in real-time will depend on the present rates of the trading exchanges it is connected to. The exchange is linked to various top trading platforms in the market.
These rates are calculated and might fluctuate based on the volatility of crypto-assets. The higher the cryptos you want to trade, the better the estimated rate will amount to.
Rate Formation on Changelly
The basic principles for the formation of rates on Changelly are listed below:
• If a trader has an amount of coin 1 and wants to trade it to get Coin 2.
• The trader types in the amount of Coin on the exchange.
• The exchange looks for the choicest exchange rate on other crypto platforms and provides the estimate (so, they give the approximate amount of Coin 2 the trader will receive.
• Changelly calculates the total amount of Coin 2 based on the floating rate instead of the fixed rate. So, the service doesn't fix the particular period to send the cryptocurrency. When Coin 1 gets to the address provided by Changelly service, it exchanges straight up at the rate available at that moment.
Therefore, the amount that is given at the start of the trade and the total amount that gets to the trader's wallet may differ a little bit.
8. 24-hour Statistics
The exchange provides 24-hour statistics on the transactions processed, the average processing time, the top trading pairs and, the number of users who visited the platform from either new or regular users.
Changelly has a 2.22b dollar trading volume per day, supports 37 cryptocurrencies, is. listed on 97 markets, is ranked the No. 10 crypto exchange platform and, has a 2.02% market share. 
9. Changelly Products
Changelly provides three products: Changelly Pro, a mobile app and Earn.
Changelly Pro provides access to a well-featured platform and takes your trading to an expert level.
The features of Changelly Pro are a Communicative and personalizable terminal, a multi-currency wallet that allows you to keep series of coins, minimal withdrawal fees on the majority of renowned tokens and, coins, and over 50 markets that have aggressive trading fees.
Mobile App
The Changelly mobile app allows you to exchange or trade crypto while on the move. It has the most aggressive rates you can find, better limits, supports over 160 cryptocurrencies, allows you to purchase BTC with US dollars, euro or, British pounds, and users are not required to register.
Earn
Earn provides access to a variety of tools that allows innovative functionalities for your company and swift monetization. It has several affiliate tools and promotion items, see-through reporting, all-round the clock live chat support, top-notch API to integrate an exchange feature and, aggressive earning programs. 
SEE ALSO: 14 KEY Tips You Should Know Before Mining Bitcoin
SEE ALSO: 5 Best Places to Buy Bitcoin before Eighteen
10. Established A Year After Shapeshift
ShapeShift was founded a year ahead of Changelly and both are the biggest platforms in the crypto exchange market. Changelly was established in 2015, while ShapeShift was established in 2014.
Although, Changelly currently provides much lesser fees (0.25 in comparison to ShapeShift, which is 0.50%) and increased crypto pairs (140 on Changelly and 50 on ShapeShift).
Final Thoughts
Therefore, Changelly is a popular Crypto exchange platform that provides over 100 cryptos and you can exchange amidst any of the cryptos. You can as well pay with several traditional currencies or GUSD (a stable coin).
The exchange also allows funding in all major coins.
Read More