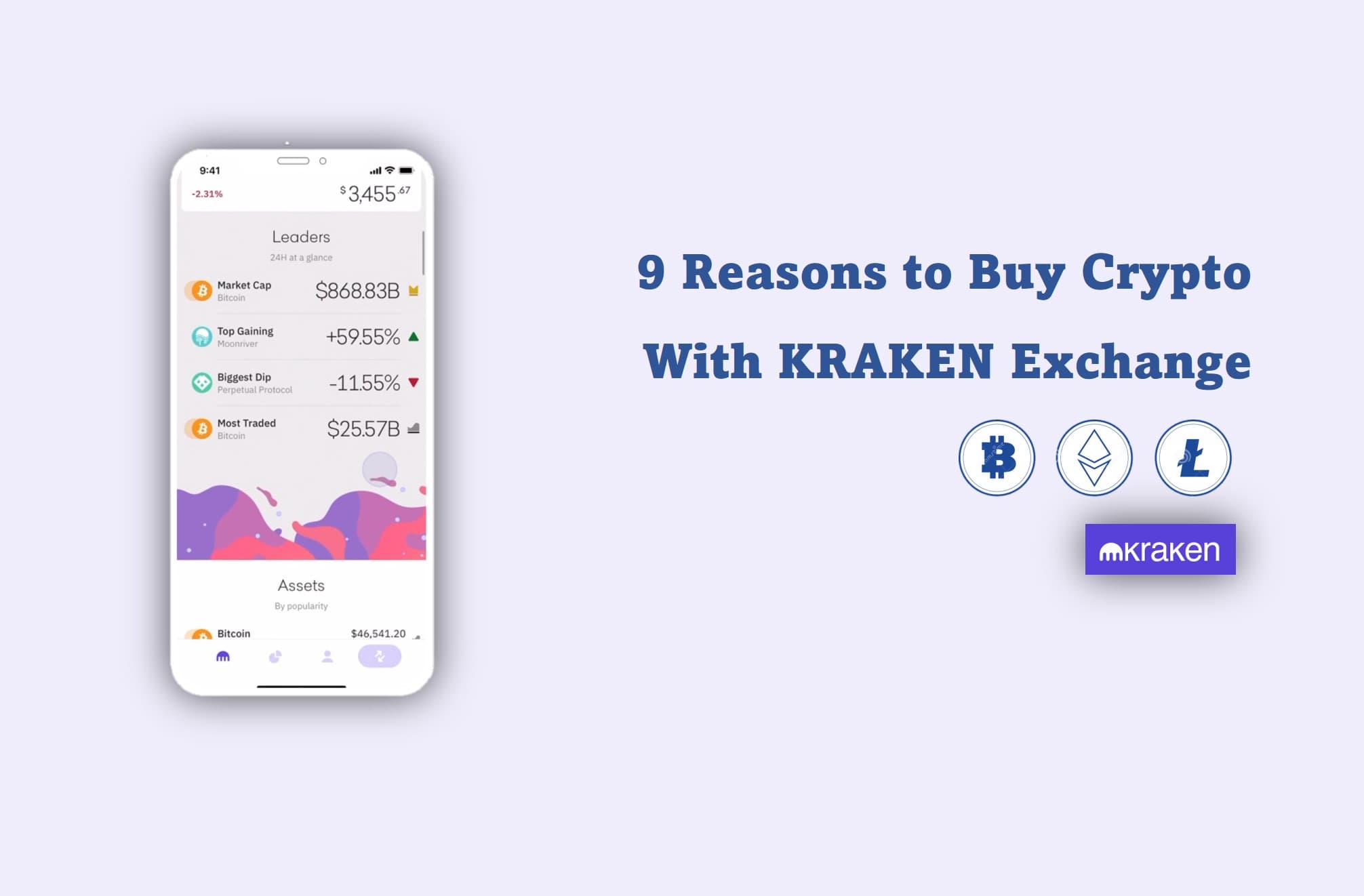 Kraken Exchange has been around for a while, it is now becoming a household name in the crypto space. Kraken is notably known for its brilliant interface and simplicity in getting new investors on board its platform to start trading crypto no matter the experience level.
One key feature that stands out about Kraken is its liquidity, you can literarily buy or sell your favorite cryptos at the prices you want with just a few clicks, this you can do on Kraken.com or Kraken App.
Currently, the Kraken app is only available to some selected countries, you can check here.
Kraken's trading interactive charts are also amazing and give real-time data on market activity for most crypto pairs.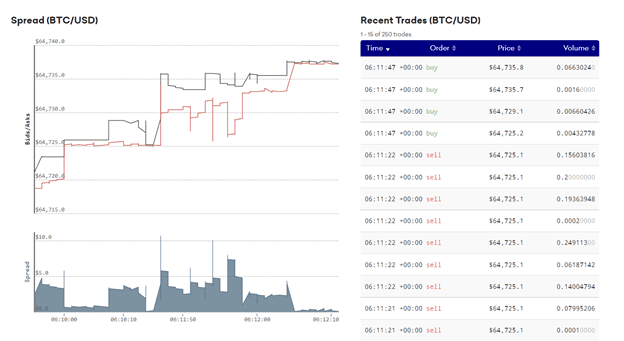 Fees are also next to zero 0% on Kraken.

There is a 0.9% fee for purchasing stablecoins (USDT, USDC, or DAI) with USD or purchasing them with another stablecoin. Purchasing a stablecoin with another cryptocurrency (like BTC) will result in a 1.5% fee.
In this article, we will examine further what makes Kraken unique and 9 more reasons to buy crypto with the exchange.
Key Takeaways
 • On Kraken, fees are low and charged on a per-trade basis and are calculated as a percentage of the trade quoted currency by default. Some currency pairs allow fees to be calculated automatically.
 • Fee volume levels are calculated for fees that occurred in the last 30 days as discount tiers are assessed after every trade.
 • Kraken values security and, as such, ensures that their accounts are safeguarded with the highest level of security possible, as this is state-of-the-art and thus almost impossible to hack.
 • On Kraken Pro, the platform adopts the maker-taker trade mechanism which encourages traders to engage the market and drive liquidity.
Kraken established in 2011 and debuted in 2013, was started by Jesse Powell, who was one of the first people to get involved in cryptocurrency. Since then, it has grown to be one of the industry's most recognized exchanges.
Kraken, based in San Francisco, is a fully regulated exchange, which means you must go through its Know Your Customer (KYC) checks to trade.
SEE ALSO: Top 8 Cryptocurrency Exchanges that Do Not Require KYC
Throughout its years of operation, Kraken has established a reputation as a haven and a preferred option among traders and institutional investors.
It was the first cryptocurrency exchange to pass the Proof-of-Reserves cryptography audit and now delivers crypto market pricing data to Bloomberg Terminal.
Kraken is a self-regulated exchange that abides by crypto trading rules and regulations. It is registered with FINCEN in the United States (reg. no. 31000136371793) and FINTRAC in Canada as a Money Services Business (MSB) (reg. no. M19343731).
The Financial Conduct Authority regulates Kraken Futures in the United Kingdom (reg. no. 757895).
The exchange's headquarters are in San Francisco, but it maintains offices all around the world, including London in the United Kingdom, Chiyoda City in Japan, and Singapore.
Having given a background drop on Kraken, we now bring to you the nine reasons why you should buy crypto with Kraken Exchange:
1. Kraken Brokerage Services
Its service, like many other brokerage services, allows customers to purchase and trade cryptocurrencies online.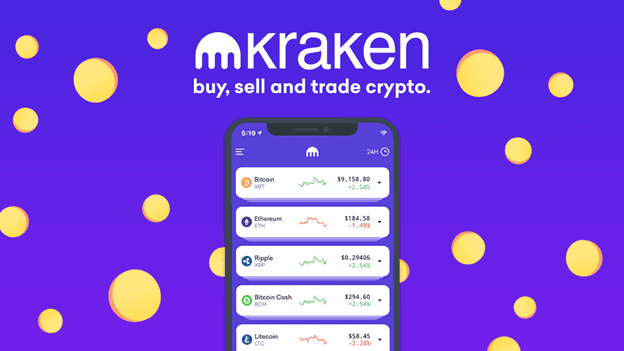 Thousands of recently registered users now have the opportunity of trading cryptocurrencies freely and easily thanks to this service. Also, the ability to exchange fiat to cryptocurrencies with ease distinguishes this platform from other competitors out there.
SEE ALSO: 7 Best Insured Crypto Exchanges for Better Protection
2.    OTC Desk
OTC (Over-the-Counter) trading takes place away from the official Kraken exchange. This service is offered to high-net-worth individuals and institutions willing to trade more than $100,000.
As a result, OTC is a more customized service that includes its professional guidance. Clients will get daily trade and market summaries, as well as professional insights into the current bitcoin market, from the company.
Global coverage is available around the clock, seven days a week throughout the Americas, Europe, and Asia-Pacific. OTC customers will be able to utilize eight fiat currencies as well as a wide range of digital assets.
3.    Kraken Fees
Kraken provides some of the lowest fees available which are based on your trading volume over the previous 30 days, implying that fees are calculated on a maker-taker basis.
Makers, in particular, pay less than takers. The former adds limit orders to the exchange, whilst the latter fill existing orders.
Kraken withdrawal fees are a bit different. They are mostly determined by your country of origin. The reduced rates, however, continue to apply to bitcoin withdrawals.
The exchange accepts 0.0005 BTC to withdraw Bitcoin, 0.005 ETH to withdraw Ether, 0.05 EOS to withdraw EOS, 0.001 LTC to withdraw Litecoin, and so forth. Each of these crypto coins comes with a different withdrawal fee.
Withdrawal fees for fiat currencies are significantly higher. These prices are determined by the currency you pick, the country of origin, and the service provider.
The fees can range from $0 to $40, €0.09 to €35, £1.95 to £35, and so on. The entire list can be seen on Kraken's website.
Furthermore, there are no fees for transferring funds to and from the Futures wallet, for staking, keeping funds safe, inactivity of accounts, and account administration.
4.    Kraken Account Management
Account Management provides enhanced support for high-volume traders. Users can get hyper-personalized assistance with near-real-time replies.
Clients who become regulars will be allocated a personal representative who will address all inquiries and requests directly and without delay.
SEE ALSO: 9 Best Cryptocurrency Exchanges with High Trading Volumes
5.    Privacy and Security
Security on Kraken is very high. Compared to other cryptocurrency exchanges, Kraken does require higher degrees of personal identification verification from its account users.
This is mostly determined by whether account holders want to be able to make deposits and withdrawals in both fiat currencies and cryptocurrencies since Kraken willingly followed typical banking norms in this respect.
There are many account levels based on the amount of personal identification verification supplied, and maximum deposit and withdrawal values are also tied to this owing to money laundering concerns.
Users must enter their full name, date of birth, country of residence, and phone number verification for the Tier 1 account.
This only permits cryptocurrency-denominated deposits and withdrawals, with a daily limit of $2500 or a monthly limit of $20,000 established.
Tier 3 account, which allows fiat currency deposits and withdrawals from nationals of all countries, requires a valid government-issued ID as well as recent proof of residence and address, while Tier 4, which is for higher volume traders, requires the same type of dossier of documents as would be expected by a bank or regulated financial institution.
The value of fiat withdrawals and deposits rises to $25,000 per day ($50,000 for cryptocurrencies) and $200,000 per month (also for cryptocurrencies). Tier 4 accounts do not have any deposit or withdrawal limits.
The security mechanisms that are excellently in place to prevent crypto assets from being stolen are quite stringent. Funds are maintained in 'cold storage' wallets, which are segregated from any internet systems.  Alternatively, you can store your crypto on the Ledger brand of wallets.
Accounts are safeguarded with high-level encryption and security mechanisms such as 'two-factor authentication, which means that no one can access a user's account unless they have access to usernames and passwords as well as an authentication master key.
The security of Kraken's liquidity is likewise exceptionally strong. The exchange maintains full reserves to prevent a 'bank run' from jeopardizing liquidity, and all client monies are completely segregated from operations funds and accounts.
6. Customer Service
When it comes to customer service, the platform takes its clients seriously. Although other Kraken reviews have reported unsatisfactory feedback from customer service.
If you need assistance navigating the website or your account, you should consult its knowledge base.
Users will find guides on anything from getting started to fiat and cryptocurrency funding to API processes, among other things.
The platform provides live chat help 24 hours a day, seven days a week. You can also reach out to them via email.
Regardless of how you contact the support team, you can anticipate a high degree of professionalism and experienced agents. The assistance center is accessible from anywhere in the world.
SEE ALSO: 6 Best Cryptocurrency Exchanges with Leverage Trading Incentives
7.    Kraken Wallet
Kraken exchange may not have its wallet currently, but it prides itself on being a cryptocurrency exchange platform rather than a wallet service.
Clients, on the other hand, have the option of placing funds into their hardware wallets for safety. The same funds are being traded or are otherwise active. 
When you deposit on the platform, you are putting money into cold storage and hot wallets.
It is important to note that withdrawals are handled through hot wallets, which means that the address will be different from the one used to deposit.
8.    Supported Countries
The website invites users from all around the world, with traders from over 170 nations registered. According to our study, Kraken does not support the following countries: Afghanistan, Iran, North Korea, Congo, Iraq, Syria, Cuba, Libya, and Tajikistan.
9. Supported Fiat Currencies
Euros, US Dollars, Canadian Dollars, Australian Dollars, Japanese Yen, British Pounds, Swiss Francs, Australian Dollars, and Chinese Renminbi are among the fiat currencies supported by Kraken.
With these fiat alternatives, investors have a wide variety of options when deciding on the best fiat currency to employ.
SEE ALSO: 7 Crypto Exchanges With the Best Annual Percentage Yield (APY)
Frequently Asked Questions (FAQS)
Is Kraken a trustworthy exchange?
Yes, Kraken is a trustworthy cryptocurrency exchange that prioritizes the safety of its consumers' assets and personal information. Kraken also stores 95% of its investors' digital assets in cold storage.
Is Kraken a cryptocurrency exchange or a wallet?
Kraken is a cryptocurrency exchange, not a wallet service. They allow investors to put assets into their crypto wallets for protection while the funds are swapped, traded, or staked, but they do not provide a personal wallet service.
Has Kraken ever been hacked?
Despite being operational longer than many other exchanges, Kraken has never suffered a website breach.
Personal accounts on Kraken, on the other hand, have been hacked. This was due to the user's lack of security measures. Kraken provides its customers with tools and services to help them strengthen the security of their accounts.
SEE ALSO: 7 Cryptocurrency Derivate Exchanges With Their Own Coin
SEE ALSO: How to Stake Ethereum on Coinbase
Final Thoughts
Kraken has proven itself time and time again to be an excellent exchange, and that is why investors are happily willing to invest their funds on the platform.
This article also lists out nine reasons why you should invest with them.
Read More