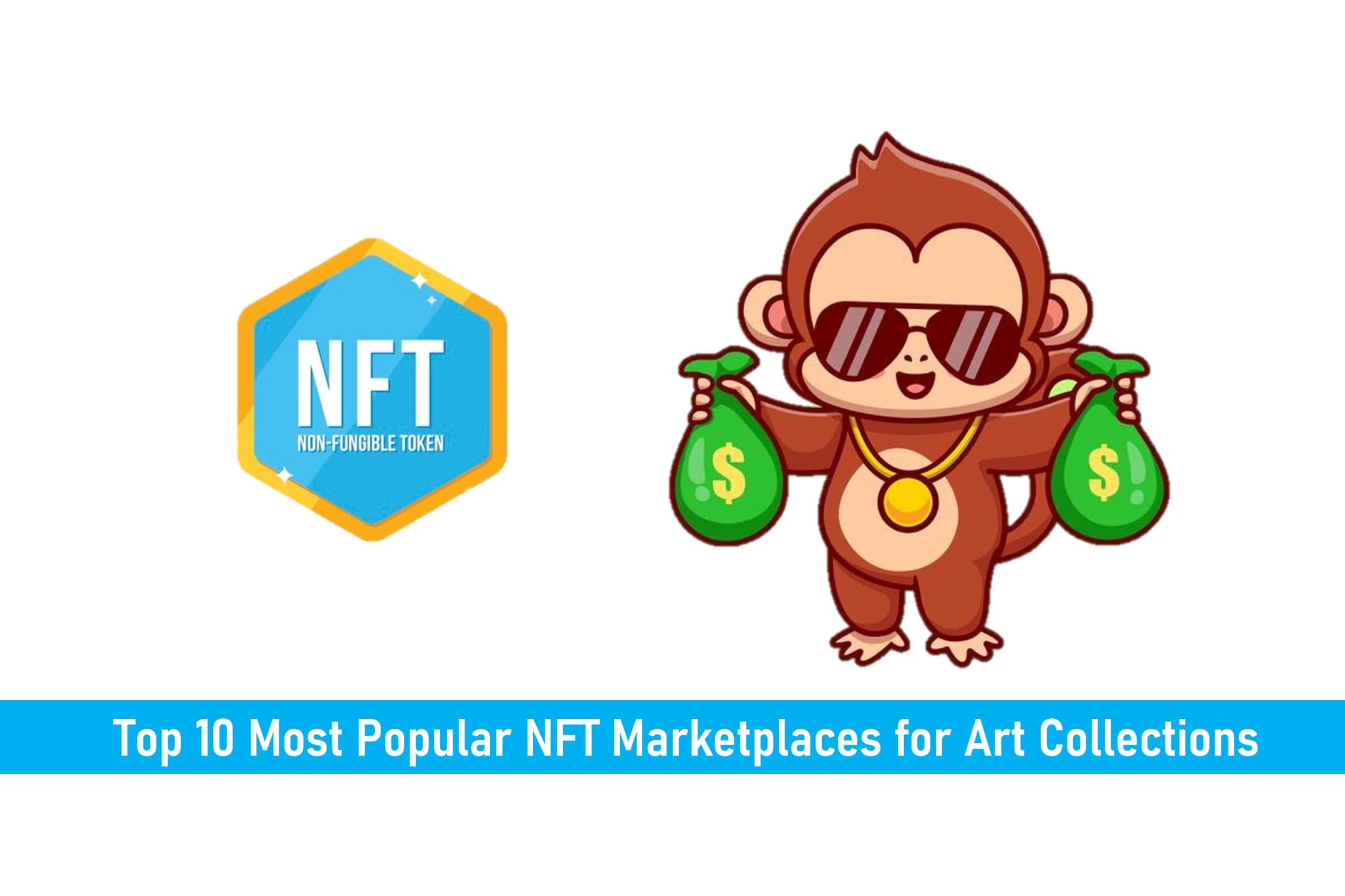 In the crypto space today, NFTs (Non-fungible tokens) are making waves literarily making people overnight millionaires from selling avatars, memes, and some other fun pieces of art.
The boom of NFTs has simultaneously led to the creation of new and more liquid NFT Marketplaces for artists, developers, investors, and more to sell their stuff and earn in crypto, mainly Ether (ETH).
Being able to make fortunes out of NFTs, the operators of the Marketplaces also make huge returns on gas fees which are now high. For example, you get to pay about 113% as gas fees (this varies) on the cost of an NFT you purchase on OpenSea.
Some NFTs are sold for millions of dollars putting lots of money in gas fees and other recurring fees in the pockets of NFT Marketplaces.
For instance, OpenSea was valued at more than $13bn in year 2021 according to BBC News. Some analysts say it's even higher. Trades on the OpenSea platform rose by 600 fold last year.

Fortunately, these NFTs can be created easily, listed on the NFT marketplaces, and you can start making money quickly through auctions.
You can also engage yourself in the purchase and sale of these digital assets, from art to music to even games.

Key Takeaways
• OpenSea has established itself as the world's largest marketplace where anyone can create, buy, and sell NFTs.
• NFTs can be sold for ridiculous amounts depending on the buyer as the most expensive NFT ever sold was a collage of images made by Beeple that sold for $69.3 million.
• MakersPlace has a small total volume ($23.5 million), but it contains some one-of-a-kind masterpieces that add to its uniqueness.
• SuperRare works closely with artists, requiring work to be submitted and verified before listing it to promote quality over anything else.
SEE ALSO: 11 Best NFT Blockchains for Simple NFT Projects
SEE ALSO: How to Sell NFTs Quickly on OpenSea
SEE ALSO: How To Make NFTs for Yourself (6 Quick Steps)
There are a lot of NFT marketplaces at the moment, some focusing on a particular NFT item, say art, for instance. As such, you must take a look at these marketplaces to see what they offer before making a decision.
To help you with this, I will be listing the 10 most popular NFT marketplaces in the crypto space in this article.
You can check them out below:
1. OpenSea
OpenSea considers itself to be the world's largest marketplace where users can create and sell NFTs. The platform hosts a wide range of digital items, from art to music to even games.
All you need to do is to sign up for free and you are automatically free to browse through their items.
The platform also helps artists and creators and includes a simple approach for creating your own NFT (known as "minting").
The marketplace accepts over 150 different payment tokens and is suitable for new users looking to delve into the world of NFT.
2. Rarible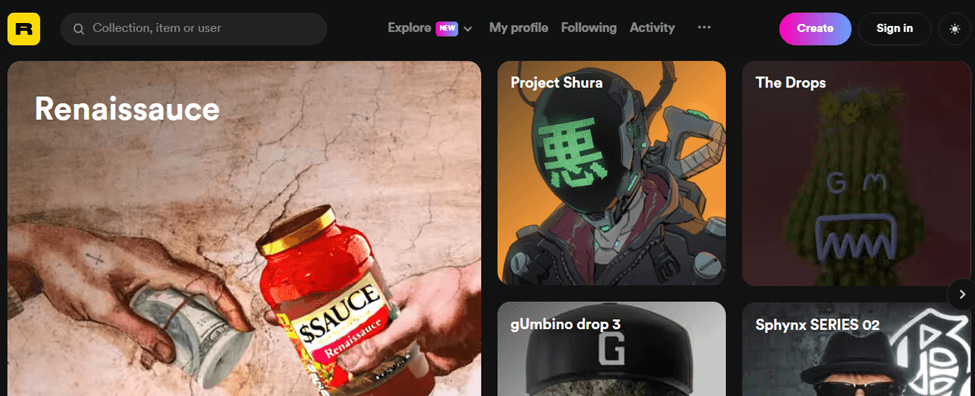 Rarible is another major marketplace that serves as a major competitor to the likes of OpenSea as it offers all types of NFTs.
On the platform, you can buy, sell, or produce many types of art, movies, collectibles, and music.
To purchase and sell on the marketplace, you'll need to utilize the marketplace's token, Rarible, with the Ethereum blockchain serving as its foundation.
The platform has formed alliances with several well-known corporations, such as Yummy! Brands, Taco Bell (which has featured art on Rarible), and cloud software behemoth Adobe, (which has just joined with Rarible to help safeguard the work of NFT artists and producers).
3. Foundation

Foundation was created as a straightforward, no-frills way to bid on digital art. Since its inception in early 2021, the marketplace has sold over $100 million in NFTs.
The Foundation community invites artists to the platform, and buyers can only make use of Ethereum as that is the only acceptable means of payment on the platform.
If you're looking for a quick and easy way to start generating your own NFTs, Foundation might not be the greatest place to start, but the marketplace offers lots of artwork that can be seen in a simple style.
4. Nifty Gateway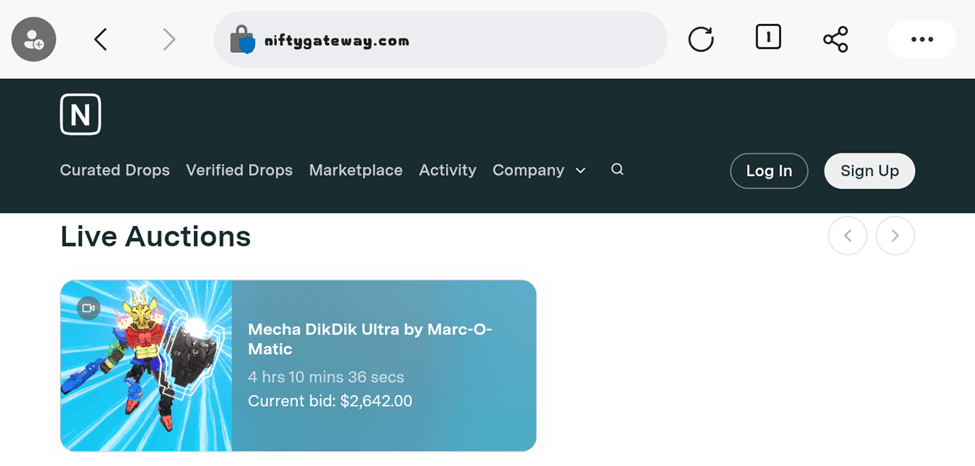 Nifty Gateway has supported the sales of some of the most well-known digital artists, including Beeple and singer/songwriter Grimes.
It is a platform for art curation that is enabled by the cryptocurrency exchange Gemini (controlled by the Winklevoss twins).
Nifty Gateway, in addition to being a curated platform, also hosts any NFTs purchased, which means the NFTs are not held in your wallet but are instead stored for you by Nifty Gateway and Gemini.
This feature, however, may not be suitable for NFT collectors seeking greater flexibility in their art investments.
In terms of purchases and sales on the platform, you can do that using fiat money (e.g., US dollars) without the need to get your hands on cryptocurrency first.
5. Axie Marketplace
Axie Marketplace is the online store for Axie Infinity, a video game. Axies are legendary animals that can be purchased, taught, and then challenged against the Axies of other players to receive prizes.
Axie Marketplace allows users to purchase new Axies, as well as entire territories and other goods, as NFTs for usage in-game.
The Ethereum network is used to create Axie Infinity tokens (also known as Axie Shards) and they can be purchased and sold on several different NFT markets, as well as other cryptocurrency exchanges such as Coinbase.
6. KnownOrigin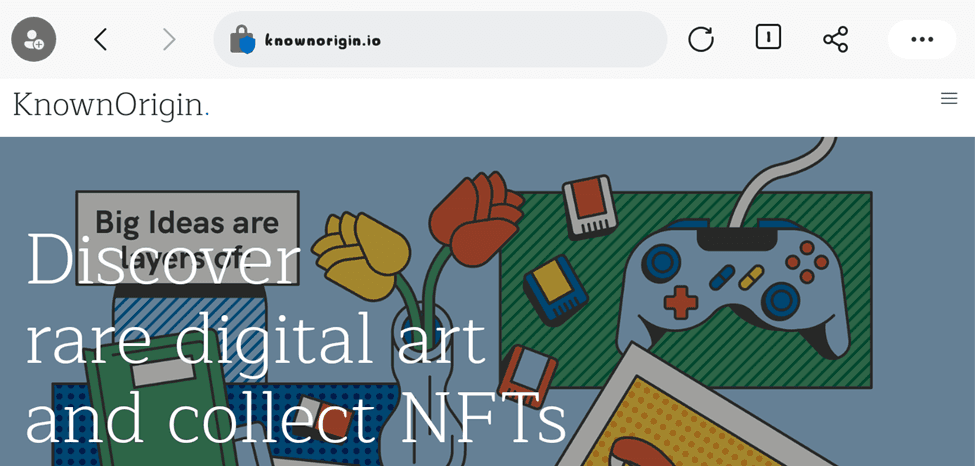 KnownOrigin has a far smaller all-time transaction volume ($6.9 million) than SuperRare and, like it, aims to provide a more curated, gallery-like experience for the average NFT fan.
It stores all of its artwork files on IPFS, which provides some protection for the underlying materials.
With a strong concentration on digital art, this is a marketplace that stays away from the odd sides of the NFT realm. Therefore, no odd avatars or attractive animals will be found here.
All you need to do to get started is connect your wallets, such as MetaMask or Formatic, and you'll be bidding on your own valued NFT assets in no time.
7. CryptoPunks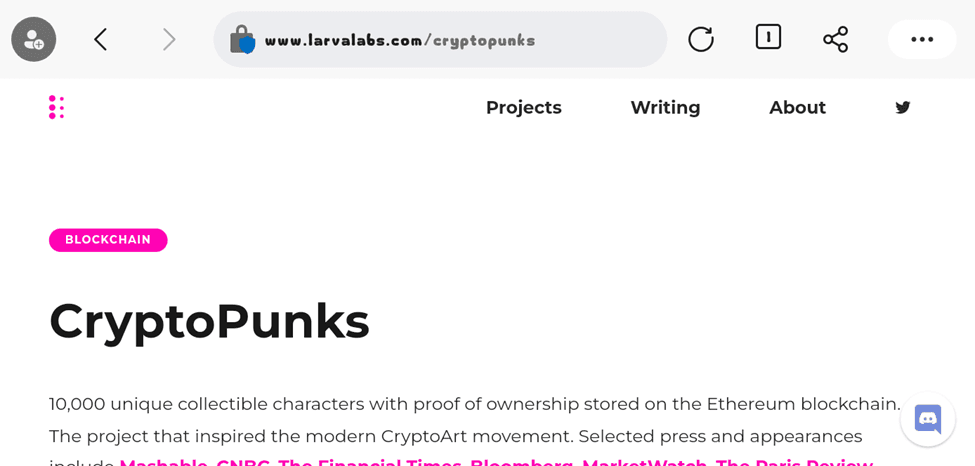 CryptoPunks is a collection of 10,000 randomly generated characters with pixel art aesthetics and different traits that were one of the first NFT demos on the Ethereum network. While they were previously offered for free, the only way to receive one now is to pay for it.
This entails visiting the marketplace maintained by CryptoPunks creator Larva Labs, where the majority of purchases occur.
You would also need to keep in mind that purchasing one now can be quite on the expensive side, with the lowest-priced Punk costing 94.99 ETH (about $285,000), while the most valuable one on the market (number 3100) sold for an absurd $7.58 million.
This explains Larva Labs' $1.3 billion in total trading volume.
8. MakersPlace
MakersPlace is yet another specialized NFT marketplace that specializes in offering a variety of exclusive digital fine art collections. It has a small total volume ($23.5 million), but it contains some one-of-a-kind masterpieces that add to its uniqueness.
After famed crypto artist Beeple sold a collection of NFTs for $1 apiece, the site was taken down in February 2021. It has also hosted several NFT drops by bands, including T-Pain, Shakira, and Rage against the Machine's Tom Morello.
Joining as a buyer at MakersPlace is straightforward, and you can save time by using your Google or Facebook account logins.
9. SuperRare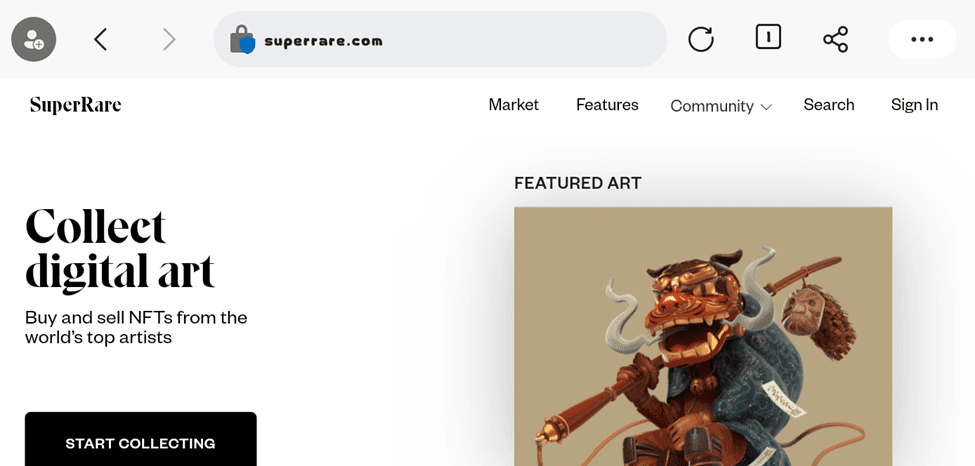 SuperRare claims to be a more premium alternative to Rarible; whereas Rarible's interface is cluttered with flashing GIFs and live bids, SuperRare's design is significantly more pared-back and minimalist.
It's also more controlled, portraying itself as a social network that encourages the creation and collection of crypto art. It works closely with artists, requiring work to be submitted and verified before listing it; in other words, quality comes before quantity.
To sign up for SuperRare, you must use a compatible wallet, such as MetaMask or Formatic.
10. NBA Top Shot Marketplace
NBA Top Shot is a collection of digital trading cards that incorporate NBA video highlight clips, and it was one of the first NFT series to gain popularity among the general public.
When you purchase a pack, the clips are kept in your secure, encrypted, blockchain-verified wallet, where you may watch them or resell them on the NBA Top Shot Marketplace.
NBA Top Shot's makers, Dapper Labs, have made it simple for the ordinary user to get started, which has contributed to the game's success.
Frequently Asked Questions (FAQs)
What is the most expensive NFT ever sold?
The most expensive NFT ever sold is a digital collage of images made by Beeple, which was sold in the form of an NFT for $69.3 million, becoming the most expensive piece of digital art in the history of NFTs.
Can you make money by creating NFTs?
Yes, you can, as all comers can sell NFTs, and even some investors utilize NFTs like stocks and profit by buying and selling them.
Final Thoughts
In this article, I have listed the best marketplaces to create, buy, and sell NFTs. Hence, if you are looking for the best platform to engage in the NFT craze, you might want to go through this article.
Read More