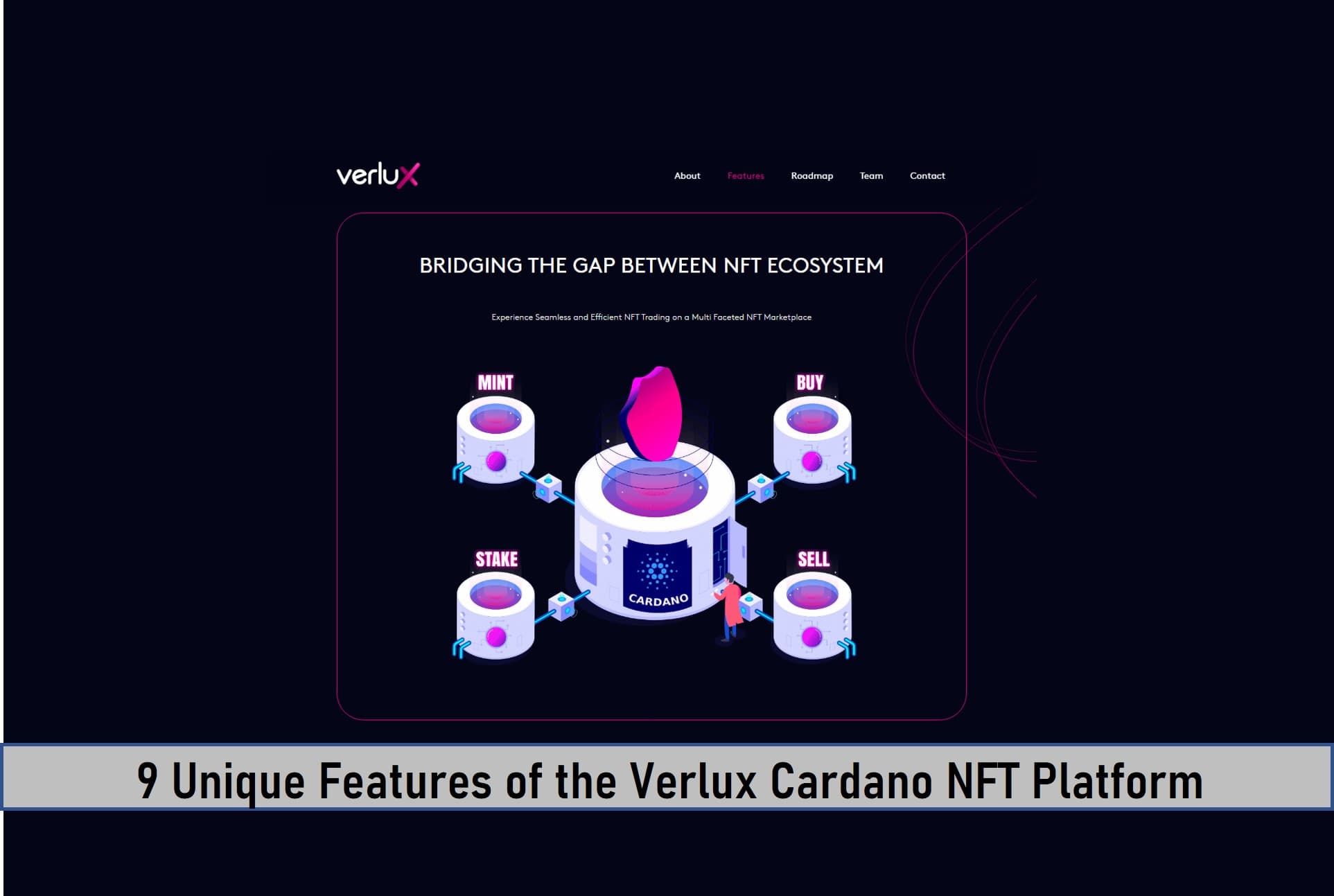 If you are an NFT holder or just a fan of NFT in general, chances are that you have probably heard of OpenSea, an NFT marketplace where people trade their NFTs.
Similarly, we have the Verlux Cardano NFT platform which is looking to give the likes of OpenSea a run for its money.
The Verlux platform is a community-driven decentralized Cross-Chain NFT Marketplace where users will be able to seamlessly mint, buy, sell and swap their NFTs utilizing the low gas fees and security of the Cardano Blockchain.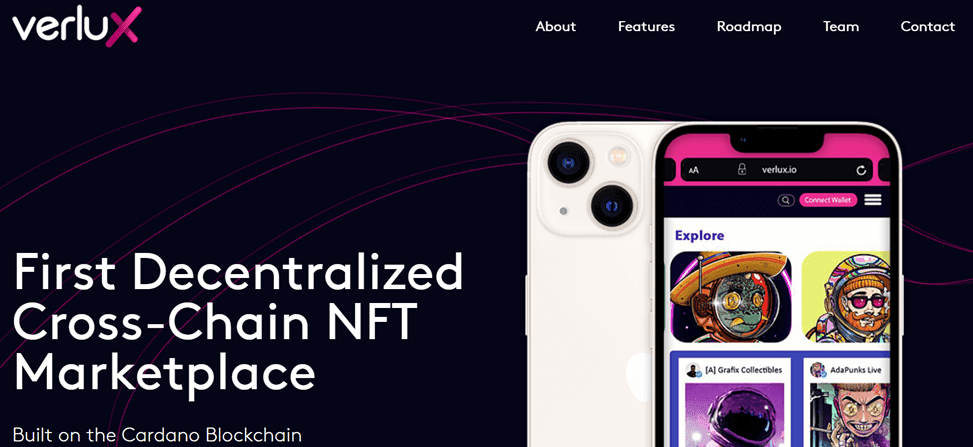 Key Takeaways
• The Verlux Cardano NFT platform is bringing in cross-chain technology where NFT users will be able to transfer their NFTs across multiple blockchains.
• With the Verlux Cardano NFT platform, issues facing NFT transactions such as high costs, and high gas fees will become a thing of the past.
• Verlux Cardano NFT platform plans to be the connection between the buyers and sellers of NFTs cutting out any middleman or intermediary that could hamper the smooth flow of transactions.
• The Verlux Cardano NFT platform is built on the Cardano blockchain which is one of the fastest and most efficient blockchains around.
SEE ALSO: How to Create Cardano NFTS with the Cardano Token & NFT Builder
SEE ALSO: How To Trade NFTs Profitably On Binance (Step by Step Guide)
SEE ALSO: Best 7 NFT Creator Apps For Android & IOS
Verlux aims to be the global marketplace where users can trade NFTs on various blockchains fully decentralized and with the strongest security.
Users of Verlux will be able to unlock the full potential of the NFT market where interoperability of NFT will become fully functional on our NFT Marketplace, where contents like music, art, ideas, etc. can be digitalized and traded.
Now that you know what Verlux is about, you might be asking yourself, why should I switch to Verlux from OpenSea?
Well to answer this question, we will be taking a look at the plans the Verlux platform has for the NFT market before we proceed to discuss the features of the platform.
Follow me as we touch down on these important points:
The Verlux Cardano Platform
The Verlux Cardano platform just as has been said earlier is an NFT marketplace built on the Cardano blockchain (One of the fastest and the most efficient blockchains for NFT transactions) where NFT owners can buy, sell, and even mint their NFTs at price-friendly rates.
What particularly makes the Verlux platform different from the rest out there is the fact that it will be launching the first Cross-Chain NFT Marketplace in the NFT Ecosystem making it a top shot in the system already.
This has not been possible till now, Verlux will be providing this solution.
The Mission Behind Verlux
Verlux is on a mission to change the norm of the conventional Non-Fungible Token Protocols as they are creating a revolutionary technology where anyone can be able to create and trade NFTs on their platform utilizing the low fees of the Cardano Blockchain.
Another novel feature is the ability to cross-transfer Non-Fungible tokens across different blockchains on a single platform efficiently and seamlessly.
Concerns Surrounding the NFT Marketplace
The Verlux platform has come to understand that the NFT market utilizes quite a lot of cost for the usage which translates to high gas fees as can be seen on popular NFT marketplaces such as OpenSea and even Rarible.
The limitation of NFTs to a single blockchain network makes it hard for users and traders on different blockchain networks to interact and trade NFTs.
The interoperability of NFT is a major concern to its community as it limits them to use only the platform they are deployed on and can't communicate with another blockchain.
Interoperability of NFT as much as quite technically possible to do will take some tedious work and innovative technology to accomplish as it will be extremely difficult work to maintain the uniqueness of an NFT created on another blockchain to be used in cross-chain transactions. 
As much as NFTs are becoming more common, it is important to know that it is difficult to sell NFTs.
Due to a swam of other NFTs on a single network thereby limiting viewing to a particular community, it is quite hard to sell an NFT.
Solutions Verlux is Bringing into the NFT Ecosystem
Buyers of NFT on Verlux will no longer have to pay high transaction fees as in the case of High gas fees on ETH as Verlux will be utilizing the low fees and security of the Cardano ecosystem and extra discounted purchases when you are a holder of our $VLX token.
Most of the problems listed above are on the interoperability of NFT, to that effect Verlux will be providing a cross-chain swap atomic swap protocol for NFTs.
This will aid in the interoperability of Non-Fungible Tokens and also lead to the development and expansion of the NFT ecosystem. Verlux will be a bridge between the buyers and sellers to interact directly.
This will cut out the use of middlemen, now sellers will be able to gain enough value for their contents rather than splitting with middlemen and distribution channels.
Features of the Verlux Cardano Platform
Now that we have understood the plans Verlux has for the NFT market, let us take a look at some of its features below:
1. Cross-Chain NFT Marketplace
The core technology of Verlux is the technology that will enable cross transactions of NFTs built on different blockchains.
The Verlux innovation will enable Minting, Trading, and Distribution of NFTs on the Cardano blockchain as well as on multiple chains which will include but are not limited to Solana and BSC.
This will help in the elimination of the high transaction fees users face in other blockchains. 
2. Ease Of Entry
Verlux is a platform that newbies in crypto can be able to use with ease. Users who use the platform will be able to connect their wallets, mint their NFTs, and list it for sale at their price all in a few clicks on their screen.
3. Escrow Function
The use of the Verlux platform will cut out the use of middlemen and lack of trust between buyers and sellers also exposing either to potential risk.
With the escrow function, Verlux will guarantee transparent and automatic transactions between buyers and sellers for both parties once preset conditions are met. 
4. Low Platform Fees
Compared to their competitors, Verlux will be utilizing the Cardano blockchain to handle transactions at a lower cost, and users will also get a discount when transactions are done with their $VLX token.
5. Creator Page
On Verlux, creators will be made to create a profile where every detail about them will be made available just like a social media page.
Users will be able to follow interact with creators to know the ideas behind their work and so on.
Verlux is also working on a chat feature where creators can interact with their followers giving prioritized access to buyers of the creator's works.
6. Tokenization of Physical Assets
Verlux will provide innovators, and creators the ability to tokenize their physical assets. It will guarantee copyright and ownership of physical assets or discoveries.
Transfer of ownership will be on the purchase of their NFTs and owning the NFT gives you the license to use such products.
Physical assets can range from Medical Patents, Real-Estate, Tech Solutions, Manuscripts, etc.
7. Staking Rewards
Verlux will reward users when they stake their token $VLX both with a reward in returns and also able to participate in some decision-making processes.
8. NFT Staking
A system Verlux will be working on for the future will allow users to be able to earn with their NFTs without selling them.
Users will be able to stake their NFTs and be rewarded limited edition NFTs which can in turn be sold on any of the NFT marketplaces.
9. The Verlux Token ($VLX)
The $VLX Token is the utility token that will power the VerluxNFT Ecosystem. The token is minted on the Cardano blockchain and will be used to power transactions on the Verlux NFT Marketplace.
Frequently Asked Questions (FAQS)
Q1. What makes Verlux different from other NFT Platforms?
Verlux will be launching the first Cross-Chain NFT Marketplace in the NFT Ecosystem making it a top shot in the system already. This has not been possible till now, Verlux will be providing this solution.
Q2. What problem is Verlux Solving?
Verlux is creating a solution to the interoperability of NFTs. With Verlux users will be able to swap NFTs on other Blockchains to the Cardano Blockchain.
Final Thoughts
With all that has been said, it is obvious that Verlux is indeed on a mission to bring better options to the NFT market.
With its cross-chain solution, it is anticipated that such problems as high cost of gas fees and low to no flexibility within blockchains will be a thing of the past.
Read More