KeepKey Wallet and the iPhone OS
Let's get straight to answer the question…
The KeepKey Wallet is not compatible with the iPhone OS but fully compatible with the Android OS. 
The KeepKey wallet is a premium, no-commission-free crypto trading wallet with an amazing OLED interface for storing Bitcoin and 40+ altcoins.
Shapeshift, a Swiss crypto wallet manufacturer built the KеерKеy wallet's cutting-edge technology, which allows users to airgap their wallets (saving your crypto on mobile phones) by generating keys and signing transactions offline.
This feature guards the KeepKey wallet and your computer against vulnerabilities and viruses, meaning you can safely stay off the hackers' radar while transacting your favorite cryptos.
Key Takeaways
 • The KeepKey Wallet only allows support for Android devices, as it is not supported on iPhone devices.
 • The KeepKey wallet comes in three color variants, namely: green, red, and grey.
 • The KeepKey wallet is cheaper than most of its competitors in the crypto market but offers support for just about 40 cryptocurrencies.
 • With the KeepKey wallet, you can quickly exchange cryptocurrencies via the ShapeShift integration that comes with the crypto wallet.
SEE ALSO: What are The Top 15 Coins Supported By KeepKey Wallet
SEE ALSO: KeepKey Premier Wallet – Why You Should Buy One
Storing your cryptocurrency with KeepKey means placing a premium on security as every transaction must be reviewed and visibly confirmed through its stunning OLED screen, which is powered by Shapeshift software before funds leave your wallet.
 In a previous article, the technical information of the KeepKey wallet was reviewed in much detail. If you're considering a less expensive ($49) yet, functional and secure hardware wallet, then you need to see the KeepKey review.
In this article, I'll explain why the iPhone is not compatible with the KeepKey wallet, before that, let's learn the basics of the premium KeepKey wallet.
KeepKey Wallet: Inside the Box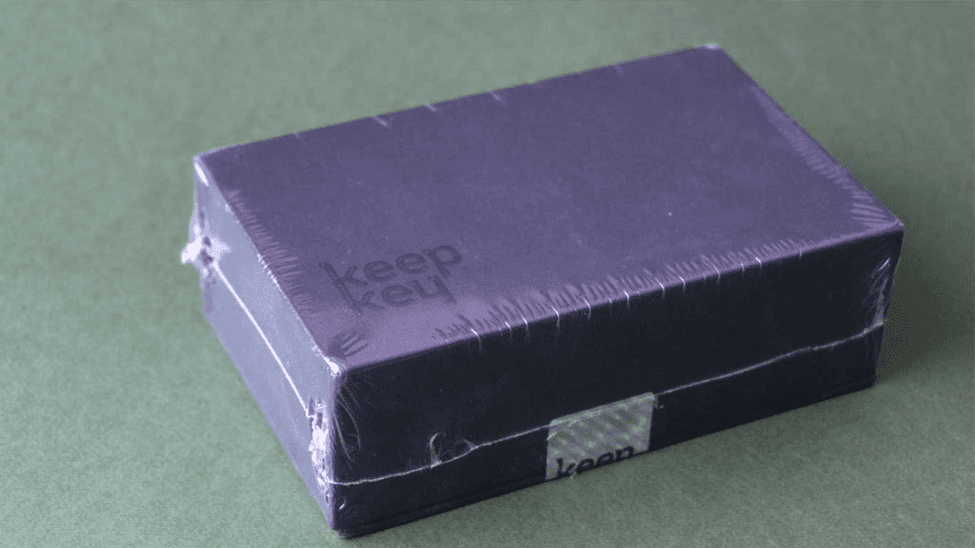 The KeepKey wallet is packaged in a cellophane-wrapped box with a holographic security sticker that seals the contents and shows it is tamperproof. The KeepKey gadget, as well as a braided USB cord and a warranty document, are included in the box.
The KeepKey also comes with a single recovery card, which is used to record the 12-word recovery phrase entered when the device is first turned on.
KeepKey Wallet: Unboxing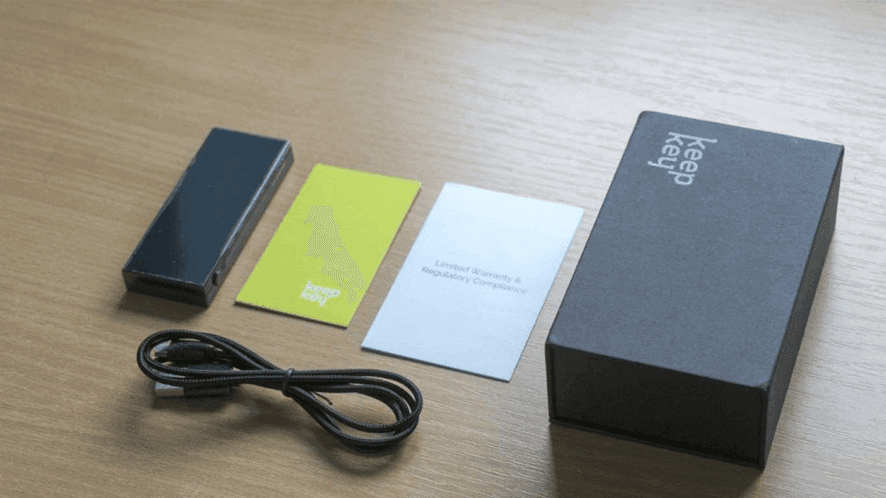 After purchasing and opening the KeepKey box, you will find:
1. The KeepKey hardware wallet. 
2. A USB cable.
3. Cardboard recovery sentence card.
4. A pamphlet containing the product warranty.
 The wallet itself is rather large, yet it has an exquisite appearance. It is 38 x 93.5 x 12.2 mm in size. It comes with a crisp OLED screen, which is encased in polycarbonate material and built with metal on the rear.
The KeepKey wallets come in three color variants, which are green, red, and grey, from which you can choose.

How to Set Up KeepKey
The set-up for KeepKey is relatively simple and shouldn't take more than 10 or 20 minutes. One thing to note is that you must create an account with ShapeShift to get started with KeepKey.
To find out how you can easily set up your KeepKey wallet, see a video to learn how to initialize your KeepKey device.
 Or
Simply follow the five basic steps below for setting up your KeepKey:
1. Sign up with ShapeShift.
2. Connect your KeepKey.
3. Update the firmware on your device.
4. Initialize the setup.
5. Transfer crypto to the device.
 From there, you should be able to view your portfolio, buy crypto using Banxa, and even trade using decentralized exchanges.
Pros and Cons of the Keepkey wallet
| | |
| --- | --- |
| Pros | Cons |
| The hardware component of this wallet makes it much more secure than software-only options.   | It does not work with iPhones.     |
| ShapeShift acquired KeepKey for integration with their non-custodial exchange.   | It does not have Bluetooth support.   |
| This device tends to be sold at a lower price than Trezor and Ledger devices.   | It supports only about 40 cryptos, which is severely limited. |
Supported Operating Systems
KeepKey wallets are compatible with all desktop computer operating systems. However, the hardware devices are not compatible with all mobile operating systems.
While the connection with Android wallets is feasible, the KeepKey wallet does not support Bluetooth, so it will not be supported on your iPhone.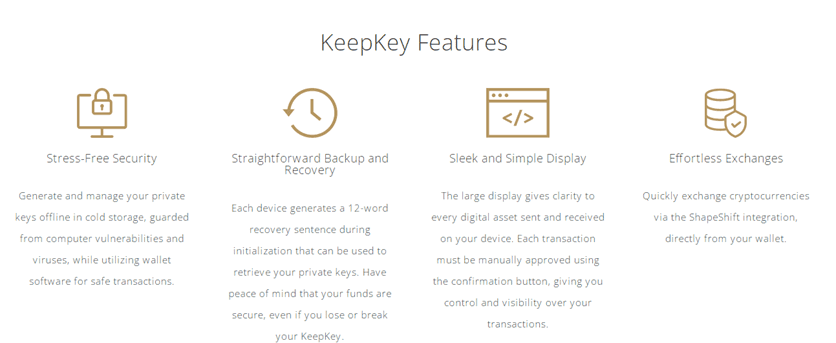 While the KeepKey hardware wallet is less expensive than its competitors, it does not offer support for a wide variety of crypto.
Hence, those wishing to splurge on a hardware wallet with such a feature should consider one of the more established choices on the market, such as the Ledger device.
KeepKey's lack of support for several major cryptocurrencies may potentially be a deal-breaker for someone who wants to invest in a variety of crypto assets. However, if you just want to store Bitcoin and other cryptos for the long term, the KeepKey may be a suitable alternative.
Finally, the absence of iPhone compatibility will be a deal-breaker for anyone who prefers to store their bitcoin assets in an iOS-based wallet, as such, you should seek alternative means, which are mentioned in this article if you use an iPhone device.
Final Thoughts
The Keepkey wallet is an excellent wallet for investors who are not so interested in storing a wide variety of crypto assets.
Unfortunately, this wallet is not available for iPhone users, but you can still get your hands on the wallet here by making use of Android devices or Windows operating systems.
Read More