What is Blockchain Development?
Blockchain development involves developing and optimizing blockchain protocols, the creation of blockchain systems architecture, smart contract development, and web apps using blockchain technology.
Blockchain technology is a decentralized, distributed ledger that records the provenance of a digital asset. 
Blockchain was initially created as a platform to support bitcoin, showing the versatility and safety that have made many businesses and state sectors realize and began to use it.
Blockchain technology is ready to revolutionize the digital world's data management and business management.
Key Takeaways
 • Blockchain development involves optimizing the blockchain protocols, create blockchain systems architecture to ensure a proper security of digital assets.
• A blockchain developers' primary job role is to protect the integrity of the blockchain network, data management and to keep hackers at bay.
 • Blockchain developers earn an average salary that is 300% more than software engineers' standard salary.
 • A blockchain developer needs to learn and master Blockchain/Ledger Economics.
 • The demand for blockchain expertise by top companies is on the rise globally as the activities of cyber threats increase.
With a positive outlook on the blockchain developer career path, it makes sense to consider being a blockchain developer especially if you're considering a career with huge growth potential as unique dynamic technology is just being launched.
If you are interested in this potential and want to know how to become a blockchain developer, read and find out about this new career path with amazing prospects.
SEE ALSO: Amazing Blockchain Developer Salaries Around the World
What Does a Blockchain Developer Do?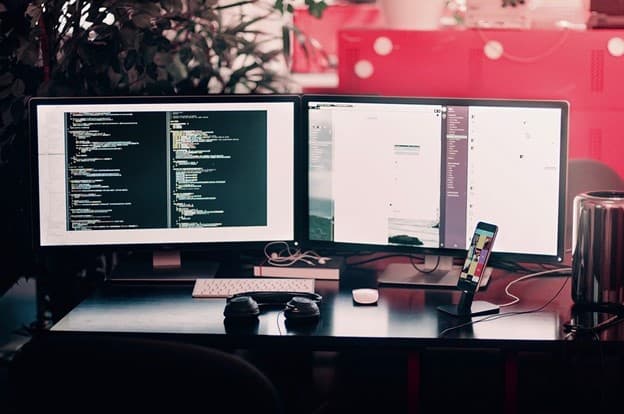 Blockchain developers are commonly known as developers responsible for developing and optimizing blockchain protocols, the creation of blockchain systems architecture, smart contract development, and web apps using blockchain technology.
We have to establish that there are two different blockchain developer types:
 • Core Blockchain Developer,
 • Blockchain Software Developer.
These developer types are called blockchain development subdivisions.
A Core Blockchain Developer designs the security and architecture of the blockchain system proposed. Essentially, the Core Blockchain Developer creates the basis on which other developers will build.
Blockchain software developers build apps, particularly the decentralized (dApps) and web varieties using the developer's core web architecture.
Perhaps the same person could play both roles, most probably in cases in which the company is small and people traditionally wear more than one hat.
In any case, the blockchain developer's daily responsibilities and roles are:
 • Blockchain protocols design and development.
 • Network architecture for centralization or decentralization of the data.
 • Backend development by blockchain protocols.
 • Customer needs for the development and monitoring of front-end designs.
 • Development and monitoring of all smart contracts.
The responsibility of the blockchain developer is to develop innovative solutions to challenges such as control and control solutions and a high level of integrity.
For specific product hardware or technical business lines, the blockchain developer conducts complex analysis, designs, develops, tests, and computes software debugging.
The blockchain developer also develops software design, integration of operating architecture, and system selection. They are ultimately operated on multiple systems and use one or more platforms and languages of programming.
Ideally, the blockchain developer looks out for bottlenecks within the network. For example, the developer needs to work on legacy infrastructure and its constraints while still meeting the expectations of a development project from the blockchain.
There are also difficulties in understanding the technical practicalities of implementing decentralized crypto-systems, processes beyond the traditional knowledge of IT development, which means that a blockchain developer needs expertise.
How Does One Become a Blockchain Developer?
After all, the questions arise: how do you train someone with the skills needed to meet the challenge of blockchain development, with all these responsibilities?
There are two different approaches to this…
A candidate for blockchain development could start from scratch, i.e. have no background in programming and those with career experience who share blockchain's similarities.
Blockchain has recently become a magic word for companies that use the technology to resolve complex issues. Some of this magic appears to fill those working in the industry with prospects of a career.
Regarding skillset, blockchain is a combination of the existing technology and concepts, such as object-oriented programming and ledger economics, and a cryptographic understanding.
What's Behind the High Salaries for Blockchain Developers?
High wages for blockchain workers depend on increased demand and short supply. Although the benefits of blockchain remain unproven, breathless media coverage ensures the technology is on the radar.
Blockchain has been adopted by established companies and initiatives specifically on technology have been announced.
In Azure, the cloud division of Microsoft Corp. (MSFT), for instance, has initiated a BAAS platform.
A deficiency in the provision of skills has helped blockchain experts to increase their salaries. Several new initiatives are underway to bridge the gap in provision, from bounty programs to encourage developers to boot technology camps.
The growing demand and wages for blockchain developers are demonstrated by numerous data points.
Glassdoor, an employment review site, found that this year's requirements for blockchain-related jobs were 300% higher than the previous year.
New York was followed by San Francisco and San Jose, representing the highest number of openings in technology. The top five were completed by Chicago and Seattle. 
The growing demand for blockchain jobs has also led to a large wage bump. Hired said online worksite CNBC had an average salary of $150,000 to $175,000 for blockchain developers, approximately $15,000 to $40,000 higher than the software engineers' standard salary.
That salary is equal to that of another on-demand group, engineers with artificial intelligence expertise.
What Kind of Mindset do you need to become a Blockchain Developer?
This should help to familiarize ourselves with the kind of thinking best suited for blockchain developers.
Before we dive into those two different types of personalities who aspire to be blockchain developers. After all, blockchain's unique challenges require some unique way of thinking.
Whenever the word hacker has spoken aloud, it is usually not in a positive light; there is no self-respecting company that likes hackers well except for Whitehat or ethical hacking activities.
But it is precisely the hacking mentality that makes good developers of blockchain. This is because hackers tend to think outside the box, not conventional thinking when confronted with difficulties and obstacles.
In addition, a good blockchain developer works well with and can work together in a team setting.
The ideal blockchain developer knows in connection when to ask for assistance with a problem and when to plug in until they get the answer.
Thus the best blockchain development candidate works well with others, knows his/her limits, and can approach problems unconventionally.
Companies Hiring Blockchain Developers
So if you have the desire to become a developer of blockchains, now is a pretty golden time for you, because there are prosperous opportunities. You can check for available opportunities with Glassdoor.
There is only one eligible blockchain developer available for every five blockchains developer-related work in the industry. Fortunately, fortune 500 companies such as IBM, Accenture, and Capgemini are all hunting for eligible blockchain developers.
But, it's always ideal to get adequate training and certification on blockchain technology. Henry Harvin has an amazing 32 hours of instructor-led training on the Blockchain Certification Course.
Frequently Asked Questions (FAQ)
What should a blockchain developer know?
 • A blockchain developer should be accustomed to blockchain architecture. You should be knowledgeable in the blockchain ledger. You should also know what consensus means and how smart contract operates.
What skills do blockchain developers need?
 • A blockchain developer needs the following skills: web development, cryptography, data structures, smart contracts, and blockchain architecture.
Which subject is best for blockchain developers?
 • Data security and computer science are very suitable as a subject for pursuing a career as a blockchain developer.
What are the four main blockchain challenges?
 • The four main blockchain challenges are security and privacy, cost and efficiency, regulation and governance, and criminal activities.

Final Thoughts
Blockchain developer is a blossoming career to venture into especially now that these skills are scarce and are in high demand.
So if you know you have the grits for it, then you are very much well on your way to a wealth of exciting opportunities.
This technical career path seems not to be dying anytime soon. You could consider taking advantage of the blockchain developer career now.
Get certified in blockchain development first and pursue the amazing world of opportunities.
SEE ALSO: Lessons Learned: Social Media Platforms and Blockchain Mass Adoption
SEE ALSO: The Most Influential Business People Driving Blockchain Adoption
Read More