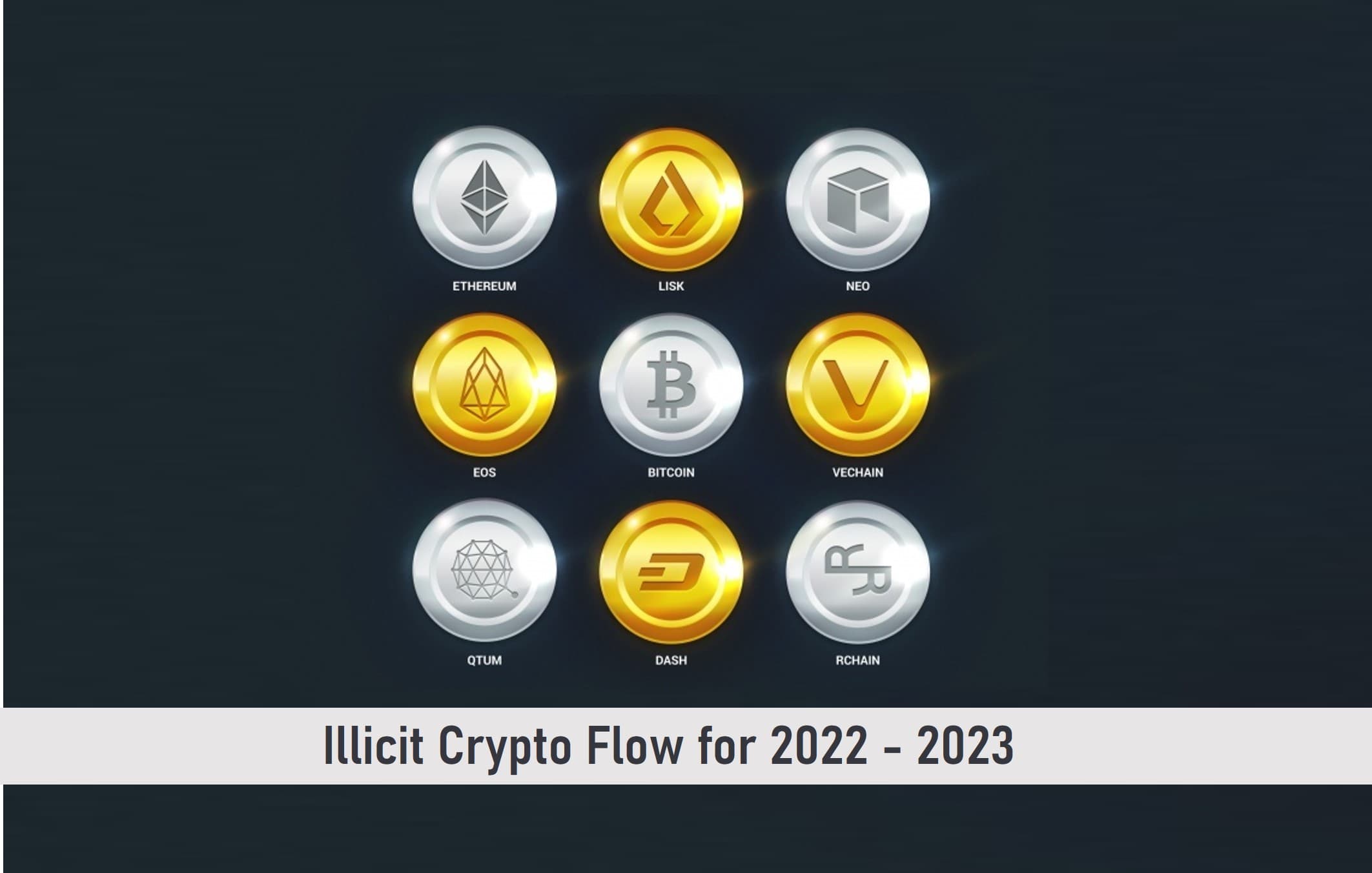 To almost everything that exists in the physical world, there is always a good and bad side. This is also not different for the digital world of cryptocurrency where various fraudulent activities are been perpetuated daily under the guise of the unregulated crypto world, making them the ideal hub for criminals to permanently evade the law and other regulations guiding financial flow.
Some of the factors that have contributed to this seemingly bad side of cryptocurrency include its relative anonymity and partial or zero regulations. This article will provide more insights about illicit crypto flow for 2022-2023. Keep Reading!
Key Takeaways
• Illicit activities in the crypto space were reported to climb to a peak of about $20.1bn in 2022. It increased from $18 billion the previous year in 2021.
• As a share of total crypto activity, criminal flows reportedly made up 0.24% of the total crypto transactions in 2022.
•Another study conducted in April 2019 reported that about $76 billion of illegal activities annually involve Bitcoin.
• Cryptocurrency is often regarded as the dark web's preferred digital asset and has been used in shady deals such as ransom for kidnappings and also in transferring money to circumvent sanctions.
• Most countries with weak and/or unenforced anti-money laundering (AML) regulations have become global hotspots for money laundering, whether as fiat or cryptocurrency.
SEE ALSO: How to Spot Crypto Scams (With Simple Clues)
SEE ALSO: How to Spot Forex Scams (With Simple Clues)
According to the 2018 Q3 Cryptocurrency Anti-Money Laundering Report by CipherTrace, it was estimated that "97 percent of direct Bitcoin payments from identifiable criminal sources were received by unregulated cryptocurrency exchanges" mostly in countries with weak AML laws.
Illicit Crypto Flow for 2022 – 2023
Illicit crypto flow refers to the use of cryptocurrency assets for unlawful or illegal transactions. Some of these illicit crypto flow includes; drug purchase with crypto assets, funding drug networks, money laundering, a ransom for kidnapping, and the purchase/sale of debit and credit card information. and sanctions evasion.
 There are also what is known as dark web websites specially designed in disguise and can only be accessed using specific networks such as The Onion Router (Tor) instead of traditional internet browsers and search engines to avoid detection.
These platforms are used majorly for illicit crypto transactions and are often structured after 'The Silk Road,'  a platform that functions like an Amazon marketplace for buying and selling different types of products, majorly using Bitcoin as a  currency of exchange in selling and buying illicit drugs and paraphernalia, using Bitcoin, with the platform busted in 2013.
 The activities carried out on these platforms stay hidden or in the dark to regular web users.
These illicit activities in the digital space with the aid of crypto assets rose to an all-time high in 2022 reaching a peak of $20.1bn. As we proceed gradually into the first quarter of 2023, several
of these activities will come to the limelight.
Frequently Asked Questions (FAQs)
Q1.What factors make crypto prices go up?
Several factors contribute to the rise in the price of crypto assets like Bitcoin, Ethereum, etc; such as their total supply, the market's demand for them, availability, investors' sentiment, etc.
Final Thoughts
As technology and the cryptocurrency world continue to evolve, policymakers appear to have yet been able to lay hold or keep track of an unregulated or partially regulated sector like the crypto world.
And ironically, the more these advancements accelerate with time, the more it brings new and more sophisticated tools for digital thieves to use.
As a result, there has been an increase in the number of regulations for cryptocurrency in many countries like the United States, one of which was a meeting held by G20 in 2019 where finance ministers across the globe called for a joint multilateral approach to cryptocurrency such as registering cryptocurrency exchanges.
 There were also Financial Action Task Force's standards for cryptocurrency, which will over time enable financial regulatory institutions to be able to fight effectively against these digital thefts and misappropriations by fraudulent crypto users, hackers, etc.
Read More