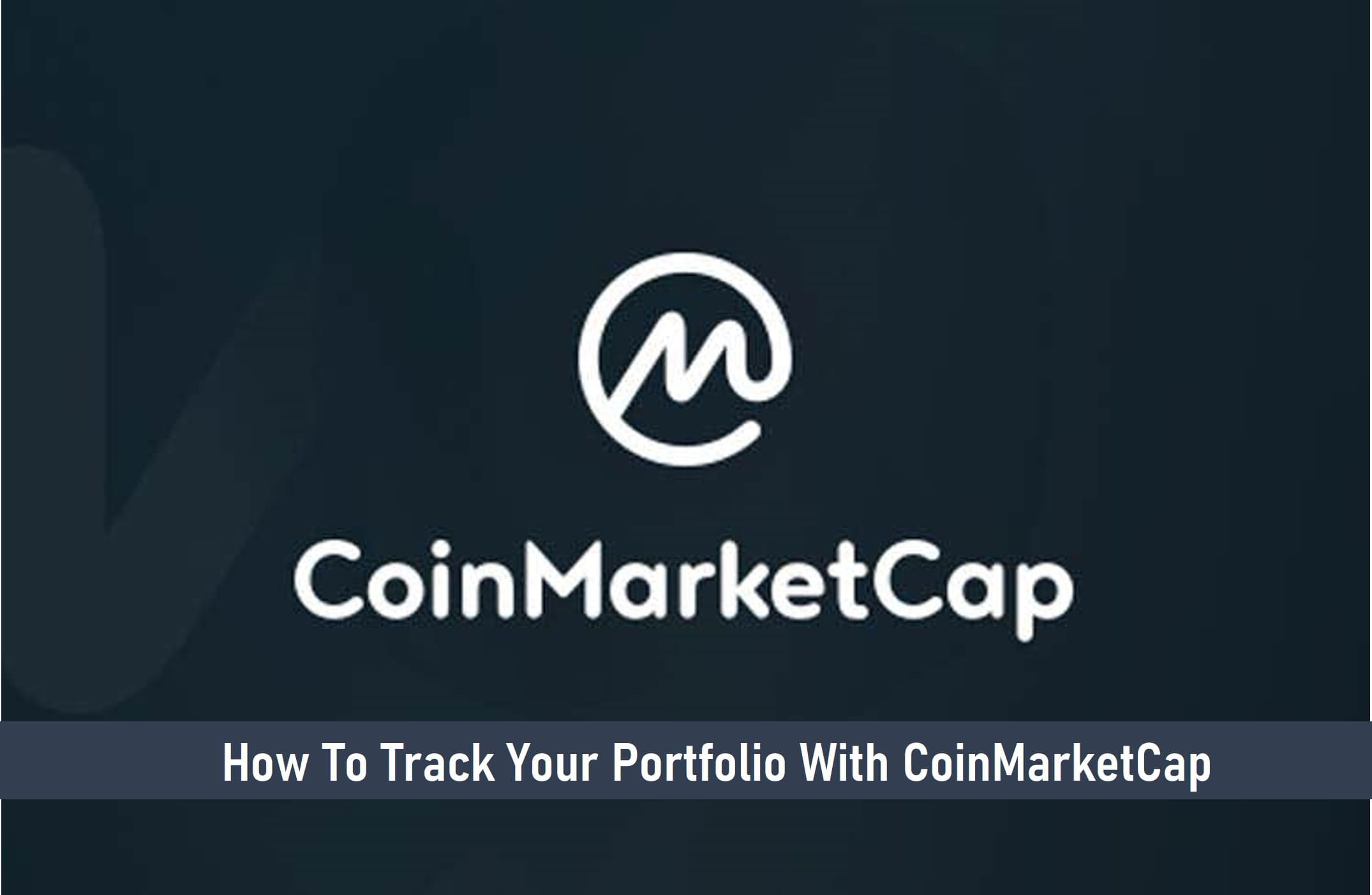 CoinMarketCap is recognized globally as the most referenced website for tracking cryptocurrency market activities. Its goal is to make cryptocurrency investing discoverable and efficiently reachable by providing timely and accurate market data on a vast number of coins and tokens.
The platform is well renowned for providing a wide variety of information, from posting real-time market prices, gainers, and losers, market cap, liquidity, supply, etc.
Interestingly, CoinMarketCap rewards users with freebies through its Earn program when you take lessons and test your knowledge through its fast track free course.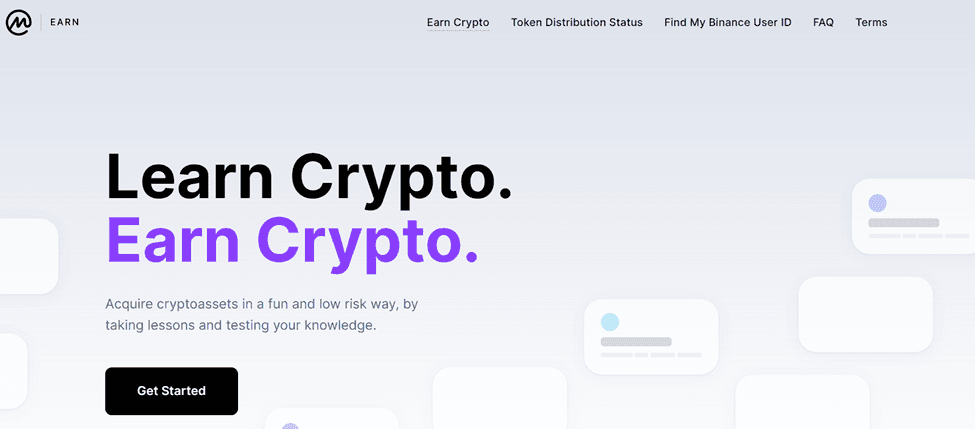 Key Takeaways
• CoinMarketCap is one of the best online tools to keep track of your cryptocurrency portfolio.
• CoinMarketCap has one of the best analytics and real-time data tools that would help a wide range of investors make informed decisions about their crypto portfolio.
• CoinMarketCap "crypto portfolio" helps you track your crypto assets and gives you accurate information in terms of their performance and market prices.
SEE ALSO: All You Need To Know About CoinMarketCap Airdrops
SEE ALSO: The Top 5 Meme Coins To Invest In 2022
SEE ALSO: 5 Characteristics of Meme Coins You Should Know
It's often difficult to keep track of all your cryptocurrency when it's dispersed across many platforms.
When this happens, you might not be aware of when to sell off your crypto at the right time, and this could lead to miscalculations and poor judgment in the process.
Fortunately, having a free tool like the CoinMarketCap, you can prevent this from happening.
Let's examine how to use the CoinMarketCap portfolio to track your crypto assets.
How to use the CoinMarketCap to Track Crypto Portfolio
First things first, you need to create a CoinMarketCap account.
If you do not already have an account on CoinMarketCap, simply go to the signup page and follow the instructions to set one up. If you already have one, proceed to log in and enter your email and password.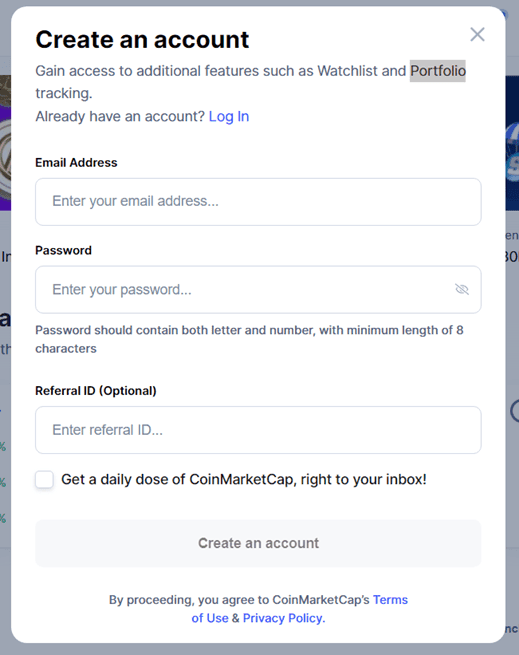 Once logged in, go to the menu bar and look for "Portfolio." By choosing "Create your Portfolio," you are well on your way to getting one for yourself.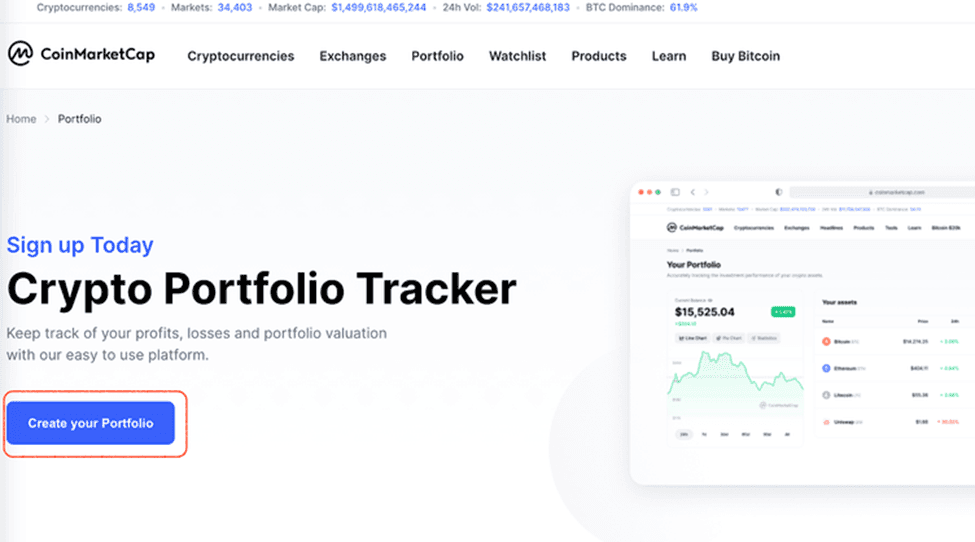 From here, select a cryptocurrency or token that you wish to add to your portfolio first: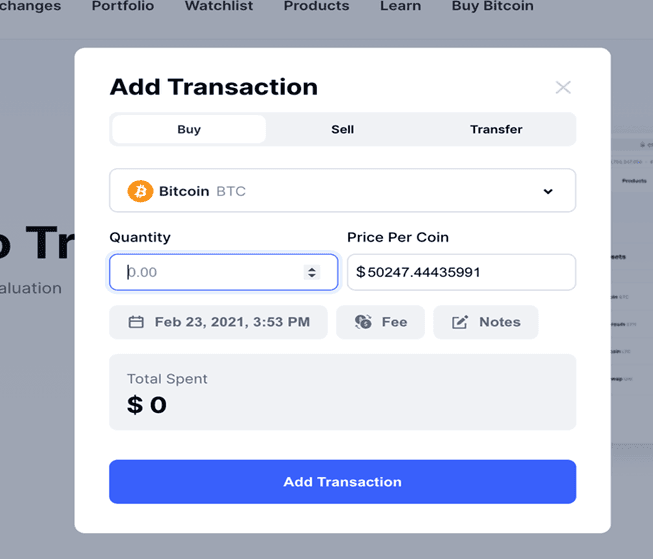 Steps to Create a CoinMarketCap Portfolio
Step One: Add a "Buy" Transaction or a "Transfer In" Transaction
The first thing you need to do here is to input a "buy" transaction if you have previously purchased some crypto.
You can input the number of coins purchased, the price, the date and time of purchase, the fee connected with the transaction, and a comment about the transaction.
CoinMarketCap helps you auto-populate the price, but you can still adjust.
The option to make notes might also be a powerful tool to employ since you can record the exchange you acquired the cryptocurrency from, so if you ever want to sell it, you'll know where to go.
You can also enter a "transfer in" transaction from the "Transfer" page to show the total crypto received from friends and family, your colleagues, or any other person.
Similarly, add the amount you got, as well as the receiving time, fees, and any notes that may help you remember this transaction.
Here's a rundown of what the three tabs mean:
  • Buy – any transaction indicating the purchase of a specific quantity of assets.
 • Sell – any transaction representing the sale of a specific quantity of assets.
 • Transfer – the act of moving certain assets into or out of your possession for a variety of reasons. This action will not require you to enter any inception values.
SEE ALSO: 5 Smart Things You Can Do On CoinMarketCap
Step Two: Navigate to the Main Portfolio Page
After you have completed the first step in developing your portfolio, you will be directed to the main page of the portfolio.
Next, assuming 0.01 BTC buy-in at the price of $51,000 were purchased on February 17, 2021,
Here are several examples:
Current balance, graphs, and summary
The current balance is calculated by multiplying your current asset holding amount by the current price.
It also displays the 24-hour change and the 24-hour change percentages. Along with the current balance, you will examine a line chart that shows how the balance value has changed over time, alongside a few periods from which you will choose.
Check the "Allocation" option in this summary section if you want to see the composition of your investments among different coins.
Assume I also purchased some Ethereum on December 2, 2020, for $593. My balance now consists of 79.24% Bitcoin and 20.76% Ethereum.
These figures are also based on the current price of Bitcoin, so if the price of Bitcoin rises, the percentage may rise as well.
You can also view your investment's summary statistics by clicking on the "Statistics" tab.
You would also get to see the overall profit and loss of your crypto assets, as well as the profit and loss percentage at the beginning of your purchase.
You can also identify the top and worst performers among your assets and view their profit and loss percentages.

Details on the Asset Transaction
When you click on the line of specific crypto, it will take you to a page with the transaction data.

You can view the balance of Bitcoin based on the current price, the 24-hour percent change, and the overall profit and loss, or you can view a list of Bitcoin transactions you've entered.
You can also amend transaction information or delete any unnecessary transactions from this page.
Lastly, you can have access to the same access on your mobile device. All you need to do is to download the app from the App or Google Play store.
Likewise, you can track your portfolio and monitor the performance of your crypto assets without missing a beat.
Frequently Asked Questions (FAQs)
Can You Buy Crypto on CoinMarketCap?
CoinMarketCap monitors the trading activities of thousands of exchanges but does not trade cryptocurrencies directly.
You can check out the market section for recommended crypto exchanges to buy crypto from.
Is CoinMarketCap safe to use?
Yes, CoinMarketCap is safe to use. As there is no buying or selling of crypto, no bank details are taken or stored so there is a limited risk of your wallet being hacked or personal data being stolen.
Final Thoughts
CoinMarketCap has all the information you need to get started, keeping tabs on the activities of your crypto.
All you need to do is to head over to the website and create a crypto portfolio of your choice with preferred features and you are good to go.
Read More