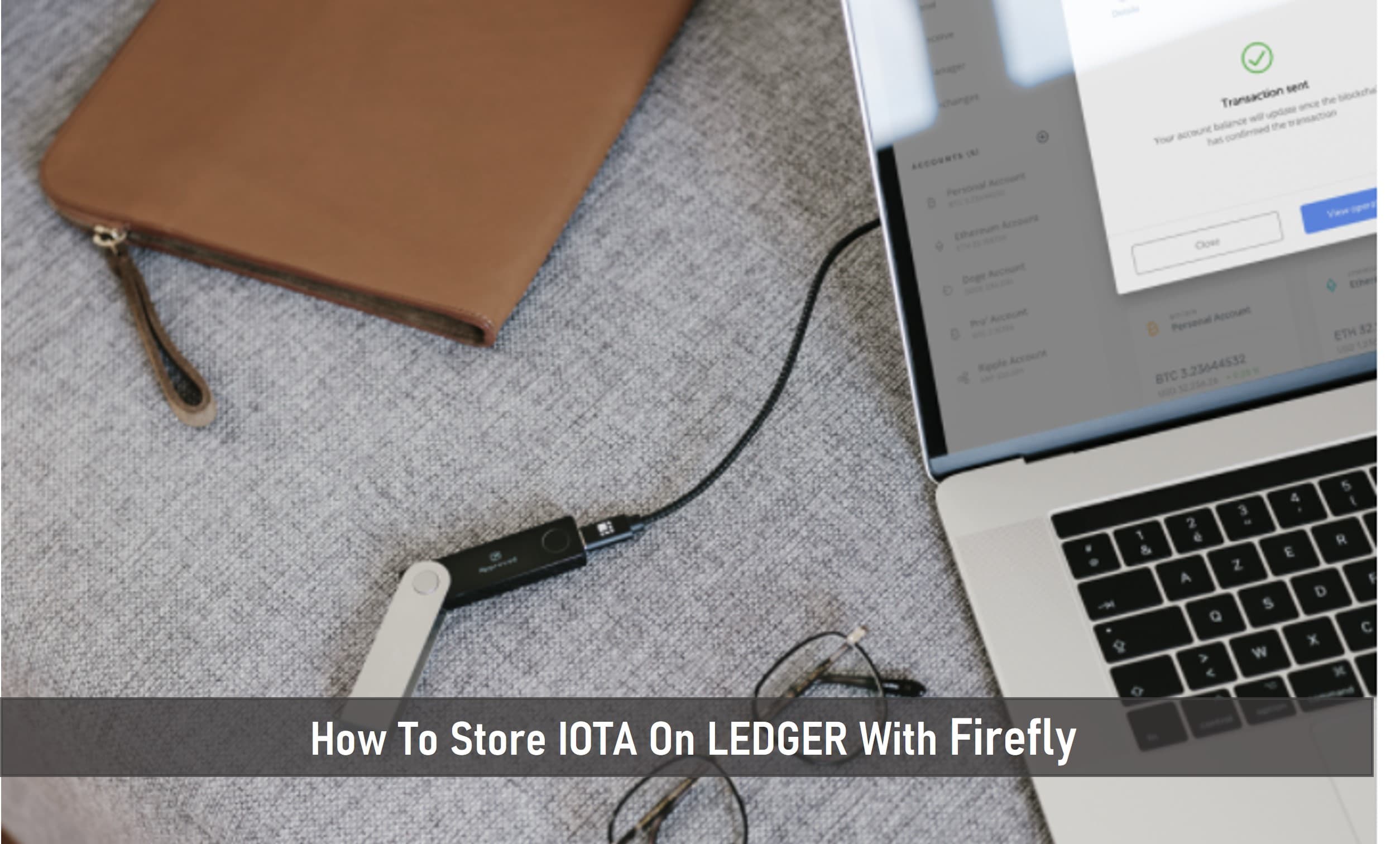 Ledger Nano Wallets & IOTA Token
Ledger Nano brand of wallets is renowned for its high-level compatibility with most third-party wallets such as MetaMask, Trust Wallet, MyEtherWallet, and a host of others.
Ledger's multicurrency feature also makes it outstanding and preferred by investors that hold multiple digital assets. For instance, Nano X can securely store over 1000+ unique types of tokens of which IOTA token is one of them.
How Does Ledger Make This Possible?
The Ledger LIVE application controls all functionalities on the Nano wallet (Buy, swap, stake, sell, store) which users find amazing while having to link their existing third-party soft storage with it.
The French manufacturer made this possible with recent partnerships with other payment solutions such as MoonPay, SolFlare, Yoroi, ADALite, and a host of others after debuting with the first model (Ledger Nano S) in 2014.
Reviewing security, Ledger manufacturers built the Nano S and X wallets with ST31H320 (secure) + STM32F042 for the Nano S model, and ST33J2M0 (secure) + STM32WB55 secure chip for its most recent, Ledger Nano X model created in 2018.
To know more about Ledger's durability and other technical details check here.
Storing IOTA tokens on the Ledger Nano Wallet is straightforward and I will illustrate this in this article.
Key Takeaways
• You will need to integrate the Ledger Wallet with IOTA's Firefly wallet if you want to be able to store IOTA tokens on Ledger.
• IOTA has a consulting guide for users who are experiencing connectivity issues or having a hard time linking their Ledger wallet to the Firefly wallet.
• You will need to activate the remainder address on your Ledger if you plan on sending only a part of your IOTA tokens to a receiver.
• Ledger Nano wallets are renowned for their compatibility with third-party wallets and tokens. IOTA can be securely stored on the Ledger brand of wallets.
SEE ALSO: 4 Best Crypto Exchanges That Supports IOTA
SEE ALSO: Ledger Powered Crypto Debit Card (What You Need To Know)
How to Setup Ledger Nano with IOTA Firefly Wallet
Firefly is a desktop-only application for creating ledger profiles fast and easily. Once you download the application on your computer (Windows, macOS, or Linux), setting up is pretty straightforward (I will illustrate this later in the article).
The Ledger hardware wallets have integrated with the IOTA Firefly wallet to provide their users with an extra layer of security by ensuring that the private keys to their accounts cannot be easily hacked or security breached on their computers
Note: If you are an existing IOTA user and secured IOTA with a Ledger before the Chrysalis network upgrades on 28 April 2021, you will need to migrate your tokens over to the new network before you can begin using Firefly.
As part of the security protocol, users will be able to validate transactions on their Ledger hardware wallet.
Store IOTA Tokens on Ledger With Firefly
This guide explains how to secure the IOTA tokens with a Ledger Nano wallet. The steps are shown below:
Before you start, make sure:
1. Your Ledger device is up and running. If you don't have one, you can get here
2. You have installed the latest firmware.
3. Your Ledger Live has been installed and is ready to be used.
4. You have installed the latest version of the Firefly wallet.
Step 1: Install the IOTA app on your Ledger device
1. Open the Manager tab in Ledger Live.
2. Connect to and unlock your Ledger device.
3. Follow the onscreen instructions and allow Ledger Manager.
4. Find and install IOTA in the app catalog.
Step 2: Create a New Ledger Profile
In Firefly, creating a new Ledger profile is quick and easy. After you've downloaded Firefly, launch it and follow the on-screen instructions to get started.
You must first read and agree to the terms and conditions, select a theme (dark or light), and create a profile name. Choose "Create a new wallet."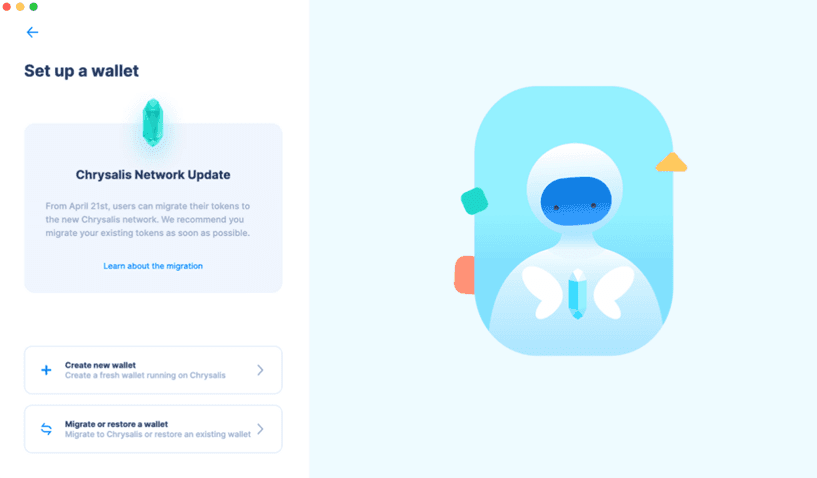 To begin the Ledger profile setup procedure, choose "I want a hardware wallet."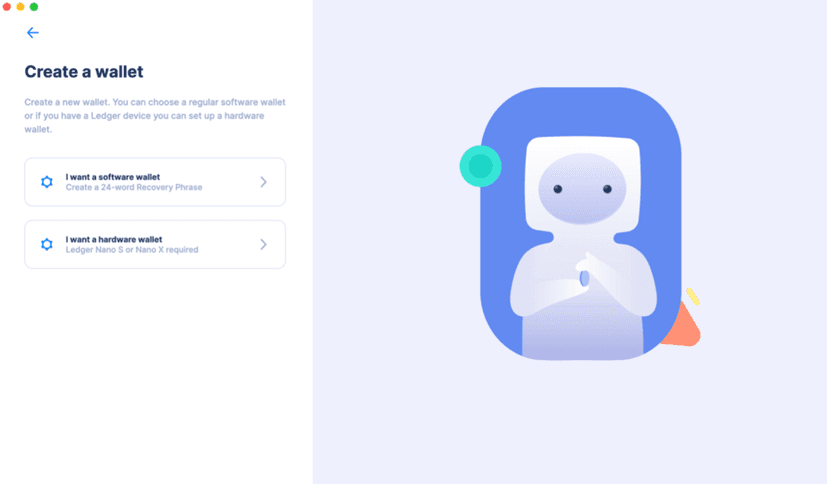 On the following page, you will be prompted to enter a PIN code. This PIN is used to access your wallet and prevents others from accessing your balance and transaction history.
Select a PIN that only you understand. To confirm, re-enter your PIN on the following screen.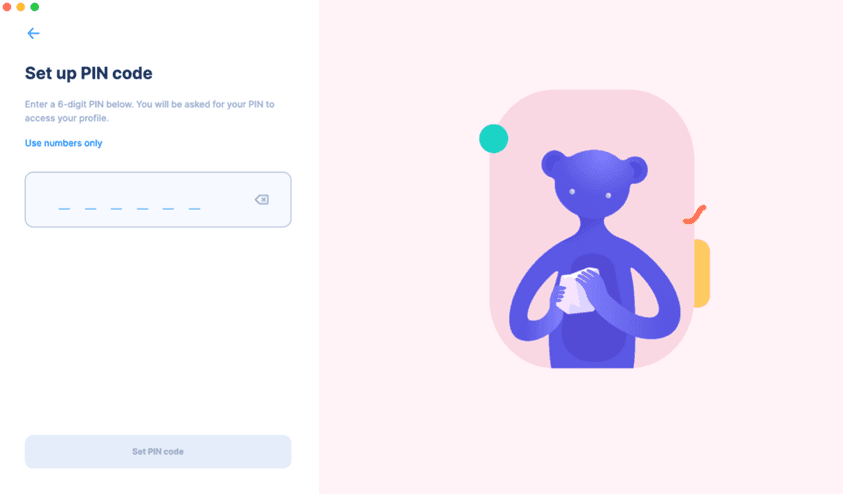 Firefly will now verify that your Ledger Nano is connected. Make sure the IOTA app is open and that Ledger Live is closed on your device.
If you're having connectivity issues, consult Firefly's "Tips if your Ledger isn't connecting" guide.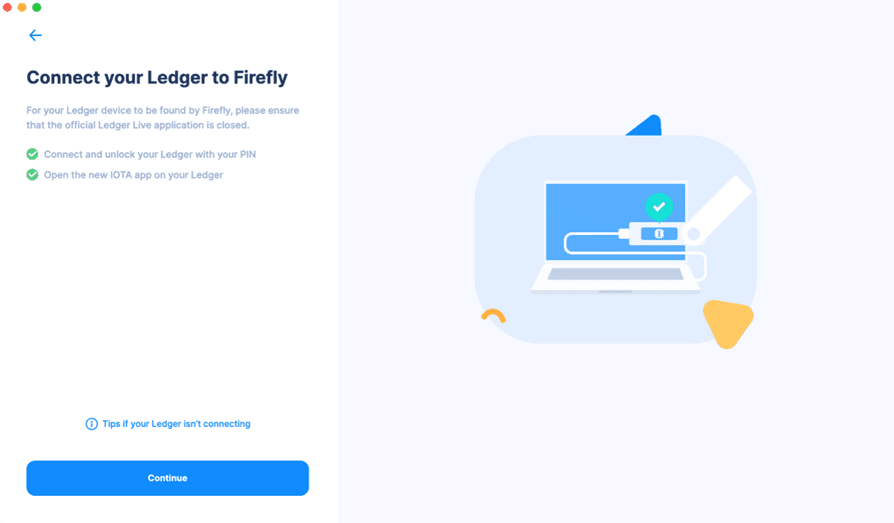 That's all there is to it. Click "Continue." That's all there is to it. You may now navigate to the dashboard and start exploring Firefly.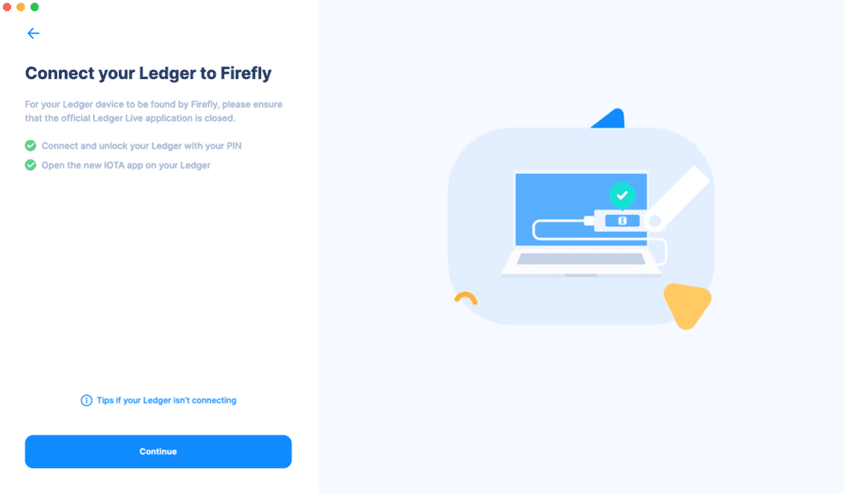 Step 3: Obtaining IOTA Tokens
If you want to receive funds to your new Ledger profile, go to the dashboard and click the "Receive" option.
On this screen, click "Generate address," and Firefly will ask you to check that the address matches the one on your Ledger device.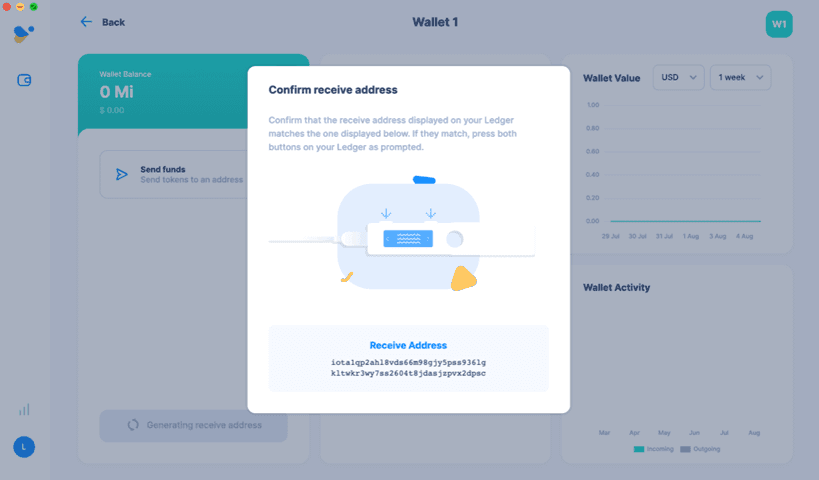 On your Ledger device, scroll through the addresses. When your Ledger says "Ok," confirm it by tapping both buttons.
Please keep in mind that this is a security check to guarantee that you are using the official, secure version of Firefly.
It guarantees that no malicious software may change the address you get and that it corresponds to the one produced by your Ledger.
You can now copy the address and send it to a friend or exchange where you want to receive tokens. Always double-check that the address matches the one displayed on your Ledger device.
Step 4: Sending IOTA Tokens
When you receive tokens to an address, your balance will be updated, and the transaction will be visible in the transaction history. To send these tokens, use the dashboard's "Send" button.
Fill in the address you wish to send to, specify an amount, and then click "Send."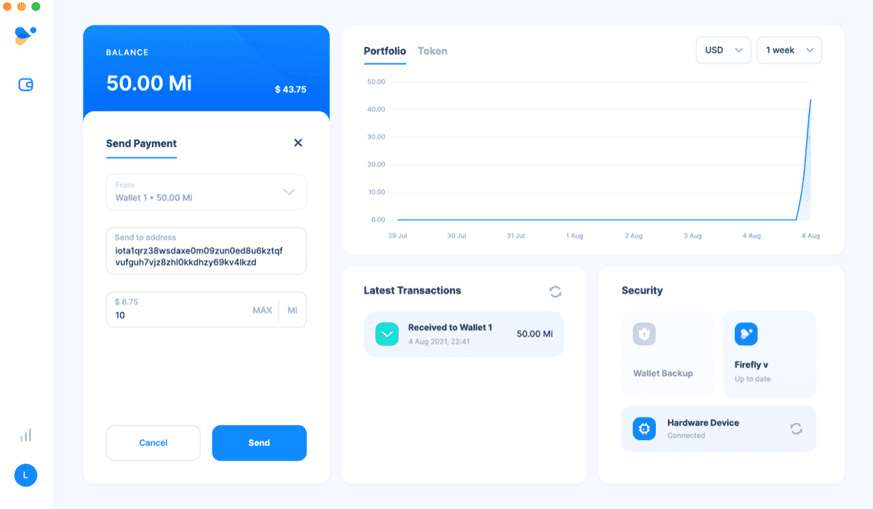 Then, validate that the entire transaction details match what is displayed on your Ledger device.
If you are not sending the entire balance to your address, you may additionally need to authorize a "Remainder Address."
On your Ledger, scroll through the transaction details. When your Ledger reads "Accept," confirm the information match by pushing both buttons. If they don't match, click "Deny."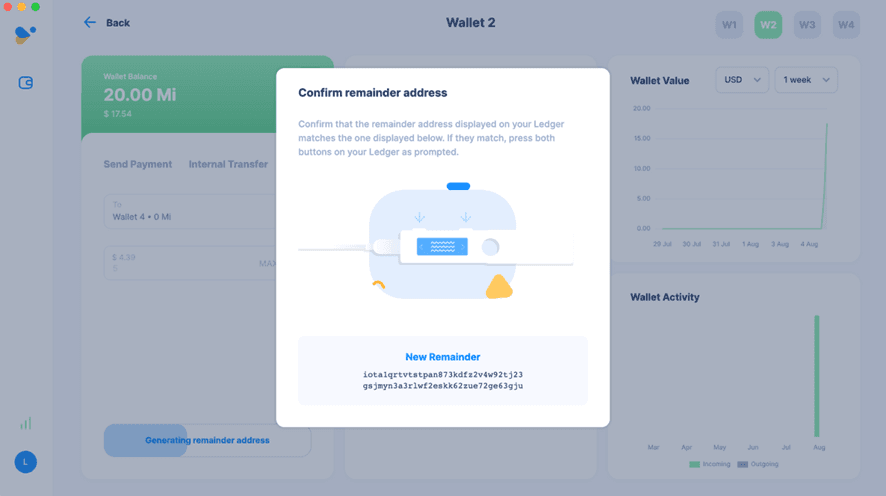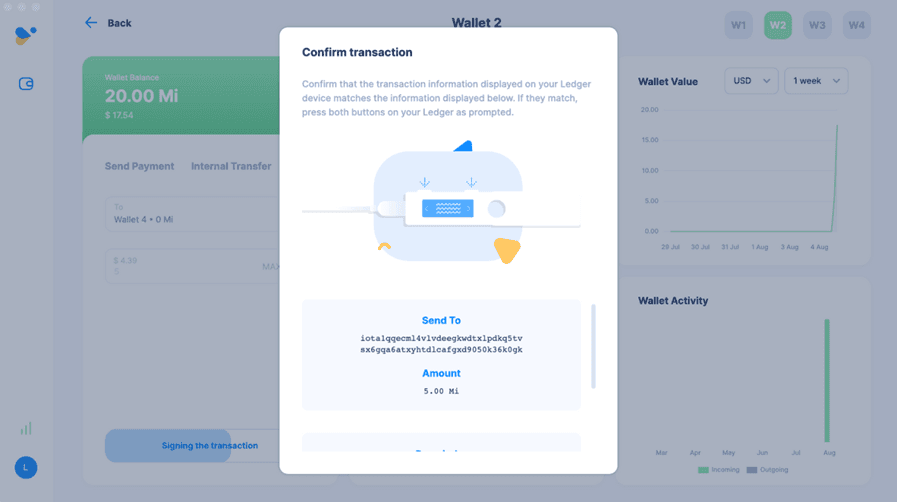 Keep in mind that this is a security check, similar to creating addresses, to confirm that you are connecting to the legitimate, secure version of Firefly.
It guarantees that no malicious software can change the contents of your transaction and that you sent the tokens to the correct location. Once you do all these, you are good to go.
Get A Ledger Device for Storing IOTA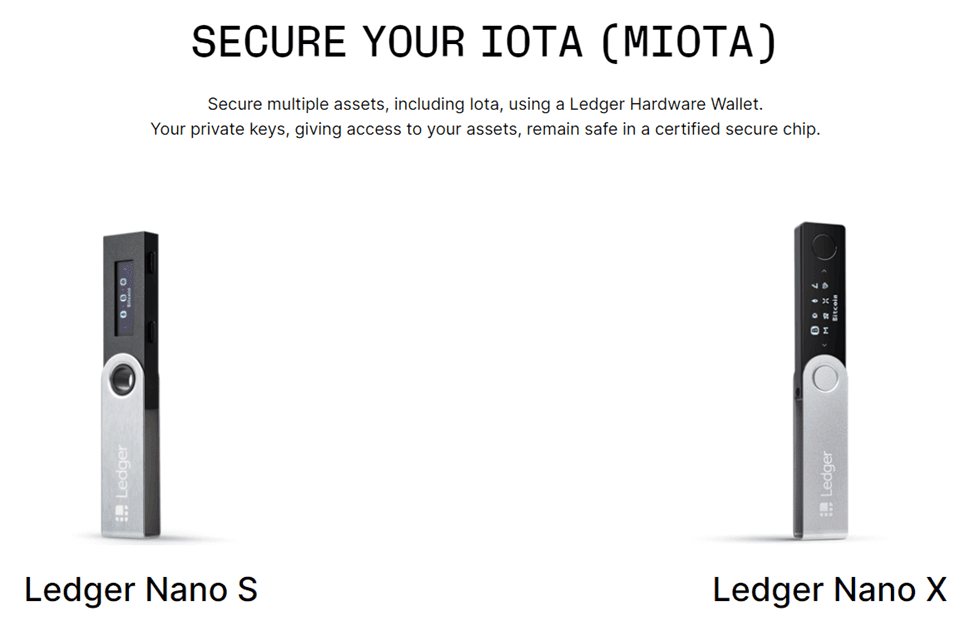 [table id=5 /]
How Secure is Ledger?
Ledger wallets use a unique operating system (OS) called BOLOS, which is incorporated into a secure chip.
The EAL5+ certified secure chip included in Ledger Hardware Wallets is the same chip found in credit cards and passports.
It is a secure platform capable of hosting apps and data in line with the rules and security standards established by pre-authorized applications and developers.
A secure chip requires considerable effort to hack, but generic microcontrollers are easily hacked by amateurs.
Hardware wallets are often considered as the most secure method of storing cryptocurrency which is why IOTA provides one of the safest and most useful standalone cryptocurrency wallets which is the Firefly wallet.
Ledger has a solid reputation for security and dependability, making it an obvious choice for integration with Firefly.
IOTA is a distributed ledger system that is open source and goes beyond Blockchain. It has been developed to be scalable, with zero transaction costs and data integrity, to power the internet of things of the future.

Final Thoughts
This article explains in detail how you can store, receive, and send IOTA tokens with Ledger. Hence, if you are looking to do this, then you would need to go through the article as the steps are very easy to understand.
Read More