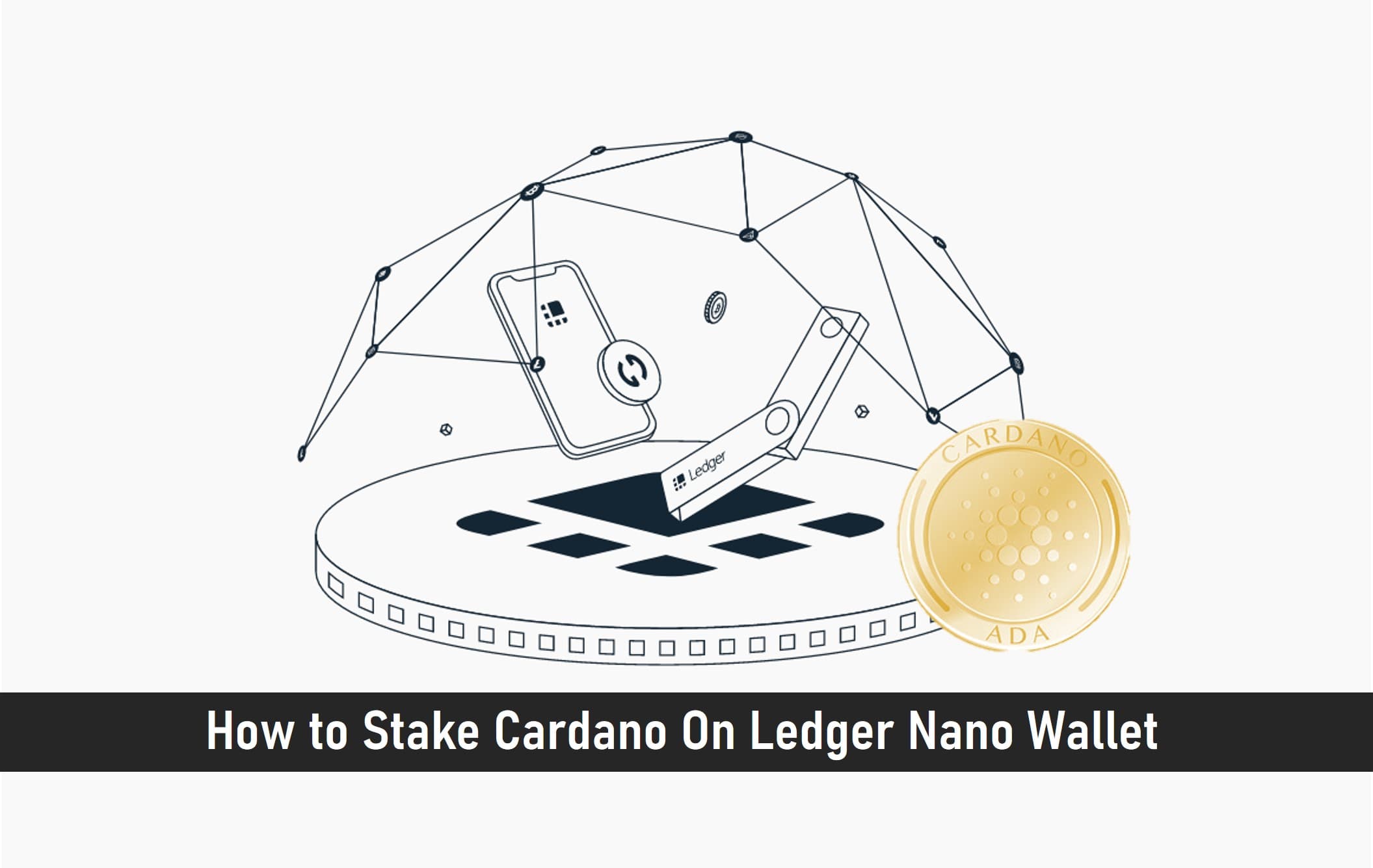 Staking your Cardano (ADA) is considered one of the profitable ways to add value to your investment passively. You can either be a validator or allow a stake pool to run the staking process on your behalf.
Note that not all soft wallets are ideal for staking. There are however a few that are compatible and built for this purpose.
We have a detailed post on the best Cardano wallets for safe storage and staking.
Key Takeaways
• Cardano confirmed Daedalus as the first wallet to support stake delegation allowing users of Daedalus to earn rewards through their ADA holdings.
• If you have a large amount of Cardano tokens, creating a private staking pool will grant you premium access to rewards without sharing them with anyone else.
• The pool operators charge a running cost which they usually deduct from the reward gotten from ADA or charge as a profit margin for providing the staking service.
SEE ALSO: The New Ledger Nano S PLUS (All You Need To Know)
SEE ALSO: What to Expect from the NEW Ledger Powered Crypto Debit Card
SEE ALSO: Which Is Best For Staking – Ledger Nano X Or Trezor Model T?
It is best to protect your digital assets and stake them with hardware wallet devices because they provided better security due to their offline status. The renowned Ledger hardware devices are one of such hardware wallets.
Ledger Nano products provide high-level security via a secured chip and proprietary system that gives users complete control over their private keys.  
Concerning staking with Ledger, this article will guide you through how to receive, send and stake your ADA.
Note: For illustrations, I will be using the Yoroi wallet and Ledger Nano X.
 AdaLite is another wallet to use together with Ledger Nano S or X for managing ADA transactions. You can visit the Ledger store to get one.
SEE ALSO: How to Stake Cardano on a Crypto Wallet
The Benefits of Staking with Ledger
• It is secure and hack-resistant.
• It is compatible with Bitcoin and other cryptocurrencies
• It is very easy to navigate owing to its LED display.
Staking Cardano (ADA) with Ledger
To stake or manage your Cardano coin on a Ledger device, you need to download and install the Cardano App on the Ledger hardware.
Ledger Live does not support ADA naturally; this is why the Cardano App was designed by the Cardano community to manage ADA with AdaLite or Yoroi on the Ledger Live.
The hardware device secures your private keys which are very crucial in validating a transaction.
Because it prevents any computer software from accessing your private keys as it requires the usage of a private pin solely known by the user to interact with it.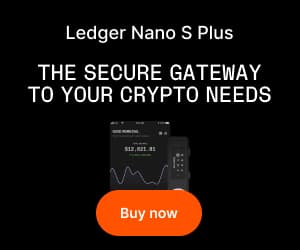 To successfully transact Cardano coin, ADA, on your Ledger device, you need to follow all instructions.
1. set up a Ledger Nano S/X
2. Install an updated version of Firmware.
3. Install Yoroi Chrome Extension.
Ensure your computer is connected to the internet throughout the process.
Your ledger must be linked to your PC for the whole process.
Select a Wallet Option
The first step is selecting a wallet. Daedalus is suitable for a full node and can run a complete blockchain.
However, for convenience, Yoroi or Adalite is your best shot.
Yoroi is a Browser extension that enables you to operate your hardware wallet. Yoroi is a light wallet of ADA, it is created by Emurgo. It is compatible with the Ledger hardware wallet.
You can download it here
Note: if you have registered an account with Yoroi before, you still need to create a new profile, after which you can transfer your Cardano assets from the former account to the new one connected with Ledger.
1. Install the browser extension and choose your preferred language.
2. Accept the terms of use.
3. Click on the "Simple" option.
4. Enable Cardano Payment URLs.
Press the 'Connect to Hardware wallet' tab, select your currency as Cardano, and then choose your wallet.
Now you should be here:
1. Select an Era wallet
2. Choose "Shelley-era wallet". Press NEXT followed by CONNECT:
Connect To a Ledger Hardware Wallet
1. The next step is to select your hardware device (Ledger Nano X for this article).
2. Enable your Ledger device to export your public keys, this would allow you to import your wallet to Yoroi (used as an example in this article). Hence, you can now use your hardware wallet to send or receive funds.
SEE ALSO: Can a Hardware Wallet Truly Get Hacked Without PINs?
Wallet Imported into Yoroi
Click in the Receive menu in Yoroi then generate a new address.
1. An interface with your address would be displayed.
2. Use the Ledger hardware to confirm your ADA address
3. Click both buttons to verify the derivation path and address
4. Click on the "Receive" tab. Your wallet address will be displayed, copy it to your clipboard.
Receive Cardano (ADA) with Yoroi Ledger
Transfer (send) your coins from an exchange
Click on the exchange tab, paste your wallet address and withdraw into it. Ensure that you have copied and pasted the right address because once a transaction is done it cannot be reversed. So, if your address is wrong, you will lose your ADA permanently. Hence, check like 10 to 20 times before verifying a transaction.
How to Withdraw Cardano (ADA) on Ledger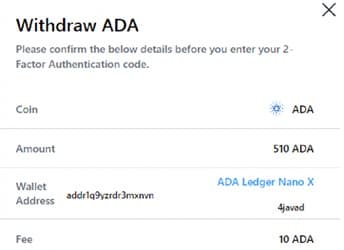 This is a withdrawal from crypto.com. You can check your transaction fees once it is available in the Transaction tab on your wallet.
Choosing a Stake Pool.
You can start staking on Cardano once you have received your Cardano coin. However, the first step toward staking is to select your preferred stake pool from the list of pools provided on https://adapools.org.
There you find a list of 1000+ stake pools and their stats:
Start Staking ADA Coins
Once you are done choosing your preferred pool, ensure that your Ledger is still open and running, then click on the Delegation list on the register.

Locate your stake pool and press the Delegate option. You will be charged 0.345212 ADA as a transaction fee. Press Delegate once more to confirm.
Stake Pool giving an approximation of rewards
Click "Continue":
Delegating ADA to Stakepool.
Go in line with the instructions provided by the Ledger device. You will be required to confirm your staking keys, the transaction, and the charges.
Once you have confirmed it all, your ADA would be delegated successfully.
It takes about 3 epochs before you will receive your first rewards. Each epoch lasts for 5 days.
Your total rewards will be displayed on the device's Dashboard. Through the epoch charts, you can monitor your performance in staking.
Yoroi shows rewards from Stake Pool.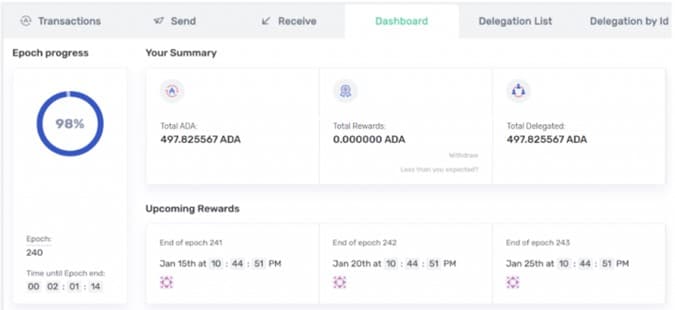 Frequently Asked Questions (FAQ)
1. When will Cardano be available on Ledger Live?
At the moment, there are no clear indications as to when Cardano will be available on Ledger Live since there are a lot of processes that are undertaken before a coin such as Cardano can be added. I suggest you look out for updates on the latest developments in the future.
2. Is the Binance-Peg Cardano Token (ADA) the same as the Cardano (ADA) coin?
No, these are two different coins as the Binance-Peg Cardano Token is a token that operates within the Binance Smart Chain (BSC) indexed for its value on the Cardano coin.
3. How safe is my asset if I am using a third-party wallet such as Yoroi, Adalite, or Daedalus?
Your assets are pretty much safe just as they would be on Ledger Live as your private keys are always in your Ledger device.
Final Thoughts
If you want a safe and secure platform to stake and transact your ADA, then you should choose a Ledger Hardware Wallet device.
For more information or perhaps, you encounter any problem while using the ledger and Yoroi for your Cardano,
Read More