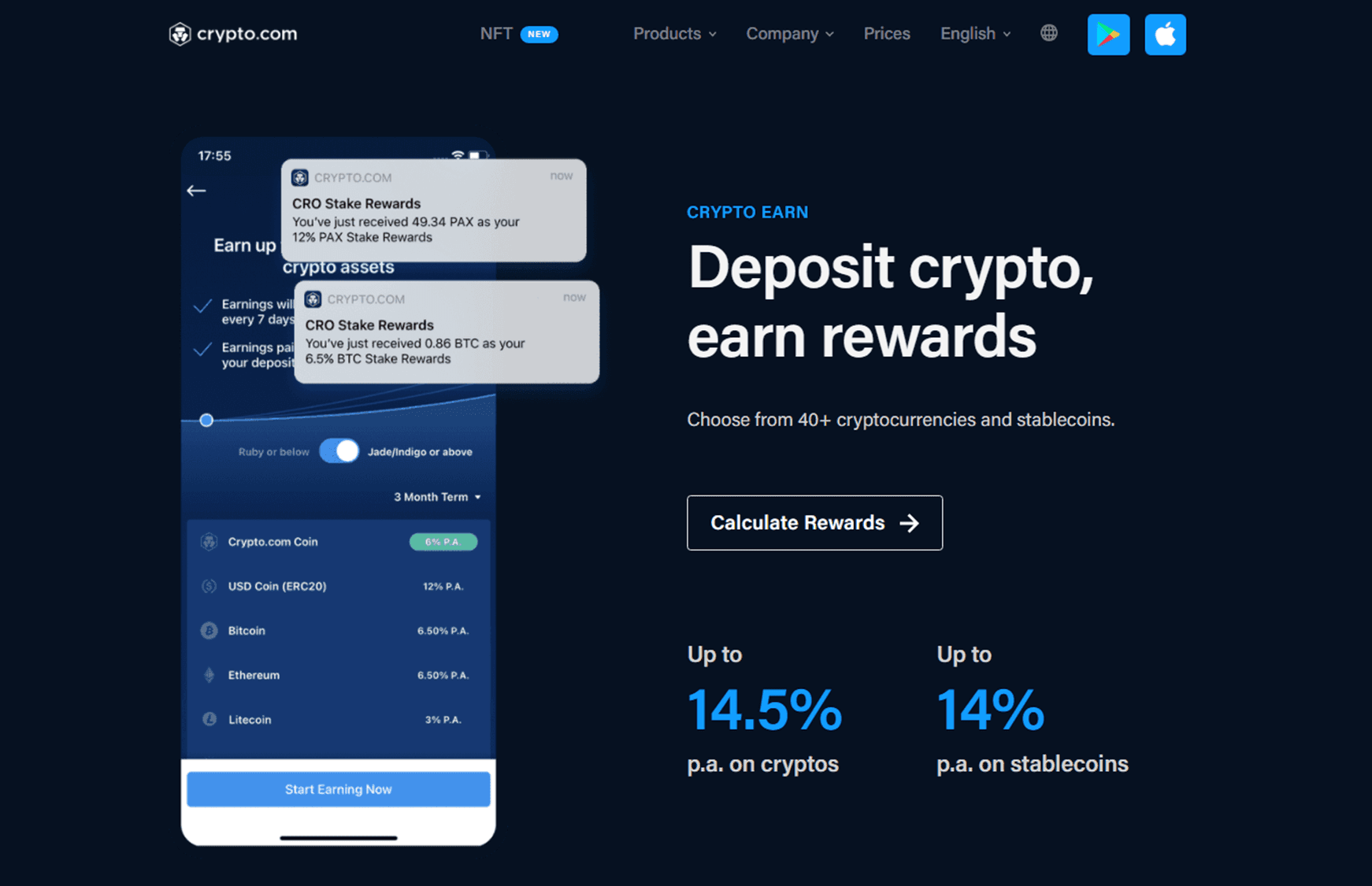 What is Staking?
As an investor, staking your crypto assets is one of the best ways to increase your earnings.
Several cryptocurrencies, validate transactions using a model called proof-of-stake consensus which allows investors who own the currency to stake them. This means that their crypto is used to validate transactions on the blockchain making them crypto validators.
Validators receive periodic rewards for their stake depending on the crypto and platform. For instance, Staking on Coinbase has its reward payment days.
Staking is quite synonymous with earning interest on what you have in a savings account. But the difference here is that while bank account interest rates are relatively low, with crypto staking, you stand a chance of receiving 10% or more of what you've staked.
In this post, I will share insights on what you need to know on how to stake and earn rewards on Crypto.com.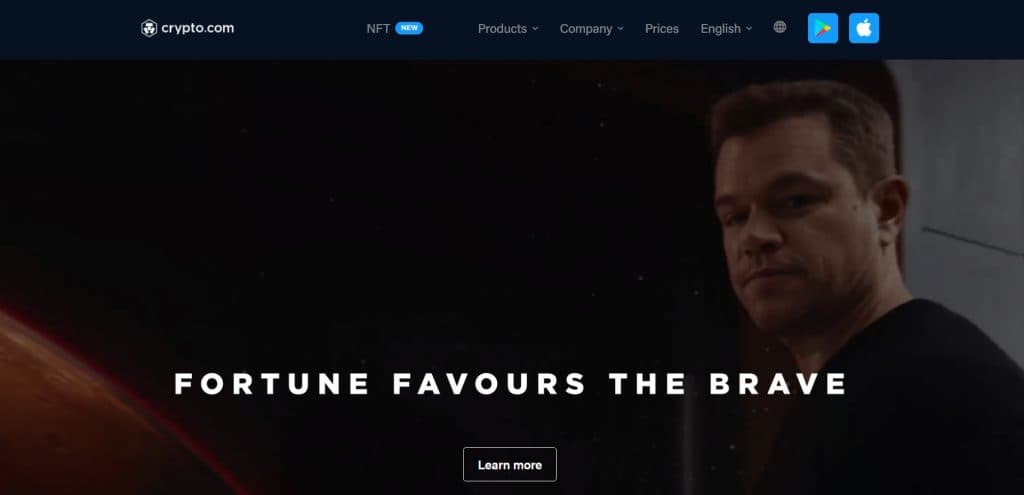 While this might seem difficult at first, it is quite easy, and you're free to unstake your crypto if you want to trade it later.
With the knowledge of crypto staking, you can start earning passive income.
Key Takeaways
• If you stake CRO on the crypto.com app, you will enjoy better APR in crypto credit and crypto earn.
• CRO Staking rates have been changed from 16% (18% for private users) to 10% (12% for private users).
• Users with an existing stake will still receive the 16%/18% rate until 180 days staking period is over. The new rate (10%/12%) will take effect once the staking period has matured or if there is any staking activity that changes your CRO staked amount.
• Crypto.com Exchange wallet (crypto.com soft staking) can also be used to earn rewards.
SEE ALSO: How To Join Binance Smart Chain As A Validator
SEE ALSO: Quick Steps To Stake Tezos On Coinbase
SEE ALSO: Staking On Coinbase? 5 Key Things You Should Know
There are two ways to stake your crypto assets on the crypto.com platform.
1. The first is the crypto.com currency (CRO). For more details on the various benefits, you can earn on staked CRO, go to the crypto.com cards section.
2. The second is with other crypto tokens. This is done by having an Exchange wallet on the crypto.com platform.
How to Stake CRO in the Crypto.com App
Once you have enough CRO tokens in your Crypto.com App for your selected Crypto.com Visa card:
Go to the Card page (bottom-right corner of the app)
Select your desired Crypto.com Visa card
Tap the Stake CRO button and follow the on-screen instructions
To stake CRO, you need to have an adequate amount of CRO Tokens in your CRO wallet in the Crypto.com App. To do so, there are 3 options:
A. Purchase CRO in the Crypto.com App:
1. Tap the Trade button
2. Tap Buy
3. Select CRO from the list
4. Choose the purchase method. You can fund your CRO wallet with:
credit card
bank transfer via EUR, USD, GBP, AUD, CAD fiat wallets
5. Enter the required amount of CRO
6. Confirm the purchase
B. Exchange from other cryptos to CRO in the Crypto.com App:
Tap the Trade button
Tap Sell
Select a wallet with your other crypto
Select CRO as the deposit to a crypto wallet
Enter the required amount of CRO
Confirm the purchase
C. Deposit CRO from an external wallet or exchange to your Crypto.com App
For the current list of exchanges with CRO, please refer here.
Crypto.com Soft Staking
Crypto.com Soft Staking is another way to earn rewards simply by holding a balance in your Crypto.com Exchange wallet.
Note: The Exchange wallet is different from your App wallet.
Starter and Advanced users of the Exchange can use the soft staking feature except for citizens and residents of Hong Kong SAR, Switzerland, and Malta.
How Do I Participate in Crypto.com Soft Staking?
For you to receive daily interest paid out, you will need to opt-in.
Log in to your Exchange account as a Started or Advanced user.
Navigate to the Stake & Earn page, and select Soft Staking in the left-hand side menu.
To opt-in, switch the toggle on.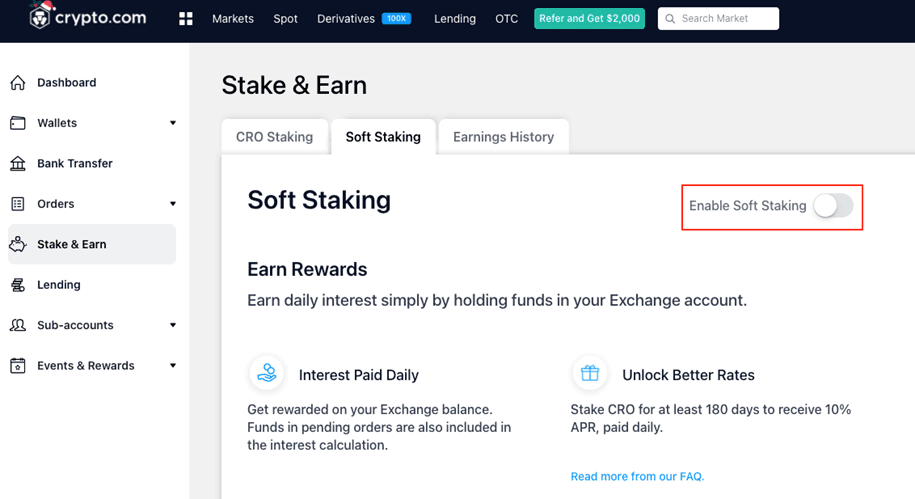 Acknowledge the T&C's by checking the checkbox, then agree to proceed.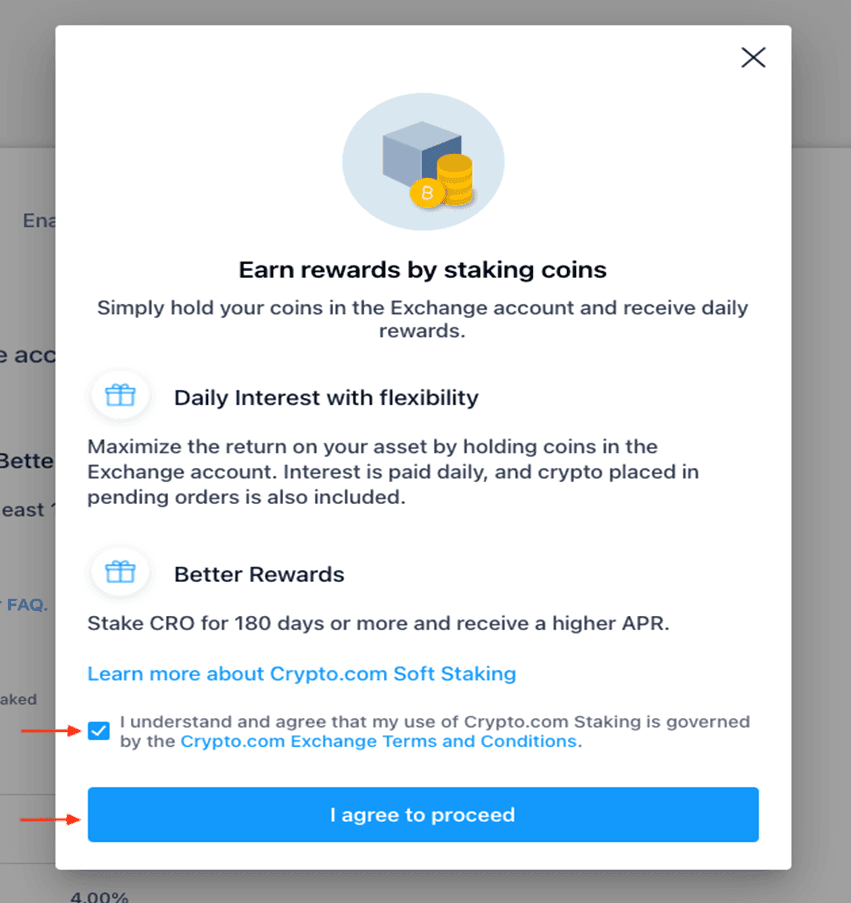 That's it! Make sure your balance in your Exchange account is greater than or equal to the required minimum holdings, and start to see your funds accumulate!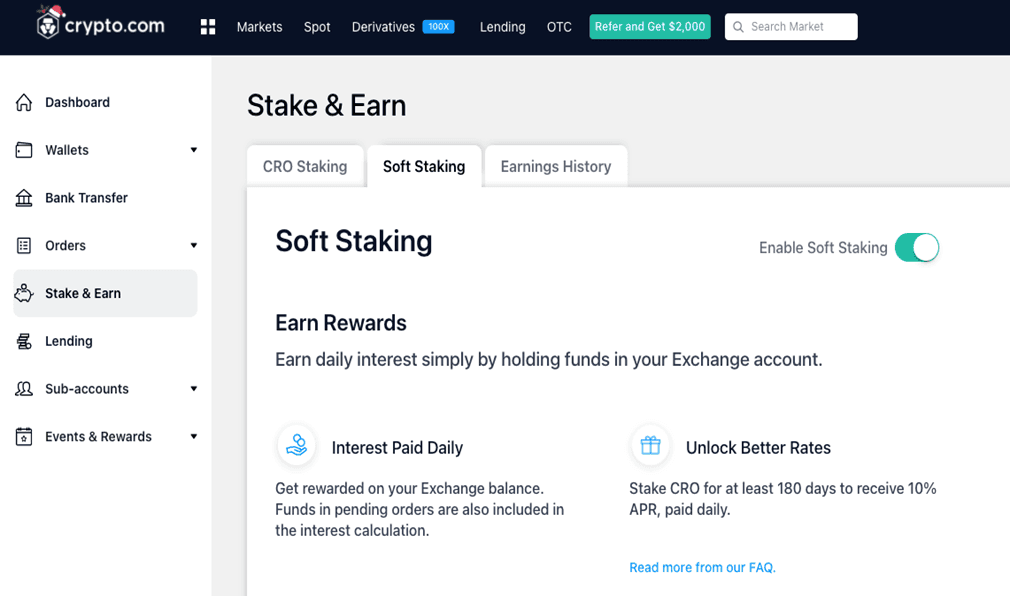 How Do I Opt-out of Crypto.com Staking?
If you opt-out, you will not receive interest effective immediately.
Log in to your Exchange account as a Started or Advanced user.
Navigate to the Stake & Earn page and select Staking in the left-hand side menu.
To opt-out, turn off the toggle.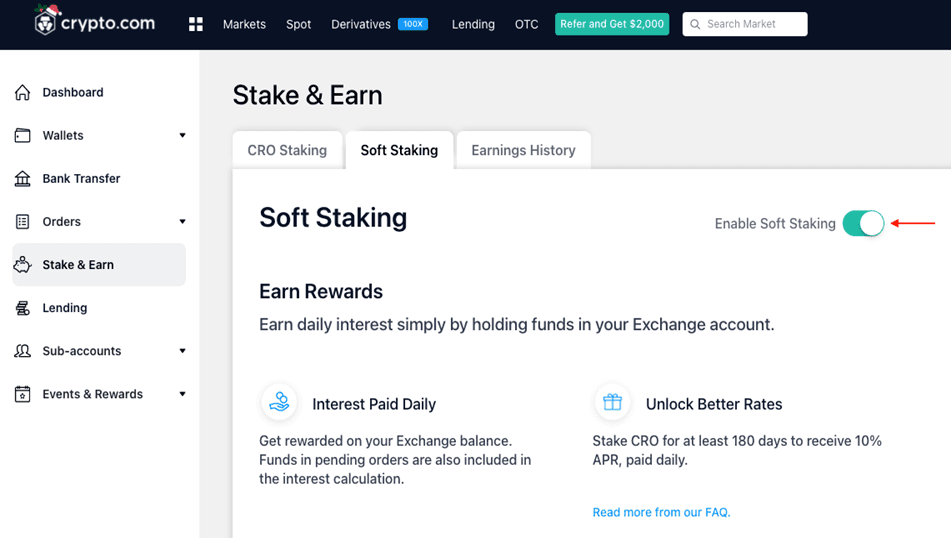 A pop-up will appear – to opt-out, select "Confirm to cancel".
You have been opted-out.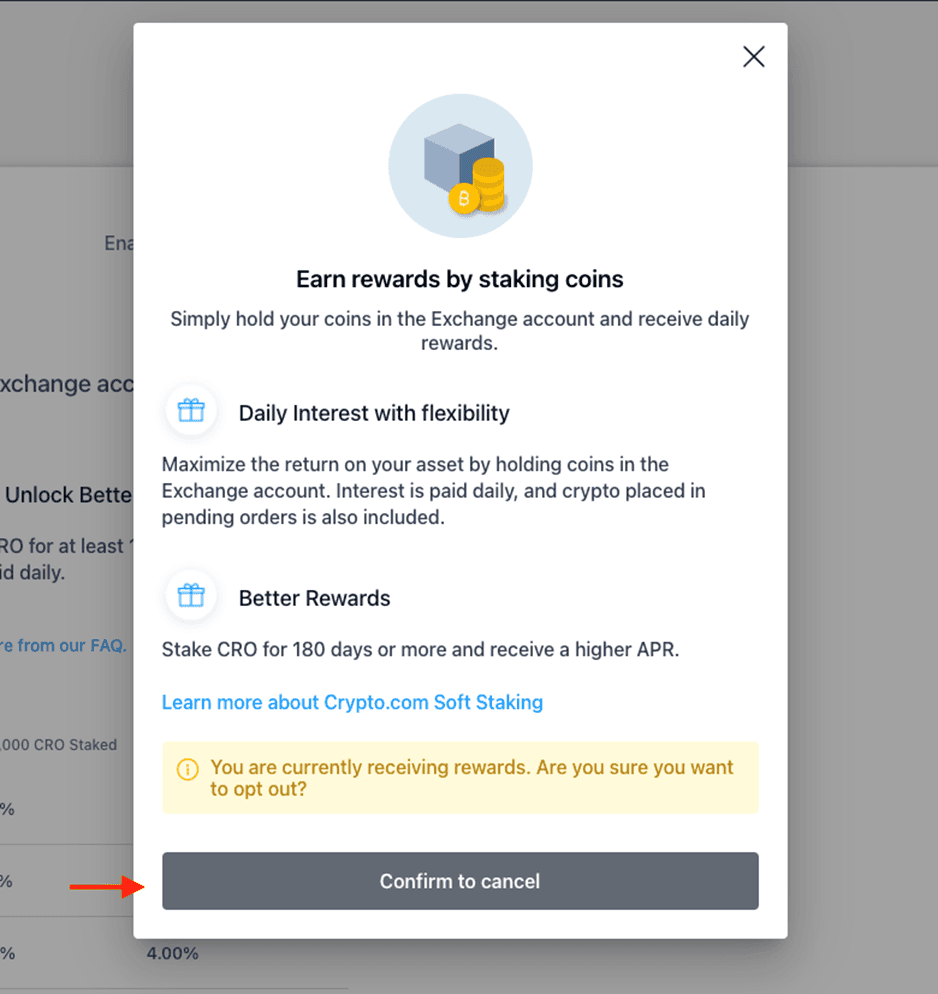 Where to Find Earning Report for CRO Staking and Soft Staking?
You can view your daily earnings in the Stake & Earn section under Earnings History.
Crypto.com Soft Staking (Key Notes)
Minimum holdings to be eligible for interest calculation and payout; if your daily minimum balance is lower than the minimum requirement, no interest will be calculated for that day
Different interest rates are based on how much CRO you've staked on the Exchange (6-month commitment period).
Note: The Crypto.com Soft Staking is not a derivative product. Interest that you receive through Crypto.com Soft Staking is not linked or affected by any external factors, such as the price/exchange rates of other crypto assets
For different interest rates on Exclusive Soft Staking rewards, refer to this table:
Assets – Exclusive Interest rate
ADA – 5.00%
ETH – 3.00%
DOT – 12.50%
MATIC – 12.00%
ONE – 8.00%
SOL – 5.00%
ATOM – 8.00%
Frequently Asked Questions (FAQs)
What is the Difference between CRO staking and Crypto.com Soft Staking?
"CRO Staking" is different as it requires you to stake a minimum of 10,000 CRO for 6 months on Crypto.com Exchange.
CRO Staking is rewarded with its range of benefits: rebates, 20% APR, & Syndicate access. Staked CRO can not be withdrawn until the committed 6 months duration is complete.
Crypto.com Soft Staking rewards Exchange users with available tokens including BTC, LTC, and ETH. It offers more flexibility by rewarding you based on your daily Exchange wallet balances with no commitment period required.
How Can I Restake CRO tokens?
Users that have unstaked their CRO following the initial 180 days staking period can restake in the app to enjoy CRO staking benefits.
How to Restake CRO
Go to your CRO Wallet in the App.
Tap on the Stake button and follow the guided steps.
Staking a higher tier will make you eligible for that tier's Crypto.com Visa Card.
There is an option* to have it issued at the end of the restaking process.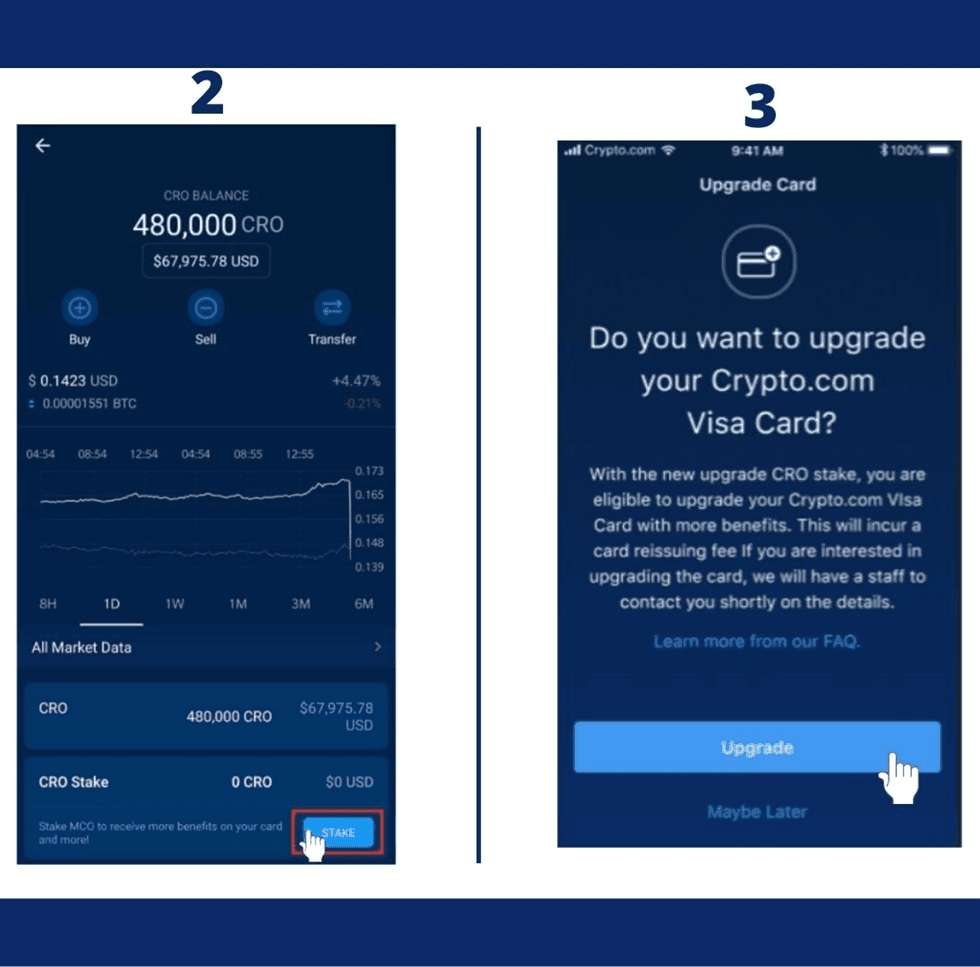 Note:
Requires App Version 3.50 iOS/Android or later.
The new stake will reset the timer and another 180 days will start.
*Fee may apply for Crypto.com Visa card upgrade in the US, APAC, and EU.
Is Crypto.com Staking Worth It?
The answer Is yes, crypto.com staking is worth your investment. This is simply because you get to earn more cryptos along with numerous beneficial high interests. This can therefore be used as a means of passive income. It's a profitable means for investing your money.
Final Thoughts
Staking is a great way to earn more crypto as an investor. The interest rate on staking is quite high making It a way to earn passive income.
Staking Is therefore a profitable way to invest your money. And while there are many crypto platforms where you can stake, Crypto.com is one of the best places to stake your assets.
Read More