MetaTrader 4 (MT4) has a superior handshake with Virtual Private Servers (VPS) with an enabler known as the RDC (Remote Desktop Connection).
The RDC initiates a connection that links your device, files, and MT4 client to a separate PC or server operating on Windows or macOS.
What the VPS  requires is a strong and stable internet connection allowing you to run trades on your mobile device or PC.
A VPS creates a virtual replica of a physical server. Having a VPS is similar to owning a personal or private server.
Why Do I need a VPS for Forex Trading?
Even the cheapest VPS hosting plans give you a dedicated IP address usually IPv4 and IPv6 internet protocols.
You will get an optimized network interface for low latency trading which enables you to execute trades as fast as one millisecond.
You can control your servers and monitor your uptime with a custom web-controlled panel.
VPS takes care of redundancy to keep you online just in case you witness a power outage.
VPS improves system loading time which enables trading in all market conditions efficiently.
Avoiding slippage in trading is yet another critical factor to consider trading with a VPS, see why in the video below.
If you want to run Metatrader 4 (MT4) on a VPS to trade Forex or other financial instruments, this is a fast and easy way to set it up. I will be illustrating with a windows desktop.
SEE ALSO: How Much Does an MT4 Server License Cost?
SEE ALSO: Best ECN Forex Brokers
SEE ALSO: Top 10 Best Forex Signals for New Traders
How to Step up MT4 on VPS on Windows
Step 1 – Create an account with an ECN broker
The first thing is to open an account with a broker preferable an ECN broker that integrates with the VPS service.
The VPS for MetaTrader 4 often comes right from the broker or you can integrate yours. A few of them have while others don't, so it is always advised you confirm before choosing one
Once you've verified this and sign up with a broker, your log-in details will be mailed to you which will include an IP address that appears somewhat like this: "111.222.3.4" (take note that the IP address is often an eight number) and a password in whatever format they choose which can always be changed later.
Step 2 – Navigate to the Remote Desktop Connection
Navigate to your system's RDC (Remote Desktop Connection), You'll first access the windows Start menu. (Selecting the Windows icon at the lower-left area or click the Windows key on your keyboard).
The file path for windows 10 is PC>Control Panel>System and Security>System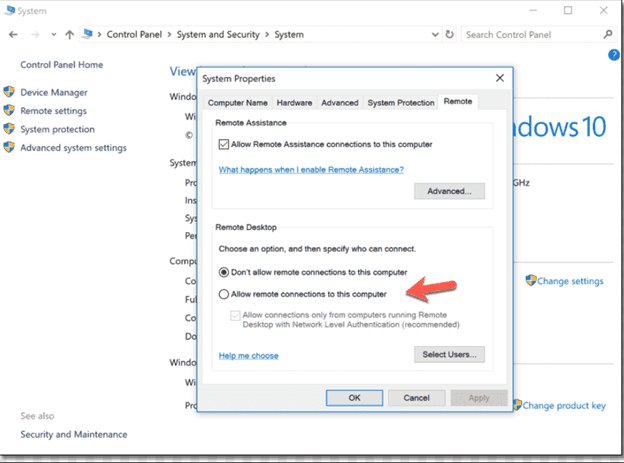 To set up VPS on MT4, a remote desktop is required and the RDC is exactly what we need.
Press "remote" in the search area of the Start menu and RDC should appear as the first search item. It has a monitor icon with the symbols ">" and "<".
Immediately you select the RDC, it should display two fields for "Computer" & "Username". What you have to do is to type the IP address into the "Computer" area and your password in the "Username" field.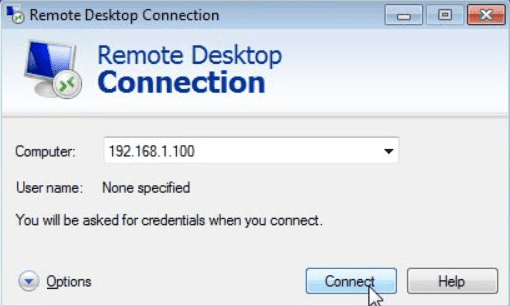 Enter the IP address and password the broker gave you. That's all, your VPS should connect and go live.
Here is a video guide on set up from Forexvps.net.
Step 3 – Download and install MT4 on your Desktop
After you've done this, what is left is to open a web browser on your RDC and download the MT4 platform.
To install MetaTrader 4 on VPS, a strong internet connection is required.
If you've had it earlier on, next is to open the "Microsoft Edge" internet browser, access the broker's platform, and download the MT4 app. You'll most likely be taken to the "downloads" folder. Look for an MT4_exe file and install MT4 through the wizard.
After installation, you're set and you can log in and commence trading without any disruption. You can now open trades on MetaTrader 4 via VPS. From here, you can use it optionally if you want.
Other Benefits of Trading with a VPS
Zero Slippage
Poort internet connectivity, network speed, speed of the servers, and the distance between trading stations and brokerage server facilities can hamper the results of a trade.
Each of these challenges causes slippage and order data over several points in the whole transmission process that brings about order execution.
Definitely, trading can't continue while the trading station is not working, either intentionally or due to an issue with the hardware device in use.
That is why Forex VPS (virtual private servers) are employed. They are also referred to as remote computers and can play the role of the original trading stations including supporting the trading brokers as well as the application that can run automated trading.
Guaranteed Server Uptime
Read More