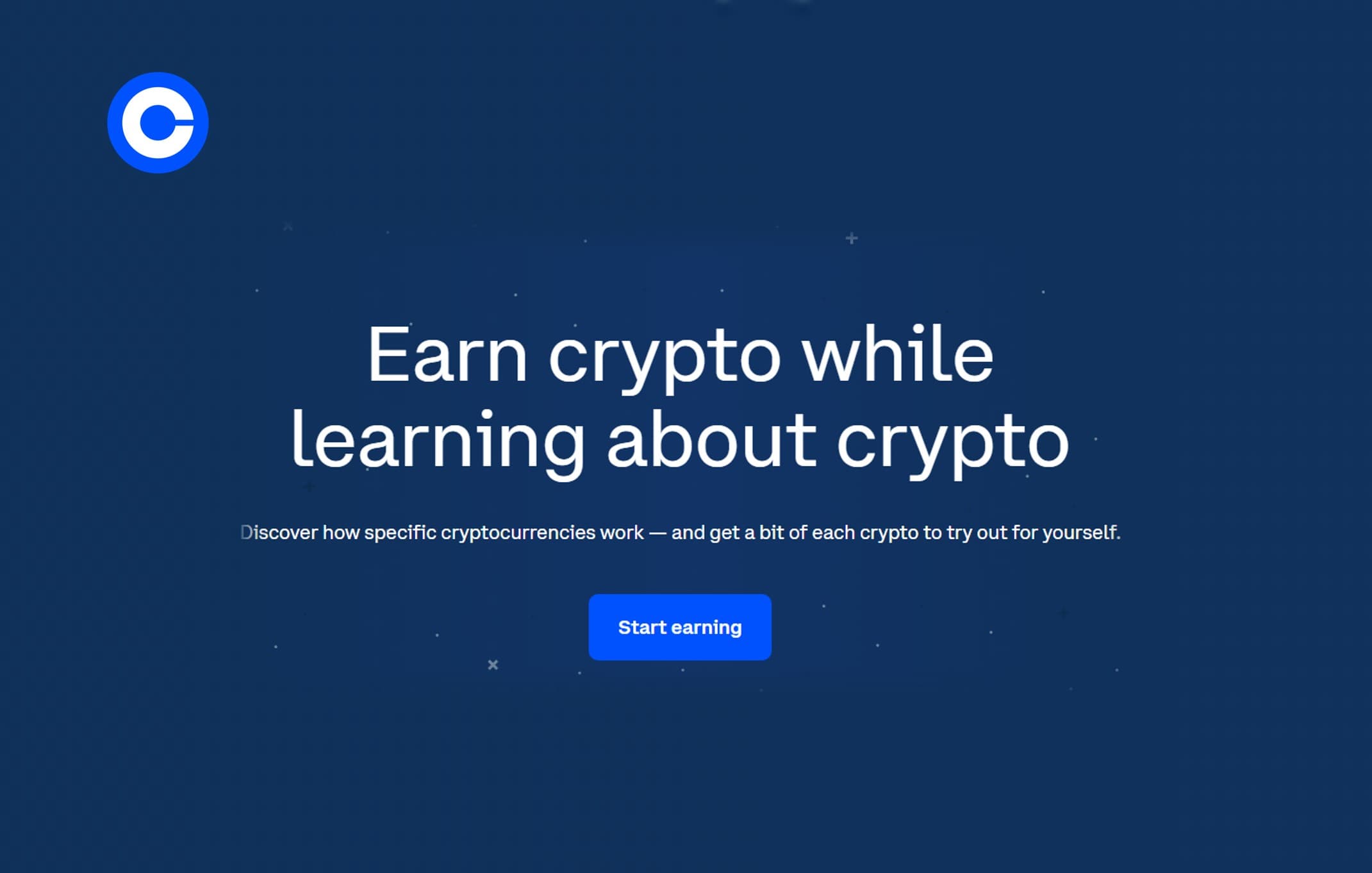 Earning on Coinbase
With over 73 million customers supported in over 100 countries, Coinbase is at the forefront as one of the largest cryptocurrency exchanges in the world.
Coinbase recently introduced the Coinbase Earn where its users can subscribe for a course (for free) to get started with lessons on unique cryptocurrency tokens, basically, tokens that are kind of private and not well known.
The essence is to support the token's blockchain and promote it to a wider audience. The more investors get to know and earn these tokens, the more the token's liquidity and capitalization grow in the market.
This idea helps improve the blockchain network and allows newer tokens to thrive. At the end of the course, students get rewarded with the same token they learned about.
For example. If you start a course on Polygon MATIC, you'll earn $3 worth of MATIC tokens. Likewise Stellar Lumens XLM, you'll earn $10 worth of XLM tokens after the course.

To start earning, you must have an existing Coinbase account or you can create one here.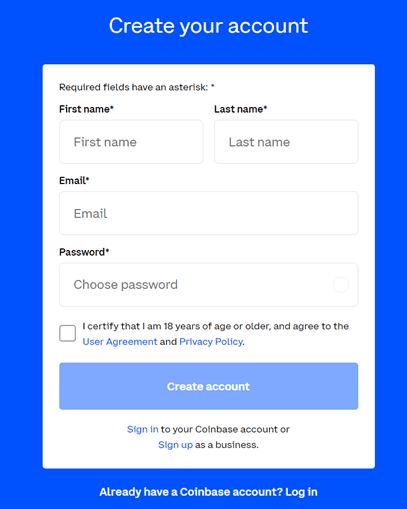 Key Takeaways
• Coinbase Earn is a rewarding program for both new and seasoned investors to get their hands on some free crypto while taking courses on different cryptocurrencies.
• Coinbase is a unique crypto exchange with so many features, which makes it popular and widely known by a huge number of investors.
SEE ALSO: Earn Crypto with Binance Learn and Earn
SEE ALSO: Staking On Coinbase? 5 Key Things You Should Know
SEE ALSO: How Often Does Coinbase Pay Staking Rewards
Coinbase Earn, which allows qualified clients to learn about various cryptocurrencies through instructional, instructive content in the form of educational material as part of the core Coinbase platform, was released in 2018.
Coinbase Earn allows users to earn coins while also learning about them simply and engagingly.
The process is simple: check out videos on your favorite cryptocurrency, and then complete a brief quiz or assignment to assess your grasp of the concepts covered in the films.
Users gave positive reviews on the Coinbase Earn program because it not only makes it simple to earn money with Coinbase, but it also supports start-up investors in obtaining the necessary skills and information to trade in crypto.
The project is accessible to all qualified Coinbase users, who may have access to educational materials for any supported crypto asset. To earn extra coins, eligible users can unlock lessons in addition to the information currently available on the site.
There are two ways to join the Coinbase Earn program: through a referral or by applying directly from your existing Coinbase account. It is critical to remember that there are eligibility conditions that need to be met to make use of this feature
You can find out how to join below: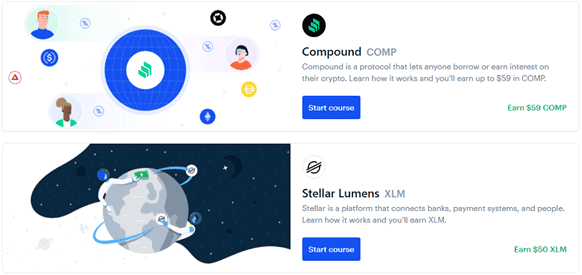 SEE ALSO: How to Stake Ethereum on Coinbase
SEE ALSO: What Cryptos Can Be Staked On Coinbase
Option 1: Make use of the Referral Service
The individual must enter via a referral link, accept the invitation, and satisfy the following requirements:
You must have a qualifying Coinbase account or create one.
You must not live in a country where the underlying cryptocurrency is not available on Coinbase or Coinbase Pro.
You must complete at least one task for the Earn campaign from which you were referred.
Option 2: Take the direct path
If you currently have a Coinbase account, you can apply to join the Coinbase Earn program and start completing learning and earning tasks to earn free crypto.
To apply, go to the Coinbase Earn page and indicate your interest in taking part in the program.
Following that, you will receive an email informing you of your eligibility or ineligibility based on what was provided.
Below are the following conditions for Coinbase Earn:
You must be a resident of a country that is eligible for Coinbase Earn. However, Coinbase claims to be working hard to add more eligible countries soon.
You must complete client and ID verification and ensure that you are at the highest account level.
You must satisfy all internal fraud and compliance requirements, including all conditions relating to an account setup.
You must own a single Coinbase account.
If you are logged in and accepted, you will be able to earn cryptocurrency right away. If you're signed in but don't see the earning potential, you need to finish your Coinbase Earn account setup by following the instructions on the exchange.
However, if the program is full, Coinbase will put you on the waiting list, where you will have to wait until you are eligible to be removed from the line. This may take some time due to strong demand.
Keep in mind that not every cryptocurrency supplied by Coinbase is eligible for earning (for example, Bitcoin is not presently available for earning).
Furthermore, because the number of rewards is restricted, it may take some time before Coinbase replenishes them.
Why You Should Consider Coinbase Earn
To begin, Coinbase Earn is simple, educational, and lucrative. Users can get started fast because the company offers a mobile app for Android and iOS devices, so newcomers can immediately download the app from Google Play or the App Store, sign up on Coinbase, and apply to make use of the feature.
Coinbase cooperated with asset insurers to create high-quality, user-friendly teaching information, making it a wonderful service, especially for inexperienced crypto investors.
The education phase, according to Coinbase, is a vital component of the move to an open financial system.
SEE ALSO: Borrow Cash On Coinbase With Bitcoin – All the Facts
Earnings on Coinbase
One of the most important benefits for new investors is that Coinbase Earn allows you to add the first cryptocurrencies to your portfolio by simply investing some of your time in research.
Users can then save their earned coins or tokens for future use, exchange them for more valuable cryptocurrencies (such as Bitcoin), or sell them for fiat local currency.
Nonetheless, you should be mindful of Coinbase's transaction fees, as these fees fluctuate substantially depending on a variety of circumstances.
In most circumstances, there are no fees for converting one cryptocurrency to another (e.g., EOS to Bitcoin). However, there are costs associated with converting crypto to your local currency (e.g., EOS to GBP).
The rewards may range from $1 to $12, with the latter being the most generous, and they aren't only there to entice individuals to engage in the program. If one studies every coin shown in the program, it will add up to a respectable sum.
Since the launch of Coinbase Earn in 2018, users have received more than $100 million in cryptocurrencies.
It should be noted that earning possibilities are only accessible for a short period and to a select group of users.
The amount you earn through the Coinbase Earn program is decided by the quantity and variety of actions you take, as well as the strength of the USD relative to the individual cryptocurrency market price at the moment.
Even if the dollar value fluctuates, the number of tokens remains constant as the cryptocurrency's price fluctuates.
You can earn more crypto on certain Earn projects by referring others to Coinbase Earn via a referral link.
If someone signs up through your link and completes the first class, you will get a $10 incentive per enrollment.
Frequently Asked Questions (FAQs)
How Much Does Coinbase Pay to Learn?
After you create your free account, you can also participate in Coinbase Earn to get up to $167 or more in free crypto tokens for learning about different cryptocurrencies.
Is Coinbase Earning Safe?
Yes, it is very safe as Coinbase Earn is a legit program to earn free cryptocurrency.
Final Thoughts
Coinbase has made life easier for crypto investors, especially for those who make use of the platform, by introducing Coinbase Earn, where users get to earn free cryptocurrency just by learning about various cryptocurrencies.
If you wish to partake in this, hurry now and get signed up on Coinbase, then satisfy all the requirements and be well on your way to earning yourself some crypto.
Read More