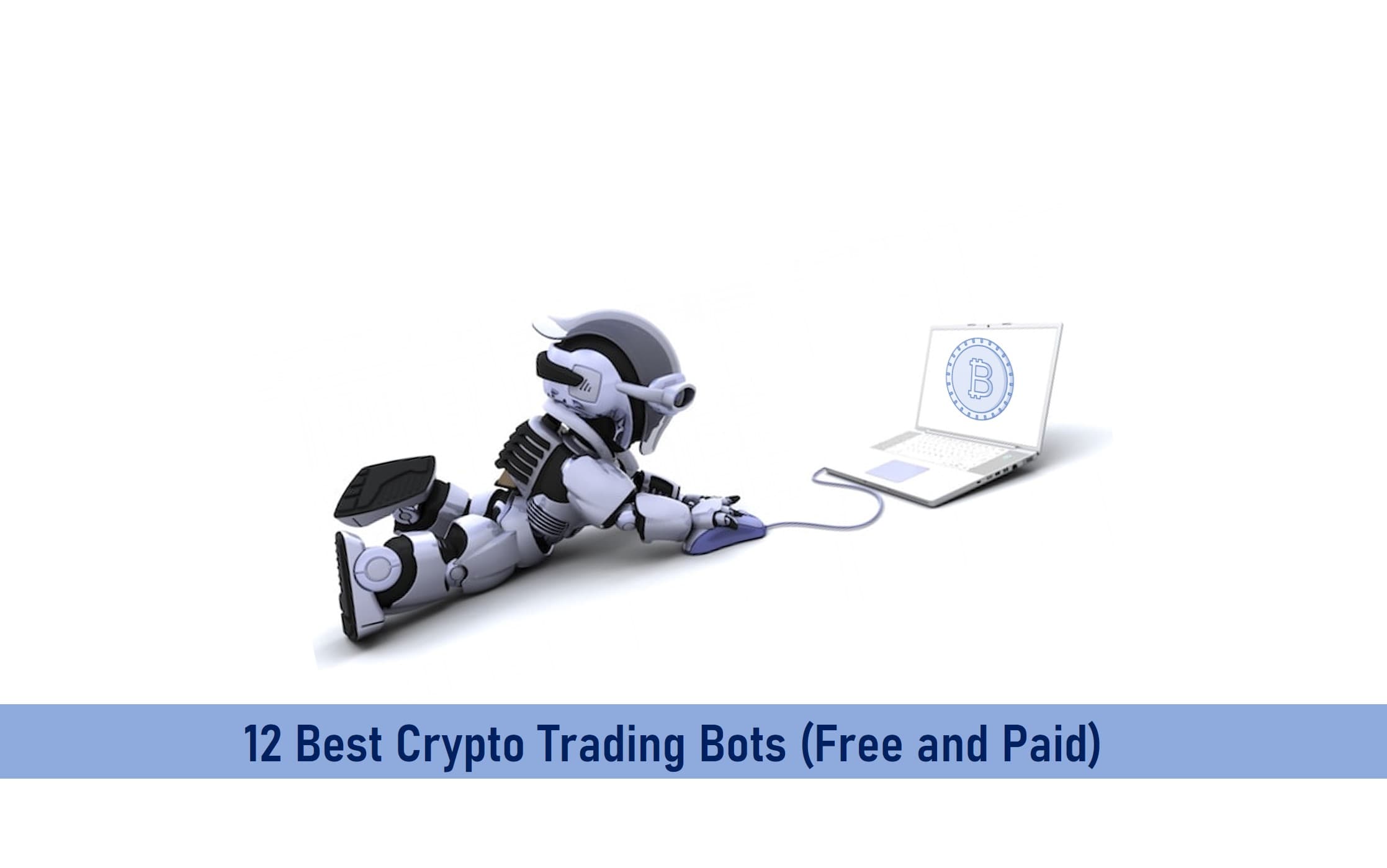 The introduction of Artificial Intelligence (AI) to trading has revolutionized the way trades are executed today. The use of programable bots has aided efficient trading.
It's important to note that bots in themselves have limitations and would perform differently in different market conditions.
Beyond trading stocks with the assistance of bots on NYSE, you can also trade crypto with bots today.
In this article, I will show you how this works and the best crypto trading bots to consider if you were thinking about installing one to your crypto trading platform.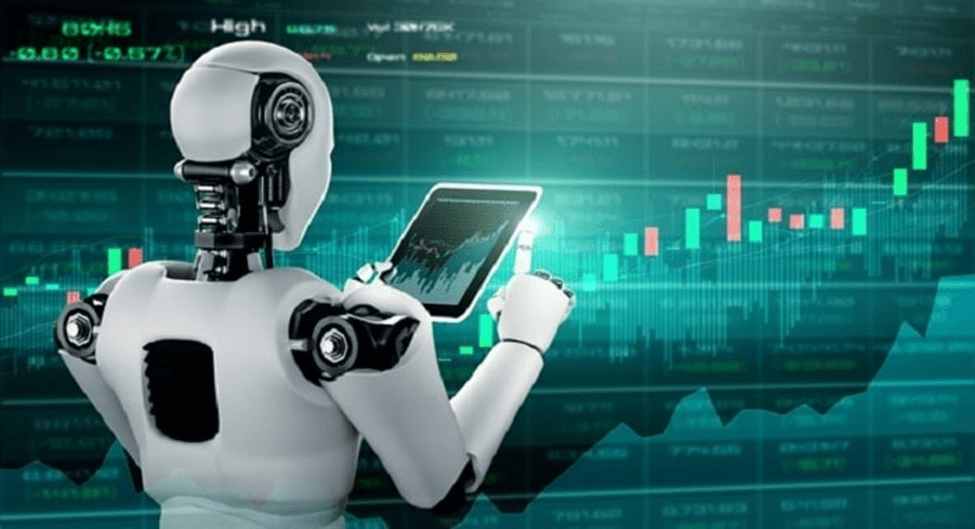 Key Takeaways
 • Crypto trading bots have grown to be a major part of the crypto market, carrying out and implementing crypto trading strategies.
 • The Bitsgap crypto trading bot is one of the best crypto trading bots at present, with support for over 25 cryptocurrency exchanges.
 • Traility is an advanced trading bot that, unlike others, requires you to have some knowledge of programming languages, particularly Python, if you want to utilize it to the fullest.
 • Pionex Bot is the only crypto trading bot listed in this article that comes completely at no cost, with up to 16 free in-built trading bots.
SEE ALSO: How To Make Quick Arbitrage Using The Bitsgap Trading Platform
SEE ALSO: 4 Best Forex Scanner Analyzers That are Free to Use
SEE ALSO: How To Arbitrage Between Crypto Exchanges For Gains
It is for this reason that crypto trading bots exist: to react quickly to crypto price changes and make trading decisions at a much faster and more efficient rate than a human ever could.
By so doing, they are prone to fewer errors and achieve better returns on funds invested in crypto.
At the end of this article, I believe that you should be able to decide which is best to use in your crypto trading journey.
Let us take a look at them in detail…
1. Bitsgap
Bitsgap is one of the best crypto trading bots out there, offering investors the ability to set up automated trading bots on over 25 cryptocurrency exchanges, including Binance, Bitfinex, and Kraken.
The Bitsgap Bot is a great ally in a fluctuating market, as when the price moves, the algorithm will automatically set "Buy" and "Sell" orders when there is the best opportunity to make a profit.
You also get to connect your exchanges and simply let the system do the hard work while you check your bot's performance in Demo mode or Backtest for free before making investment decisions.
The BitsGap trading bot is free for seven days, after which you will be charged $29 a month for the basic plan, $69 a month for the advanced plan, and $149 a month for the pro plan.
Key Features
Availability of TradingView Charts.
2. Coinrule
An important feature of Coinrule that makes it unique is that it empowers cryptocurrency traders to compete with professional algorithmic traders and hedge funds.
This trading bot also helps you set custom automated trades with the assurance that you will never miss a rally or get caught in a dip.
Coinrule also obsessively seeks out effective market indicators to enable smart allocation of funds while putting you in control of your trading machine.
In terms of its pricing plan, it has a starter free pack at no cost, but if you want to switch things up a little bit, it has a hobbyist plan at $29.99 a month, a trader plan at $59.99 a month, and a pro plan at $449.99 a month.
Key Features
Profits can be maximized while volatility is easily managed.
Trade across exchanges with confidence.
It supports over ten crypto exchanges.
3. Pionex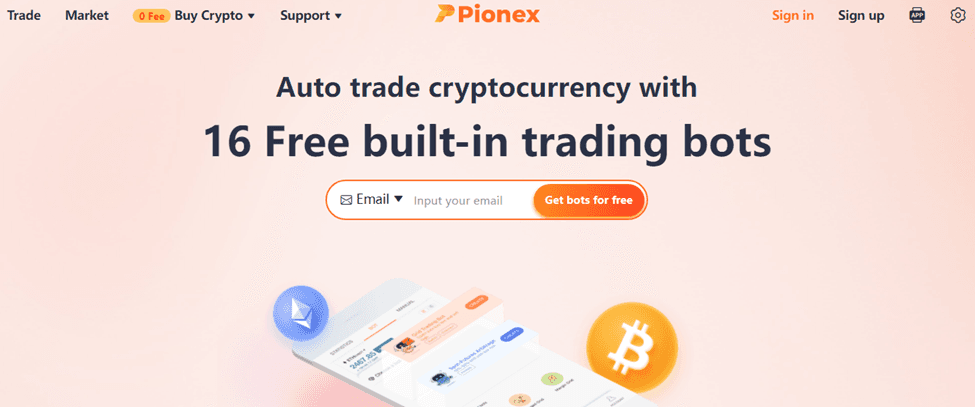 The Pionex bot can help you automatically buy low and sell high in a price range. Even when you are sleeping, working, or having a holiday, the bot never stops.
The bot can also help to buy the dip, and earn more coins than just holding it. It also utilizes the futures market, which is powered by the Binance broker system, to earn interest (a funding fee) every 8 hours, and you can invest as little as $100 with no lockup period.
One interesting thing about this bot is that you can also trade with USD, although you would need to install the Pionex lite app first as the standard version only supports cryptocurrencies.
Key Features
It has 16 free built-in trading bots.
Easily earn 15%-50% APR with extremely low risk.
It has been highly secure for 994 days.
4. Trality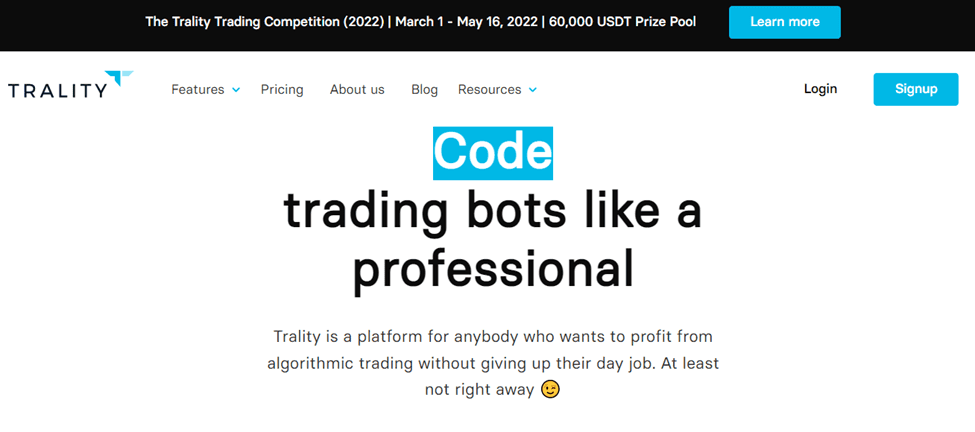 Trality is an advanced trading bot meant mostly for professionals because it requires coding. If you are a Python guru, a casual trader, or anyone in between, then Trality is just the right bot for you.
On the platform, there are two ways in which you can create your trading bot, and they include:
The Code Editor helps you leverage your Python skills and code sophisticated bots in the world's first browser-based Python code editor.
You also get to harness an ever-growing array of packages, a debugger, and a full range of ML modules to backtest and live-trade like a pro.
The Rule Builder, on the other hand, helps you benefit from automated trading without writing a single line of code.
With the Rule Builder, you get to rely on pre-defined trading strategies, select from over 100 technical indicators, and use boolean logic to arrange strategy parts.
In terms of its pricing plan, it has the Pawn plan, which comes at no cost, the Knight plan, which costs €9.99, the Rook plan, which costs €39.99, and the Queen plan, which costs €59.99.
Key Features
10M+ daily trading volume.
Trading algorithms are cloud-based.
Trading strategies are end-to-end encrypted.
5. CryptoHero
CryptoHero is a crypto trading bot software that automates your trades round the clock. On the CryptoHero platform, you can easily create a bot in minutes and run and manage it anytime, anywhere.
Its pricing plans include the Basic plan, which comes at no cost; the Premium plan, which costs $13.99 a month; and the Professional plan, which costs $29.99 a month.
Key Features
Multiple Exchange Integration
6. Profit Trailer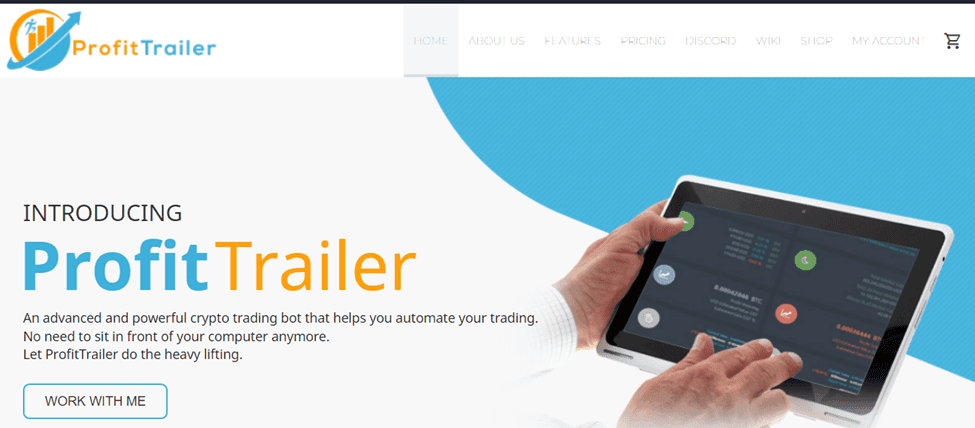 Profit Trailer is an advanced and powerful crypto trading bot that helps you automate your trading. With it, you can trade cryptocurrencies automatically on multiple crypto exchanges 24 hours a day, 7 days a week.
It has so many innovative features which show that this particular crypto trading bot is quite advanced and is unlike most crypto trading bots you have come across.
In terms of its pricing, it has a free version and a paid version. For the paid version, it has a Signals Edition which costs €30 a month, a Basic plan which costs €49 a month, and an Advanced plan which costs €69 a month.
Key Features
It has a modern, intuitive dashboard.
It features the dollar-cost averaging concept.
It has a possible buy where you can see the potential trades for profit.
It has a "pairs" feature where you get an overview of all your purchased coins.
7. HodlBot
HodlBot is a customizable cryptocurrency trading bot that enables users to index the market, create custom portfolios, and automatically rebalance their cryptocurrency portfolios.
HodlBot is free to try for the first 7-days and after that, you will be asked to subscribe to a paid subscription of $3 a month if your account value is under $500, $6 a month if your account value is $500-$1000, and $14 a month if your account value is over $1000.
Key Features
It supports four (4) crypto exchanges.
400K+ transactions.
20K+ custom portfolios were created.
8. Gunbot
Gunbot is a crypto trading bot that you can use to generate profits by automatically executing your trading strategies.
What sets Gunbot apart from other bots are its innovative strategies, speed, extreme flexibility, and awesome user community.
In terms of pricing, Gunbot has the Gunbot One plan, which costs $99, Gunbot Standard, which costs Ƀ 0.0075, Gunbot Pro, which costs Ƀ 0.0105, and Gunbot Ultimate, which costs Ƀ 0.0175.
Key Features
It runs on your computer.
No limits for power users.
9. BotCrypto
BotCrypto is the first web platform where you can easily create your trading bots for cryptocurrencies. You can automatically trade Bitcoin (BTC), Ethereum (ETH), Litecoin (LTC), and many other cryptocurrencies.
Its pricing plan includes the Discover plan, which comes at no cost, the Bronze plan, which costs €9.99 a month, the Silver plan, which costs €29.99 a month, the Gold plan, which costs €59.99 a month, and lastly, the Custom plan.
Key Features
No coding skills are required.
Get risk-free instant feedback.
Create trading strategies.
10. Cryptohopper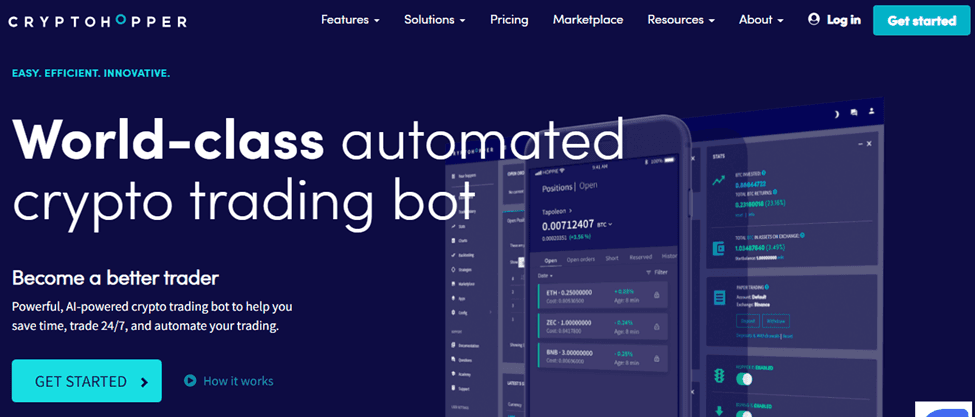 Cryptohopper is a powerful AI-powered crypto trading bot that can help you save time, trade 24/7, and even automate your trading.
With Cryptohopper, you can also manage all your exchange accounts in one place, subscribe to trading signals, discuss trading strategies, and buy bot templates.
The price plans include the Pioneer plan, which is free; the Explorer package at $19 a month; the Adventurer package at $49 a month; and the Hero package at $99 a month.
Key Features
Algorithm intelligence (AI).
10. Botsfolio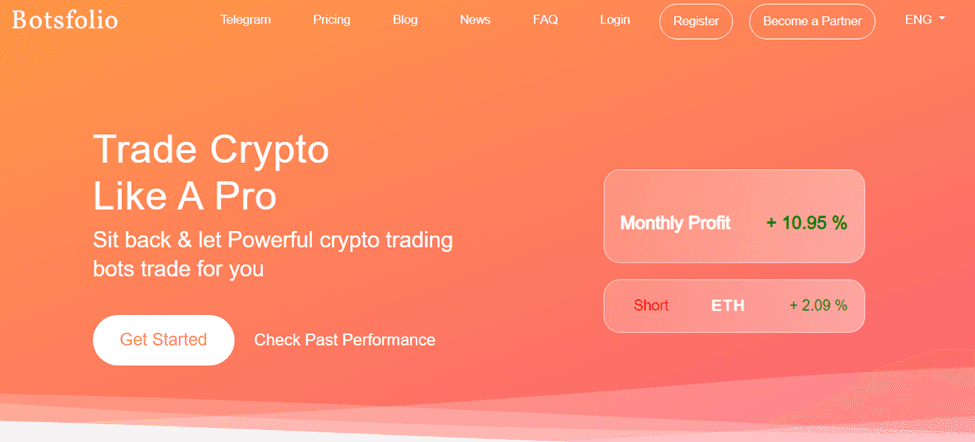 Botsfolio is a crypto trading bot that requires no knowledge to begin as it is automatically deployed with professional investment strategies.
In addition to this, Botsfolio has the best risk management intelligence incorporated into its bots, which means that your investments are in safe hands and you have nothing to worry about.
Its pricing plans consist of $5 a month if your portfolio value is $1K-$3K, $10 a month if your portfolio value is $3K-$10K, $15 a month if your portfolio value is $10k-$50k, and $20 a month if your portfolio value is $50k-$100k.
Key Features
No trading or coding skills are required.
It supports three crypto exchanges.
11. Shrimpy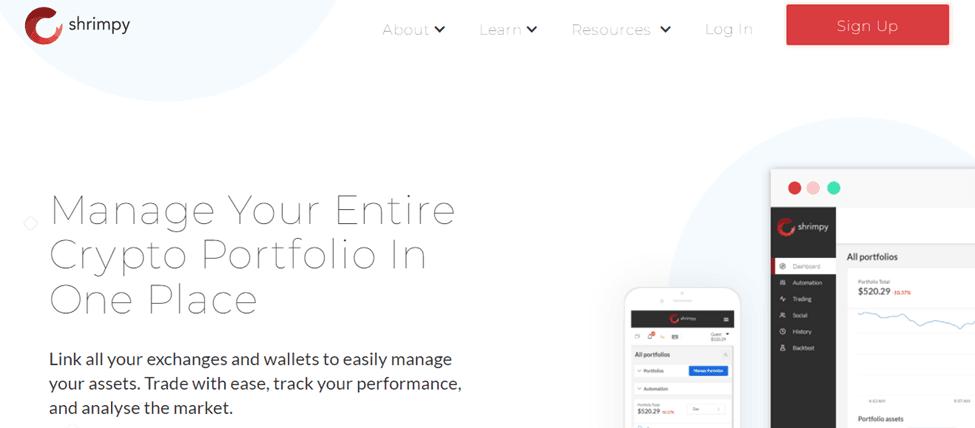 Shrimpy is the one place you can connect all your wallets and exchanges, manage your entire portfolio through a single portal, and monitor the market in real-time.
You can also study trading strategies with their advanced portfolio backtesting and you can use their comprehensive set of precise market data to construct the most accurate strategy profiles in the market.
In terms of pricing, the starter plan is $15 a month, the professional plan is $63 a month, and the enterprise plan is $299 a month.
Key Features
You can link over 30 exchanges and wallets.
Frequently Asked Questions (FAQs)
How effective are trading bots?
Trading bots are highly effective as they work round the clock with very high accuracy using advanced AI.
Research also shows that up to 80% of the overall crypto trading volume is undertaken by trading bots.
Can a trading bot generate huge profits for investors?
Yes, a trading bot can, but an investor would have to be well experienced to properly utilize these bots to generate huge profits, otherwise the opposite will happen.
Final Thoughts
Trading bots are highly effective and can achieve better results in trading than most experienced traders. Therefore, it is an invaluable tool to have when engaging in the world of crypto trading.
Read More