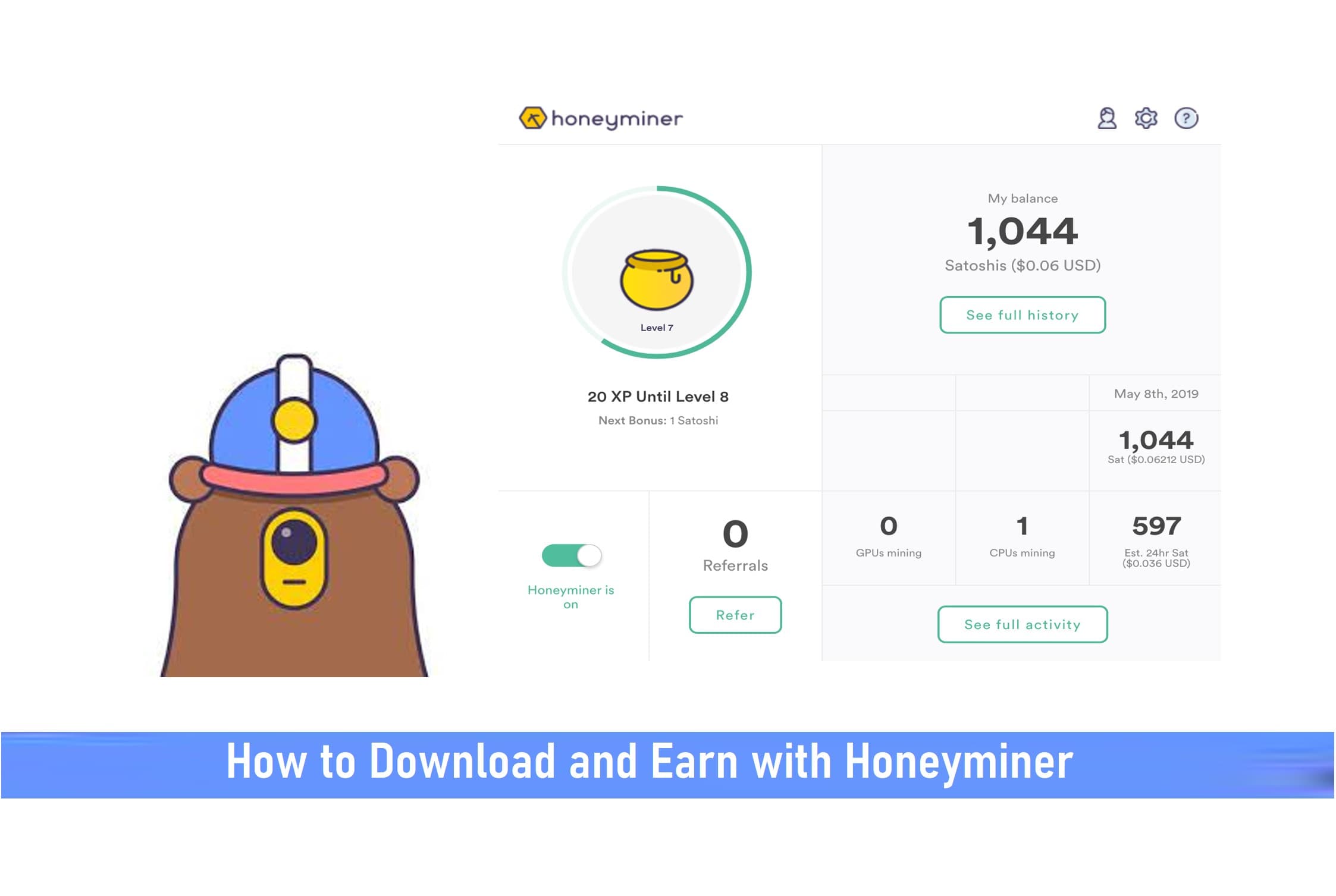 CPU Mining
Cryptocurrency mining has shown to be quite profitable over time. Quite a good number of crypto enthusiasts have gotten wealthy over the years from accumulating tokens gotten from mining operations.
Mining is not an easy operation since it necessitates the use of powerful mining hardware to solve each cryptographic challenge to mine a block. Because the procedure uses a lot of energy and computer resources, only a few people have access to them.
Fortunately, with technological advancement, mining pools have created systems that enable crypto investors to participate in mining using their CPUs.

Honeyminer is one of the mining platforms that give access to individuals interested in mining. This article explains how to download Honeyminer, and how to earn passive income mining cryptocurrencies.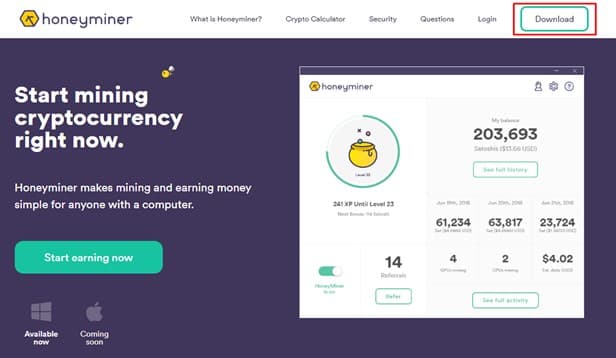 What is Honeyminer?
Honeyminer is sophisticated cryptographic cloud mining software designed to mine crypto on CPUs. It enables users to passively mine and earn a fraction of cryptocurrency mined
In 2018, Stax Digital, the brain behind Honeyminer, headquartered at Hoboken, New Jersey and headed by Jessop Noah (CEO), started its mining activities with the sole aim of enabling interested investors who could not afford to run a personal mine to participate in mining activities.
Honeyminer started with Bitcoin mining; however, it now mines a vast number of cryptocurrencies. As a result, it has gathered a broad client base in over 180 nations over the years.
Although it is not the first crypto mining software, Honeyminer is said to have one of the best and all-around secure mining platforms in the crypto space.
Furthermore, the mining hardware includes algorithms that allow miners to select the best coin based on their CPU capabilities. As a result, if your computer isn't powerful enough to mine Bitcoin, the system will analyze different altcoins and select the best one for your mining profitability. Because this process is automated, it saves you time allowing you to earn passively.
How Does Honeyminer Work?
Honeyminer features are remarkable among other mining software. Your account would be credited with 1000 Satoshi after registration.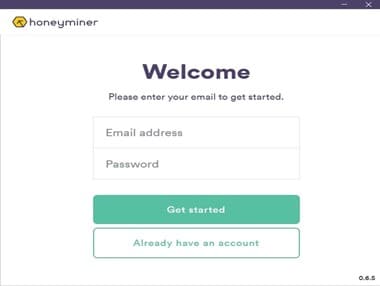 Mining with Honeyminer requires no special attention, meaning that your presence is necessarily not required.
However, you need to provide enough hash power generated from running your GPU or CPU; hence you do not need any specialized tool or expensive ASIC (Application-specific integrated circuit) to run it.
Hash power is determined by the plan you subscribe to. Hash power is measured in Gigahertz per second GH/s or Megahertz per second MH/s depending on the platform's measuring unit.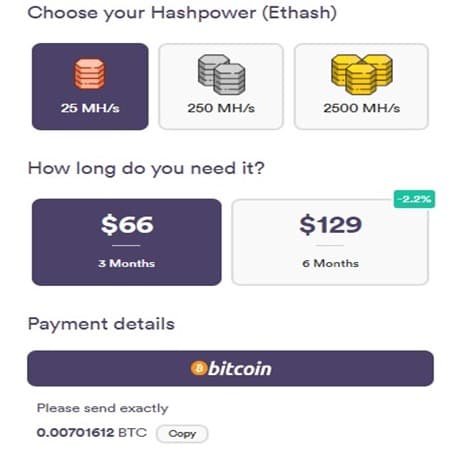 Honeyminer has a Crypto Calculator that helps you determine your earning potential upfront before you start your virtual mining operations.

 The platform is also compatible with many other platforms as it can be used on a wide variety of computers ranging from old desktops to new systems.
Users can easily check their mining status, and edit their data anytime through streamlined applications on Android and iPhone mobile devices.
Honeyminer secures its framework with a Secure Socket Layer and two-way data encryption and cold storage to fortify its security system. These measures make it safe and secure for investors to use without fear of their accounts being compromised.
For coin storage, Honeyminer supports cold or hot wallets such as Coinbase and ledger wallets to keep your cryptos. It has a responsive customer service that is readily available to put users through and help them solve any cryptographic issue they face during their mining process.
On its website, you can either reach out for help via the live chat or through the ticketing system where you would input your GPU information, and you can also upload images of the issues you are facing on the system.
How To Download and Set It Up?
Downloading Honeyminer is straightforward. Your first step is to go to the website, check the homepage, and click on the "Download" button at the top left corner.
Download and install the app on your computer, then start the registration process by inputting your email, password, and other details.
After you have logged in, you would be welcomed with an easy-to-use interface, revealing icons such as Honeymeter, credits and balance tabs, and a menu where you can check your activities.
However, mining does not start automatically. You have to permit it by clicking the green "On" button; after that, your PC is ready to start mining after buying a plan.
How to Earn with Honeyminer
There are two ways by which you can earn on the Honeyminer software, they include:
1. The Honeyminer Software: This software is available for free download and installation on your computer.
It is a simpler and less expensive method that requires you to download and run desktop software in the background of your computer to earn passively.
2. The Hotel Honeyminer: This is the premium version; it offers you the opportunity to get more hash power directly from the mining pool at a small price to increase your earning chances.
It helps you to earn more and avoid the huge costs of buying and maintaining the mining tools.
Generally, the power of your GPU determines your earning rate.
Regarding earnings, you can earn multiple cryptos at the same time. Note, however, that you cannot mine Bitcoin because of its high energy requirements and that the software determines which coins can be mined. Payout of earnings are in Ethereum or Bitcoin.
How Do I Withdraw My Earnings on Honeyminer?
You can easily request for withdrawal of your earnings by filling the provided withdrawal form. It takes less than 48 hours for your request to be processed.
Once granted, your earnings will be paid into your connected wallet (online or offline). Note that a transaction fee is always deducted from the total earning.
SEE ALSO: Dogecoin Mining Essentials: How to Mine Dogecoin on PC
Honeyminer Fees
In terms of pricing, HoneyMiner is one of the top cloud mining programs, as you are not required to pay for maintenance, unlike many other mining software services. You will, however, be responsible for the pool fees.
The pool fee is charged based on the percentage of your mining, and it is determined by the number of GPUs you are using.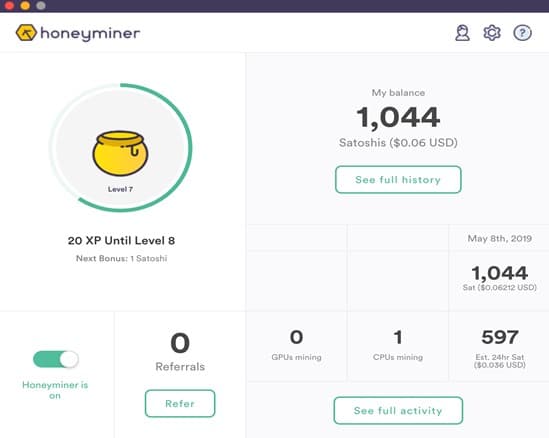 For example, 1 GPU will cost you 8% of your mining, while 2 GPUs will cost you 2.5% of your mining. Hence the more GPUs you control, the lesser fee you will pay and the more income you will earn.
Also, you can use more than one GPU on your account, meaning you can operate a single account on multiple computers that are interlinked to increase your earning prowess.
For the premium version, Hotel HoneyMiner, you will have to pay the fee that corresponds with the quantity of hash power you want. The three significant hash power offered on the payment platform are 23 MH/s, 250 MH/s, and 2500 MH/s.
The 25 MH/s costs $66/3 months and $129/6 months.
The 250 MH/s costs $660/3 months and $1,254/6 months.
The 2500 MH/s costs $6,270/3 months and $10,000/6 months.
SEE ALSO: 5 Best Bitcoin Mining Hardware with Low Running Overheads.
Final Thoughts
If you're a crypto enthusiast who wants to earn by participating in cloud mining Honeyminer is an excellent option to consider.
Read More