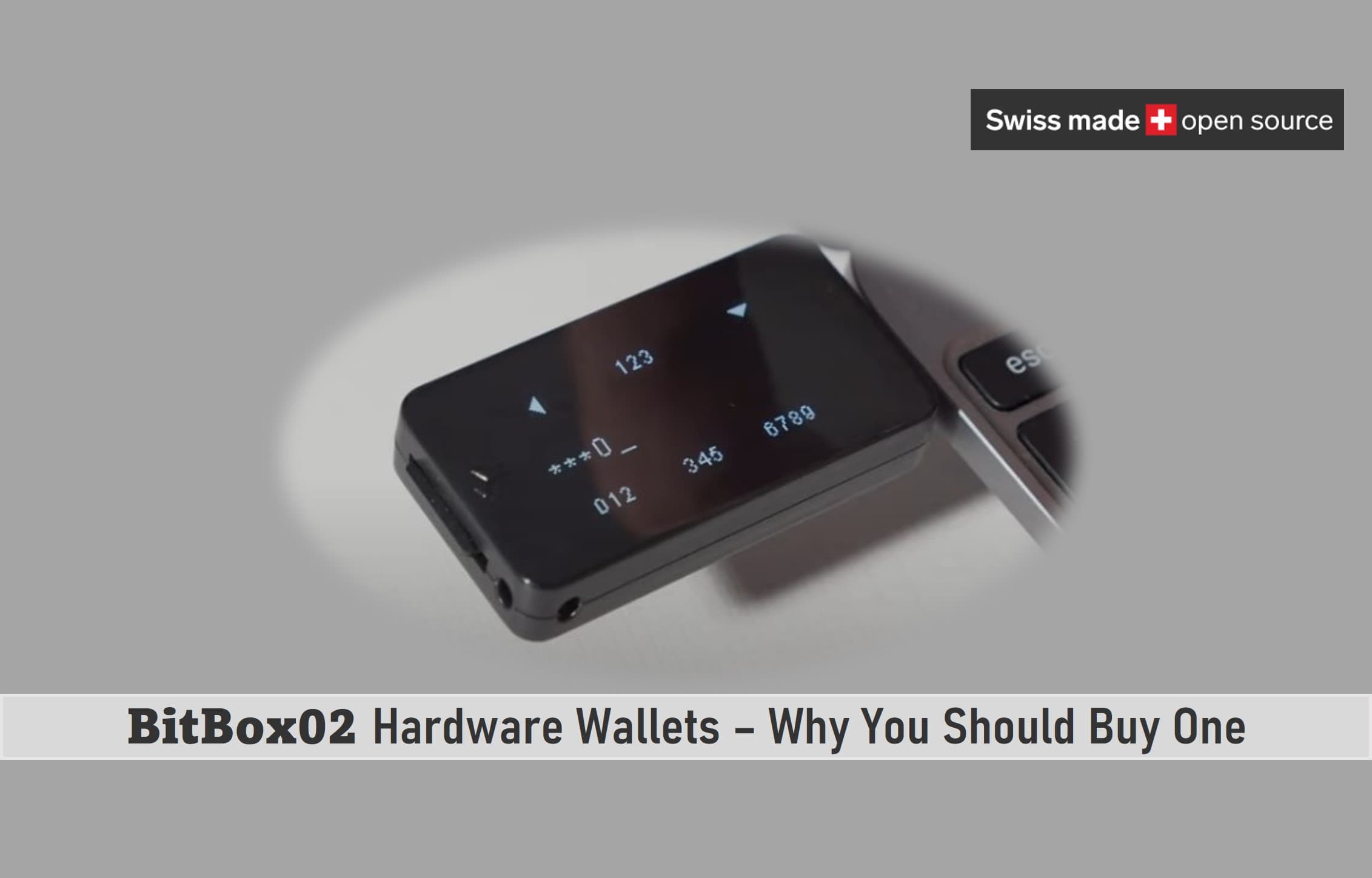 This post contains some affiliate links
BitBox02 – The New Model of Hardware Wallets
Tatiana Koffman, Forbes had this to say about the BitBox02 model of hardware wallets…

The BitBox02 wallet was created in 2018 by a Swiss manufacturer Shift Crypto AG. BitBox02 Wallet is a modern and a more sophisticated version of Shift's BitBox01 hardware wallet.
Sophistication in this case does not mean difficult to use, but the BitBox02 offers more security, quality, and a lot of features any crypto owner would love. But don't take my word for it.
I'll explore all aspects of this hardware wallet and see what it has to offer.
First, the BitBox02 has two versions: The BitBox02 Multi edition and the BitBox02 Bitcoin-only version.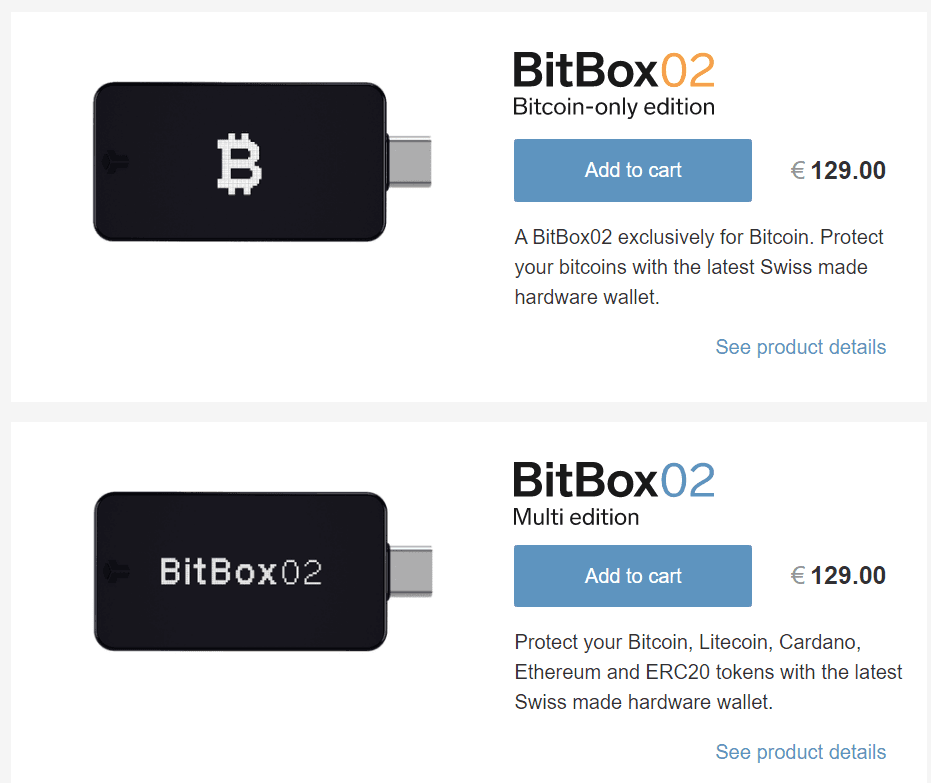 At a glance, The BitBox02 Multi edition appears to have more capabilities than the BitBox02 Bitcoin-only version, especially with the inscription on the face of the device.
However, both devices are of the same size (72 x 18.6 x 11.75 mm). Again, the BixBox02 has hidden sensors all over the device and an amazing OLED display screen.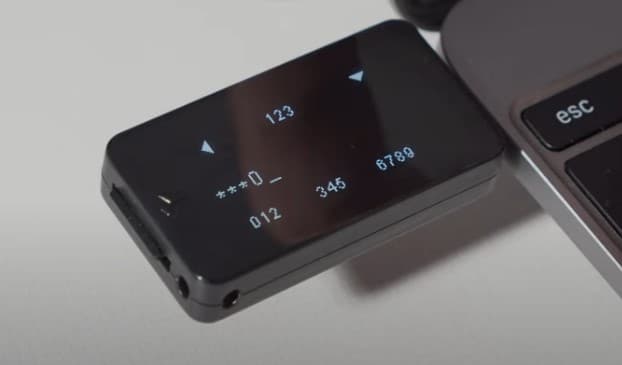 Let's then take a look at their features as well as what sets them apart from other hardware wallets around.
Key Features: BitBox02 Multi edition and BitBox Bitcoin-only Wallets
 • Amazing OLED display screen for smooth and easy navigation. 
• Sensor-controlled buttons for faster and better software responsiveness.  
 • BitBox02 multi-currency version supports over 1500 cryptocurrencies.
 • The Bitcoin-only version was strictly developed for Bitcoin owners and offers more protection.
• The BitBox wallets run on an Open-source software that is developed by many people with a right to use, study, and modification option for end users.
 • BitBox wallet has a micro SD card and a steel wallet apocalypse–proof backup.
 • Both wallets has a tough polycarbonate material on its exterior which makes it durable.
 • Both wallets boast of a simple and easy-to-use interface.
Comparison: BitBox02 Multi edition Vs. BitBox Bitcoin-only Wallet
| | | |
| --- | --- | --- |
| Features | BitBox02 Multi edition | BitBox Bitcoin-only |
| Year | 2018 | 2018 |
| Compatible assets | Over 1500 cryptocurrencies like Ethereum, Stellar, Cardano, Litecoin. | Bitcoin only |
| Setup | BitBox02 App | BitBox02 App |
| Security | Seed phrase protection, brute-force protection, device password hardening | Seed phrase protection, brute-force protection, device password hardening |
| Size | 72 x 18.6 x 11.75 mm | 72 x 18.6 x 11.75 mm |
| Connector | USB Type-C extension, USB type –A adapter | USB Type-C extension, USB type–A adapter |
| Price | €139 | €139 |
| | | |
More Comparisons: BitBox02 Vs. Trezor & Ledger Nano X wallets
| | | |
| --- | --- | --- |
| BitBox02 | Trezor Model T | Ledger Nano X |
| Fast and easy setup. Backup on micro SD | Must manually write down seed phrase as there is no instant micro SD backup | Must manually write down seed phrase as there is no instant micro SD backup |
| BitBoxApp and firmware are fully open source | Runs on an Open-source software | Crypto firmware runs directly on-chip which is protected by non-disclosure  agreements |
| Dual chip design using a secure chip | Protection against attack with physical access to the device is not guaranteed | Single-chip protection |
| Store Multisig account on the device | Does not automatically verify co-signers safety | No receiver address verification |
| Bitcoin account which automatically include all supported script types | Separate account for Bitcoin script types needed | Separate account for Bitcoin script types needed   |
| Supports Tor | Supports Tor | Does not support Tor |
| €139 | €159 | €139 |
| | | |
BitBox02 – Inside the Box (Packaged Items)
When a BitBox02 wallet is purchased from its official website or another genuine vendor, it is shipped, sealed in a plastic bag (see image below).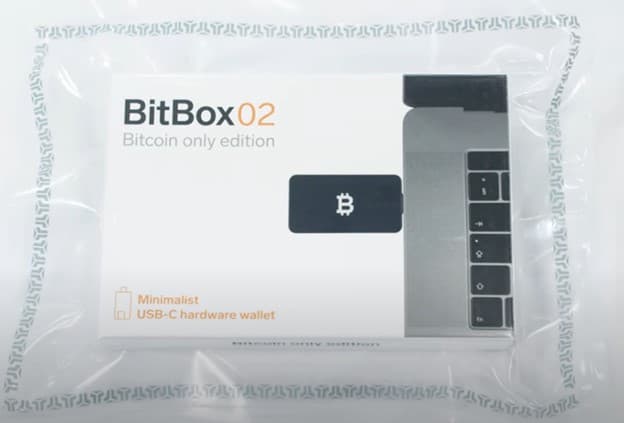 Take note of the BitBox logo all around the edges, this serves as a security or authenticity check on the wallet. So, if you received your BitBox hardware wallet with its plastic bag broken, it's advised you return it to the store you ordered it from, it may be a counterfeit.
On opening the plastic bag, there is a two-layer carton box that conceals a black box. On opening the black box, there is a guide that shows the three basic gestures; tap, slide and hold to operate the BitBox02.
BitBox02 has no visible control buttons.
Unboxing a BitBox02 Hardware Wallet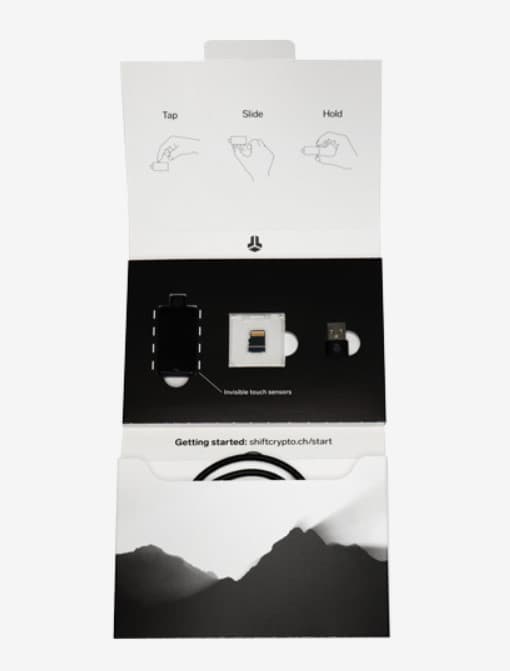 On pulling the first layer from the box, you will see your newly purchased BitBox02 hardware wallet, a USB-C to USB-A adapter, an 8GB microSD card. Underneath is an enclosure where you can see stickers and accessories like the USB-C extension cable and the user manual.
Then comes the carton space includes that instruction leaflet directing user  https://shiftcrypto.ch/start to begin the setup, it is from here that you are taken to a page that you can download the BitBoxApp for the operating system compatible with your computer.
The two sides of the device are embedded with touch sensors so that users can be able to perform three input gestures: swipe, tap and hold.
BitBox02 has a USB type C port which means you can connect to your phone or computer without the use of a cable. Meanwhile, you can find an adapter for USB type A, an extension cable, and lanyards in the box.
Unlike the earlier version, BitBox02 comes with a screen that is neither too big nor too small.
How to Setup BitBox02
Below is an easy guide to set up the BitBox02.
Download the BitBox02 App compatible with your device; there are Windows, Android, and macOS versions available to install on your computer.
Insert the backup SD card into the device, then proceed to insert the device into your computer. A prompt will appear on your screen to update the firmware which you should click.
After the upgrade has been successful, verify the pairing code prompted on your computer screen as the same as that on the BitBox device. Click continue on the screen.
Go to create wallet and back it up, give the wallet a name. Go ahead to select a password on your BitBox device, by tapping the button on the side of your BitBox app.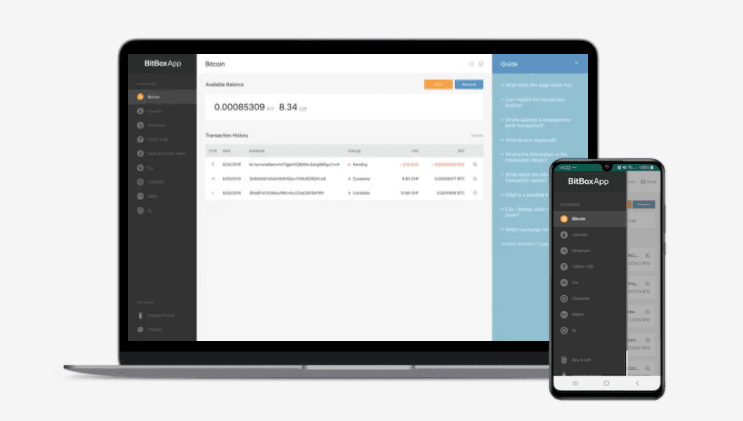 Create your backup phrase, to restore your wallet in case of loss or damage (it is advised not to use the backup micro SD with any other device apart from the BitBox).
Then create a continue where the device will create a random private key. Once the backup has been created, you can remove the SD card and keep it in a safe place.
Then synchronization of your wallet with blockchain. (For added safety, you may click on manage device on your computer to write down your private key in a jotter or a piece of paper).
Click on the receive option on your computer screen, to reveal the receiver address, from here, you can send cryptocurrency to your receiver address. The BitBox 02 device can be paired with the app by using the BitBox bridge.
With the built-in touch sensors on the sides of the device, to select an option, tapping motion is used while pinching is used for confirming.
On selecting your password to unlock the device, a dashboard will be shown with the Bitcoin app shown by default.
You can choose the cryptocurrencies to interact with (for the multi-coin BitBox02) and also change fiat currencies through the manage device settings.
BitBox Software
The BitBox desktop app offers support to windows, Linux, and macOS.
When you power the device, you are required to insert your microSD card. The reason is to back up the users' private keys to the memory card.
BitBox Hardware
BitBox uses the ATSAMD51J20A micro-controller. It also uses the ATECC608A to provide additional security to private keys against hacks.
User Experience and Reviews
The first thing that gets the attention of a new user is the ease-of-use of the device and perhaps what others have said about it.
With easy navigation gestures, BitBox02 is a user-friendly device, although they might be a bit clunky at first to the less techy person.
Users of the BitBox hardware products and other notable product review critics have let comments about the BitBox, let's see a few…
SEE ALSO: BitBox02 Vs Ledger Nano X (Which Supports More Coins)?
SEE ALSO: 7 Reasons Why The BitBox02 Hardware Wallet Stands Out For BTC Storage
Frequently Asked Questions(FAQs)
Apart from the Micro-SD card, what other backup options are available?
• There is the steel wallet apocalypse-proof Backup that can survive radiation, corrosion, fire, and other extreme conditions.
How Safe are BitBox Wallets?
• There is a universal Two Factor protection for online accounts, also, there are bootloaders that prevent the installation of the firmware of different editions or downgrades.
• Each BitBox device has a signed firmware that confirms the authenticity of the device anytime it is connected with the BitBox app.
Final Thoughts
The BitBox wallets are very secure and easy to use devices. Considering other options in the market, the wallets are very efficient, open-source, and very easy to navigate. Check BitBox.
Read More