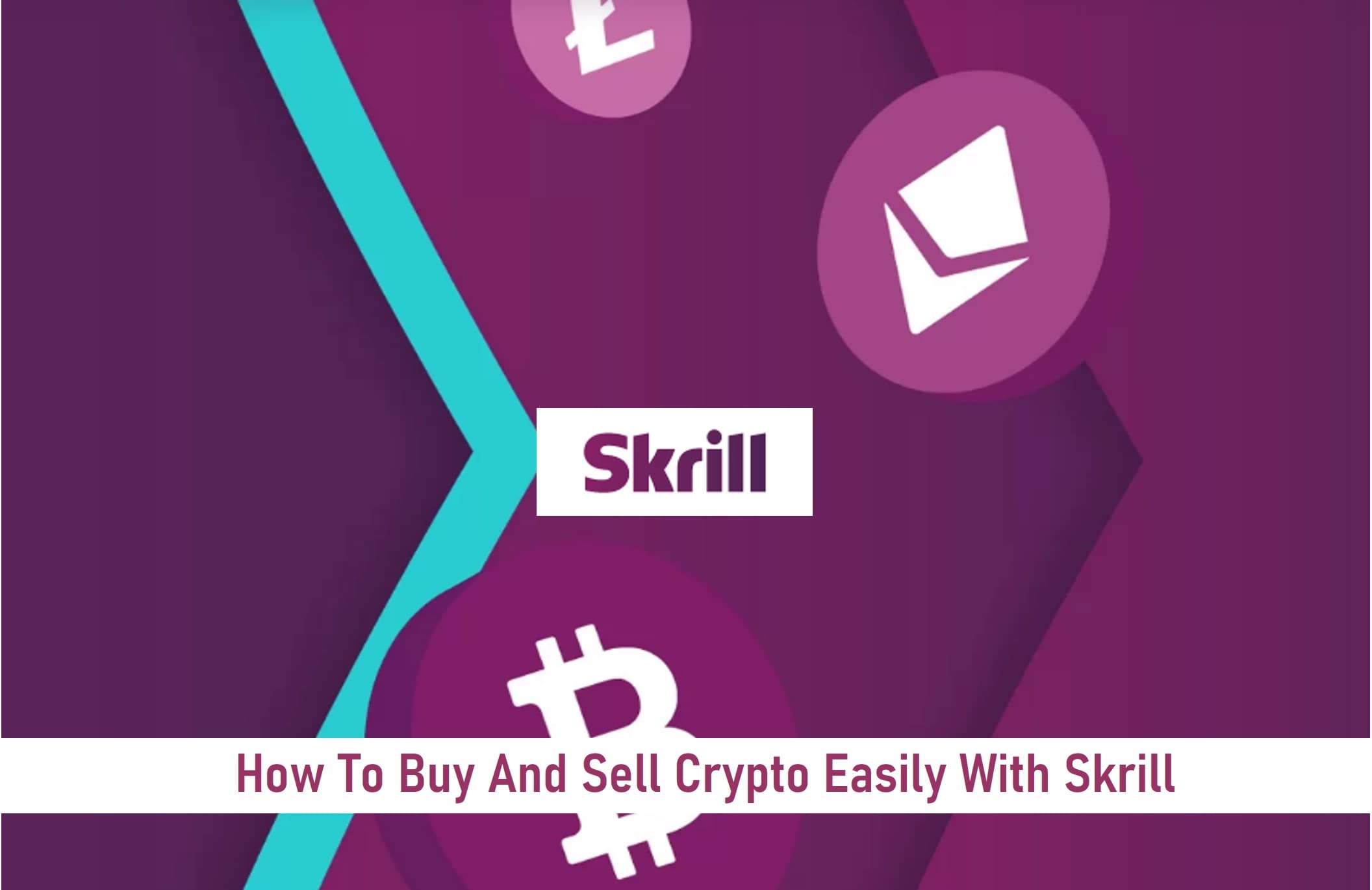 Skrill is a digital wallet provider that offers a range of payment and money transfer services to its users. Skrill was created in 2001. 
With the flexibility of payment systems, Skrill has included cryptocurrency as a means of payment. This simply means you can buy crypto with any of your trusted e-wallets.
Skrill is not a cryptocurrency exchange.
key Takeaways
• Skrill allows you to instantly buy and sell cryptocurrencies with no need for extra authentication, making it simple to get started.
• With skrill investors can convert 40 fiat currencies to cryptocurrency in a matter of seconds and profit from market fluctuations straight immediately.
• Skrill accepts over 100 different safe payment methods, allowing you to fund your cryptocurrency transaction any way you want.
• Bitcoin, Ethereum, and Litecoin are just a few of the 40+ cryptocurrencies you may exchange from your local currency.
SEE ALSO: Ledger Nano S PLUS Vs. Ledger Nano X (Best Comparison)
SEE ALSO: KeepKey Wallet Vs. Ledger Nano S Plus (Best Comparison)
Originally, just like Paypal and Payoneer, skrill is an e-commerce payment gateway that allows payment on the web. Skrill was formerly known as MoneyBookers and offers the same services to both businesses and individuals who use the platform.
Due to the growth, popularity, changes, and demands of the crypto market, skrill decided to provide a solution for investors to buy and sell cryptocurrencies on its platform. This certainly became a major milestone in the crypto space and now people want to know how it works.
And so, this post is meant to educate you on everything you need to know on how to buy and sell crypto with skrill. By the end of reading the full guide, you should be able to buy your first crypto assets with the skrill platform.
How Skrill works
Skrill makes it simple to send money online between Skrill accounts. It's fairly similar to PayPal, with the distinction that its regulatory standards are substantially more permissive.
All you need is an email address to sign up for a Skrill account. The account can then be funded using a bank account, a debit card, a credit card, and Neteller.
Skrill allows consumers to invest in specific cryptocurrencies by purchasing them directly from their accounts.
You can buy coins, but you won't be able to withdraw them to a crypto wallet. The sole option is to convert them to fiat currency and withdraw the funds to your card or bank account.
You can buy the following cryptocurrencies using Skrill:
Bitcoin (BTC)
Ethereum (ETH)
Litecoin (LTC)
Bitcoin Cash (BCH)
Ripple (XRP)
EOS (EOS)
Stellar (XLM)
Ethereum Classic (ETC)
0x (ZRX)
Tezos (XTZ)
Dash (DASH)
Kyber Network (KNC)
Because it offers low fees, this strategy is appropriate if you're merely wanting to speculate on the price. If you need to utilize your coins, however, this won't help you much.
The following are the approximate costs for this procedure:
Fees for deposits (in fiat) range from 0% to 1%.
1.5 percent exchange charge (from fiat to crypto)
This assumes you're using EUR; if you're using your currency, costs can reach 5.5 percent.
As long as you check in at least once every 12 months, there are no continuing costs for keeping your Skrill account active.
How to buy and sell crypto easily with skrill
1. Deposit into your Skrill account.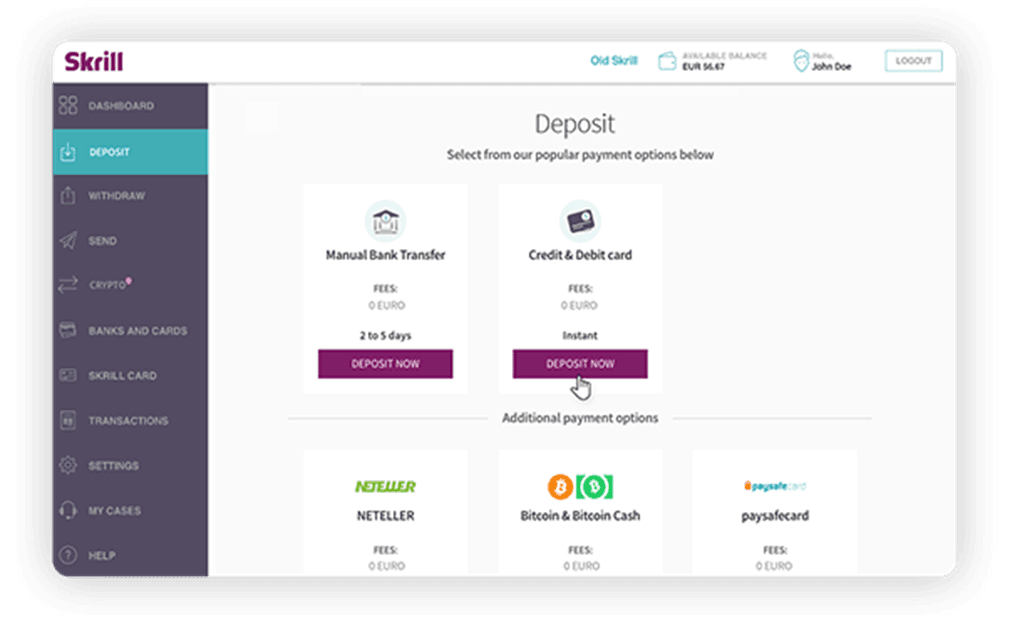 You must first fill out your Skrill account because you will be purchasing cryptocurrency with funds from your Skrill wallet.
When adding money to acquire crypto, you have a variety of payment options, including credit card, bank transfer, and other alternative payment ways.
2. Select the crypto option from the drop-down menu.
Select Crypto from the left-side navigation on your home screen dashboard.
We'll ask you to accept the risks and our terms of service here.
3. Decide which cryptocurrency you want to purchase.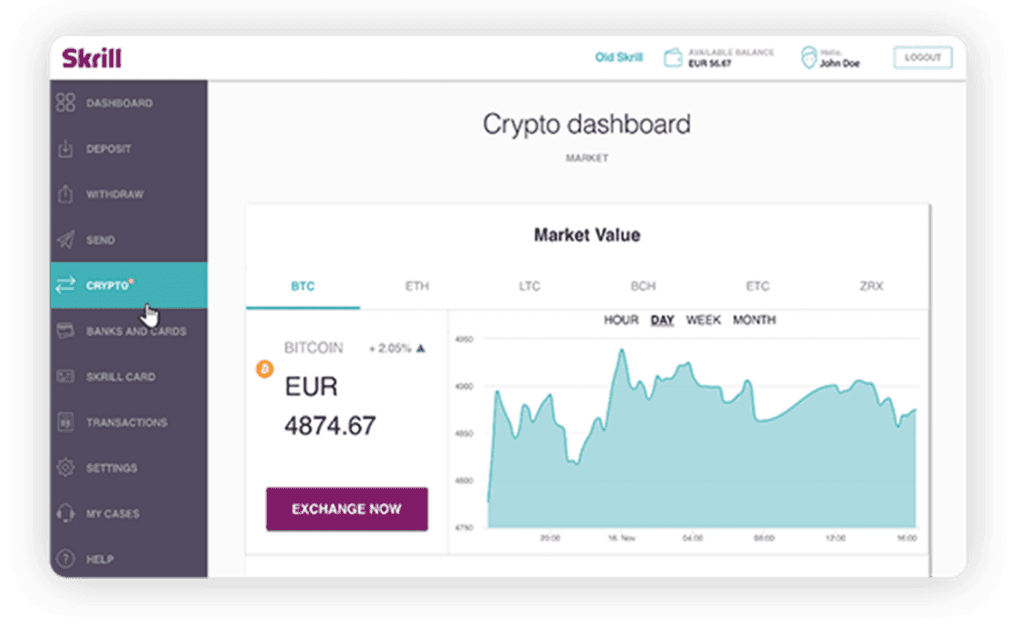 Select the cryptocurrency you want to trade from the 'Market data' tab, then click the Trade button.
4. Enter the amount of money you want to spend
Skrill will provide a real-time exchange rate.
Skrill will automatically compute the amount you get based on this rate when you enter how much you want to spend.
5. Verify and confirm your cryptocurrency payment
Make sure the exchange rate and the amount are correct. If you're ready to go forward, click 'Confirm' to finish the purchase.
Things to do before you buy and sell crypto on Skrill
When it comes to getting started in buying and selling cryptocurrency, many beginners are not sure of where to start. That's why we've put together these simple things to do before trading on skrill.
Step 1: Learn the fundamentals.
Anyone new to cryptocurrencies should start by understanding the fundamentals of how crypto works. For a good introduction, read other articles from this blog.
After you understand how it works and which cryptocurrencies are available, you can go to the next step by creating a skrill account.
Step 2: Create a Skrill account.
Next, create a cryptocurrency wallet so you may make your first purchase when the time comes.
Skrill allows you to easily convert 40 currencies into cryptocurrency, including Euros, US Dollars, and British Pounds. It's a great method to build your portfolio quickly, conveniently, and securely, with more than 10 cryptocurrencies available, including Bitcoin.
➡ Click here to create a skrill account
Step 3: Educate yourself on cryptocurrency.
Develop a thorough understanding of the broader crypto market. You can learn more about essential techniques by visiting numerous other blogs, and we have several articles to assist you.
For example, you can learn more about dollar-cost averaging (purchasing the same amount of cryptocurrency on the same day every month, regardless of its value) or research the histories of some of the most popular cryptocurrencies. You may also see how cryptocurrency links to the stock market as a whole.
Step 4: Choose the coins you want to purchase.
You should be comfortable enough to choose a final digital currency or currencies to concentrate on. Now is an excellent time to conduct an in-depth study on those cryptocurrencies, paying special attention to price graphs, news, major events (such as Bitcoin's halving), and significant metrics.
Step 5: Get started with trading
You're now prepared to make your first cryptocurrency purchase. Remember to take one step at a time when you're first starting, and you'll be able to buy and sell with confidence.
Final Thoughts
With the ever-growing crypto market, skrill has found a way to help solve investors' problems by allowing easy access to buy and sell crypto on their platform.
And so, if you are looking for an easy stress-free way to buy and sell crypto then Skrill is one option you should check out.
Read More