The ZenGo wallet comes with a unique twist, different from the operations of most other wallets out there. The twist is that you do not need a "password" to access a ZenGo Wallet.
How possible or safe can that be?
ZenGo wallet uses facial recognition technology in creating an account for its users without the need for a password.
In this article, I will explain how that works and other unique features of the ZenGo Wallet. We'll also examine the safety of the "no password" feature of the ZenGo wallet.

Key Takeaways
 • The ZenGo wallet offers a three-factor authentication feature which is quite different from the two-factor authentication present in most crypto wallets.
 • As long as users have access to the facial scan, their email, and their recovery file, they will be able to access their accounts.
 • The facial scan is a strong security feature of the ZenGo wallet which cannot be compromised. This feature further concludes why users only sign up on ZenGo from their mobile devices.
This article explores the safety of the ZenGo wallet and how users can contribute to ensuring that their crypto assets are secure.
SEE ALSO: How to Sign up on ZenGo Wallet Without a Password
What is the ZenGo wallet?
The ZenGo wallet is a crypto mobile wallet available on both the Google Play Store and Apple Store. With this wallet, users can safely store their crypto assets with ZenGo's world-class security.
Apart from storing crypto assets, users can also access the web3 platform using ZenGo's WalletConnect, which serves as an interlinking bridge between wallets and web3 applications.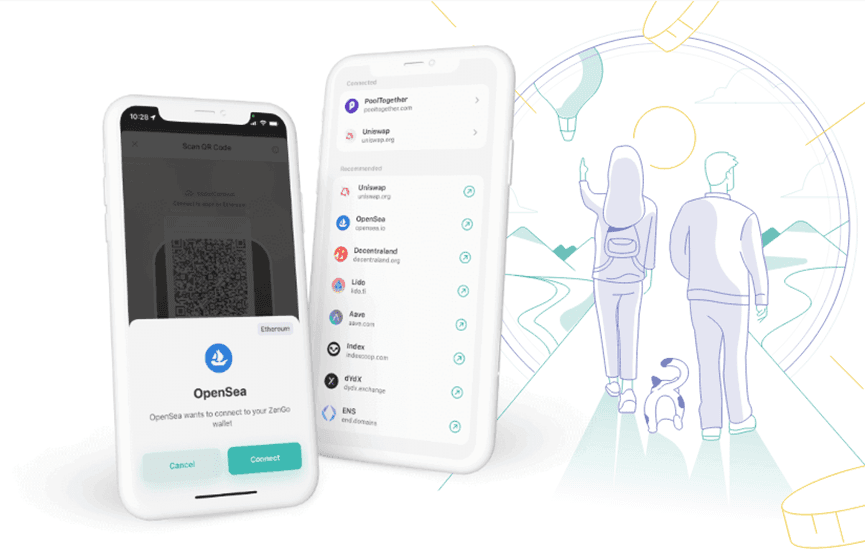 There are also NFTs and DeFi which users can access, as well as crypto swapping should they need to make use of this feature.
How Safe is the ZenGo wallet?
Now to the question of the day: the ZenGo wallet has features one you can ever find in a crypto wallet.
A common security feature you will find in other wallets is the 2FA (two-factor authentication) feature. However, when it comes to the ZenGo wallet, uses the 3FA (three-factor authentication) feature.

The three-factor authentication feature on the ZenGO wallet consists of your email, recovery file, and face scan, which will be explained below.
Your email
Providing an email is one of the requirements for setting up an account on the ZenGo wallet. Users usually confirm their emails when signing up with a magic link.
Recovery file
The recovery file is used to store a decryption code associated with your account on your cloud device.
Face Scan
The face scan is a securely encrypted mathematical representation of your face stored on ZenGo servers so that in case you delete the app or switch devices, you can still restore your account.
By combining these 3 factors, as well as their cutting-edge, MPC-based cryptography, ZenGo has minimized the risk that comes with cryptocurrency storage.
ZenGo's keyless security keeps your crypto safe by eliminating a significant point of failure in crypto storage – the private key.
There is also the chill storage feature introduced by ZenGo that guarantees that users get access to their funds even in extreme cases.
Protecting the Important Assets of your ZenGo account

Users can contribute to the security of the ZenGo wallet by ensuring that all 3 factors listed above are highly protected, as that is the only way they will be able to access their accounts.
Here's what you should do to make sure that your 3 factors are safe:
Do not create your ZenGo account on a device that is not yours
You should use ZenGo only on a device that is accessed and owned by you.
Verify your recovery file
Once set up, you can check the status of your recovery file anytime in your account. You can also verify that your face scan is valid by using the "Test My Face Scan" feature.
Add face scan
Use a close family member or trusted friend's face to restore your wallet by adding them to your recovery kit as a secondary backup face scan.
Adding face scan guarantees that your crypto is safe even if your face changes.
Add a secondary email
You can easily set up a secondary email that you can use to restore your wallet in case you lose access to your primary one. Click on your current email in the account tab and simply press "Add Secondary Email".
Make a copy of your backup file with one tap
Sync your ZenGo backup file into Dropbox, Google Drive, and iCloud Drive for extra security (tip: never manually move the file itself and only use ZenGo to do this).
Enhance the security of your email and cloud accounts with 2FA
To reinforce the security of the email and cloud accounts that you use with ZenGo, activate 2-factor authentication.
Here's how you can add 2FA to Gmail, Outlook, and Yahoo. Here's how you activate 2FA on Apple iCloud and Google Drive.
ZenGo recommends not using SMS as your 2FA method (to prevent, for example, SIM-swap attacks). Instead, consider using verification code-based solutions (such as Authy).
Create an offline copy of your phone's cloud data
Have a password-protected copy of your Cloud stored locally to reduce the chance that your cloud account gets compromised.
This will also help eliminate your reliance on Google and Apple. You can also choose to have an encrypted offline backup of your phone. This is how you create one with the iPhone and Android.
Keep both ZenGo and your operating system up-to-date
For the optimal user experience and increased safety, make sure you are using the most recent versions of both your mobile's OS as well as ZenGo.
SEE ALSO: How To Connect a Wallet to Phone with WalletConnect
SEE ALSO: How To Bridge WalletConnect with Web3.0
Final Thoughts
The ZenGo wallet has all the features users could ask for in a wallet and much more.
Also important is the fact that it provides solid 3-factor authentication security that will require the contributions of both ZenGo and users to keep their crypto-assets well secured.
Read More