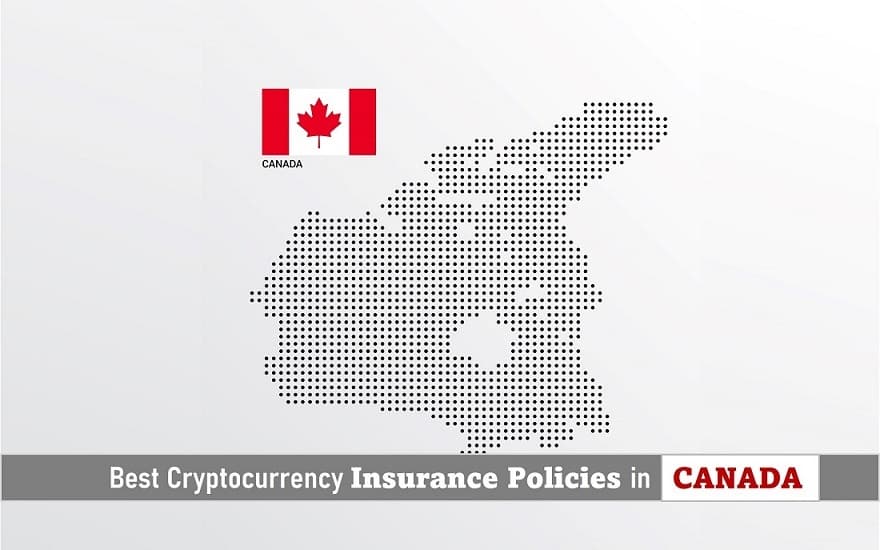 Treatment of Cryptocurrency Transactions in Canada
To start with, cryptocurrency is not a legal tender in Canada, only the Canadian dollar is under the control of the central bank.
Canadian regulators recently gave cryptocurrencies some legitimacy by approving the first Bitcoin and Ethereum exchange-traded funds.
Secondly, the Canada Revenue Agency (CRA) treats cryptocurrency as a commodity for Income Tax Act.
Any income resulting from crypto activities is generally treated as business income. Canadian taxpayers are to determine if cryptocurrency transactions result in an income or capital because this affects how revenue is classified and treated.
With the volatility of Bitcoin, larger exchanges are collaborating with insurance companies in offering cover for Bitcoin and other Altcoin holders in Canada.
For instance, the KASE in Toronto Canada offers security on all types of crypto to subscribers. Insurance with KASE covers theft and general capital loss.
The Canadian insurance industry is open and embraces the risks associated with cryptocurrencies and is willing to provide cover. Note that the insurance cover excludes market volatility.
Key Takeaways
• Canadians have had a hard time putting their faith in crypto organizations due to the $190 million lost through Quadriga CX, An organization that was involved in a Ponzi scheme but was masquerading as a crypto-investment firm.
• The determination of KASE Insurance over the years to consistently provide cryptocurrency insurance for its crypto users has made them become the no. 1 crypto-insurance provider in Canada.
• The future of cryptocurrency insurance in Canada looks to be moving in the right direction with Bitbuy becoming the latest organization to welcome the idea of insuring crypto assets of crypto traders in Canada.
• In Canada, KASE Insurance, Shakepay Insurance, and Bitbuy emerge as the best Cryptocurrency Insurance Providers in Canada.
Let's examine these cryptocurrency insurance providers in detail…
In this market, Cryptocurrency Insurance does not protect itself against prevalent volatility, but it prevents theft and loss. KASE Bitcoin insurance is accessible throughout Canada to users and offers comprehensive protection from hackers and scams that lead to the loss of digital currencies. The insurance agency cover includes:
Crime Responsibility: KASE provides both cold crime and hot crime storage. Protect yourself or your company from an incursion into cyber security. When crypto-currency assets and precious data are lost, robbed, or hacked, as well as natural disasters and collusion, you are aware that you are insured.
Cyber Responsibility: This policy covers cases of customer data losses in coin/token holder cases due to negligence, virus, data or cyber infringement, etc. If any of this occurs, it can assist safeguard enterprises from reputation.
The Legal Liabilities of Directors & Executives: Data violations or cybercrime events may have severe ramifications, including regulatory inquiries, shareholder lawsuits, and even criminal investigations, for the managers and officers of that affected organization. The insurance managers and officers are meant to cover such liabilities.
Product carelessness, mistakes, and omissions: This type of professional liability insurance protects businesses and their employees against negligence claims or inadequate work. This coverage shall cover all liabilities of consumers who have lost their assets.
SEE ALSO: Best Cryptocurrency Insurance Policies in the US
SEE ALSO: Best Cryptocurrency Insurance Policies in the UK
SEE ALSO: 7 Best Insured Crypto Exchanges for Better Protection
What Make Kase Insurance Unique?
With years of experience, specialized staff, and a customer-centric approach to insurance businesses, KASE Insurance is one of the world's leading Bitcoin providers.
We have been recognized and continually look for ways to improve our service as a leader in customer service and innovation. It was this inventiveness and readiness to go forward with the times when the Kazan insurance name was brought to a high level in Canada that we began to offer Bitcoin insurance.
Shakepay, a Montreal-based crypto-currency exchange, has received Aon's cold wallet warehousing insurance.
Jean Amiouny, Shakepay's CEO, claimed that the bill enables Bitcoin purchasing and selling, but the bill is not more long than necessary on crypto holdings. This strategy decreases the likelihood that user funds will be stolen if Shakepay is affected.
"Amiouny told CoinDesk that ShakePay had been developed, not to keep Bitcoin but to immediately transmit it." "They acquire Bitcoin, and then put money into wagons they control [our customers]. We usually don't have very long client assets as a platform."
Shakepay states that Aon's insurance is insured by Lloyd's London insurers. The insurance protects every fund in cold storage that Shakepay has. It covers "physical theft of media in which private keys are stored," said Amiouny.
The cold storage is provided by the US-licensed crypto-custody company, while the identity of the provider is for safety purposes unrevealed.
In addition to getting insurance to improve protection, Shakepay took CipherBlade to conduct a complete audit of reserves and security policies of the crypto-currency corporation. The audit found that the reserves of Shakepay fully support its client assets on paper.
The Bitcoin and Ethera-Blockchains transaction information (for crypto-currency transactions) and bank account records (for fiat transactions), in all transactions seen, are 100% matches, CipherBlade reports. The report notes that the amount is 100% matched.
Bitbuy, which provides Bitcoin and 6 altcoins, based in Toronto has just agreed with the Montreal-based Bitcoin security company Knox. Bitbuy will use the custody of Knox and its cooperation to create a  1:1 deposit insurance.
"Bitbuy is the first platform in the world to find a mechanism to ensure that its Bitcoin assets remain fully valuable," says a press release.
The two firms began the business cooperation "in the pit of the bear market [2018]," which was first held at a conference in Toronto, Thibaud Marechal, Vice President for Knox, said.
"The marriage seemed natural," Marechal stated by email, given that both fledgling companies specialized in the additional infrastructure (trade and security/insurance).
Their idea is also consistent with how a safe and transparent market structure for Bitcoin purchases should be structured.
Adam Goldman Founder and President Bitbuy noted that "the two companies are aligned strongly with the industry path, including consumer protection and regulatory advancement.
"The outcome of our relationship is a collaborative commitment to a transparent customer asset safeguard mechanism."
Knox provides a range of benefits to customers like Bitbuy and other organizations such as family offices through insurance broker Marsh to include robbery, loss, and even theft inside.
SEE ALSO: How to Confirm An Unconfirmed Bitcoin Transaction
SEE ALSO: Can you Insure Cryptocurrency in 2021?
SEE ALSO: How Can I Obtain a Cryptocurrency Insurance?
The cooperation will allow Bitbuy while allowing Knox lift with custody, security, and insurance, to focus on the improvement of its business motor. Alex Daskalov, CEO of Knox, thinks that their relationship might also set an example for others in the future.
It is difficult for a client to exchange technical due diligence, and we've long felt that systems should be tested by competent third parties to provide a ready supply of security signals for clients," he said through e-mail.
"That, we believe, is a huge step forward for the Canadian as well as worldwide trade areas, if Bitbuy is successful in becoming the first exchange to retain its Bitcoin in a fully insured environment.
Whether or whether other exchanges are appropriate, assurance and safety are a high priority for every Bitcoin buyer's list, but in Canada, this is particularly true.
The most prominent example being the $190 million Dumpsterfire under the management of QuadrigaCX, where hundreds and millions of drained client cash remain lost.  
After the mysterious death of its creator, Canadians have had a hard time trusting Bitcoin organizations.
The insurance policy of Knox would cover calamities of this nature, even if the whole affair was a job (as is hypothesized by QuadrigaCX).
Knox and Bitbuy are looking at rewriting the script of Canucks how they believe and use Bitcoin platforms with this new alliance.
SEE ALSO: How Can I Trace a Bitcoin Address?
SEE ALSO: 6 Best Blockchain Certification Training Right Now
SEE ALSO: Amazing Blockchain Developer Salaries Around the World
Frequently Asked Questions (FAQ)
1. Is KASE Insurance authorized to engage in cryptocurrency insurance in Canada according to their laws?
Yes, KASE Insurance obeys all necessary laws and regulations in Canada and as such are within their rights to engage in cryptocurrency insurance.
2. Why are there very few crypto exchanges with crypto-insurance options in Canada?
The crypto market is one with a lot of volatility and risks and as such, not many crypto exchanges in Canada would be willing to venture into the market knowing the risks involved. Hence, the few crypto exchanges with crypto-insurance options in Canada.
3. Where can I buy cryptocurrency insurance in Canada?
You can get cryptocurrency insurance in Canada just by signing up with any of the crypto exchanges listed in the articles above and then utilizing their crypto-insurance option which comes with different coverage.
Final Thoughts
Cryptocurrency insurance in Canada is beginning to gain traction. A few insurance companies in Canada can provide such cover directly. Crypto Exchanages like Coinbase and Gemini in the U.S provide minimal cover on crypto assets via these Exchanges.  
Probably in the coming years, there would be improvements in terms of finding ways to curb the high risks associated with cryptocurrency and giving insurance providers confidence to delve into the cryptocurrency market.
Read More