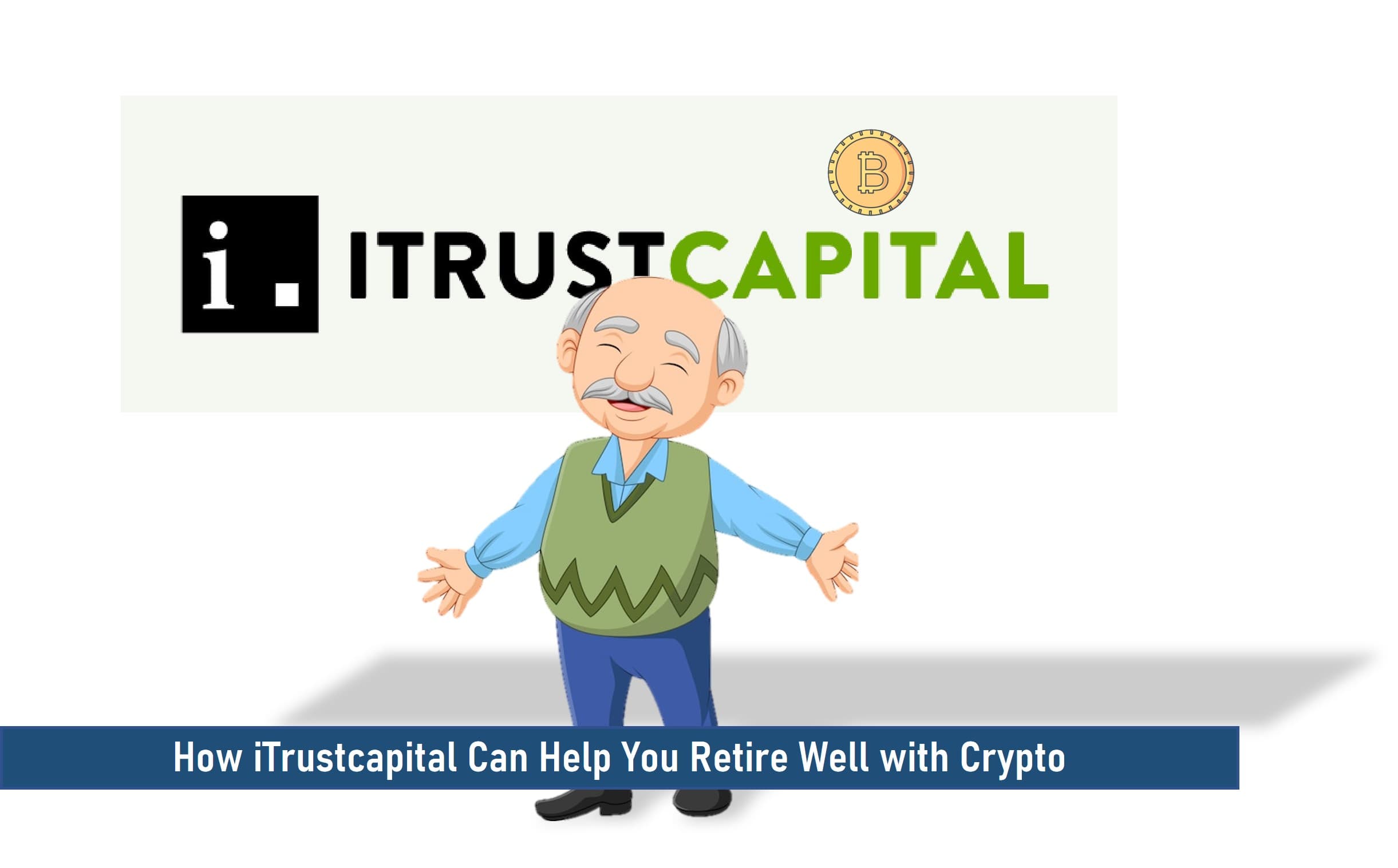 Good retirement planning is a function of how much someone puts away, how often they do, and how early they start coupled with a  solid retirement plan. A solid retirement plan comprises a diversified investment portfolio with realistic goals that can help you live a comfortable life in your retirement years.
So, is cryptocurrency a good retirement investment? The short answer is yes, and this article elaborates on why and how you can retire well with crypto using iTrustcapital.
Key Takeaways
• To invest in cryptocurrency for retirement purposes, the first step is to open an IRA that allows trading alternative assets like crypto.
• As a retirement account,  iTrustCapital focuses on cryptocurrencies, and to a lesser extent, silver and gold.
• iTrustCapital offers Crypto IRAs and Gold IRAs. When you sign up, you can choose between these account types. Then, you can select which type of IRA you want to open.
• iTrustCapital is available 24/7 for 365 days in a calendar year for trading and comes with a very low crypto trading fee of 1%. 
Moving on, what is iTrustCapital and how can you retire well with crypto using this retirement investment platform?
SEE ALSO: ITrustCapital Review – All the Facts
What is iTrustCapital?
iTrustCapital is one of the industry-leading self-directed crypto IRA providers that specialize in allowing you to buy and sell cryptocurrency coins as alternative investments, as well as physical gold and silver.
Through the iTrustCapital platform, investors can use their retirement accounts to take advantage of IRA tax benefits while safely, legally, and conveniently investing in prominent cryptocurrencies and precious metals.
Since launching in 2018, iTrust Capital has grown to have approximately 100,000 created user accounts, with managed assets of about $2.2 billion.
While the company's main selling point is as a long-term investment solution, the trading platform suits other styles of trading – like a day or swing trading. Through the client dashboard, investors can trade almost instantly, 24/7.
Lastly, iTrustCapital provides commercial-grade cold storage for their client accounts through Coinbase Custody and Curve. These industry-leading cold storage providers ensure that clients' cryptocurrencies are safely stored offline, and inaccessible to any online attackers.
Can you retire well with crypto using iTrustCapital? Yes you can, and below is the popular way by which you can retire well with crypto using Itrustcapital;
Investing in Digital Assets with iTrustCapital Crypto IRA
When making retirement investment plans, you can easily retire well with crypto by including digital assets and cryptocurrencies in your retirement investment portfolios using iTrustCapital.
iTrustCapital is among the best crypto IRA providers. By opting for iTrustCapital Crypto IRAs, you get access to all the tax-advantaged accounts available to retirement investors for a very low cost. iTrustCapital offers 24/7 trading features with no signup, no hidden charges, and no monthly fees; you have only a transaction fee of 1%.
iTrustCapital Crypto IRA offers tax-free benefits as other individual retirement accounts, and you can choose between its traditional SEP or Roth IRA accounts.
A Traditional IRA is generally funded with pre-tax dollars; gains are tax-deferred until you take qualified distributions.
A Roth IRA is always funded with post-taxed dollars; gains are tax-free when you take qualified distributions .iTrustCapital has made it easy to start your retirement investments with direct transfers from 401(k)s, 403(b)s, TSPs, and 457s.
Its user-friendly system also lets you buy and sell cryptocurrencies, gold, and silver. You can use a self-directed IRA to put some of your retirement savings into cryptocurrency.
If you already hold crypto in a different IRA, you don't have to convert it into a fiat (traditional) currency before you transfer it to your new iTrustCapital account. Plus, you'll get six months' fee-free trading if you do.
When you retire and take distributions, you can also take them in kind, which is ideal if you are holding for the long term and don't want to sell. You can also use your retirement accounts to take advantage of IRA tax benefits while safely, legally, and conveniently investing in prominent cryptocurrencies and precious metals.
Finally, with iTrustCapital, you will easily self-direct your retirement investments with a real-time trading platform and a simple fee structure.
Frequently Asked Questions (FAQs)
How do I open an iTrustCapital Crypto IRA Account?
Follow these 9 easy steps to set up your iTrustCapital crypto IRA account:
Step 1: Head to the iTrustCapital website by clicking here to create an account.
Step 2: Fill out your information in the form provided and click "Create Account."
Step 3: Confirm your email address in the confirmation email sent to your inbox.
Step 4: Click "Start Your Application" under "Get Started" at the top of your screen on the iTrustCapital website.
Step 5:  Fill in the data wizard with your personal information.
Step 6: Select the type of IRA you want to open and how you will fund it.
Step 7:  Enter your beneficiaries (who will inherit your account upon your passing—at least one).
Step 8: Your application will now be submitted. (If you want to add funds in the future or are doing more than one funding event, click "Contribute.")
Step 9: Keep an eye on your email inbox and DocuSign to complete the application and account setup process.
How do I know iTrustCapital will not get hacked?
iTrustCapital uses multiple security measures. Curv is one safeguard. The service provides an institutional-grade virtual wallet built on multiple authentication protocols used by the banking and military sectors.
As for safety features, the platform is protected by Fireblocks, which eliminate single points of failure. It's also protected by Coinbase Custody, which is the world's leading institutional digital currency storage provider. Coinbase also provides a $320 million insurance policy for your peace of mind.
Does iTrustCapital offer investment advice for gold or cryptocurrency?
An iTrustCapital account includes access to rudimentary price tracking charts. The company also provides a knowledge center with daily updates. These resources are suitable for basic information, but you will probably want to do additional research.
 iTrustCapital doesn't provide financial advisors, but you can message or call with questions about your account or the platform.
Should I use iTrustCapital?
iTrustCapital offers a very specific set of products. If you are looking to diversify your retirement portfolio with any mix of cryptocurrencies and precious metals, then they have the solution.
Similar to many alternative retirement account providers, iTrustCapital has a monthly account fee. When comparing their fees with these similar platforms, iTrustCapital offers the lowest cost accounts.
What is the Market Review of iTrustCapital?
Buying gold or cryptocurrencies requires knowing IRS tax rules, and transacting either investment is not straightforward. iTrustCapital's digital asset trading platform simplifies buying and selling cryptocurrencies and gold for you through a self-directed IRA. The company makes it easier for you to buy these alternative investments within a tax-advantaged retirement account.
Final Thoughts
In conclusion, iTrustCapital is just the right option for your retirement investment if:
1. You want to put cryptocurrency or gold into your retirement portfolio.
2. You want to hold crypto long-term and aren't looking for a wide range of coins.
3. You're comfortable with the volatility and risks involved in cryptocurrency investments.
So take a bold step today towards having a comfortable life in your retirement years by taking advantage of iTrustCapital retirement investment.
Read More