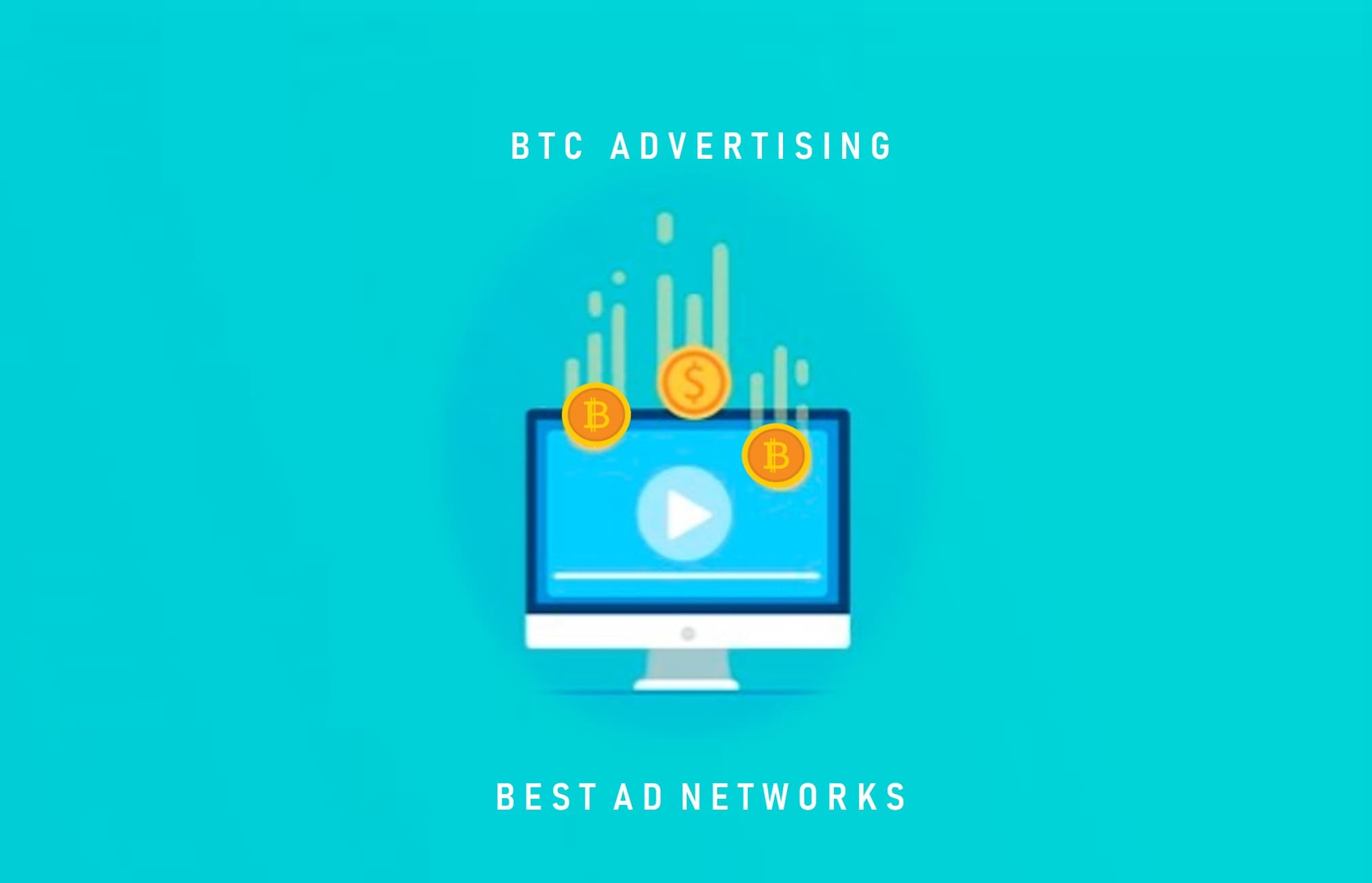 Updated: July 20, 2022.
With Bitcoin being largely referred to as the pioneer of cryptocurrency, and with it coming into the limelight and paving the way for the new generation of cryptocurrencies, it is only normal that users and investors will look for ways to earn it without actually buying BTC.
Earning Bitcoin through display Ads is just one way to earn BTC if you own a cryptocurrency content website.
Signing up with Bitcoin Advertising networks will give you an opportunity to earn BTC when you display crypto-specific ads. Check this post to see other ways to earn Bitcoin for free.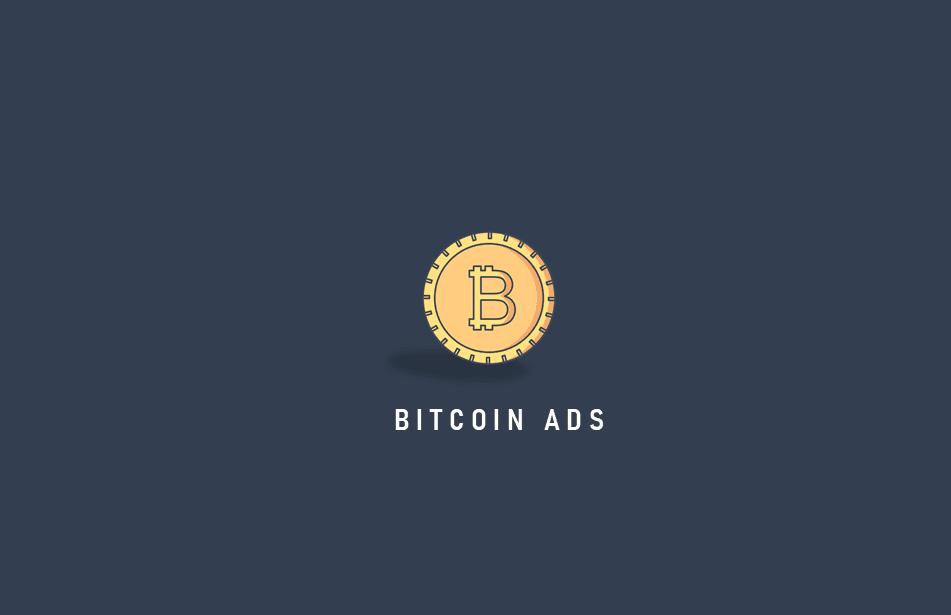 Key Takeaways
 • DOT is the #1 UK Based Ad Network for Crypto Advertisers. DOT offers direct access to audiences interested in Crypto, Blockchain, NFT's, and other similar topics.
 • Bitmedia is one of the best bitcoin advertising networks with very affordable prices and provides both CPM and CPC ad formats, with minimum bids starting at 0.00075 BTC for CMP ads and 0.00055 BTC for CPC ads.
 • Facebook recently reversed its ban on crypto advertising after it previously banned all crypto marketing activities from operating on its platforms.
 • Coinzilla offers banner advertising and is different from other ad networks due to its passion for monetizing crypto-related websites.
 • Most bitcoin ad networks offer payment almost instantaneously from the time payments are requested.
SEE ALSO: 10 Most Popular Ways to Earn Bitcoin for Free
SEE ALSO: Beginners – How to Earn Bitcoin Without Buying It.
Speaking of interests, investors for some time now have been clamoring for bitcoin's wider recognition across the globe, yet there seems to have been no marketing initiatives set in place to achieve this, with popular media giants like Facebook, Twitter, and Google banning crypto marketing, although Facebook recently reversed the ban.
Nonetheless, there are already several advertisement network services for new websites that allow you to promote bitcoin and cryptocurrency-related adverts on their websites.
If you are interested in bitcoin advertising as an investor, I will be introducing to you five of the best advertising networks for new websites.
1. DOT
DOT is the #1 UK Based Ad Network for Crypto Advertisers. DOT offers direct access to audiences interested in Crypto, Blockchain, NFT's, and other similar topics.
For advertisers wanting a powerful advertising solution and direct access to hundreds of crypto sites, DOT offers the most comprehensive solution. Crypto brands trust DOT to deliver on their marketing goals.

Highlights
● Hundreds of Crypto Advertisers choose DOT
● 175+ Million Readers Monthly
● Flexible Pricing
● Advanced Targeting Options
● Free Animated Ad Design
● Free Sponsored Articles & Press Releases

Flexible Targeting
Return on investment is at the core of DOT's ad solution and the pricing is designed to reflect this. Campaigns are super flexible, start and stop, at any time with no contracts. You are in control of your budget.
Targeting includes many options including geolocation, device type, content type, and more. Show ads only to the most relevant crypto audiences to ensure efficient ad spend.

Bypass Ad Restrictions
For crypto businesses frustrated by Google or Facebook ad limitations, DOT offers a fast and efficient method to regain access to relevant audiences.
Crypto projects of all kinds are accepted, including Wallets, Web3 Apps, Crypto Casino, NFT Projects, Financial Services, GameFi, Metaverse experiences, and more.

Pay in Crypto
Many crypto payment options are available, including BTC, ETH, USDC, & USDT. Regular card payment is also accepted. Spend is flexible, pause or cancel, any time.

Free Ad Design & Free Sponsored Content
DOT is the only network to offer free animated ad design with all campaigns. It's like an extension of your own team… for free. Plus you can keep all files for use with any other network of your choice.
Also, earn free content credits with all ad campaigns. Spend these credits on sponsored articles and press releases across premium sites. Boost your SEO at zero cost.

Learn More
Crypto Advertisers – Click Here to bypass ad restrictions and grow your business.
Crypto Publishers – Click Here for a free website revenue estimation.
2. Cointraffic

Cointraffic considers itself to be the leading crypto and bitcoin advertising network. The platform uses multiple ad formats to drive home the objective to a bitcoin-targeted audience.
In addition, it also ensures that quality traffic is guaranteed as it removes all forms of bots that could cause spam and cause harm to traffic.
Moving on, Cointraffic brings to the table four important aspects as regards bitcoin advertising, which is explained below:
Quick Launch
Here, users can launch an advertising campaign in five minutes, and Cointraffic can also help by designing ad banners or preparing press release copies within 24 hours should the user not have these ready.
High Click-Through Rate
Cointraffic guarantees the most visible and top-rated positions for their advertising formats. This provides the highest click-through rate in the cryptocurrency market.
Relevant Audience
On Cointraffic, every crypto website showing your ads is checked regularly both for quality and relevance. No bot traffic or adult websites are accepted or will be.
Performance Control
Users get easy access to performance reports that allow them to optimize the campaign and analyze the results. In this way, users can also make use of the ad formats on Cointraffic to achieve the maximum return on investment.
3. CoinAds
CoinAds is a leading crypto advertising network and digital marketing agency.
The platform has access to billions of search impressions outside of the major search engines, which means that they are not constrained by Google's ban on ICO advertising.
This is particularly beneficial to users as they can easily reach their intended targets without any need for worry or doubt.
CoinAds can also tailor a performance marketing campaign to meet the needs of users.
Generally, CoinAds isn't limited to just bitcoin advertising as other cryptocurrencies are included.
This is why it enables users to drive incremental conversions at a lower cost outside of major search engines and social channels like Google and Facebook.
4. Bitmedia.io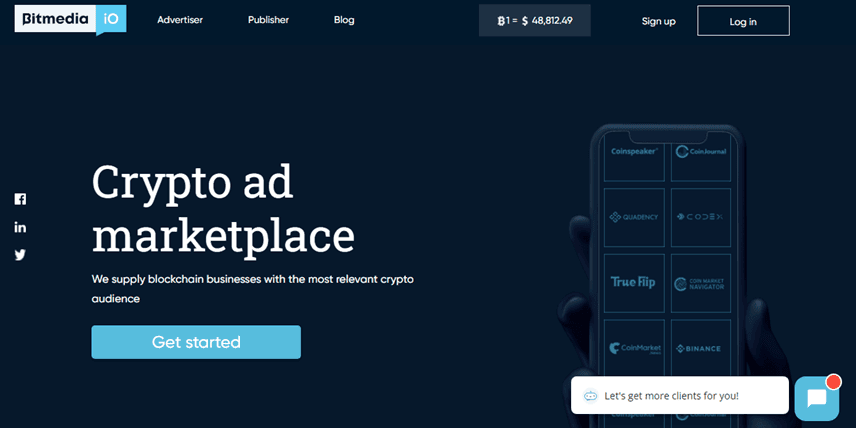 Key Statistics of Bitmedia.io
The minimum payment is 0.01 bitcoin.
The payment currency is bitcoin.
The payment frequency is on request.
The commission type is CPC.
There are no sign-up requirements.
Bitmedia is a cryptocurrency ad network that provides its advertisers with efficient advertisements at reasonable pricing.
They manually evaluate and authenticate each publication to provide marketers with the highest potential return on investment.
Advertisers can choose from several targeting options, such as geo-location, device, timing, and frequency.
Bitmedia provides both CPM and CPC ad formats, with minimum bids starting at 0.00075 BTC for CMP ads and 0.00055 BTC for CPC ads.
They also provide only text and banner advertisements with payouts in both Bitcoin and fiat currency for publishers.
Bitmedia strives to provide its advertisers with the most transparent process to buy advertisements with the highest quality impressions. To do this, each impression must meet the following verification requirement.
The verification at runtime.
Third-party traffic control.
Post verification of all traffic.
Manual clicks and impressions moderation. 
These verifications are configured to screen out any sponsored traffic fraud, concealed ad impressions, bots, and so on.
Advertisers are entitled to a refund in the event of incorrect impressions and are not required to pay in the event of poor traffic quality.
6. Coinzilla
Key Statistics of Coinzilla
The payment currency is bitcoin.
The Payment frequency is on request.
The minimum payout is ฿0.001.
The Commission type is CPC and CPM.
There are no sign-up requirements.
The Coinzilla network focuses on giving the best results for both advertisers and publishers. They provide banner advertising and monetize to the maximum, crypto-related websites.
Their advantages include:
They offer quality traffic.
They have strict approval criteria for publishers.
They have an anti-fraud system.
They offer subsidies to all advertisers.
Campaigns are approved in a matter of hours, even faster on their platform.
7. Bitcoadz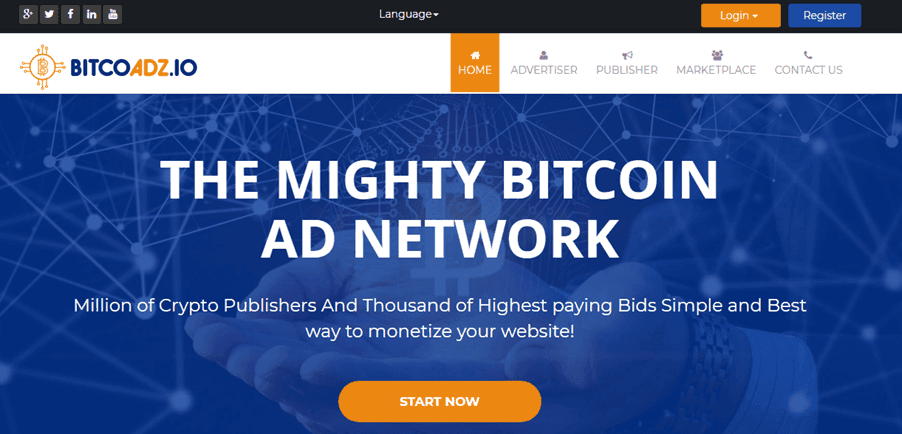 Key Statistics of Bitcoadz
The minimum payment is ฿0.004.
The commission type is CPC, CPM, CPA, POP, or CPD.
The payment frequency is on request. 
The payment currency is bitcoin.
There are no sign-up requirements.
Bitcoadz is an online marketplace where marketers can sell their advertisements to publishers, who would then return traffic to the advertisers.
Advertisers only need to use their Bitcoadz advertiser account to submit their advertisements and specify their target audience and budget, whereas publishers must use their Bitcoadz publisher account to produce adcodes in the right proportions.
The Bitcoadz technology handles ad selling and traffic exchange automatically.
Their advantages include:
They can create text or banner ads.
They do keyword & geographic targeting.
You can make payments using any bitcoin wallet address on the platform.
8. CoinMedia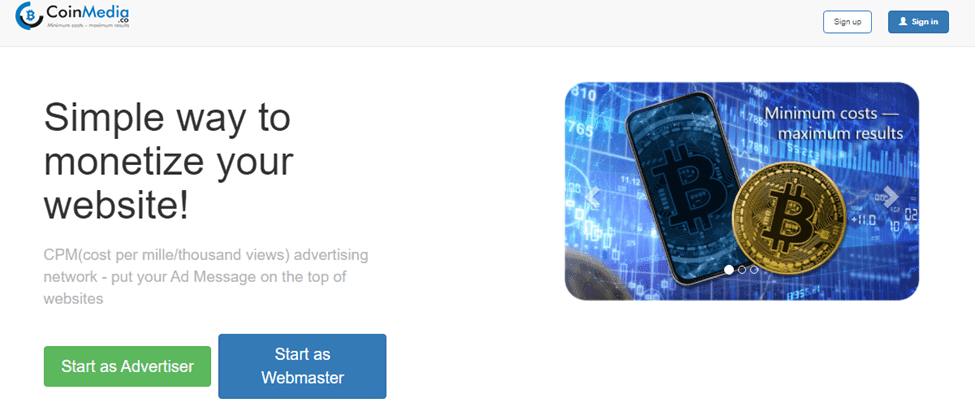 Key Statistics of CoinMedia
The minimum payment is ฿0.004.
The commission type is CPM.
The payment frequency is instant.
The payment currency is bitcoin.
There are no sign-up requirements.
CoinMedia is a simple-to-use platform based on the CPM paradigm. Advertisers are required to develop a banner (or several banners) and upload them to the CoinMedia system. If the advertiser is just one, they will receive all ad-slot views/clicks.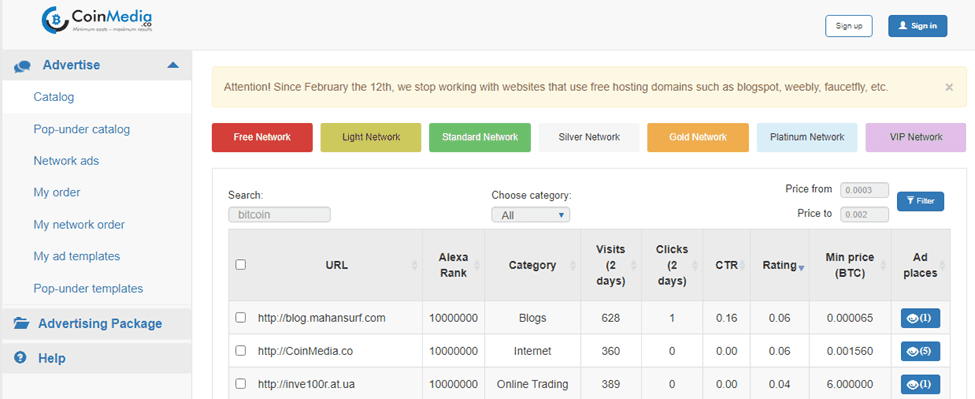 Advertisers also obtain the relevant portion of view if there are additional orders for the same ad-slot, and they can select which websites will display the same ad banner.
The advantages of CoinMedia include:
Your overall cost is determined by the publisher's pricing per 1000 views.
You are the one who decides where to position your ad.
You can cancel your ad at any moment if you are dissatisfied with the results, or you can boost it to gain more clicks if it appears to be performing well.
It is quite simple to place an ad, as all you need to do is to build an eye-catching banner, select the appropriate category, and link to one or more websites.
Frequently Asked Questions (FAQs)
Does Facebook allow crypto ads?
Yes, they do now, as they recently reversed a ban that barred most cryptocurrency companies from running ads on their services.
What do BTC ad networks do?
Bitcoin ad networks enable you to market various Bitcoin services and earn money when visitors click on these adverts.
Final Thoughts
In this article, I have listed out the best five bitcoin advertising networks for investors who are interested in their services.
All you need to do is to check out the best features of each advertising network as shown in this article to make a decision.
Read More