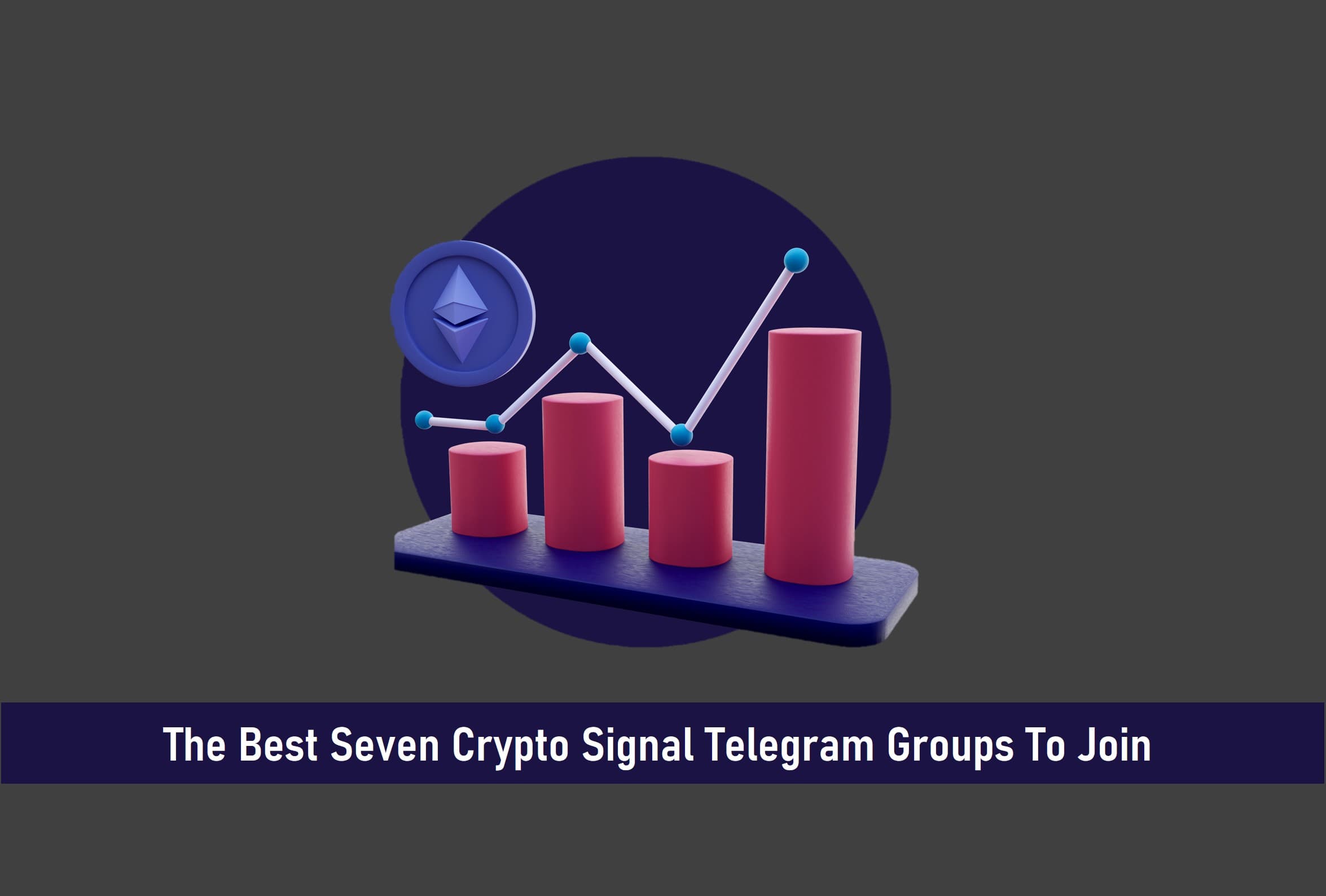 The Best Seven Crypto Signal Telegram Groups To Join
With the volatility of the crypto market and the quick change in the price of tokens and coins, it could be an uphill task in tracking the price of your favorite coins or the movement of the market generally.
Day traders are usually the most hit, having to analyze multiple charts at intervals and having to make quick decisions. All these put together could turn out to be cumbersome and lead to bad trading decisions.
To solve this problem, a network of experienced crypto traders decided to create portals where entry and exits prices of tokens based on technical analysis could be shared with other investors for a small fee.
This service is now known as the Crypto Signal Service. At the moment, many crypto signal services offer free and paid crypto signals (depending on your preference).
To make this effective, the Telegram platform comes in handy and is now used to communicate crypto trading signals.
Telegram seems to be a preferred choice because the platform has the capacity to accommodate 1000 interested investors. The aim is to share real-time market information and trading tips.
In this article, I will share 7 crypto signal services you can check out to know which is worth your time and effort.
Key Takeaways
• Day traders need signals to aid their technical analysis which then make crypto signals a valuable tool.
• Crypto trading is one of the ways investors can profit from the crypto market.
• MYC Signals only offer premium membership to its users as you will be required to pay through with crypto or by card before you have access to their crypto signals.
• You must do your research to know which crypto signal telegram group best suits your needs as a crypto trader.
• Most crypto signal telegram groups offer both free and premium memberships with the premium membership offering more features and more crypto signals.
SEE ALSO: Are Bitcoin Mining Communities on Telegram Safe?
SEE ALSO Top 10 Best Forex Signals for New Traders
How Crypto Signals Work
A "crypto signal" is a piece of crypto trading advice provided by experienced traders that are backed up by thorough research on how to buy, sell, and trade cryptocurrencies.
In a crypto signal telegram group, crypto signal providers provide real-time information to traders on which crypto pair to trade, when you should enter the market, and when to apply to stop loss and take profit orders during trading.
As such, they do the research for you as a crypto trader while you simply practice what was recommended by them with the hope of making a successful crypto trade.
Now that you understand what a crypto signal is and what it means for traders, below is a list of seven crypto signal telegram groups you can join to stay up to date with the market and receive tips for trading:
1. Learn2Trade
Learn2Trade, for some time now, has been touted as the number one online broker and is best suited for beginners in the world of crypto.
The telegram group provides a comprehensive guide on all things trading, ranging from CFDs to market orders, leverage spreads, and any other information they feel you should know before you begin trading.
With a following of over 20,000 traders, the Learn2Trade telegram group has a group of professional traders with years of experience in the crypto trading business, and they do their analysis and research as comprehensively as possible before offering trading tips and recommendations to other traders.
Lastly, the group offers free signals, although reduced to three signals per week, while it has a premium plan at £35 per month where traders get access to 3-5 signals per day.
In all, this telegram group is my number one pick for individuals who are just starting as beginners in the world of crypto trading.
Join the telegram group.
2. CryptoSignals.org
CryptoSignals.org is a team of highly trained traders that have been trading in the cryptocurrency market since 2014.
They specialize in giving out accurate crypto signals, which was the reason behind the creation of their telegram group, as they have been quite successful at it.
Their team of in-house traders at CryptoSignals.org scans the crypto markets around the clock so you don't have to.
Through a combination of in-depth technical analysis, AI algorithms, and fundamental research, CryptoSignals.org is constantly looking for trading opportunities for its members.
They send 3 VIP signals a week in their free Telegram group. Each signal comes with a full technical analysis of why they are taking the trade and how to place it through your broker.
Lastly, they have a VIP group that you can join by choosing any of their packages that is suitable for you, and they offer a full 30-day money-back guarantee so that you have nothing to lose by trying out their high-quality cryptocurrency signals.
Join the telegram group.
3. Coin Signals
Coin Signals is a crypto signal telegram group that uses artificial intelligence and machine learning to accurately determine the right crypto signals.
It has become a successful telegram group for crypto signals thanks to the wisdom and skills of highly experienced traders.
Their advanced AI scans multiple exchange trading pairs 24/7, providing the best entry and exit points for maximized quick profit trades.
They also deliver a change in the trading reality, generating profitable trades free from bias and emotion. All of their trades are posted on their Telegram group for you to trade manually or automatically with security and ease round the clock.
Join the telegram group.
4. MyCryptoParadise

MyCryptoParadise is one of the telegram groups out there best suited for professionals or experienced traders. In the group, you can get up to 80 highly professional crypto trading signals every month for Binance, Bitmex, and Bybit exchanges.
The group claims that their crypto trading guides are based on fundamental and technical analysis and are made by their team, which consists of very experienced and highly professional traders.
Joining the group means that you get your coach who will be available to you round the clock, and you also get a brief of the important and relevant news, charts, and graphs you will need to trade accurately.
Join the telegram group.
5. AltSignals
AltSignals was set up in late December 2017 by a team of internet entrepreneurs and trading analysts. They initially started by just sending free crypto signals, but soon realized that they had a much bigger market.
AltSignals' goal and core values have always been and will always be to:
Provide technical and fundamental analysis.
Coach and help their clients how to place trades and profit long term.
Trade on the largest exchanges for cryptocurrency and forex, which include Binance and BitMEX.
Continue to adapt to market conditions whether it's a bull or bear market.
AltSignals has been running without stop since 2017, unlike many other services which often pop up and disappear after a few months, usually leaving you high and dry after you've parted with your cash.
With so many scams in this business, it's important to deal with a company that is trusted and has a strong track record of results, which can be found in our results section.
Lastly, their Binance Futures and Forex signals are consistently profitable month on month, with an accuracy rate of around 80%+ usually.
Join the telegram group.
6. MYC Signals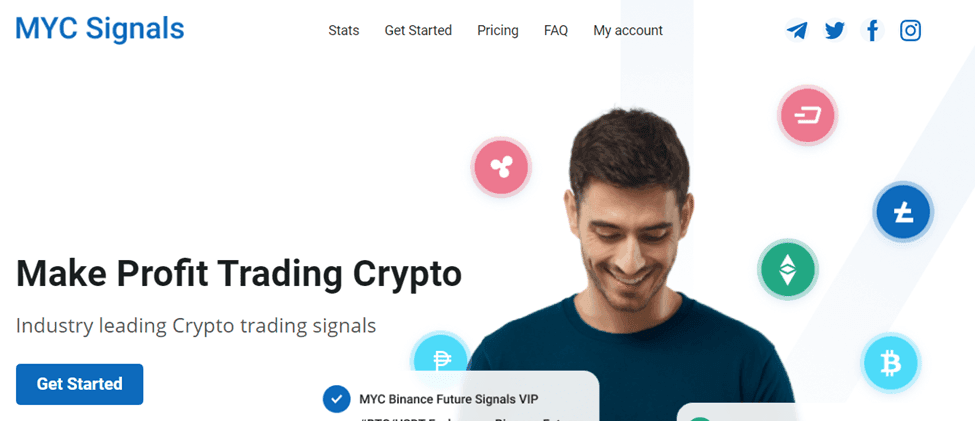 MYC Signals started the telegram group to provide a place for people to learn how to be successful crypto traders. Thanks to that, they have now become one of the world's largest providers of crypto signals, market analysis, and trading advice.
MYC Signals has been in existence since 2017 and in that time, it has gotten over 900 premium members and over 38,000 community members.
One interesting point to note about MYC signals is that they do not offer free crypto trading signals; rather, you would have to join their telegram group and pay with either crypto or card to gain access to their signals.
After making the payment, you begin to receive their crypto trade signals, which you can follow automatically or manually. Then you stick with their signals and trading tips to become a better trader and profit throughout your membership.
Join the telegram group.
7. Universal Crypto Signals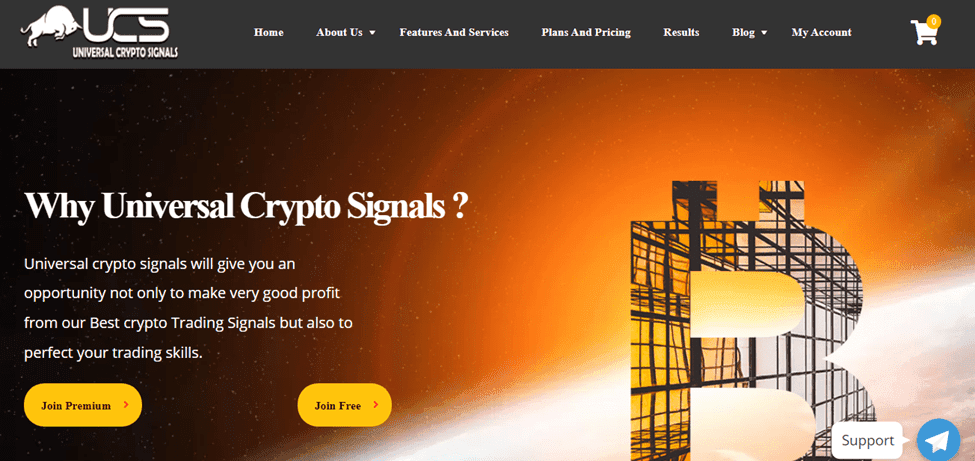 Universal Crypto Signals was founded in January 2018 by a diligent team of expert trading analysts.
They aim to provide the most accurate crypto trading signals on Binance, Bittrex, Bitmex, Bybit, Kucoin, Binance Futures, and most of the exchanges to gain stability and satisfactory growth in the portfolios of their users in the short term, midterm, and long term.
They have dedicated premium channels for altcoin trading and margin/leveraged trading. Automated trading using the new technique of Cornix Trading Bot is well supported on their telegram with ease and proficiency.
Their premium channel comes with a premium Trollbox where you can ask your queries and discuss various trade ideas.
Lastly, they provide time-to-time analysis for the Bitcoin and crypto markets, which is the most precise. They also regularly update their trading tips and analysis, which has proven to be accurate and perfect most of the time.
Join the telegram group.
Frequently Asked Questions (FAQS)
Where can I find the best crypto signals Telegram group?
I have provided a list in this article of some of the best crypto signals telegram groups for you to choose from. Endeavor to do your research and be sure of their services before you decide on anyone.
Are crypto signals reliable? 
Yes, crypto signals work and are definitely worth the time if you want to become a successful crypto trader. Keep in mind that to get the most out of crypto signals, you will need to join most of these telegram groups as a premium member.
Final Thoughts
Joining a crypto signal telegram group that is reliable is quite important if you want to trade cryptocurrencies successfully without doing the hard work. Luckily, I have listed seven of them in this article, which you will find helpful as you select one to join.
Read More