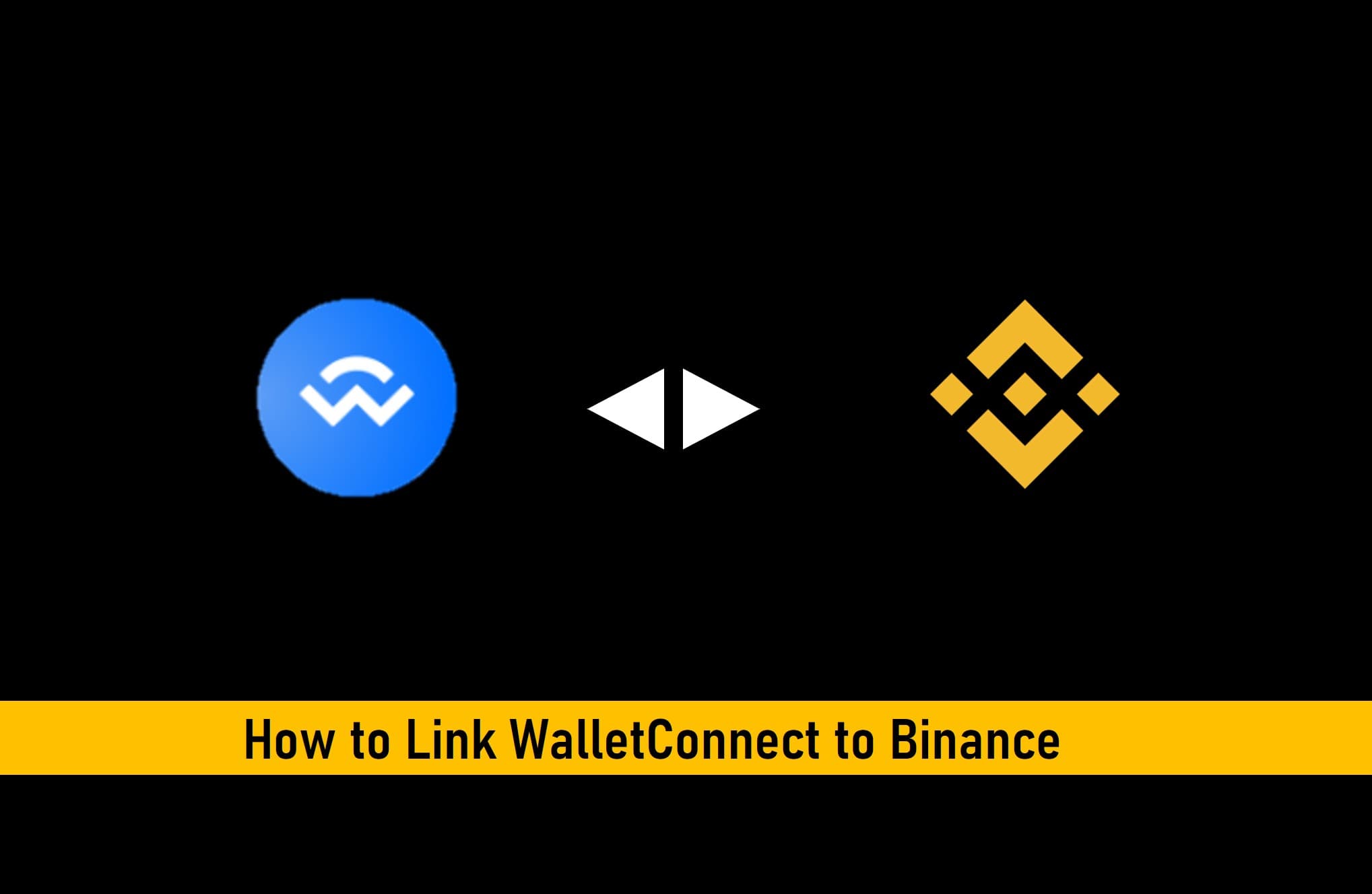 How to Link WalletConnect to Binance
DApps are very important aspects of DeFi, allowing more activities aside from buying and selling to be done easily.
Binance is a very popular Decentralised Exchange platform with lots of DApps for performing many different activities as regards Decentralised Finance.
Many people prefer storing their cryptocurrencies in wallets outside of online wallets on Binance DEX.
WalletConnect makes it possible to connect your wallet to interact with Binance securely without incurring any extra fees.
Below, we will show you how to link your WalletConnect supported wallets to Binance DEX.
About WalletConnect
WalletConnect is an open-source protocol that is used by many crypto wallets to establish a connection with DApps. Launched in 2018, WalletConnect is utilized by a growing number of crypto wallets across web, iOS, and Android platforms.
How to Link to Binance via WalletConnect
Now to make this work, you will need a wallet that has support for WalletConnect.
There are two ways you can go about linking your wallet to Binance via WalletConnect.
You can utilize WalletConnect from a DApp on a desktop browser or from a mobile wallet that supports WalletConnect.
How to Link WalletConnect to Binance via DApp
To begin linking to Binance follow the easy steps below.
STEP 1: Open a DApp on your browser. In this case, we are using PancakeSwap, so open the PancakeSwap website in your browser.
STEP 2: Open the WalletConnect QR Code on the Dapp.
On the PancakeSwap interface, click on the connect wallet button at the top right corner. You can always find the connect button on several DApps here at the top right corner.

Next, click on WalletConnect from the list of wallet options on the connect wallet pop-up menu. This will bring up a WalletConnect pop-up menu with two tabs: Mobile and QR Code.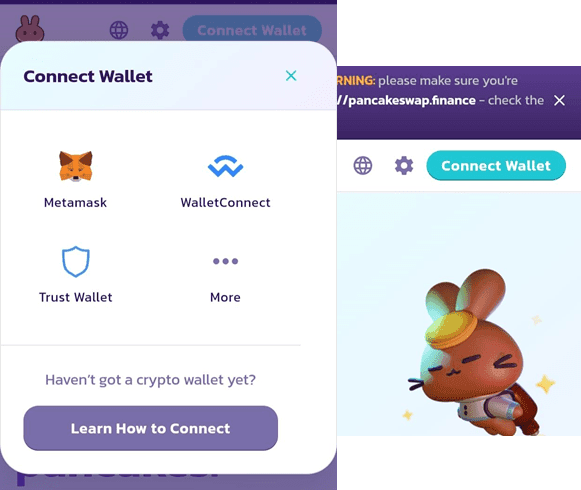 Click on the QR Code tab to bring up the WalletConnect QR code.
If you opened the DApp in a browser on your mobile device where your mobile wallet is installed. You can utilize the deep link feature instead of scanning a QR Code.
Click on Connect on the mobile tab on the WalletConnect pop-up menu (the menu that comes up after clicking on WalletConnect from the list of wallet options). Your device will bring up a list of WalletConnect compatible wallets installed on your device.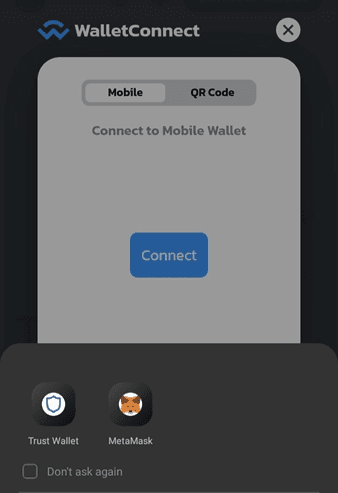 Choose from the list of suggested apps.
Now click on connect to authorize the connection to DApp. After a successful connection, details of the connection will be displayed.
However, if you opened the DApp on your desktop browser, proceed to step 3 and scan the QR code.
STEP 3: Scan QR Code with a WalletConnect compatible wallet.
Open Trust Wallet
Click on the settings icon at the bottom of the interface.

Locate and click on WalletConnect on the settings list. This will open the camera to scan the QR Code.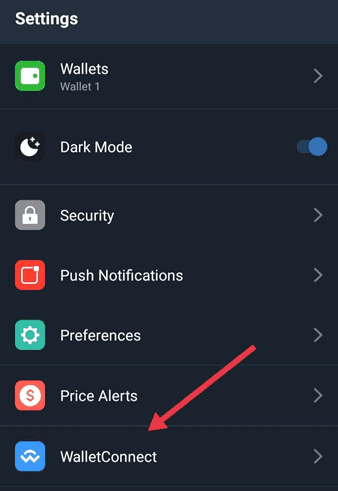 Scan the QR Code by aligning the square with the box on the camera.
Click on Connect on the next interface that comes up to authorize the connection.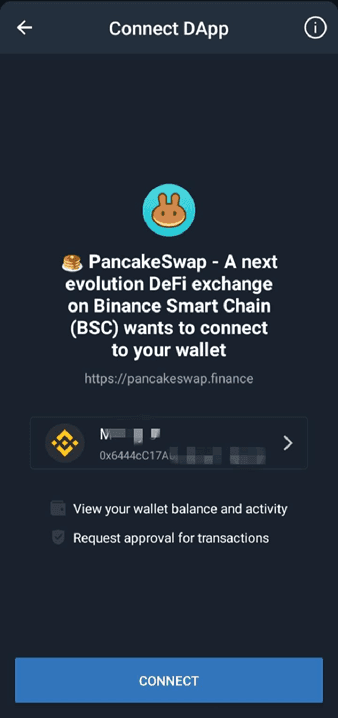 How to link the wallet to Binance via WalletConnect using a mobile wallet
If your mobile wallet has an inbuilt Web3 browser, using WalletConnect will be an easy walk for you.
Open your Trust wallet app or another Web3 wallet app with WalletConnect support.
Click on DApps from the options at the bottom.
Choose a DApp from the list of DApps or input a DApp URL in the address bar. If you input an address in the address bar, be sure to cross-check the URL to ensure you are on the correct website.
Click on Connect wallet
Choose WalletConnect from the options.
Now click on Connect to authorize DApp interaction with your wallet.
Frequently Asked Questions (FAQs)
Q1. What Binance Chain wallet supports WalletConnect?
Aside from Trust Wallet, other wallets support WalletConnect linking on the Binance Chain. They include:
Atomic Wallet
Math Wallet
SafePal Wallet   
Meet.One Wallet
Equal Wallet
CoolWallet
XWallet
Cosmostation Wallet
Infinity Wallet
Q2. What Wallet is Compatible with WalletConnect?
Not all wallets are compatible with WalletConnect. MetaMask, Trust Wallet, Rainbow wallet, TokenPocket are some examples of wallet compatible WalletConnect.
WalletConnect is secured and independent of blockchains or crypto backings. Hence you can use it with DApps across multiple blockchains and save stress and cost.
Read More