How To Access A Crypto Loan On YouHodler (Quick Steps)
YouHodler is a fintech platform that was established to provide crypto-backed lending with fiat (USD, EUR, CHF, and GBP).
YouHodler's solution also extends to crypto (BTC) and stable coin loans (USDT, USDC, TUSD, PAX, PAXG, DAI, and HUSD).
The platform also offers crypto/fiat and crypto/crypto conversions, as well as high-yield crypto-saving accounts (crypto-rewards & staking).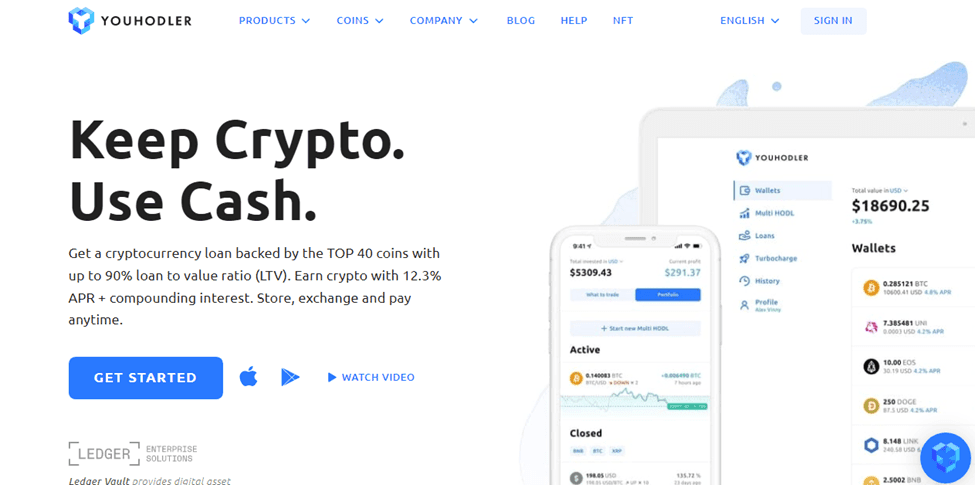 Key Takeaways
• YouHodler provides amazing crypto loan services to crypto investors who wish to borrow crypto loans without compromising their crypto holdings.
• The fintech platform recently added 10 new crypto coins to its collection, which means users get a wider range of crypto options to use as crypto loans and collateral.
• For every crypto loan borrowed, crypto collateral would have to be set as this would determine how flexible the terms of your crypto loan would be.
• YouHodler provides other amazing crypto loan features such as Loan to Value (LTV) so that users can benefit from any opportunity available at any particular time depending on the crypto market situation.
SEE ALSO: YouHodler Fees, Interest Rates (All You Need To Know)
SEE ALSO: How to Build a Sustainable Crypto Portfolio with $100
YouHodler supports BTC, BCH, BNB, ETH, LTC, XLM, XRP, DASH, HT, REP, and other popular cryptocurrencies and tokens. Likewise, a user's digital assets are safely guarded with Ledger Vault's advanced custody and Fireblocks security options.
YouHodler also recently added 10 new crypto coins to its collection, which means that users of the platform can now apply for crypto loans that are backed by the top 50 coins with up to a 90% loan-to-value ratio (LTV).
In addition to getting crypto-banked loans, users can also stake their coins and earn up to 12.3% APR besides the compounding interest.
Speaking of crypto loans, I will be explaining in this article how you can have access to these loans and explore other crypto loan features.
Accessing Crypto Loans on YouHodler
Getting crypto loans on YouHodler is very easy and seamless as all you have to do is start by first signing up on the platform, after which you head on to the top section of the homepage and click on "get a crypto loan".
At this stage, you will be asked to "create a new loan," and after doing so, you will be shown a pop-up box where you will be asked to select your loan amount from five currencies, which include USD, CHF, GBP, EUR, and USDT.
Bear in mind that taking this crypto loan means that you will be doing so at a given amount of collateral based on the supported cryptocurrencies on the platform, and the value will be determined based on the amount borrowed.
Next, you select the loan to value (LTV), which depends on the percentage charged at different durations ranging from 30 days to 180 days.
This is dependent, however, on the selected coin that is used as collateral because you may not get a 180-day time duration on your crypto loan if you select USDC, for instance, as your crypto collateral.
After doing this, you agree to the terms and conditions and click on "Set take profit." Next, you click on "Get a loan," and if approved, you get your crypto loan handed to you instantly.
Crypto Loan Features
Here I will be explaining some of the crypto loan features made available to you on the YouHodler platform and how you can make use of them.
Increase Loan to Value (LTV)
The purpose of LTV is to provide opportunities for investors to get more fiat from already opened loans without the need to increase the collateral amount.
This is usually achieved by analyzing market situations carried out by YouHodler, as they always want to ensure that their users benefit most from current market trends.
If you do have an opportunity to increase your LTV, you stand to earn a particular amount in any fiat of your choice.
Take note, however, that this feature may lead to your loan duration being shortened due to market risks, and it does not apply to the Multi-Hodl and Turbocharge features on YouHodler. With Turbocharge, you borrow to get more crypto.
This feature is made available for users who have neared the end of their loan closure but want to hodl their loans even further.
It is usually achieved by reopening your loan after you have accepted the "reopen loan parameters" and paid all relevant fees, such as the interest fee and the +1% service fee.
There is always a possibility that the market trend will turn for the worse, putting an open loan in a vulnerable situation. To secure the loan, YouHodler provides the "PDL Extend" feature.
The platform analyzes the current market situation and, if the circumstances allow, provides users with the option to add more cryptocurrency to the collateral to change the price down limit (PDL) of the loan.
If the loan tariff and market conditions allow, the "Extend PDL" button will appear next to the loan in the user's Loans section.
This feature allows repaying the loan using your loan collateral's market value. YouHodler automatically sells the collateral and uses the profit to cover the loan repayment. The remaining cryptocurrency appears in your wallet.
To use this feature, go to the "My Loans Section" and click the "Close Now" button found on the card of your active loan.
BTC loans backed by altcoins are a fantastic way to leverage Bitcoin, benefit from its growth, and secure your altcoins with Bitcoin.
If you have altcoins like ETH, XRP, XLM, etc., then you can use them as collateral on YouHodler for a BTC loan.
That way, you do not sacrifice selling your altcoins but have the chance to add BTC to your portfolio. To borrow BTC, you will have to use the "Get a loan" option in your YouHodler account.
Frequently Asked Questions (FAQs)
When was YouHodler created?
YouHodler was created in 2017 as it emerged as a result of different ideas from previous blockchain start-ups, according to its CEO, Ilya Volkov.
How does Multi-HODL work?
Multi-HODL is a tool to multiply your crypto assets using a portion of your YouHodler wallet balance.
Users can keep the majority of funds in a safe and stable wallet while earning interest and using some of the funds to engage in trading activities with high-profit potential.
Final Thoughts
YouHodler is an efficient platform that has been able to provide remarkable services to crypto users around the world. Now, with the platform, you can borrow crypto loans at affordable rates and pay them back at flexible time durations.
Not only this, you still get to enjoy other crypto services offered by the platform, which is quite remarkable.
Read More