Although many people may still be unsure about investing in cryptocurrencies, this sector is undoubtedly expanding steadily without any backdown. One of the main benefits of this digital currency is that transactions may be carried out without the restrictions imposed by governments that apply to fiat money.
The truth is that regulations are frequently blamed for impeding effective transactions and being more beneficial to the system than the investors. Since cryptocurrency has become a mainstay crypto-based platforms like Crypto.com have been in the business of satisfying their ove 80million network of users.
The cryptocurrency exchange Crypto.com offers a variety of services including trading, investing, staking, wallets, and NFTs. More than 250 different currencies are available on this exchange, along with affordable fees and discounts for CRO, the native currency of Crypto.com. For individuals wishing to accomplish a lot with their Cryptocurrency, it might be a suitable option due to its vast ecosystem of cryptocurrency-related items.
Key Takeaways
Crypto.com supports complex order types, futures trading, and more than 250 different currencies.
It's a safe, transparent, and reasonable platform, with discounts and affordable trading costs of up to 0.40%.
Coupled with trading, staking, and swapping cryptocurrencies on the platform, Crypto.com additionally provides its own cryptocurrency wallet and credit card and enables users to purchase, sell, or trade NFTs.
A well-known website called Crypto.com offers consumers the chance to buy, sell, and manage cryptocurrency. Additionally, it provides a Visa card that lets customers utilize their cryptocurrency in regular purchases. Here is a step-by-step tutorial for utilizing Crypto.com to withdraw cryptocurrency and convert it to fiat.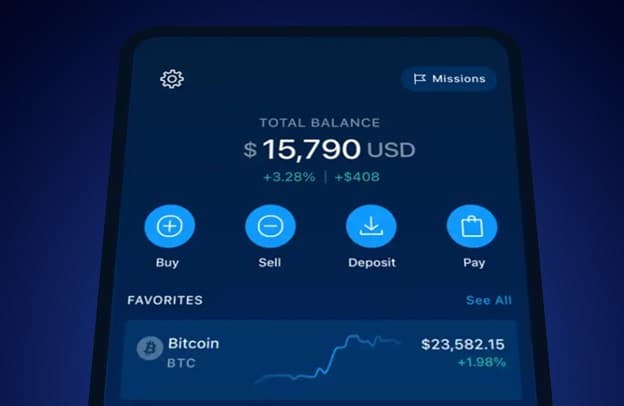 Step 1: Create an Account
The first step to begin is to create an account by registering on Crypto.com. To do this, you can download the Crypto.com app to your Android smartphone or iOS and complete the registration steps.
After downloading the iOS or Android mobile app for your device, launch the app, and then register an account with your email address. Before you proceed, you need to confirm your email by clicking the link that was delivered to your inbox.
You must have confirmed your email address, you'll need to further verify your identity by submitting your personal information and a copy of your ID to finish the KYC (Know Your Customer) process. When all this is done, you'll need to be patient while your account is being verified, which could take a few hours or days.
Step 2: Add Cryptocurrencies to Your Account
The next step after creating and verifying your account is adding Cryptocurrencies to your account. Take note that you can only add cryptocurrencies to your Crypto.com wallet after your account is validated.
To do this, open the app's "Crypto Wallet" section and choose the coin you wish to add. Upon selection of the coin, an address to transmit your cryptocurrency to will be given to you.
You can follow the steps below:
Open the Crypto.com app and log in.
At the bottom of the screen, tap the "Transfer" button.
Choose the cryptocurrency you want to deposit by clicking "Deposit".
Next, take a photo of the QR code or copy the deposit address.
Afterward, you can initiate the transfer of funds from your external wallet or exchange to the specified address. Please bear in mind that processing times may vary depending on the blockchain network. However, always ensure that the address is accurate.
Converting Cryptocurrency to Fiat Currency
Before you think of converting your crypto to fiat, you have to first of all deposit your cryptocurrency, afterward you can convert it to fiat. To this,
First, select the cryptocurrency you want to convert in the "Trade" area of the app.
Following that, decide which fiat currency you want to convert it to.
Next, open the Crypto.com app and select the "Accounts" option after the deposit has been verified.
Search for the cryptocurrency you deposited, then select "Sell."
Next, select "Fiat Wallet".
Lastly, confirm the transaction after entering the quantity of Cryptocurrency you wish to convert.
Always remember that there could be charges for the conversion and Crypto.com will show you the exchange rate and the total amount of fiat you will get.
The fiat money will be credited to your Crypto.com wallet once the transaction is successful. After that, you can deposit the money into your bank account.
Withdrawing Fiat Currency from Your Bank Account
Before you transfer fiat to your bank account, ensure your bank account is connected to your Crypto.com account before making a withdrawal. The following steps will guide you:
First, open the Crypto.com app on your phone and select the "Settings" option.
Next, hit the "Linked Accounts" button and then select "Add a Bank Account."
After that, you can type in and verify your bank account information.
To transfer, open the Crypto.com app and select the "Transfer" tab.
Choose "Withdraw" and then choose "Fiat."
Next, select the bank account that is linked, input the withdrawal amount, and then confirm the transaction.
Fees Associated with Converting and Withdrawing Cryptocurrency to Fiat?
1. Deposit Fees:
In general, one could say that the process of depositing is free because depositing cryptocurrency into your wallet with Crypto.com is free of charge. Nevertheless, depending on the cryptocurrency you are depositing, you could have to pay a token for network fees.
2. Network Fees:
For your information, you are obligated to pay a token for network fees whenever you withdraw cryptocurrency from your Crypto.com wallet. Depending on the coin and the network load, these fees could change. However, the fees are likely higher when there is a lot of network activity.
3. Conversion Fees:
Like every other platform, Crypto.com charges a fee to convert cryptocurrencies. However, the amount charged varies depending on the cryptocurrency and fiat currencies involved in the transaction. But in general, the fee ranges anywhere from 0.5% to 1% of the total transaction cost.
4. Spread:
When converting cryptocurrency to fiat currency, Crypto.com applies a spread to the exchange rate. The spread is the variation in the cryptocurrency's prices (in terms of sales and purchases). The amount you pay on a spread also varies depending on the cryptocurrency and fiat currency used in the transaction.
5. Fees for withdrawals:
Lastly, fiat currency withdrawals to your bank account through Crypto.com requires you to pay some fees. Just like others, this fee also varies based on the currency you are using and the country which you are withdrawing from. But generally, the cost often falls between $2 to $30.
The Least Amount of Fiat Currency One Can Withdraw
Depending on the fiat currency and your country or region, you can withdraw a different minimum amount of fiat money from your Crypto.com account. However, the minimal withdrawal amount is often between $20 and $25.
It's vital to keep in mind, that some banks could have their minimum withdrawal limits that are higher than those stated by Crypto.com. For this reason, you have to check with your bank to be sure that you can withdraw the amount you desire.
Additionally, when looking at the minimum withdrawal limit,  do not forget that Crypto.com would charge a withdrawal fee for moving fiat currency to your bank account and the price will be subtracted from the amount you are withdrawing.
So, before making a withdrawal, you should confirm the withdrawal charge for your particular fiat currency as well as your county/region.
What is Fiat Transfer Time?
When you talk about the time it takes to transfer fiat currency, several variables, including withdrawal method, bank processing timeframes, and the country/region you are withdrawing too, might affect how long it takes to withdraw fiat money from Crypto.com to your bank account.
Withdrawal requests are typically processed by Crypto.com in 1-2 business days. The amount of time it takes for the money to arrive in your bank account after the withdrawal request has been completed will depend on how quickly your bank processes withdrawal requests.
The funds may arrive in your bank account within a few hours in some circumstances, while it may take up to a few business days in others. The withdrawal method you select, such as ACH transfer or wire transfer, may also affect how long the process takes.
Nowadays, as more people are coming into the limelight of cryptocurrency, many businesses all around the world accept payments made in numerous cryptocurrencies. Cryptocurrency has remained a thriving choice for investors wishing to diversify their holdings.
In today's more cutthroat and digitalized financial environment, cryptocurrency could be the asset of choice for you. It provides a secure, decentralized substitute for the fiat currency system, which many people and institutions perceive to be overly constrictive.
More interestingly, statistics show that the acceptance of cryptocurrencies as a practical choice for payment and asset management by more financial firms, companies, and governments is expected to increase in the next years.
Read More