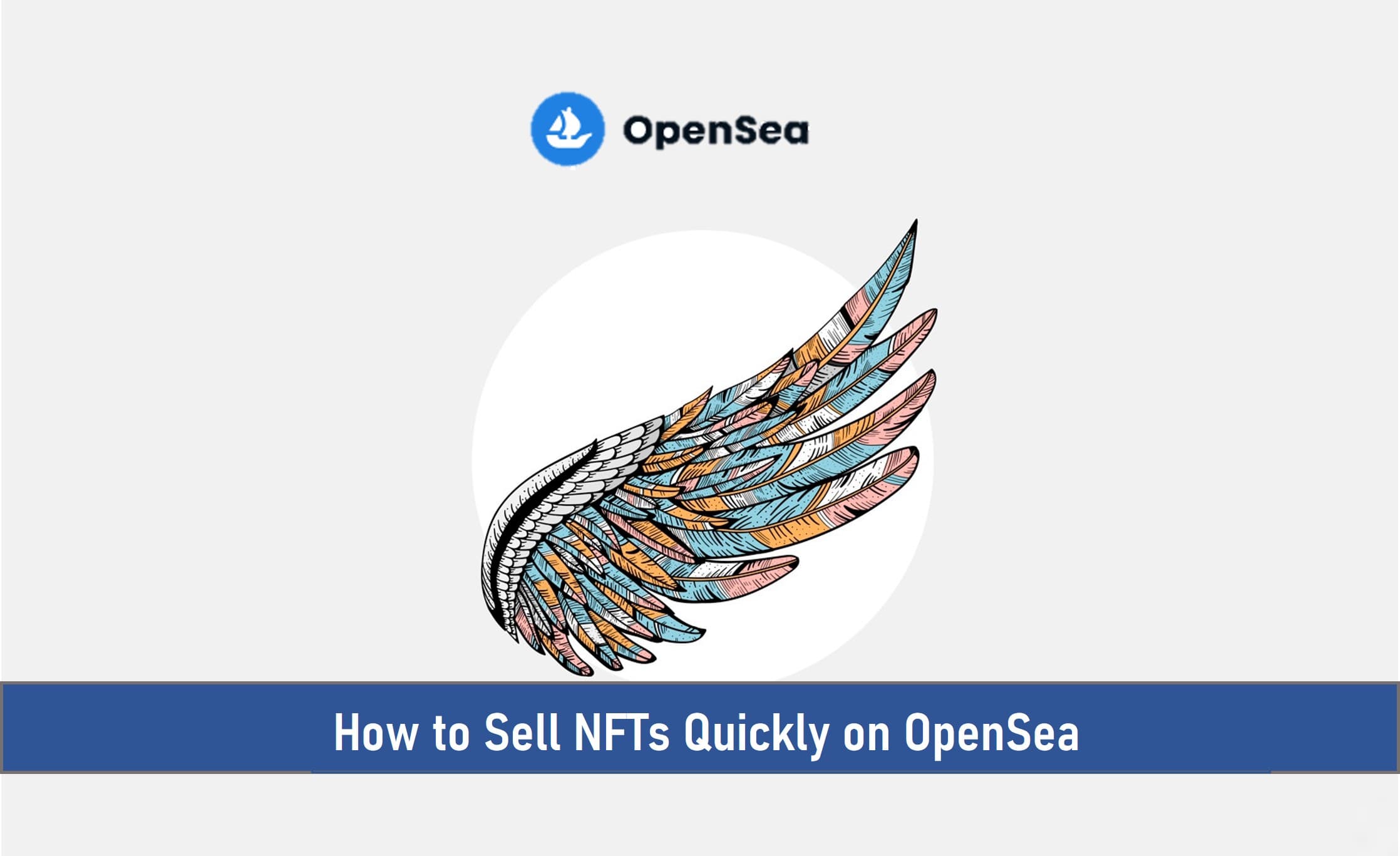 In my previous article, I explained how much gas fees are on OpenSea, and today I will be explaining to you how you can sell NFTs on OpenSea.
You might want to go through my previous article on gas fees to know what gas fees are and what they are for, as it is important you know that if you plan on selling NFTs on OpenSea.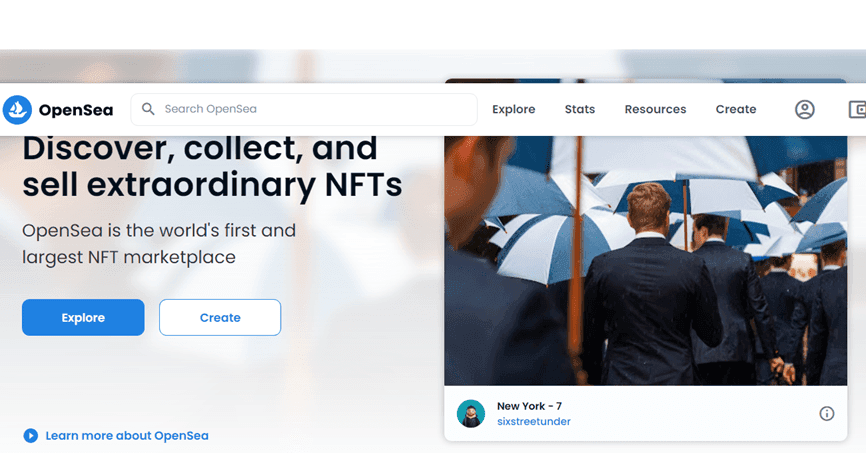 Key Takeaways
 • OpenSea is the number one marketplace for creating, selling, and buying NFTs.
 • On OpenSea, you can explore a variety of collections from "Arts" to "Virtual Worlds".
 • OpenSea will charge a service fee of 2.5% and a "Creator Royalty" of 10%, for a total of 12.5% for every NFT sale on its platform.
 • The reserve price is a price floor that is kept in place to stop a listing from selling below an acceptable price.
SEE ALSO: How Much Are Gas Fees On OpenSea?
SEE ALSO: How to Earn 10% Royalty Fees On OpenSea Marketplace
SEE ALSO: How To Make NFTs for Yourself (6 Quick Steps)
 Moving on, let's get straight to the point…
OpenSea is a decentralized non-fungible token (NFT) marketplace for buying, selling, and trading NFTs.

OpenSea brands itself as the biggest marketplace for digital goods. As such, it's worth taking a closer look at OpenSea and what the platform adds to trading NFTs.
Note: When you're ready to sell NFTs on OpenSea, there are three options for listing them which are explained below:
1. Fixed Price Listings
This type of listing involves purchasing the item immediately. Here, the seller makes the price of the NFT known to buyers and keeps it listed until it is bought by a buyer.
2. English Auction Listings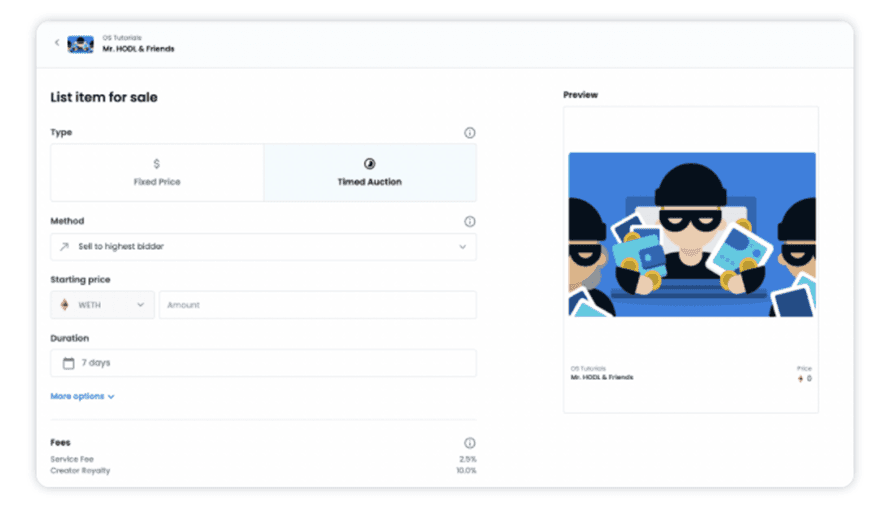 In this type of listing, a seller sets a minimum price for an NFT with the hope that the NFT is valuable enough to draw high bids from buyers so that he can offer it to the highest bidder.
A good strategy is to start bidding from scratch. That way, you get the buyers all hyped up to begin bidding.
Reserve Price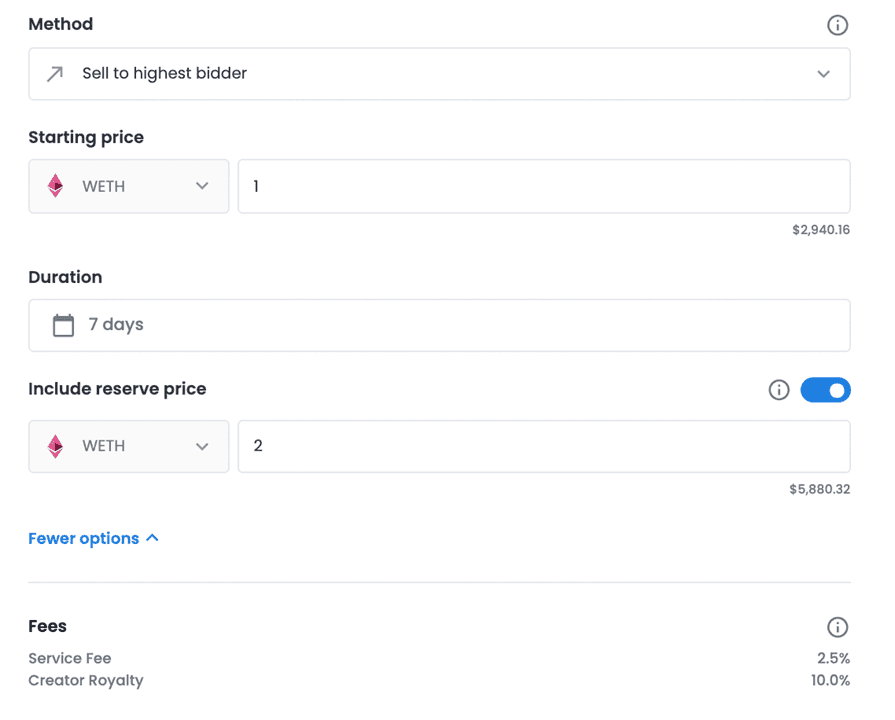 In the picture above, a reserve price of 2 WETH has been set with a starting price of 1 WETH. 
OpenSea features a reserve price, which is kept in place to stop a listing from selling below an acceptable price. The reserve price serves as a price floor for NFT items. 
In spite of this, sellers still remain in charge of their NFT items and can accept the highest bid whenever they are ready to sell.
3. Dutch Auction Listings
To set up a Dutch auction, sellers need to set a starting price, an ending price, and a duration.
Here, the plan is to set a price that exceeds the market value while allowing it to fall with time.
The seller then continues waiting till the price falls and meets the buyer's valuation so that they can buy it immediately.
All said and done below is a step by step guide on how to sell NFTs on OpenSea:
Step 1: From opensea.io, select your profile image in the top right and then click Profile.
Select the NFT you would like to sell from your wallet. If you don't have an NFT available to sell, check out the create an NFT tutorial to get started.

Step 2: Select "Sell" on the top right to be taken to the listing page.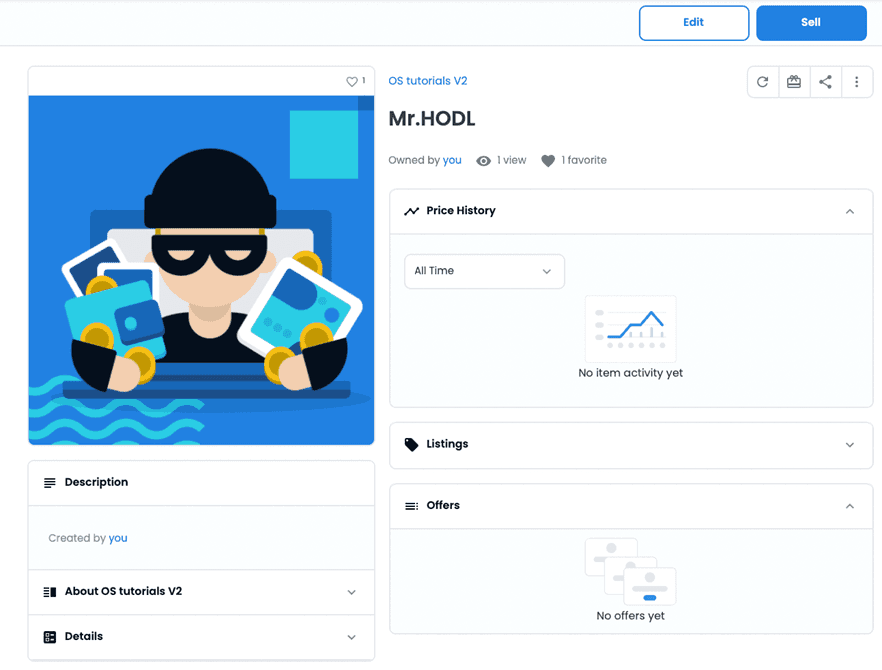 Step 3: You'll be taken to the listing page, where you can choose the price and type of sale.
A "Fixed Price" sale is one where the price stays fixed. In this screenshot below, the price is fixed at 1 ETH.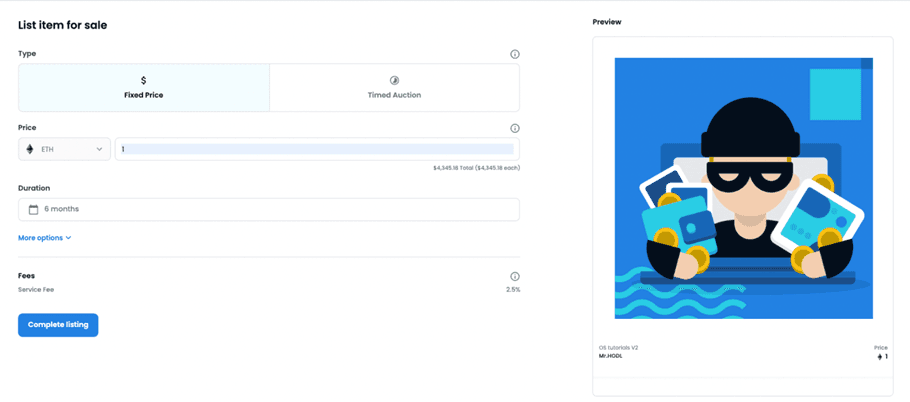 Step 4: You can also set duration for the sale. The default options are 1 day, 3 days, or 1 week, but you can also set a custom duration using the calendar.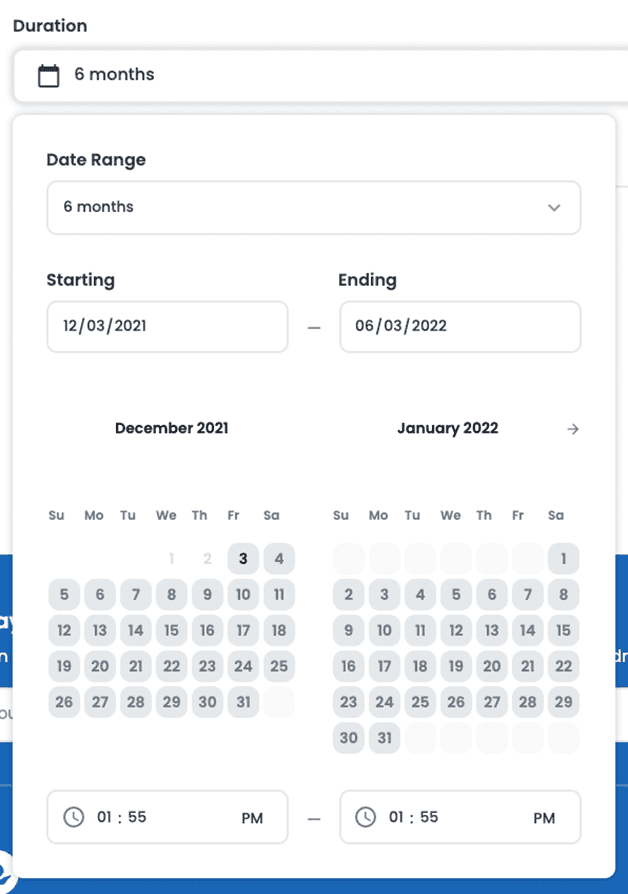 Step 5: You can also include the item in a bundle (grouping NFTs from different collections).



Step 6: Lastly, you can also reserve the item for a specific buyer. To do so, simply paste their address into the field below "Reserve for specific buyer". 
In all those options, you'll see the potential fees from the sale listed at the bottom. In this case, the sale includes OpenSea's "Service Fee" of 2.5% and a "Creator Royalty" of 10%, for a total of 12.5%. This is the highest percentage that can be deducted from an NFT sale on OpenSea.
Completing your sale
Step 7: You'll then be asked to confirm your sale by signing a transaction.
Please note that if you've never sold on OpenSea before, you'll need to initialize your wallet first. 
Also, if the item you are listing was not minted on OpenSea but through a custom contract, there may be an additional approval and signature required to allow OpenSea to trade the item on your behalf.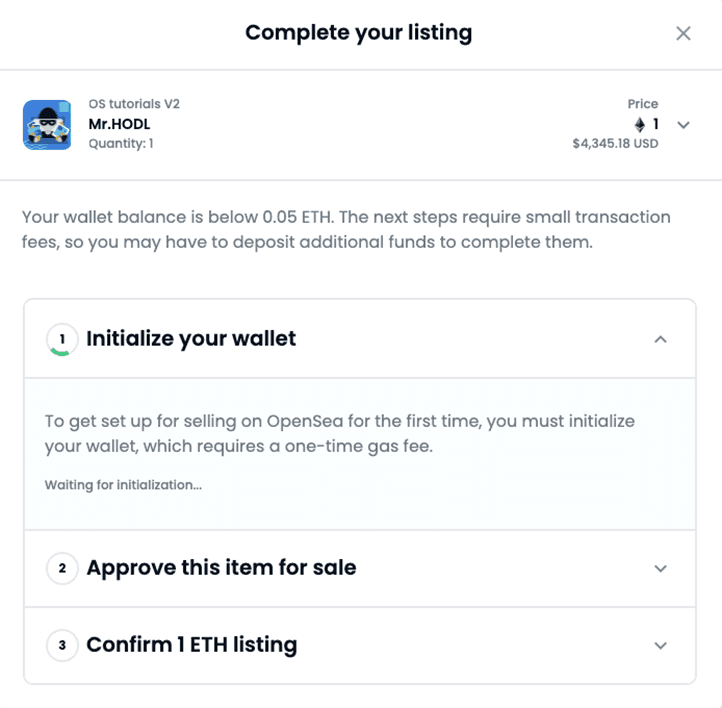 Once your listing is complete, you will get a pop-up confirmation like below. Make sure to share your listing on social media.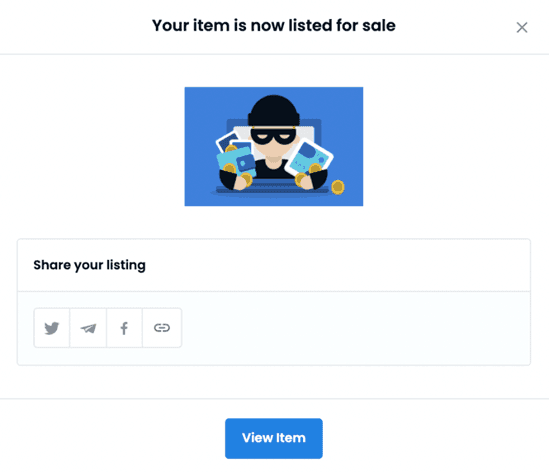 From your profile page, select the Activity tab to see the items you have listed for sale. You will see the item you just listed labeled with the transaction list.
Frequently Asked Questions (FAQs)
How do fees work? Do I still get to benefit from secondary sales of my items?
OpenSea lets you decide what fee you want to charge on your items, meaning that every time an item is sold, you (the developer of the project) will receive a percentage cut of the sale.
What are NFTs on OpenSea?
NFTs are digital collectibles that can be created, bought and sold by anyone on OpenSea for a fee. You can read through this article to find out how to sell NFTs on OpenSea.
SEE ALSO: Are NFTs a True Store of Value?
Final Thoughts
Selling NFTs on OpenSea isn't difficult as all you have to do is follow the steps laid out in this article and you are good to go.
Also, remember to go through my previous article on gas fees should you find it needful while performing certain actions on the OpenSea platform.
Read More