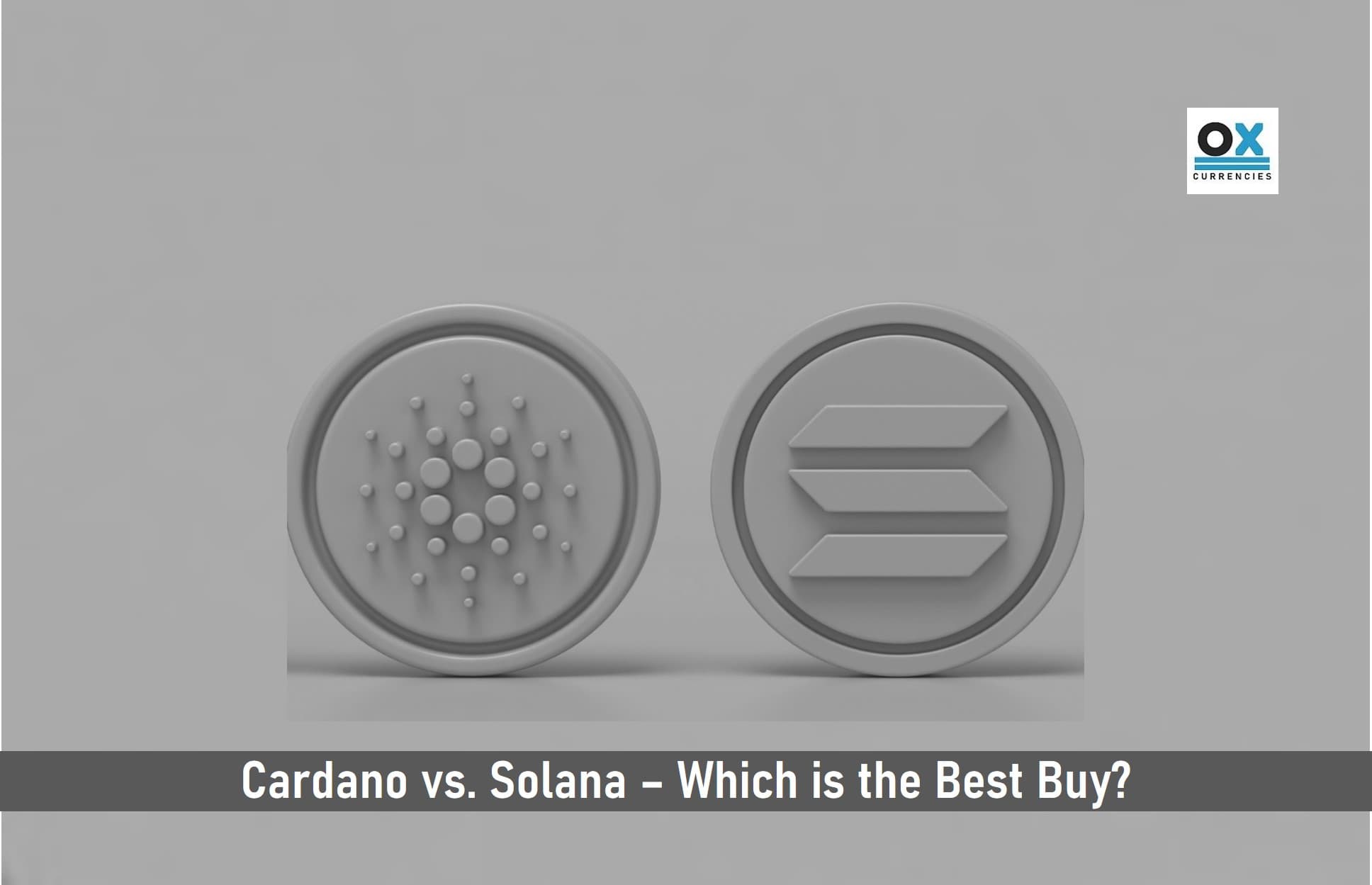 Recently, Cardano has made headlines because it appears that wealthy investors have lost interest in the cryptocurrency, which has caused its price to fall by 5% over the last week.
On the other hand, Solana is in a bearish trend as its value has dropped by more than 70% since the beginning of the month.
Given these two scenarios, one might wonder which of these cryptocurrencies is the best buy based on their market performance.
Key Takeaways
• Cardano and Solana are both witnessing a bearish run in the crypto market, with their prices expected to fall even lower in the coming days.
• Cardano and Solana are good cryptocurrencies for investment as they both have various qualities that are of much interest to investors.
• Choosing between Cardano and Solana depends on your investment goals and preferences.
• The crypto market is currently experiencing a "crypto winter," which has affected the performance of Cardano and Solana alongside other cryptocurrencies.
In this article, we shall be providing a detailed answer as to which is the best to buy, alongside other important information you should know about them as a crypto investor.
SEE ALSO: Is Polkadot Better Than Cardano?
SEE ALSO: How Cardano Mainnet Network Works (Simplified)
SEE ALSO: 5 Recommended Wallets to Store Solana NFTs
A look at Cardano and Solana
Here, we take a look at both cryptocurrencies concerning their recent market performance and price changes below:
Cardano
Source: CoinMarketCap
Cardano, also known as the "Ethereum Killer," was only recently introduced in 2017 and has since experienced a meteoric rise to become one of the top 10 best-performing cryptocurrencies in the cryptocurrency market.
Cardano's ADA price as of the time of writing is $0.333, a figure arrived at due to the crypto market's bearish conditions.
Its all-time high figure was $3.10 a year ago, and it has a live market cap of $11,531,823,281 and a circulating supply of 34,396,095,220.
Cardano's value is expected to fall 7.93% to $0.305791 by November 18, 2022, according to Coincodex.
Their technical indicators point to Cardano experiencing an even more bearish run, while the Fear & Greed Index is reading 22 (Extreme Fear).
Cardano recorded 15/30 (50%) green days with 6.71% price volatility over the last 30 days. With these statistics, it is safe to say that the chances of Cardano witnessing a bullish run any time soon are quite slim.
Solana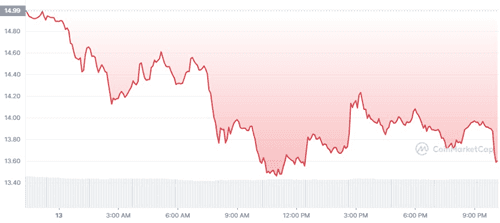 Source: CoinMarketCap
Solana was launched in 2020 and classified as one of the top cryptocurrencies in the crypto market.
Its current market price as of the time of writing is $13.71, a fall of 8.62% in the last 24 hours, although this is in part due to the bearish run of the crypto market in recent times.
It has a 24-hour trading volume of $839,224,166; a live market cap of $4,990,513,518; and a circulating supply of 362,763,451.
Solana witnessed an all-time high of $260 a year ago, but today's price is a far cry from that.
According to Coincodex, Solana is witnessing a bearish run and is expected to fall by up to 13% in the coming days.
It doesn't take a genius to surmise that the similar market performances of Solana and Cardano could be explained by the crypto winter market conditions in which many investors are retreating from some of these cryptocurrencies.
Nonetheless, it is expected that this situation happens from time to time, and in the future, we could witness a turn of events that could signal a bullish run for the crypto market.
Features of Cardano and Solana
Below are the following features of the Cardano and Solana cryptocurrencies:
| | | |
| --- | --- | --- |
| Features | Cardano | Solana |
| Launched | 2017 | 2020 |
| Ticker | ADA | SOL |
| Live Market Cap | $11.5 billion | $4.9 billion |
| General Use | dApps, tokens | dApps, scalability |
| Transaction Function | Cardano settlement layer | Solana runtime |
| Mining | Proof of stake | Proof of History |
| Maximum Supply | 45 billion | Unlimited but timed |
| Currency Usage | Tokens, dApps | dApps, transactions |
| What influences the value | Adoption | Adoption |
| Transaction fees | $0.18 | $0.00025 |
| Transaction speed | 250 transactions per second | 65,000 transactions per second |
ADA and SOL Use Cases
ADA is used for a wide variety of functions, which is why Cardano itself is highly functional. For example, ADA is used to process peer-to-peer transactions, act as a reward for staking, and much more.
The creators and developers behind the ADA token have also made it clear that ADA exists to bring about positive change and to provide a solution to problems across multiple industries such as education, agriculture, government, finance, health care, etc.
Finally, ADA is used to manage smart contracts and to enable developers to carry out the same contracts on the Cardano blockchain.
SOL, on the other hand, is used for two major reasons which are as payment for transactions carried out on the Solana blockchain and for staking as part of its proof-of-stake protocol.
Verdict
Solana and Cardano are both witnessing a rapid bearish run, causing investors to be skeptical about the crypto market. Nonetheless, they both have features that are highly valuable in their own right.
Deciding on which crypto is the best buy is dependent on what you are looking for as a crypto investor rather than the cryptocurrencies themselves.
For instance, if you are an investor who is keen on functionality and predicted market performance, Cardano might be the right one for you.
However, if you are more concerned about transaction speed and transaction fees, Solana might be the right choice for you.
Frequently Asked Questions (FAQs)
Is it wise to invest in Cardano?
To be frank, it depends on your expectations of a cryptocurrency. However, Cardano has some impressive features that prove that it is a cryptocurrency to be considered for investment.
Is Solana's supply limited?
Solana does not have a limited supply even though it releases a new set of tokens to its already existing supply every year.
Final Thoughts
Solana and Cardano are top-tier cryptocurrencies in the crypto market, known for their features and market performances over time.
Investing in any of them can be a significant benefit for you once you conduct enough research and ascertain which is best based on your preferences and needs as an investor.
Read More