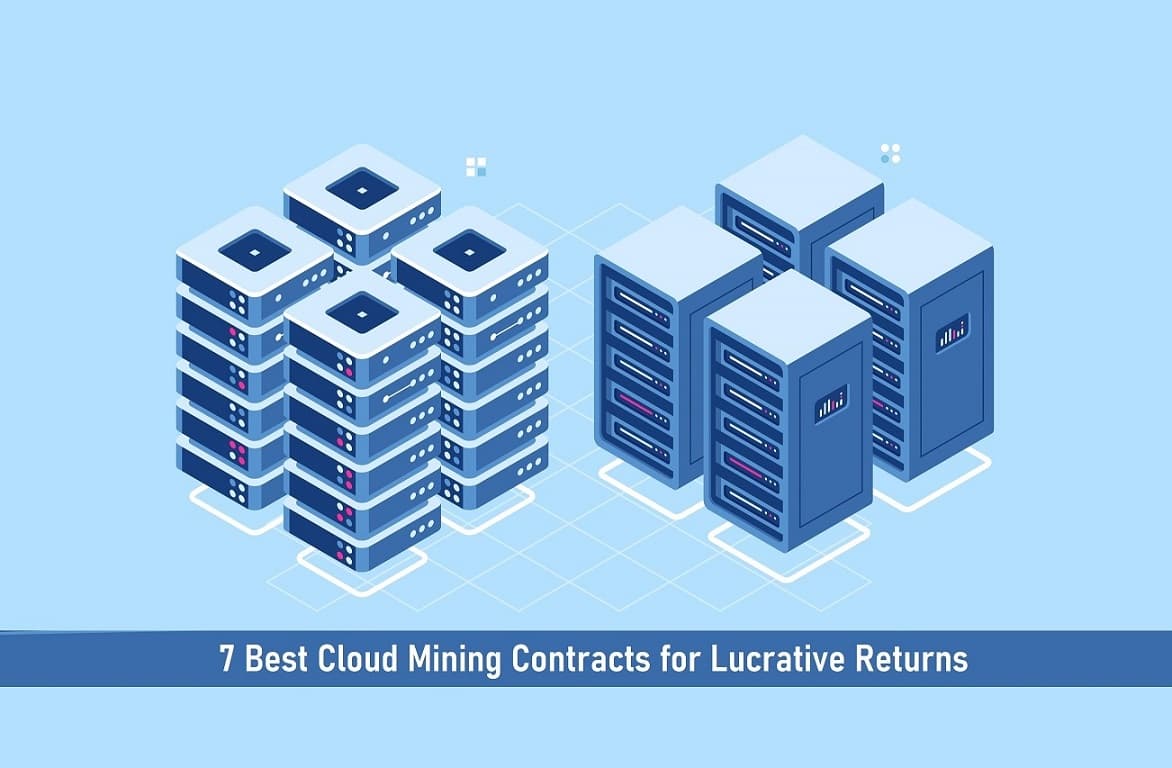 Cloud mining is often the best way to get your feet wet when getting started. Before laying huge capital aside for Bitcoin mining hardware, have you considered trying out cloud mining?
Cloud Mining contract involves renting or subscribing to a mining plan where a virtual miner mines his/her preferred cryptocurrency and earns a daily reward.
Cloud mining contracts usually span for a year. However, cloud mining providers are getting creative by including monthly and quarterly contracts in other to appeal to more miners and attract them to their pool.   
All prospective miners need to do is to sign up with a cloud mining company and purchase a contract. Some cloud mining company mines predetermined cryptocurrencies on their behalf and pays out their earnings after maintenance fees are deducted.
The daily payouts received are dependent on the mining difficulties encountered, service fees, and the price of the mined coin in the market. The mining hardware used is owned and stored in the company's facility.
Key Takeaways
• Nuvoo mining stands out from the rest as it offers the most affordable price for electricity and cooling suitable for cloud miners with electricity problems.
• Shamining offers 4 types of contracts; CPU, GPU, ASIC, and Individual contract with ASIC having the highest profitability of 156%.
• CryptoUniverse was built to be one of the safest cloud mining contracts out there with very low fraud risks and it is very suitable for beginners.
Listed below in no particular order are the top 7 best cloud mining contracts for lucrative returns worthy to be on this list.
Shamining is a cloud mining platform that enables you to mine cryptocurrencies without any hardware and skills. It operates on Windows, macOS, iOS, and android.
Shamining Offers four types of contracts: CPU, GPU, ASIC, and Individual contract.
CPU offers the power of 23 580 GH/s in $0.0120 per GS/s with a maintenance fee of $0.0108 per GH/s daily. Profitability=143%
GPU offers the power of 94 340 GH/s in $0.0113 per GH/s with a maintenance fee of $0.0106 per GH/s daily. Profitability=149%
ASIC offers the power of 235 849 GH/s at $0.0109 per GH/s with a maintenance fee of $0.0104 per GH/s daily. Profitability=156%
As we can see, higher power implies high profits and a user can always make use of the 24/ customer service to clear his/her confusion with regards to which contract should be met.
Features:
1. Currently the most promising investment platform
2. It enables you to control your miners from any device.
3. You can calculate your income.
4. Using this platform is very easy
5. Environmentally friendly infrastructure.
6. Mining farms use green energy from wind and solar power plants.
7. Good technical support is offered on a 24/7 basis.
8. Compatible with all computer systems.
9 It enables you to mine digital currency without using expensive equipment.
Pros:
1. Meager minimum investment at $ 500 and Withdrawals from 0.001 BTC
2. Regulated under FCA, ASIC, and CySEC rules.
Cons:
1. Users are required to submit personal information during verification.
Visit Shamining
SEE ALSO: How To Mine Bitcoin At Home With Shamining
SEE ALSO: Best 7 Mining GPU Graphics Cards To Consider
SEE ALSO: Dogecoin Mining Essentials: How to Mine Dogecoin on PC
CryptoUniverse.io founded in 2017 is a cloud mining provider that enables you to mine bitcoin easily.
This trusted cloud mining site allows adding more people to Blockchain and cryptocurrency mining. It also has a low fraud risk and supports only bitcoin and Litecoin.
Features:
1. You will get daily rewards in your account.
2.  Mining equipment is maintained and updated 24/7.
3. CryptoUniverse provides good cloud mining services to mine Bitcoin and Litecoin.
4. Users can earn BTC by sharing the mining equipment.
Visit CryptoUniverse
This cloud mining service is unique and profitable because it uses Smart Mining Strategy as it can automatically switch between cryptocurrencies to determine the most profitable to mine at a given point in time.
This is then converted into Bitcoins and paid out once a day.
The company has contracts with well-known partners and you have the power to choose up to 5 different cryptos to mine.
They also have a clear-cut contract duration and income and charge no commission on payments. It supports Ethereum, Litecoin, Monero, Dash, Zcash, and other alt-coins.
Visit IQ Mining
The first advantage of this site is transparency. It was one of the first set of cloud mining companies to hit the market.
Genesis mining is a reliable resource for cloud mining and also allows you the possibility to monitor some other mining farms from its website. This has greatly increased the level of customer confidence it has gathered.
On the website, you are free to mine any coin listed as available. Also, another advantage of this platform is that, in the case of any form of system failure, all mining capacities will be directed to other pools so investors never miss out on a payment.
Genesis supports a wide range of cryptocurrencies such as Bitcoin, Ethereum, Litecoin, Dash, Monero, and Zcash.
Visit Genesis Mining
Apart from all its cloud mining services, Nuvoo Mining offers you the opportunity of renting a mining farm designed by an expert.
Its algorithm development is keened on energy efficiency and the environmental friendliness of mining.
This company's mining contracts can be paid for every month.
It offers unbeatable prices for electricity and cooling due to its energy efficiency.
It does not have any other hidden or extra charges and also engages in multi-cryptocurrency mining. It supports Bitcoin, Ethereum, and Litecoin.
Visit Nuvoo Mining
Hashflare cloud mining service is a subsidiary of Hashcoins, a mining equipment manufacturer.
It offers mining contracts for various cryptocurrencies such as Bitcoin, Ethereum, as well as Litecoin, and Zcash.
The company aims at helping everyone to cash in on cryptocurrency notwithstanding experience, technical skills, and other factors.
Once you buy a mining contract, you are connected in 0.001 sec and assured withdrawal without delay.
The dashboard in your account displays detailed statistics of the status of the mining equipment and doesn't charge any hidden fees. It supports Bitcoin, Litecoin, Ethereum, Zcash, and Dash.
Visit HashFlare Mining
Brockville (formerly Ngexchanger) is a cryptocurrency exchange but added mining to its services in April 2020.
It partnered with a reputable mining company that has its mining farm in Russia to provide this service.
It provides 24 months mining contracts with the option of opting out after 6 months.
Users of Blockvila receive a 10% profit per month. Blockvila supports only Bitcoin.
Visit Brockville
SEE ALSO: How to Choose a Bitcoin Miner that Saves Electricity
Frequently Asked Questions (FAQ)
1. How long does it take to mine a Bitcoin?
At the moment, it is not possible to mine only one Bitcoin as you can only mine a block which translates to 6.25 BTC per block mined.
2. Which coin mining is profitable at the moment?
Presently, there is a wide range of coins that have profit potentials in terms of them being mined. An example would be Ethereum as it made much money in 2020 and early 2021.
3. Is Cryptomining a difficult task to do?
Crypto mining is quite difficult and tedious. Notwithstanding people engage in crypto mining because they get rewards for their work in the form of crypto tokens.
4. Can I mine Bitcoin on my phone?
It is very much possible to mine bitcoin on your phone although it is nothing compared to the traditional mining software/hardware.
Final Thoughts
Overall, as cryptocurrencies gain more momentum so will cloud mining gain popularity among the crypto community.
Platforms offering professional cloud mining might be on the increase and so will the demand for more specialized and sophisticated mining hardware.
Read More