How TRON Started
TRON (TRX) has had one of the most amazing followings in the crypto industry since its inception in 2017.
Tron used community support and its unique technological features to become one of the top thirty cryptocurrencies in the world in terms of market capitalization as of the time of writing. Even more astounding is the fact that TRON completed this feat in less than two years.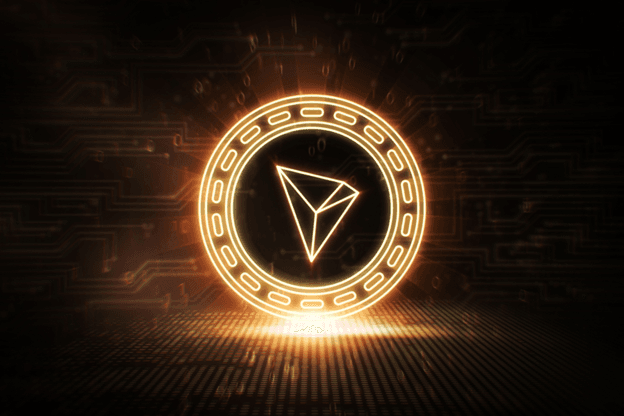 Key Takeaways
• Tron protocol is one of the largest blockchains out there, built with infrastructure, dedicated to decentralizing the internet.
• Seeing the upward trend of Tron, one can invest in it, but it depends on the risk appetite of the investor and how long he is willing to hold it.
• Kraken, Bitpanda, eToro and a host of others are among the top platforms to invest in Tron's protocol.
SEE ALSO: 5 Best Tron Wallet Apps on IOS and Android
SEE ALSO: 7 Best Tron Wallets for Staking and Storage
If you want to invest in Tron, I will highlight a few Tron investment platforms that will be worth considering.
Let's get started.
1. Kraken
Kraken is a fully functional investment platform with friendly fees and a diverse coin selection.
It's also one of the few cryptocurrency exchanges in the United States that offers advanced trading features like margin. It declares that it aspires to be the "best and most secure."
Kraken, which was founded in 2011 and debuted in 2013, is one of the world's largest and oldest exchanges. And it's been focused on security since the beginning and as such, hasn't been hacked in over eight years, which speaks for itself.
The exchange based in the United States has constantly led the market in terms of security. It has security as well as financial stability. Furthermore, it encourages users to practice good security measures.
Kraken accepts around 60 cryptocurrencies, including Tron, and seven fiat currencies. That isn't the most extensive range of cryptocurrencies available, but it is similar to some of the finest cryptocurrency exchanges.
SEE ALSO: 7 Crypto Exchanges With the Best Annual Percentage Yield (APY)
SEE ALSO: 7 Best Insured Crypto Exchanges for Better Protection
It's also a step forward from many dealers, who simply provide a few well-known coins. Kraken also has high liquidity, which makes it simpler to purchase and sell at a reasonable price.
Kraken is one of the few exchanges that provide margin, stop orders, and cryptocurrency short sells, making it one of the greatest Tron investing platforms. It also features a dark pool, which allows high-volume investors to trade anonymously.
Kraken offers you the opportunity to leverage a currency pair up to five times and provides qualifying pro clients with up to $500,000 in the margin.
Kraken's fees are comparable to those of other exchanges. It isn't the cheapest on the market, but its maker-taker costs are lower than those charged by Coinbase, for example.
Trading costs vary per exchange and are frequently determined by how much you trade each month.
2. StealthEX
StealthEX is a non-custodial investment platform that was launched in 2018. It lets traders buy and convert cryptocurrencies with no hidden fees, limitations, or other restrictions without having to register on the site.
There are no KYC requirements, and there are no additional or hidden costs; it also provides its users with privacy and security.
StealthEX has connected with various incredibly fast and easy exchanges, like Binance, and investors may access each of its partner websites to discover the best price for themselves.
StealthEX is useful for individuals who wish to trade cryptocurrency on the fly by utilizing the StealthEX bot on Telegram.
It has collaborated with numerous major cryptocurrency exchanges, including Binance, Okex, and KuCoin, and provides over 350 assets to trade. Investors can get the best price and competitive rates with each exchange and liquidity by visiting its associated sites.
The network transaction fee, as well as additional network costs levied by the platform's partners, is included in the cost of quick switching on StealthEX.
It might differ depending on the coins picked. Simply said, expenses are reviewed and worked out on a case-by-case basis, and as a result, the transaction fees imposed by them are one-of-a-kind.
That being stated, it will compute the related costs and disclose them to the trader as an approximate estimate before any deal is made on its platform. The user may anticipate a fee rate of about 0.4% for the deal made.
SEE ALSO: 9 Best Cryptocurrency Exchanges with High Trading Volumes
SEE ALSO: 6 Best Cryptocurrency Exchanges with Leverage Trading Incentives
3. BC Bitcoin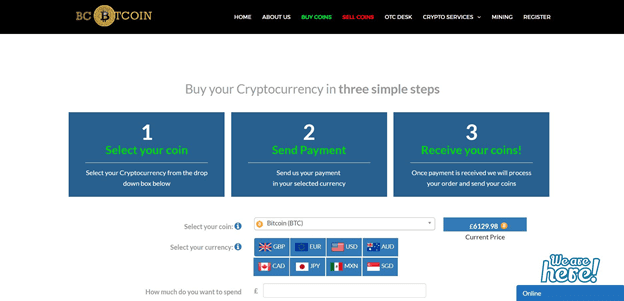 BC Bitcoin is one of the greatest investment platforms available in the UK. They have been offering cryptocurrency transaction services to traders since 2016, and are a registered company with Companies House under the name J&M Trading Limited.
As a customized brokerage, BC Bitcoin is prepared to cater to unique arrangements, including the purchasing, selling, or holding of individual cryptocurrencies that an investor may have in mind.
So, if you're searching for anything special, simply give them a call.
BC Bitcoin, as a cryptocurrency brokerage, allows its investors to purchase and sell a wide number of cryptocurrencies at a set price, utilizing bank transactions for both deposits and withdrawals.
They work similarly to a bureau de change at an airport, where you may exchange your money for a predetermined fee in a foreign currency. Investors will be able to buy bitcoin with fiat currency (pounds, euros, or dollars) and sell cryptocurrency for fiat cash.
They will deliver the funds to the wallet address the investor chooses, or they will keep the crypto assets for the investor if they wish.
There are no additional trading costs when investors use BC Bitcoin. This is because their trading commission is already included in the fixed pricing supplied to clients for the purchase or sale of cryptocurrencies. Furthermore, there are no fees for withdrawals or deposits.
Investors may suffer a minor transaction charge while purchasing cryptocurrencies, depending on whether the coin is mineable. The sole exception is when purchasing bitcoin, in which BC Bitcoin agrees to reimburse the mining charge.
BC Bitcoin is a safe and reliable exchange. Customers will be assured to get the agreed amounts in their wallet or bank account as long as they can make a payment to them to carry out a specific transaction.
Their online account security, on the other hand, is relatively insufficient. There is no option to link a 2FA (Two-Factor Authentication) feature to the account at this time, which means your account is solely protected by your e-mail address (username) and password.
4. eToro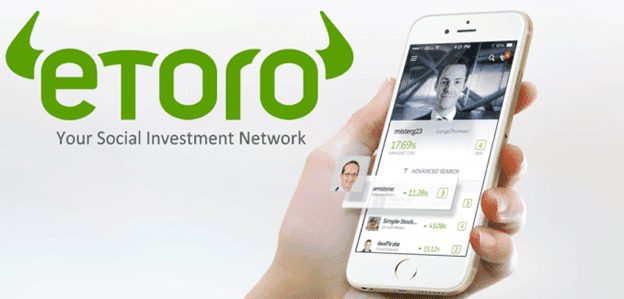 Founded in 2007, eToro today boasts more than 20 million members in 140 countries, including the United States.
However, while eToro operates multi-asset brokerages (providing equities, commodities, and currency trading) in other countries, traders in the United States can currently only trade cryptocurrencies on the investment platform.
The firm intends to increase its products in the United States in the future.
EToro is a social investing platform for cryptocurrencies like Tron, and its CopyTrader feature allows you to automatically replicate and trade depending on the actions of other traders.
How it works: You select an investor to mimic, and with the press of a button, you may begin automatically matching their holdings (with the option of a stop-loss level to limit potential losses).
The minimum fee for copying a user is $200, while the highest fee is $500,000. Users can clone up to 100 traders at the same time.
Investors may access the portfolios, statistics, and risk ratings of millions of other traders even if they do not utilize CopyTrader. (While they have full access to all public profiles throughout the world, US customers can only copy other US users.)
eToro imposes trading fees in the form of spreads, which fluctuate in response to market circumstances.
Unlike some other providers, eToro imposes a round-turn fee – a single spread applied to both purchasing and selling crypto assets. Spreads on most cryptocurrencies range from 0.75% to 2.9%.
SEE ALSO: Top 8 Cryptocurrency Exchanges that Do Not Require KYC
SEE ALSO: 7 Cryptocurrency Derivate Exchanges With Their Own Coin
5. BitPanda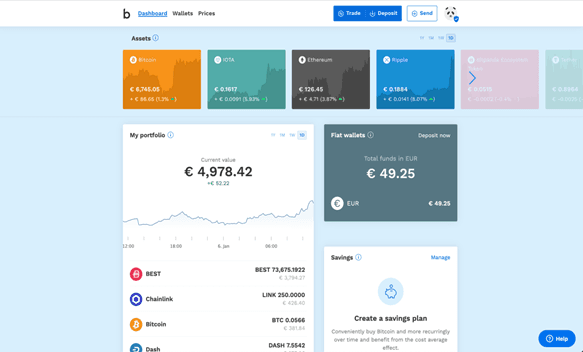 BitPanda is a cryptocurrency investment platform established in Austria that primarily serves the European market.
The exchange was created in 2014 and has since evolved to become one of Europe's most popular cryptocurrency exchanges for buying and selling Tron.
Many people are drawn to the exchange because it offers a highly intuitive and simple interface for buying and trading cryptocurrencies.
Furthermore, the exchange provides a broad range of payment choices, making it simple for new cryptocurrency fans to purchase cryptocurrencies such as Tron.
BitPanda's investment platform is quite simple and restricted in terms of the services and capabilities it offers. Essentially, the site can only be used to purchase and sell cryptocurrencies at the current market price.
The platform can only be used by traders to exchange fiat currency for bitcoin and vice versa.
The platform is not utilized for chart analysis or market data analysis, but rather for buying and selling cryptocurrencies. Having said that, the investment platform is well designed and simple to use.
BitPanda does an excellent job of creating a user-friendly interface for novice cryptocurrency investors to purchase and sell coins.
When you attempt to purchase or sell bitcoin on BitPanda, the costs are not disclosed. The costs are included in the price and vary based on the form of payment utilized.
BitPanda does, however, average roughly 5% on every transaction. To check how much you're paying in fees, simply compare BitPanda's exchange rate with BitStamp, and the difference is the cost that's factored into BitPanda's pricing.
BitPanda uses cutting-edge technology to keep traders' funds as securely as possible in secure offline wallets. Accounts can also be protected using Two-Factor Authentication.
Investors can log out and stop active sessions using another device after seeing their active devices and sessions.
SEE ALSO: 12 Best Cryptocurrency Exchanges with Rewarding Affiliate Programs
SEE ALSO: 7 Best Exchanges that Supports Solana
Frequently Asked Questions (FAQS)
1. Is TRX a good investment?
Tron has done well, especially when compared to some of the other blockchain ecosystems that have emerged in recent years. TRX's value has climbed by 299.2 percent in the last year, indicating that the cryptocurrency has a lot of potentials.
2. Where can I get Tron TRX?
The simplest approach to getting TRX is through a reputable exchange like Kraken. They are consistently regarded as one of the world's most safe and reliable cryptocurrency exchanges. This is significant because if you lose your cryptocurrency, it may be virtually hard to recover your losses.
Final Thoughts
Knowing the best platforms where you can invest your Tron assets will save you a lot of time and energy, and that is why we have listed out for you the best investment platforms available in this article for you to choose from.
Remember that cryptocurrencies such as Tron, are highly volatile and as such, be sure to do sufficient research before investing.
Read More