This post contains some affiliate links
Intro to the Sleek BitBox02 Wallets
The Swiss manufacturer (Swift Crypto AG) created the BitBox02 hardware wallet in 2018, making it one of the best and sophisticated Bitcoin-only and Multi-edition storage wallets in the market.
Swift Crypto AG created two versions of hardware wallets that support a unique set of coins.
Here's the difference…
Bitcoin, Litecoin, Ethereum, and ERC-20 tokens can be protected with the BitBox02 multi-edition swiss hardware device.
The BitBox02Bitcoin-only version is for Bitcoin storage only.
BitBox02 is known to be ideal for beginners and boasts of a fast setup process with amazing features such as the "intuitive touch slider", microSD backup, and in-app guide. 
One of the coolest features of the BitBox02 multi-edition is its sleek OLED screen with sensitive touch responsiveness and crystal clear interface.
The BitBox02 was designed to work mainly with the BitBox App, but third-party app integration is possible via the BitBox02 application programming interface.
Key Takeaways
•Most users of the BitBox02 said that they found the device pretty easy to use. They like the touch on it which was quite easy to navigate and easier than they thought [when] typing out words and passphrases.
•The BitBox02 touts itself as a "simple and secure" solution for HODL'ers seeking to realize the power of cold storage, enabling users to begin securing their Bitcoin and other cryptocurrencies within just 2 minutes.
•At factory setup, Swift Crypto AG tests the Bitbox02 wallets to make sure that the device is safe and secure to use. It does this bug bounty program to detect and eliminate any security holes found.
•BitBox02 offers a two-year warranty and offers free shipping on orders over € 250. It also covers the import fees while also allowing you to purchase them from a local reseller in the United States, Europe, the Middle East, or Asia-Pacific.
Shift Cryptosecurity's flagship Digital BitBox (now called BitBox01) cryptocurrency hardware wallet now has a newer version known as BitBox02.
SEE ALSO: BitBox02 Hardware Wallets – Why You Should Buy One
While Shift Crypto security took an extremely minimalist approach with BitBox01 (the device was the size of a large thumb and had no screens), the team has now released BitBox02, a much larger device with a clean design and a screen.
Shift Cryptosecurity, in addition to multi-coin support, has released a Bitcoin-only version of the BitBox02.
The BitBox02 device is packaged in a vacuum-sealed plastic bag that unlike the bags that Coldcard wallets are packaged in that cannot be opened with your bare hands.
Let's see the reason why BitBox02 hardware devices stand out:
2. Backup
Creating a backup is very important as it enables users to be able to restore their funds especially in cases of lost devices. BitBox SD card can be used to save all relevant data in the wallet.
Users can also make use of the steel wallet for more solid protection as it is made of stainless steel and can comfortably overcome certain disastrous conditions ranging from fire, corrosion, and others.
The steel wallet is quite easy to use and does not require the additional usage of an external tool. It is here to stay for a long period as it will be readily available for the next generation. Most importantly, it complies with the BIP-39 standards.
Because the first four characters of the recovery phrases are different from each other, users only need to get them punched.
Users should endeavor to mark the holes with a felt pen before bringing on a puncher so as not to commit any mistakes. Users should make one and two holes on the sheet's side, respectively as this is done to differentiate the first sheets from the second.
3. Security
At the factory setup, Bitbox02 always tests the wallets just to make sure that the device is authentic.
The app will only acknowledge firmware that has been approved by Shift Crypto. The firmware is open-source and ensures that deterministic builds are attainable.
It also has a bug bounty program to detect and eliminate any security holes found. To prevent supply chain attacks, Bitbox wallets are shipped in a vacuum-sealed plastic bag.
The bootloader only permits the installation of the latest upgrade in the firmware. In other to ensure proper transparency and accuracy, the firmware hash is shown by the bootloader before it then proceeds to work with it.
BitBox02 does not allow you to log in without first verifying your identity although you can accomplish the same thing by plugging it in and touching it.
4. The BitBox02 User Experience
BitBox02 is easy to use and secure application for managing your resources. The Bitbox02 device is connected to the application via the BitBox Bridge.
BitBox02also assists in a variety of languages. The app supports the following languages: Bulgarian, Chinese, English, French, German, Hebrew, Hindi, Japanese, Malay, Persian, Portuguese, Russian, Slovenian, Spanish, and Turkish.
macOS, Windows, Linux, and Android are all supported by the app.
5. Connectivity
The BitBox02 is operational with a USB-C port and has an adaptor of USB C to A.
6. BitBox02 Hardware Wallet Pricing
The BitBox02 Bitcoin-only edition and Multi-edition go for €119/$137 for any of the models. BitBox02 offers a two-year warranty and offers free shipping on orders over € 250.
Bitbox02 will also cover the import fees while also allowing you to purchase them from a local reseller in the United States, Europe, the Middle East, or Asia-Pacific.
SEE ALSO: 15 Best Cryptocurrency Affiliate Products to Promote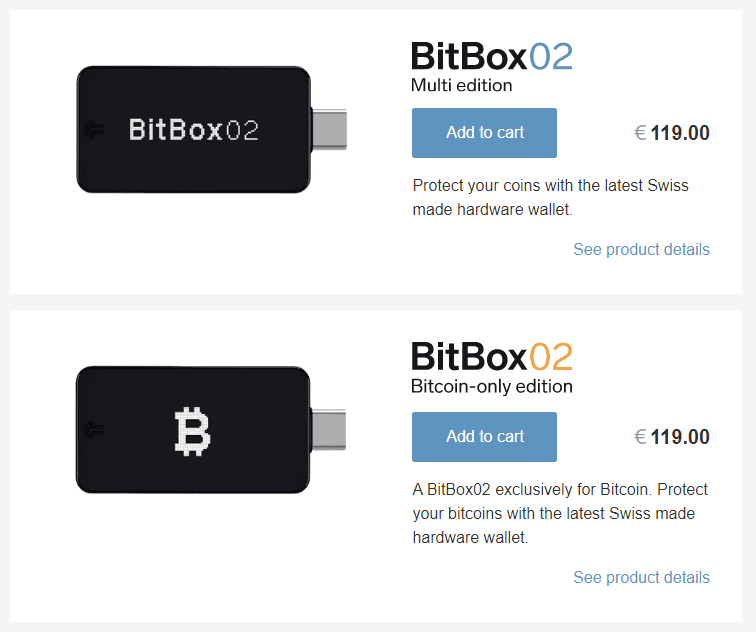 The product can be sent back as long as it is still sealed after a considerable amount of time from the delivery date.
BitBox02 will refund the difference after deducting the original and return shipping fees from the total price.
Refunds in the amount of the order's USD value would be issued if the transaction was completed with Bitcoin and it will be calculated using the real exchange rate as at the time of purchase.
7. Customer Service
BitBox02 is accessible via email at support@shiftcrypto.ch. Other than this, BitBox02 can be found on Twitter and youtube.
Frequently Asked Questions (FAQ)
1. Is the BitBox wallet secure?
Each device's firmware is signed by BitBox. The device's authenticity is checked every time it is connected to the app. The bootloaders prevent the installation of different firmware editions or downgrades.
2. What backup options are available on BitBox?
BitBox provides two backup options: an SD card and a steel wallet apocalypse-proof backup. The steel wallet is resistant to fire, radiation, corrosion, and other extreme conditions.
3. Is it difficult to use the touch sliders in BitBox wallets?
Gestures are used to control the wallet, which is a relatively new feature. You may find them difficult to use at first, but they are enjoyable once you get used to them.
4. Can BitBox wallets be returned?
Yes, you can return the product within ten days of delivery if it is unused, and the packaging is not opened. BitBox02 will deduct the original and return shipping fees from the total price and hand you back the leftover amount.
Final Thoughts
The BitBox02 is an upgrade to the BitBox01 with awesome sleek features, better coin protection and longevity. If you're looking for a durable, flexible and user-friendly hardware wallet. Our take is to go for the BitBox02 multi-edition.
With this device, storing Bitcoins with the assurance of premium security is guaranteed as the device comes with a sturdy security chip that ensures that your Bitcoin assets are kept safe and free from harm.
Read More