Before signing up with any crypto exchange, fees, commissions, minimum opening balance are just a few things new users seek information for. On the other hand, coin flexibility and support are important factors most users ignore.
In this article, I will highlight the number of coins that the Paybis crypto exchange supports so that you can know your coin swapping abilities and limits.
Paybis is a UK crypto-to-fiat trading platform founded in 2014, since then, the platform has grown to become a notable crypto exchange in the Baltics.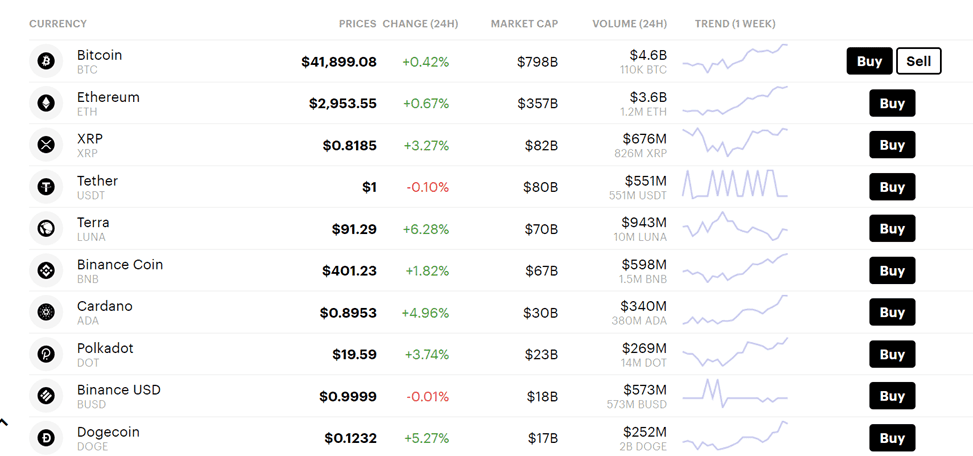 Key Takeaways
 • Paybis supports over 30 cryptocurrencies with provisions for their wallets online should you wish to make use of an online wallet.
 • On Paybis, you can buy any of the supported cryptocurrencies with your credit or debit card but you can only sell Bitcoin.
 • The Paybis app is available on the Google Play Store and the Apple Store for easy access to the platform.
 • You will need to complete all verification procedures to verify your identity if you want to gain full access to all of the services present on the Paybis platform.
SEE ALSO: A list of Paybis Exchange Supported Coin Wallets
SEE ALSO: Is Paybis Compatible With Ledger Nano Wallets?
SEE ALSO: How Fast Does Paybis Send My Coins?
Speaking of crypto coins, Paybis does support over 30 cryptocurrencies which include Bitcoin, Binance Coin, Ethereum, Tether, Tron, Stellar Lumens, Dogecoin, Litecoin, Ripple, and Bitcoin Cash.
Paybis has online wallets for each one of these coins which means you can easily make use of their provisional online wallet in storing your cryptocurrencies if you do not want to get a hardware wallet.
Also, you can buy any of the above-mentioned cryptocurrencies with a debit or credit card or Skrill and Neteller if you are looking to buy bitcoin.
Lastly, you can make use of the crypto calculator which I will be explaining in detail shortly to determine the exact price and quantity of whichever crypto you wish to buy and hold.
A brief look at the Crypto Calculator on Paybis
The crypto calculator is a simple, convenient way to estimate how much you need to spend to buy the amount of crypto you want.
All you need to do is to type in how much crypto you would like to buy, and you immediately get a price estimate in your local currency.
It also works the other way around: type in how much you want to spend in the currency field and the crypto calculator will show you how much crypto you will get. It is automatically updated with the latest price, so it always remains accurate.
And, if this looks like a good deal, you can click "Buy now" to purchase your crypto with Paybis.
The crypto calculator can help anyone who is interested in crypto or is already trading crypto.
Cryptocurrency prices are usually quoted in US dollars and sometimes it can be difficult to know the exact price of these cryptocurrencies.
Luckily, this crypto calculator simplifies everything for you by automatically converting and showing you the exact price once you hit the calculator button.
Why Choose the Crypto Calculator?
The crypto calculator features a simple, intuitive interface, which makes it ideal for beginners, yet powerful enough for advanced users.
It is constantly updated with the latest crypto rates.
It includes more than 45 local currencies.
When you find a great deal, you can buy the crypto right on the platform.
Should Paybis be Trusted

Paybis for some time now has proven that it is one of the best in the business. As such, it comes as no surprise that investors are more than willing to make use of their services to the fullest.
In addition to this, here are the following reasons why Paybis is trusted by a lot of people worldwide:
Transparent fee structure
30+ crypto and 47 fiat currencies
Lightning-fast crypto settlements
80+ dedicated professionals
$500,000,000+ annual volume
Used by beginners and pros alike
The Paybis Crypto Wallet
The Paybis crypto wallet is an online wallet you can use to hold whichever cryptocurrency you buy from the platform.
With the wallet, Paybis assures that your cryptocurrencies are highly safe and secure and you can transfer or withdraw them at any time preferable by you.
Using Ethereum for example, we will be taking a look at the features of the Ethereum wallet and what makes the Paybis crypto wallet special below:
Features of the PayBis Ethereum Wallet
Safety first-strictest security standards ensure the safest Ethereum wallet.
Full-featured online Ethereum wallet-store Ethereum and dozens of ERC-20 tokens.
Simple and intuitive design perfect for beginners, powerful enough for pros.
Easy to get started-open a free Ethereum wallet in a few clicks.
No withdrawal fees-you're always in charge of your crypto.
Seamless integration works are great with the Paybis exchange.
What Makes Paybis Wallet Special?
Given that all crypto wallets work the same, how do you pick the best wallet for ETH? Consider what you need:
Safety always comes first. A secure Ethereum wallet is a must: anyone who can access your wallet has complete control over your crypto. Pick a service you trust.
Look for a wallet that doesn't restrict you. Some crypto exchanges may charge withdrawal fees or even disable this option. A fully-fledged Ethereum wallet always gives you complete control over your crypto.
If you already have a favorite crypto exchange, you may consider opening an online ETH wallet at the same place where you get your crypto but just make sure it doesn't restrict you.
User experience matters. You'll probably use your wallet quite often, so make sure it's intuitive and easy to use.
Frequently Asked Questions (FAQS)
Is it safe to buy Bitcoin with Paybis?
Yes, it is safe to buy Bitcoin instantly with Paybis. The platform is registered with the Financial Crimes Enforcement Network of the US and follows all the applicable regulations everywhere where it operates.
What are the requirements for verification on Paybis?
To have a successful verification on Paybis, you will need to do the following:
For all payment methods that require KYC/Verification, you will have to submit your personal information, address, and upload verification documents.
Your info should match your ID Documents.
The document should be uploaded in good quality, all four corners of the document should be visible, all text should be readable, do not use flashlights or web cameras and max document size should be 5MB.
Final Thoughts
Paybis is an excellent platform where investors can buy and sell cryptocurrencies instantly. If you are looking to try out something new as regards buying and selling cryptocurrencies, then you should check out Paybis.
Read More